3 (Easy) IT Hardware Solutions To Boost Your IT Budget
by Darin Knobbe on Jan 7, 2021 2:05:11 PM
Today, we will take a look at three easy hardware solutions that will save your bottom line and give you more control over your IT ecosystem. As we look over your entire network, where can a positive impact be made? Where can you save up to 70% with one of the following solutions?
Solution #1: Cabling and Optics
Beginning with transceivers themselves and cabling, there is an incredible opportunity to take advantage of here. With a large network of OEM's, PivIT offers an extensive selection of cabling and optics components—both new and legacy—for fast, consistent network connections, regardless of the application. PivIT's optics and cabling are used by everyone from small organizations to large enterprises to improve their WAN, LAN, SD-WAN, and cloud infrastructure. As demands for scalable, cost-effective hardware rise, the best place to start may likely be your optics and cabling.
Think of your optics and cablings being a pretty ribbon and bow on the perfect package to complete your next network project. Today's network environments call for maximum efficiency while maintaining a powerful platform. Here is a quick checklist to confirm your optics are everything you need them to be:
My Optics supplier provides a maintenance service
My Optics are compatible with all major OEMs
My Optics are exactly what I need
My Optics align network capacity to IT demand
My Optics help increase my bottom-line
Optics suppliers providing maintenance services have the capability to understand your needs from your largest server rack down to the individual optic. If they are not compatible with all major manufacturers then the network is limited immediately to meeting specific needs. When the optics don't fit your needs, network capacity, and IT demands you lose out on the efficiency of your network organization and your budget takes a hit.
Here's What Impresses Your Budget
Cabling and optics from PivIT Global, check the box of each one of the demands listed above. Our goal is to focus on the last checkmark – providing you the cabling and optics hardware solution to increase your bottom line--freeing up capital.
PivITOptics saves you up to 70% in comparison to OEMs. Tackle large projects with the resources you need while having the confidence the details of your network--like cabling and optics--are working most efficiently for you. Get in touch today, to get your free demo units or explore our cabling and optic offers.
Solution #2: Save on Accessories
Our team is ready to meet your accessory needs through lines of fabric extenders, fabric interconnects, and power supply units. This solution focuses on total cost of ownership of data centers. Accessory hardware tends to the ever-changing needs of the IT industry through:
Reducing complexity that drives operational expenditures (OpEx)
Get the most out of virtualization
Automate to move faster
Get ready for cloud
Everyone has their sweet spot for tailoring their network to configure to the cloud or have everything in-house. Many of these accessories give you the extra bandwidth, capacity, or boost you need when you are playing in the grey area of scaling up or navigating your current position. The platforms used within the accessories promote innovation while keeping you from being limited. The accessory hardware savings can extend your bottom line with an average of 65% savings. Not only are you gaining the value of network capabilities, but capital is also freed up to focus on other projects.
Solution #3: Coverage, Cost, and Clarity to Navigate 2021
The final IT Hardware Solution falls under the maintenance category. This can be one of the most complex pieces of your network strategy. When considering SLAs, install locations, the age of your network hardware, and the cost of replacement, it can be difficult to determine whether you are getting the best maintenance at the best price.
PivIT brings simplicity to you through our Third Party Maintenance offering, OneCall. If you are new to Third-Party Maintenance, check out a few of our resources to give you the insight you need to make the most sound decision for your IT ecosystem.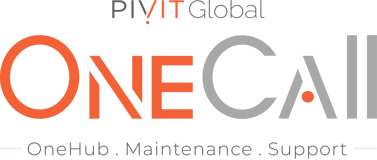 OneCall offers a comprehensive package allowing you to custom-design your coverage. And to make your life even easier, it isn't tied to sourcing your equipment. This means, for example, your Cisco switch won't need to be under SmartNet. If your network is supported by various OEMs, OneCall allows you to have all equipment--regardless of OEM--under the same maintenance contract. Imagine managing your entire IT ecosystem and its maintenance contracts all on one platform.
Here is What OneCall Offers
Global IT Asset Coverage
When it comes to protecting your most critical IT hardware, you need to be able to rely on your support provider wherever you are. Learn more about our global coverage!
24/7 Access to Technical Support Team
TAC engineers are on call around the clock to guarantee you get the support you need when issues arise. These engineers are specialized to give you local support based on where you and your IT assets are.
Free Management Tool - OneHUB
The first enterprise solution for IT asset and maintenance contract management all housed on your personal dashboard reflecting your network. Keep track of your tickets with this flexible and high-powered software. Check out OneHUB today and look at giving it a try through our demo.
Endless Options for Coverage with Custom SLAs
Our field stocking locations support over 160 countries to bring you 4-Hour Support, Next Business Day support, and On-Site Replacements. We will custom fit our SLAs to get you the coverage your network needs. Learn more about our custom SLAs! Through custom SLAs, you have the opportunity to get the best return on your investment from the maintenance side of your network.
Attraction to Your Budget
Save up to 70% on small things like optics and cabling to make a huge impact on your bottom line.
When you need just a little boost to cover your capacity for the in-between time, look at saving an average of 65% on your accessory hardware.
Through a custom maintenance strategy, you have the opportunity to get the best return on your investment from the maintenance side of your network.
Click here to get in touch and take advantage of these solutions today!
No Comments Yet
Let us know what you think