E-Waste: An Industry Issue that Goes Unseen
by PivIT Global, on Apr 1, 2019 2:47:36 PM
15,000 Miles by one Measure
As reported by Business Insider:
"Electronic waste is a big problem, and it's only getting worse. The amount of e-waste generated between 2014 and 2016 increased by 8%, according to a new report by the United Nations University, the International Telecommunications Union, and the International Solid Waste Association. By 2021, the organizations expect e-waste to grow by another 17%." -Caroline Cakebread
As a physical measure of the unseen problem, by 2017, Europe had exported enough E-Waste to fill a 15,000-mile-long line of forty-tonne trucks. The discarded electronics equipment included practically un-measurable amounts of cabling, computers, monitors, servers, communications gear, and hard drives.

E-Waste: Seeing is Believing
The prevalent export of E-Waste to developing countries does not, however, mean the U.S. and European nations remain untouched. For example: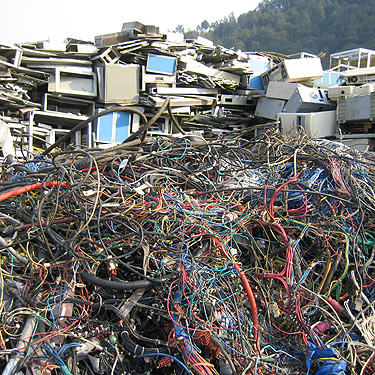 Some of these materials (located in an Oklahoma City drop-off site) will be recycled. Yet, within driving distance of most major cities in the U.S., specially-designated landfills exist to accept tons of E-Waste per year. Therein lay a problem.
Along with the issue of plastic waste—which will remain intact far beyond the time our blog covers such topics as microscopic quantum-computing servers and the cost-effectiveness of their shipping— the environmental problems created by harmful and toxic substances surface.
Microprocessors, for example, contain a combination of cadmium, chromium, lead, brominated flame retardants, and polychlorinated biphenyls (PCBs). These toxic substances can permeate the ground or be dispersed within the air— and there is wind everywhere.
So, with this alarming information at hand: what are leading vendors in our industry doing to address the unseen E-Waste problem?
Dell's E-Waste Management Strategy
Dell has led the pack in pro-active policies to reduce E-Waste export to developing countries. This firm was the first to ban exports completely. An interesting metric can be located on their E-Waste website page. In one study, an estimated 25% of E-Waste is comprised of the technology our industry is built upon: computers, telephones, printers, and monitors.
PivIT Global participates in the important outcomes of responsible equipment management. For example, we provide both new and re-conditioned servers. The resale of safely-reconditioned equipment can expand the useful lifespan of IT assets by a factor of two or more.
HP's E-Waste Management Strategy
HP has also taken an industry leadership position in E-Waste management. As indicated on the firm's website, "HP does not allow e-waste to be exported from developed countries (Organisation for Economic Co-Operation and Development and European Union) to developing countries (non-OECD countries outside the EU), either directly or through intermediaries."
PivIT Global contributes to effective E-Waste management through the implementation of IT Asset Disposition processes. We provide our clients with access to more than $100 million in equipment inventory and responsibly track and manage our inventory throughout the lifecycle of supply.
A Call to E-Waste Action
PivIT Global provides three baseline tactics that help our clients meet the call to action in E-Waste management.
First, our procurement services include consultative recommendations that help ensure our clients secure equipment that is best-fit and ready for a long lifespan of use. Second, the equipment we resell is of the highest quality—another leading factor in IT asset longevity. Third, we provide support services that include SME-quality technical assistance, so our clients can be assured their purchased equipment functions to best standards and not face an uncertain future.
Our industry is making a sustainable effort to address E-Waste challenges. We encourage everyone to follow correct processes for ITAD, purchase the best-fit equipment that provides maximum value and lifespan, and keep recycling in mind when consumer electronics are discarded.