The Battle To Provide Rural Broadband
by Adam Carpenter on Sep 2, 2021 1:28:02 PM
The statewide broadband battle is on. Who's in the lead? New York? Nope. California? Uh-uh. Maybe Massachusetts? Negative.
Try North Dakota. In North Dakota, around 95% of citizens have fiber optic internet running to their homes, and 95.5% have access to broadband that's 100 Mbps or faster. To ensure their citizens have access to the content they need to keep up with the Kardashians, the modern, cosmopolitan juggernauts on the left and right sides of the country need to keep up with the North Dakotans.
This is especially true when it comes to rural broadband, which requires heavy investment in the face of Return on Investment (ROI). How can all states do right by their citizens, providing them with broadband, especially with restrictive budgets and limited ROI in rural areas? How can telecoms rise to the challenge?
____________
Are you a rural telco? We're here to help!


____________
The solution is two-fold:
Take advantage of current government subsidies.
Reduce infrastructure costs by strategically sourcing equipment.
U.S. Government: Please Spend Our Money on Broadband
The U.S. government, understanding the need to catch up with its international neighbors when it comes to broadband availability, is putting its money where its mouth is. The aim is to close what's known as the "digital divide." Their approach is to:
Help individual citizens afford broadband service.

Help telecoms build broadband infrastructure.
Unless both wings are flapping, the government's efforts won't fly.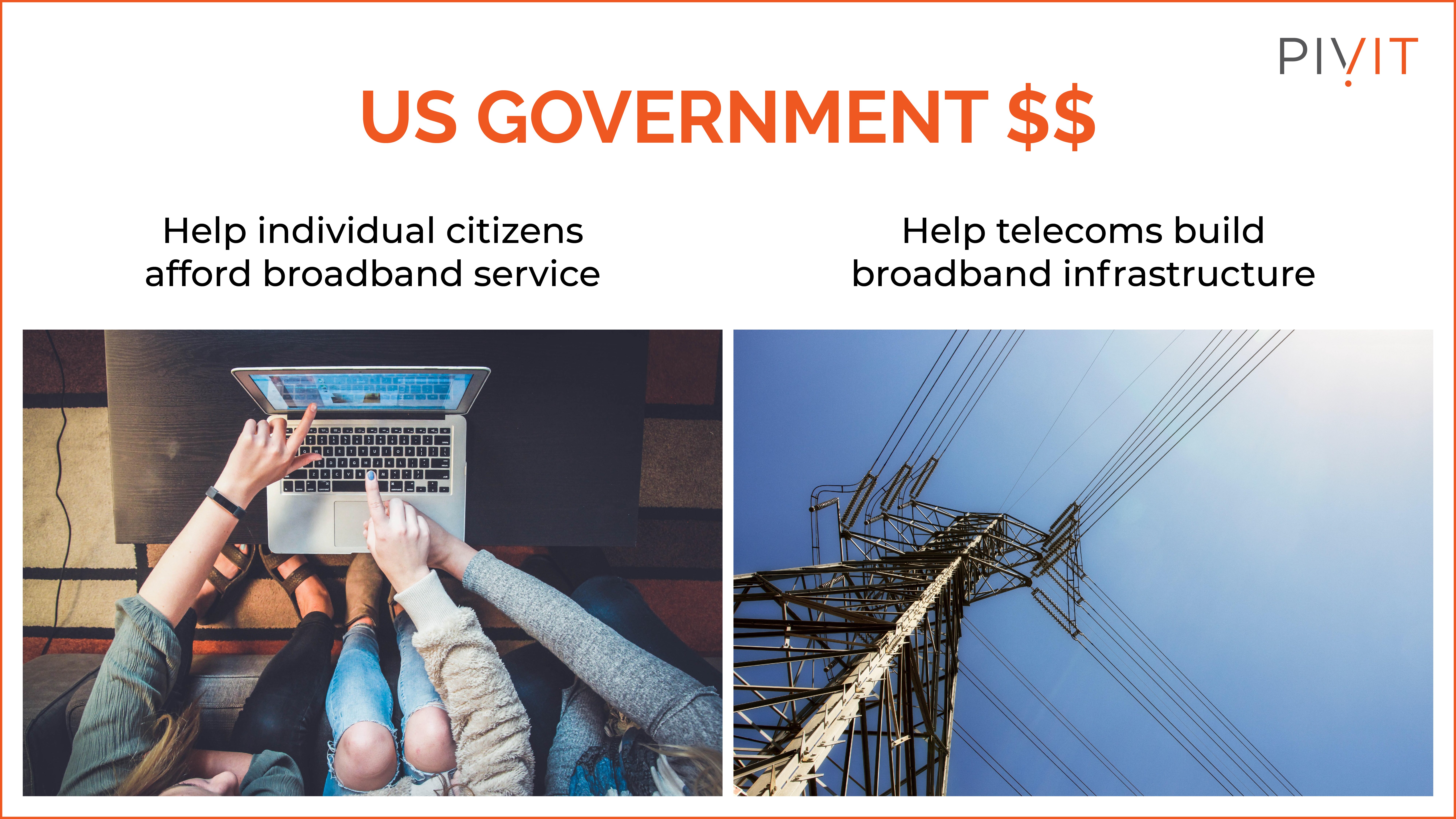 For Citizens
The FCC recently announced the Emergency Broadband Benefit program, which is committing as much as $50 per month to help citizens pay for broadband and $75 per month in certain Tribal lands. The program is slated to invest $3.2 billion in getting people connected.
For Telecoms
At the same time, the government is offering telecoms subsidies to help them develop the infrastructure to provide under-served areas of the country, especially rural areas, with broadband. As long as the telecom can provide Americans with 25 Mbps download and 3 Mbps upload speeds, they can qualify for the benefits.
The goal is to grow the number of homes passed by fiber from 40% to 50% by 2025. The government is willing to turn what may seem like a—literal—pipe dream into a reality.

This Isn't Our First Rodeo
This has been done before. Congress has seen the need to support digital infrastructure and offered subsidies to telecoms and local governments several times in the past. On the surface, given the dearth of broadband internet across the country, it may seem like their efforts have failed. But that's not necessarily accurate — case in point: North Dakota.
North Dakota telecoms have taken advantage of government support and used it to extend fiber optic cable to all but 5 out of 100 of their citizens. And they're not the only ones. Suburbs, rural, and semi-rural areas that once were limited to copper deployments, now have fiber, partially thanks to government support.
What Has Held Back Widespread Fiber? Cost per Subscriber
Regardless of how you do the numbers, the cost per subscriber for a new fiber installation is high. Costs can easily reach well above $1,000 per subscriber, and it can go far higher in rural communities.
For example, in 2011 in rural Minnesota, Southwest Minnesota Broadband Systems had the challenge of supplying fiber to 3,600 homes. The cost per home passed? Another $3,600. The project ended up running $12.8 million.
How did they get it done? Southwest Minnesota Broadband Systems took advantage of government subsidies to the tune of $6.4 million—half of their costs.
With the current program being offered by the U.S. government, other telecoms can do the same. Many have already, but they focused on providing fiber to communities, making it easier to recoup their costs in subscriber fees over time.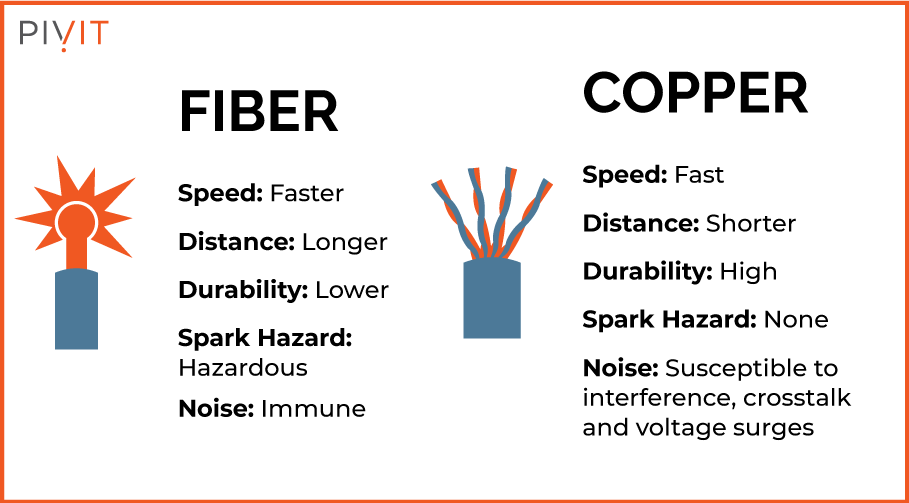 The challenge faced by a lot of telecoms now is to reach even smaller groups of people. The investment math quickly gets upside-down. For example, it can be hard to justify building infrastructure that serves only eight households down a 10-mile stretch of road.
Why Bonded Copper May Not Work
With bonded copper, you run two pairs of ADSL wires to a home, instead of one, and, therefore, double the bandwidth the residents get. A typical solution may consist of bonded copper extending 12,000 to 15,000 feet, which could get the customers around 18 Mbps download speeds.
The problem you run into is not with the bonded copper concept but with the copper itself. Copper wires, over those kinds of distances, don't allow for fast upload speeds. Users may see uploads at around 600 kbps. When someone tries to watch Netflix or any streaming video, a slow upload speed makes it impossible to consume content. This is because when a data packet gets sent to the customer, the sender needs to get a confirmation message that it was received. At only 600 Kbps, those messages can't be sent fast enough, and the customer's content freezes.
You can use bonded BDSL instead of ADSL, but then you have to have the cabinet within 5,000 feet of the customer. Working around this limitation requires further investment in infrastructure to extend the length of your service.
On the other hand, with fiber optic systems, there's no need to worry about insufficient upload speeds. The primary concern then becomes how to chip away at the huge investments needed to provide the services.
______________
We make it easy to turn obstacles into opportunities to save on new gear and turn your old components into working capital.
_______________
How To Reduce Infrastructure Costs
With PivIT, a telecom can source their infrastructure components for less money, slashing the upfront investment they'd have to make if they went with some of the major OEMs. You can save significant chunks of capital by:
Using carefully tested, proven, effective components sourced from PivIT. These components are tested to ensure they meet your specific specifications.

Trading in your old gear and using the credit received from PivIT to purchase new components as you upgrade your system.
Whether you're in an underserved state or trying to get broadband to the last 4.5% of North Dakotans, with a combination of government support and PivIT's products and services, you can give customers the service they need. Reach out today to learn more about how PivIT can enable your infrastructure development.
No Comments Yet
Let us know what you think