PivIT Global and Gluware Partner to Extend Opportunities For Intelligent Network Automation
by PivIT Global, on May 8, 2019 8:00:00 AM
PivIT Global And Gluware Partner To Extend Opportunities For Intelligent Network Automation
May 8, 2019 – Santa Barbara, CA – FOR IMMEDIATE RELEASE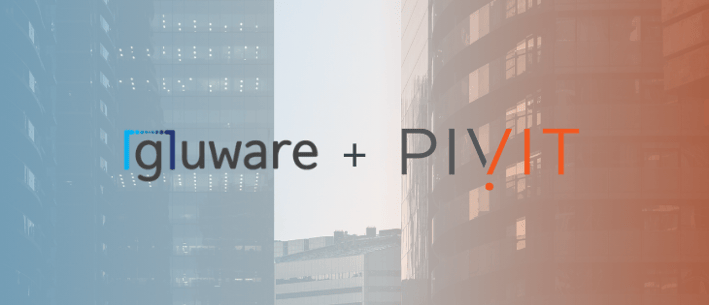 PivIT Global: A supplier of Enterprise Network Infrastructure, Maintenance, Services
PivIT Global provides IT infrastructure equipment, hardware maintenance services, and technical support. The company supplies both new and reconditioned equipment from vendors including Cisco, Dell, HPE, Juniper, and Arista. PivIT Global's +$100-million inventory includes an extensive selection of processors, storage devices, routers, switches, firewalls, and other vital network infrastructure products.
Gluware: A provider of Intelligent Network Automation
Gluware Control is an automation and orchestration platform that simplifies and optimizes network management for Enterprise IT departments. This solution interfaces with routers, switches, firewalls, load-balancers, WAN optimizers, wireless controllers, and other infrastructure-related devices. Gluware provides a suite of intent-based applications for inventory, upgrading, auditing and policy-based configuration updates that improve the operation and control of complex and expanding multi-vendor networks.
Better Together:
PivIT Global's equipment supply capabilities matched with Gluware's network automation solution positions IT groups to reach new levels of network optimization and security. For this reason, PivIT Global extends the recommendation to our prospective and current customers to learn more about Gluware's Enterprise IT solution.
Key aspects of the Gluware network management solution
Multi-vendor support: Gluware supports a wide variety of network hardware OEMs and Cisco equipment configurations including five Cisco operating systems.

No hardware upgrades required: Gluware's automation platform supports both current and legacy infrastructure while remaining OEM-agnostic.

Integrated audit/compliance capabilities: Gluware enables the identification of infrastructure that is out of compliance and automates changes to achieve the correct configurations.

Rapid solution adoption: Unlike other network management scripting approaches, Gluware automates leveraging native vendor command line (CLI), simplifying and accelerating the solution usage learning curve for network engineers.

Efficient deployment: Gluware has automated network management in Fortune 500 companies within weeks. The customer onboarding process focuses on the automation of networks by policy features.
Gluware's Michael Haugh, VP of Product Management relates,
"We view our partnership with PivIT Global as a unique opportunity to match our intelligent network automation solution's capabilities with the hardware supply side of the house. The right hardware, the best network automation – both PivIT Global and Gluware customers will be able to keep pace with business demands for changes on the network."
An invitation to join us at a special event
PivIT and Gluware will co-host a business-social event at the prestigious Cisco Live! Conference. Customers and friends of both companies are welcome to attend and may request an invitation. The following link provides more information on requesting an invitation and event details: pivit.global/CL2019
For more information about their individual offerings, please visit their websites, below:
PivIT Global: https://www.pivitglobal.com/ Gluware: https://gluware.com/