The Best Wireless LAN Option: Aruba Wireless vs. Cisco Meraki Wireless
by PivIT Global on Sep 22, 2022 7:13:00 AM
As fully remote and hybrid work become increasingly popular, enterprises require reliable network solutions that can support employees remotely without compromising security. Wireless Local Area Networks (WLAN) enable seamless hybrid working, offer the 5G experience to cellular users, and support IoT connections.
Two of the most popular wireless LAN tools are Aruba Wireless and Cisco Meraki Wireless. They offer high-performance access points (APs), controllers, firewalls, and support for new technologies such as Wi-Fi 6.
In this article, we comprehensively compare these two solutions in terms of their main features and the products they offer.
Not the comparison you were looking for? Check out some of our others:
Aruba Wireless Overview
Aruba Wireless is a popular high-performance and secure wireless LAN tool with Wi-Fi 6 capabilities and support for the Internet of Things (IoT) connectivity. This WLAN solution encompasses high-performance access points, wireless controllers, and gateways.
The enterprise-grade Aruba Wireless delivers high capacity and increased visibility across all interconnected systems and users on the network. Security across the WLAN is also enhanced by user and guest encryption.
Moreover, Aruba's built-in network intelligence delivers automation that simplifies operations, freeing network operators to carry out other critical tasks such as analysis.
The solution can transform your organization in several ways, including:
Seamless Hybrid Working: This is one of the essential advantages of the Aruba Wireless LAN solution. Choosing Aruba Wireless for your organization will ensure reliable internet connectivity and secure company data. This way, employees can migrate between home and the office seamlessly.
5G Experience: Users can join the secure Aruba Wireless LAN with their cellular devices. Since the solution supports Wi-Fi 6, users can experience 5G connectivity on the network.
IoT Connection and Security: Aruba Wireless APs have built-in support for Zigbee, Bluetooth Low Energy (BLE), and USB-port extensions. Users can connect and control their IoT devices and applications.
________________
Hardware Options For You
Our options don't stop with Aruba Wireless and Cisco Meraki Wireless. We extend our options to maintenance, support, and financing. Click below to learn more about the options we bring our clients.
________________
Aruba Wireless Product Offering
The Aruba Wireless LAN comprises various components, including access points, wireless controllers, and gateways. The following section contains a comprehensive description of these products.
The High-Performance Aruba Access Points
Aruba Wi-Fi 5 and Wi-Fi 6 APs deliver high-level performance and security. Aruba AP options are suited for various use cases and budgets, including enterprise, branch, outdoor, and plug-and-play versions for remote workers.
These APs can simplify common network operations, owing to their built-in network intelligence. Their AI capabilities support dynamic segmentation, service assurance, Radio Frequency (RF) optimization, and smart management.
WPA3 and Enhanced Open, Aruba's next-generation Wi-Fi security options, which are integrated with the APs, enhance WLAN user and guest encryption. Aruba Policy Enforcement Firewall (PEF) performs network segmentation to improve security using role-based access control.
In addition, the Aruba Edge Services Platform (ESP) implements a Zero Trust security model on devices. This model addresses the changing security requirements of a modern network by assuming all users, devices, and servers are inherently insecure. By doing so, Aruba ESP can improve the overall network security by applying a more rigorous set of security best practices and controls to previously trusted parts of a network.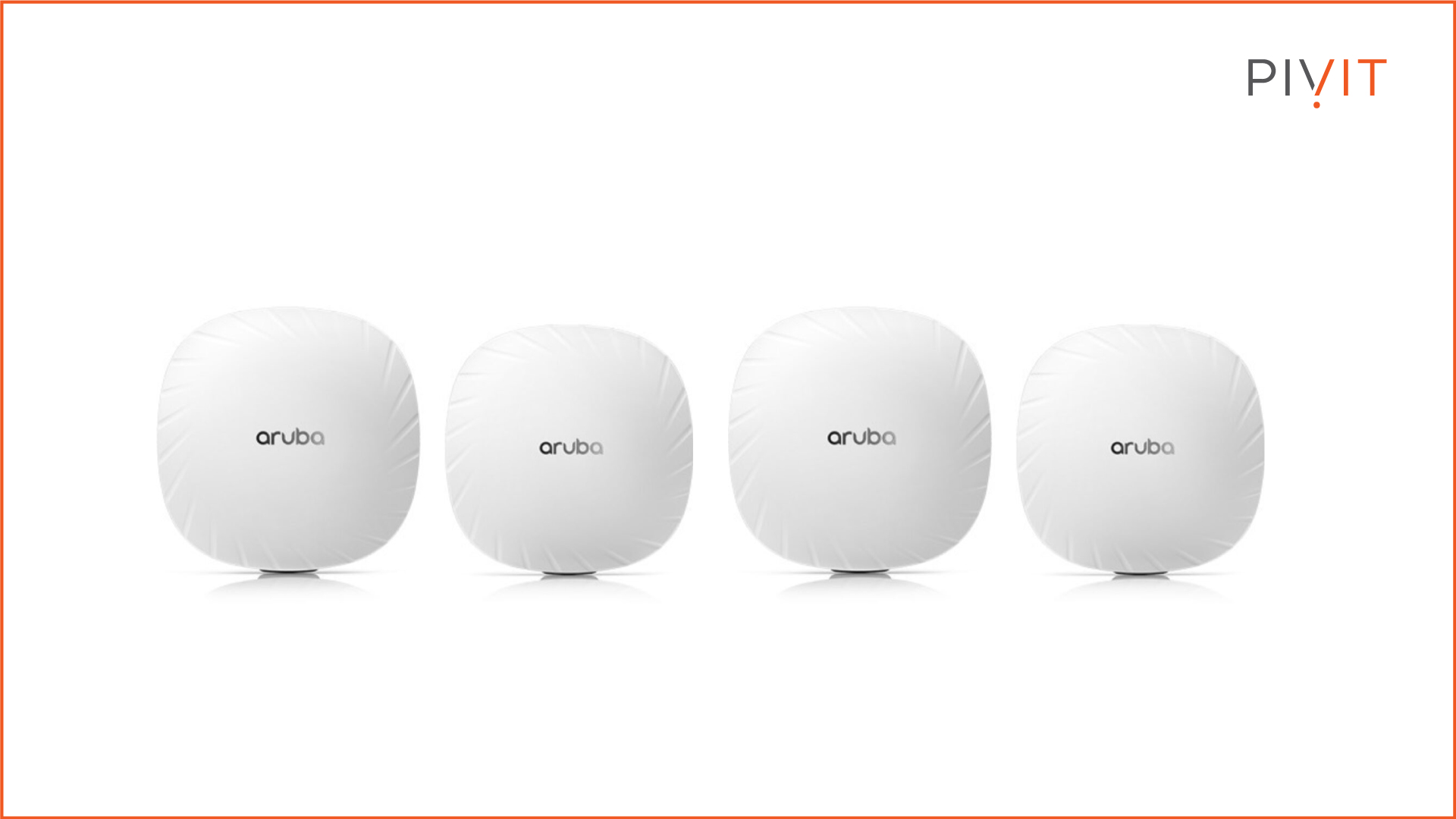 Aruba Gateways and Wireless Controllers
The Aruba Wireless solution also includes gateways and wireless controllers to provide enterprises with secure multi-cloud access and support mobility and digital transformation. The wireless controllers and gateways available with the Aruba Wireless solution include:
Aruba 9000 Series Gateways: These gateways are designed to deliver enterprise-level network performance, enhanced security, and SD-WAN capabilities. They are suited for branch and small campus networks focused on achieving scalability and high-level security. In addition, the configuration and management of these gateways are easy and can be done using Aruba Central.
7200 Series Mobility Controllers and Gateways: The 7200 series was built to support seamless roaming by optimizing Wi-Fi performance. The devices are ideally suited for campus WLAN scalability and branch SD-WAN and VPN Concentrator capabilities.
7000 Series Mobility Controllers and Gateways: The 7000 series has controller and gateway capabilities. It meets the WAN intelligence, policy-based routing, and security requirements of small and mid-sized companies.
Other products included in the Aruba Wireless solution are Mobility Controller virtual appliances, SD-WAN virtual gateways, Mobility Conductor hardware appliances, and Mobility Conductor virtual appliances.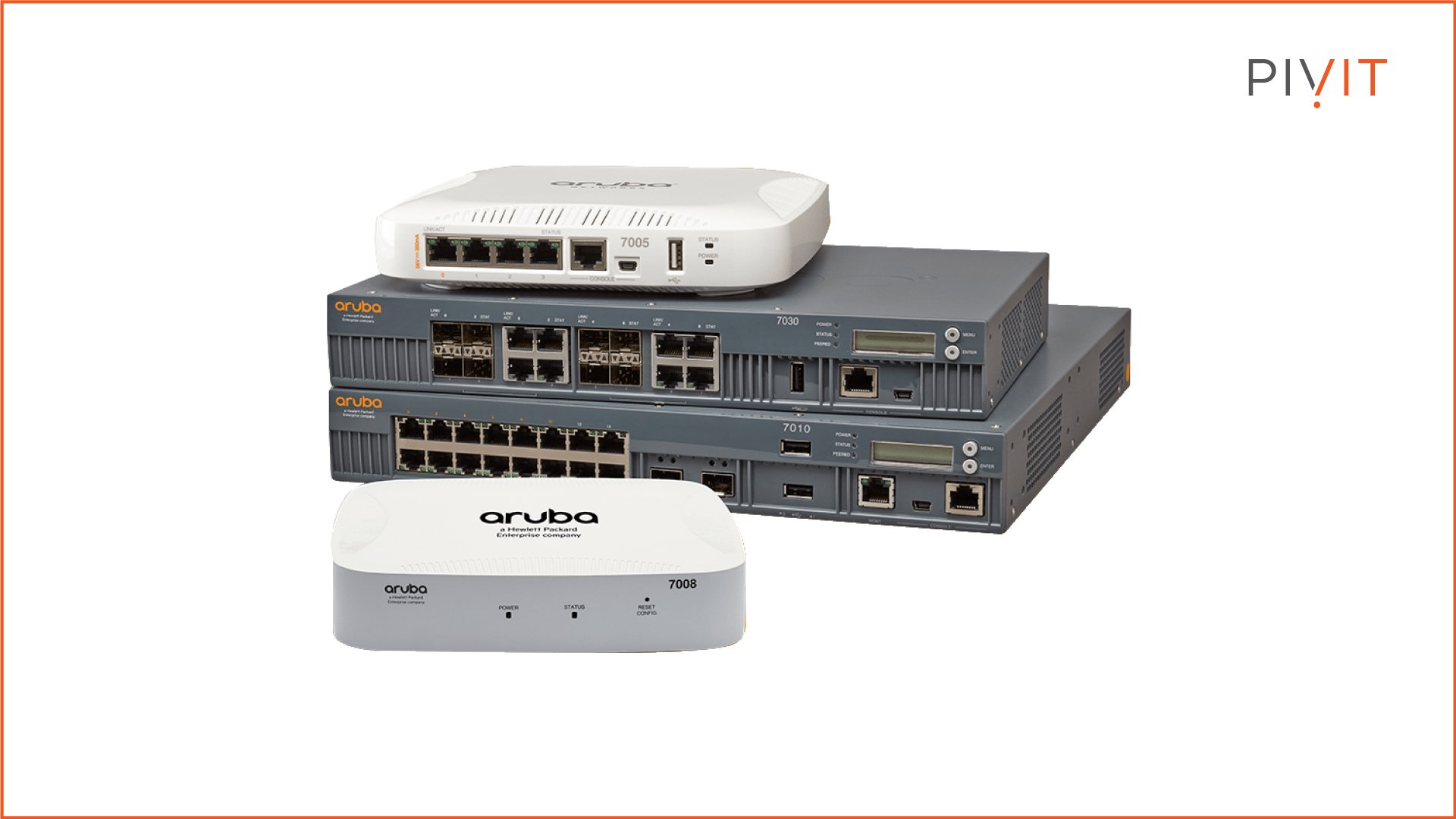 Cisco Meraki Wireless Overview
Cisco Meraki Wireless is an industry-leading cloud-managed wireless LAN tool. The solution consists of cloud-managed Meraki access points, a centralized enterprise cloud controller to replace the traditional Wireless LAN Controllers (WLCs), and an integrated stateful policy Layer 3 or Layer 7 firewall.
The high-grade APs support increased user capacity, high connection speeds, and more coverage. All these benefits result in fewer support calls.
The Meraki dashboard supports increased visibility and rich network analytics. Network operators can leverage the analytics provided by Meraki to improve user experience and network security. The actionable insights enable them to set up access control and application usage policies.
Besides increased performance and automation, Meraki is also known for the simplicity and user-friendliness of its products.
Cisco Meraki Wireless Product Offering
The section below details the product offering of Cisco Meraki Wireless:
Meraki Wi-Fi Access Points
The Meraki MR series consists of high-performance APs that offer industry-leading features such as enterprise-class security and RF optimization. These APs leverage modern technologies such as Wi-Fi 6 to meet large enterprises' high throughput and increased coverage requirements with demanding business applications.
Examples of Wi-Fi 6 technologies they use are OFDMA, MU-MIMO, channel bonding, and beam forming. Meraki offers five AP models that ideally suit different use cases and budgets, including indoor/outdoor deployment and remote access.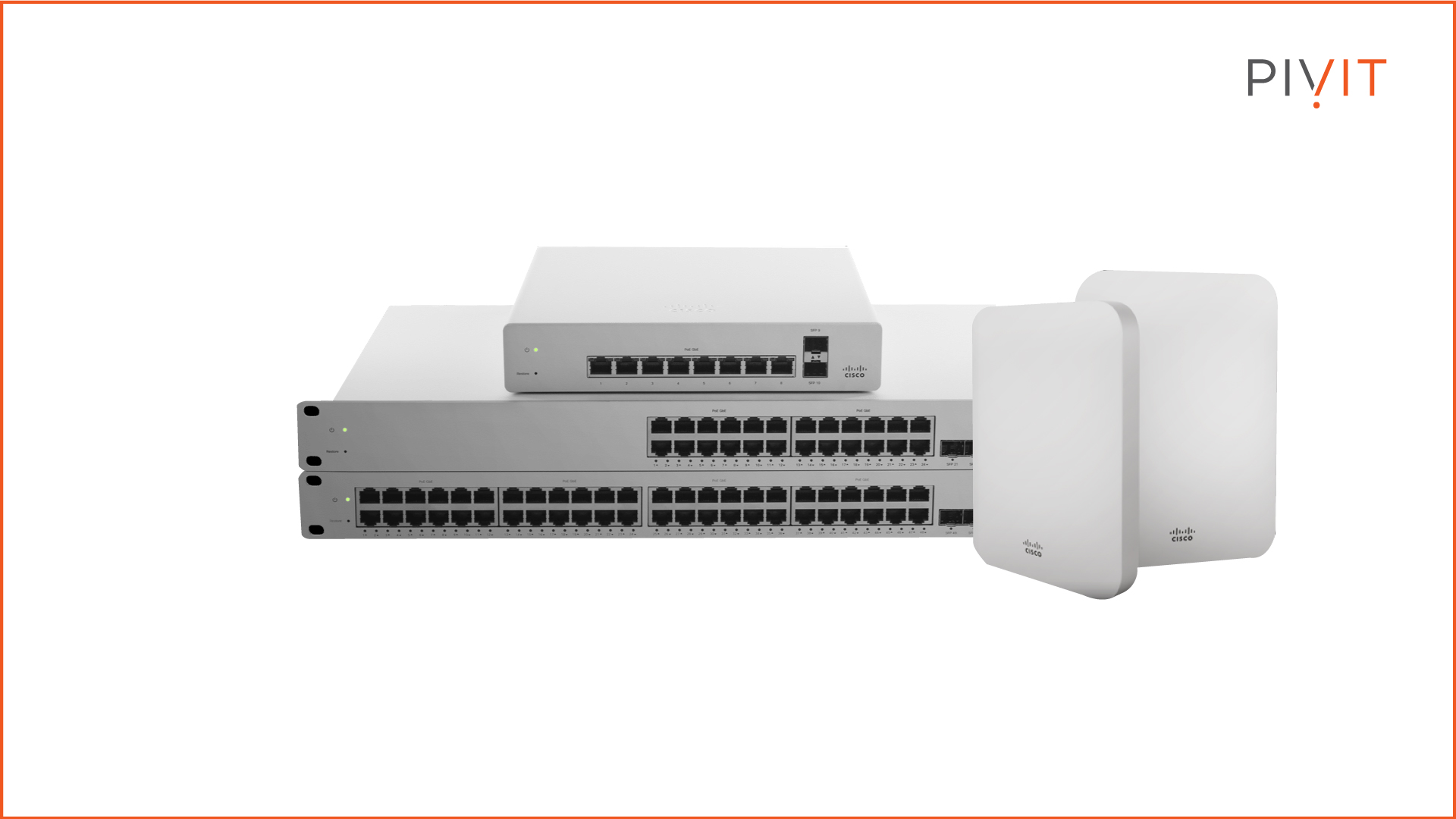 The Centralized Meraki Enterprise Cloud Controller
The powerful and intuitive Cisco Meraki cloud-managed architecture supports centralized network management. In addition, it eliminates the need for wireless LAN controllers, hence decreasing hardware costs and network complexity.
The zero-touch access point provisioning feature enables network administrators to perform network-wide device and software deployments for distributed networks. The controller also offers cloud-based RF optimization, automatic firmware updates, and network-wide visibility into users, their devices, and their applications.
The Meraki web user interface is user-friendly, allowing for WLAN configuration in just a few minutes. Furthermore, the controller will not need dedicated staff to manage and monitor the network.
Aruba Wireless vs. Cisco Meraki Wireless Features Comparison
The table below contains a comparison of features between Aruba Wireless and Cisco Meraki Wireless.
| | | |
| --- | --- | --- |
| Feature | Cisco Meraki Wireless | Aruba Wireless |
| SD-WAN | The Cisco SD-WAN offers secure multi-cloud support and can be overlayed on many modes of network transport such as MPLS, broadband, and LTE. | The Aruba SD-WAN offers central management and policy-based routing. It supports underlying WAN connections, including LTE cellular, MPLS, and broadband. |
| Remote Access | Meraki offers a seamless remote experience by leveraging SD-WAN, Wi-Fi 6, and Auto VPN connections. | Micro branches and employees working from home can access the organization's resources remotely using Aruba's Remote Access Points (RAPs). |
| Multi-Cloud Support | Cisco OnRamp supports secure multi-cloud access and ensures high network performance. | AOS-CX, Aruba's cloud-native operating system, provides automation to optimize operations. |
| File Analysis | Meraki Wireless is integrated with the Advanced Malware Protection (AMP) feature that compares file signatures with the malware database. If any malware is detected, the files are quarantined by the AMP administrators. | Aruba Wireless is integrated with IntroSpect, which uses advanced analytics and Machine Learning techniques to analyze network traffic. |
| Access Management | The Meraki Dashboard gives customers visibility into the network and the ability to secure and manage access to all available devices such as SD-WAN appliances, BYODs, and others. | Aruba Wireless has an Identity as a Service (IDaaS) solution that provides role-based access levels, allowing enterprises to control access to their applications and information. |
Summary
In summary, Aruba Wireless and Cisco Meraki Wireless are WLAN tools that consist of high-performance access points (APs), controllers, firewalls, and support for new technologies such as Wi-Fi 6 and IoT.
While Aruba Wireless includes controllers, Cisco Meraki Wireless eliminates them using the Meraki Enterprise Cloud Controller. The cloud controller helps enterprises save on hardware costs and reduce network complexity.
Both WLAN tools have SD-WAN, remote access, multi-cloud support, file analysis, and access management capabilities.
Ensure your devices are managed by a pro, even if you're short on resources. Both OneCall and EXTEND have services to help manage your devices. OneCall has a maintenance ticket and contract management platform, while EXTEND has field services to help manage your assets across your full data center network. Get in touch today to chat more about device management.
No Comments Yet
Let us know what you think