Cisco 3800 Series Access Points
by PivIT Global, on Apr 8, 2019 9:58:49 AM
High Performance: Cisco AIR-AP3800 Series APs
For organizations paving the way for the new 802.11ac Wave 2 standard; the Cisco Aironet 3800 Series is the perfect solution for the enterprise level of networks. The Cisco 3800 series access points carry reliability and versatility.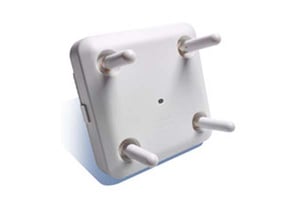 For large enterprise companies that are providing services to their client through wireless, the 3800 Series is a hands-off product that's intelligent enough to make decisions based on end-device activities and their usage. This automation allows you to devote time to more pressing matters while being secure in the knowledge that your Wi-Fi network is performing to its potential.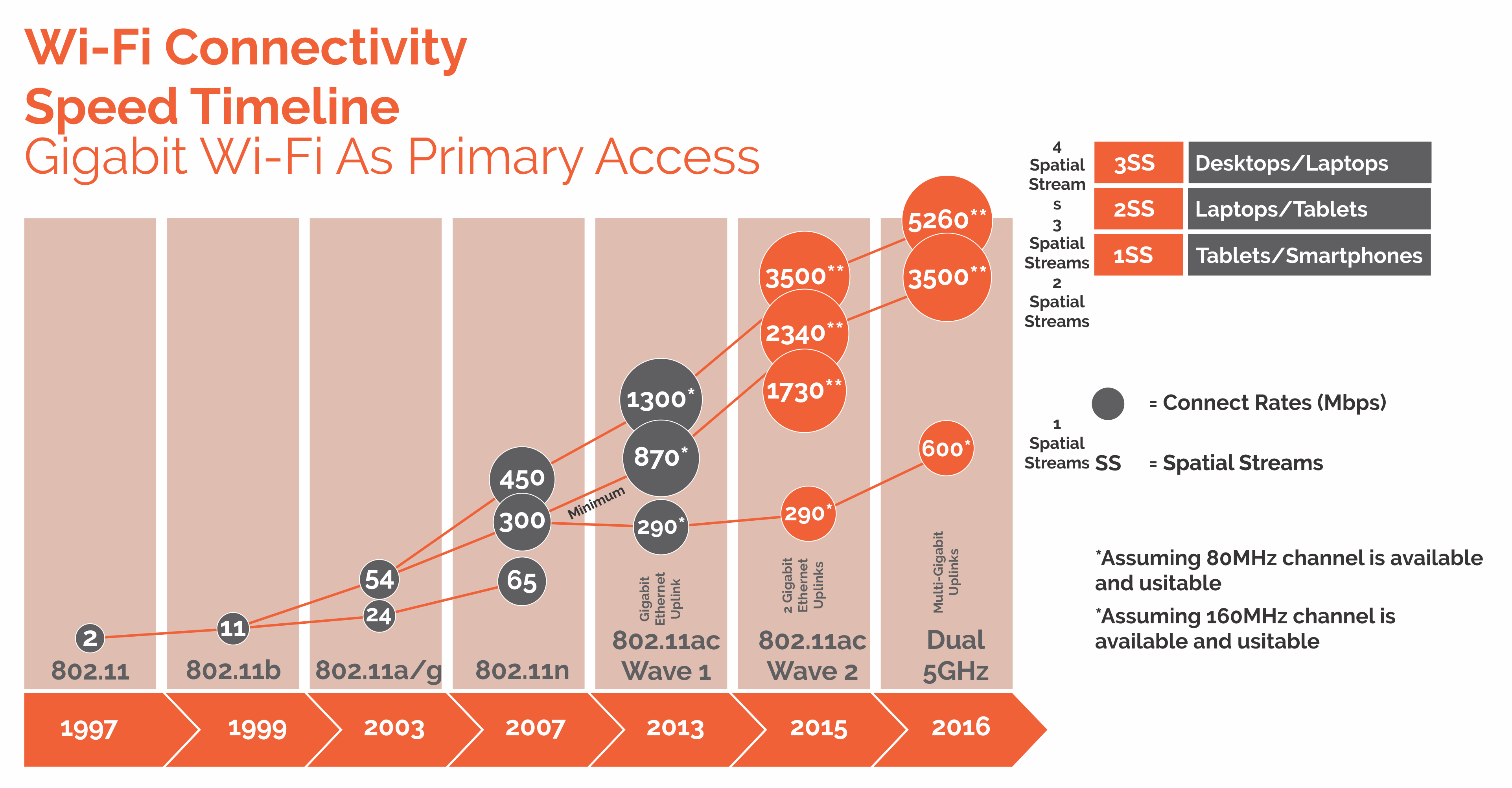 The Aironet 3800 Series has advanced features to fulfill enterprise level network needs while being a series leader to industry standard specifications. At a price that is affordable to wireless growth, capacity, and covering the gaps in a capable manner.
| | |
| --- | --- |
| FEATURE | BENEFITS |
| | Provides a theoretical connection rate of up to 2.6 Gbps per radio—roughly double the rates offered by today's high end 802.11ac access points. |
| High-Density Experience | Best in class RF architecture that provides high-performance coverage for a high density of client devices, giving the end user a seamless wireless experience. Features include custom hardware in 802.11ac Wave 2 radios, Cisco CleanAir® , Cisco ClientLink 4.0, cross-access point noise reduction, and an optimized client roaming experience. |
| Multiuser multiple-input multiple-output | Supporting three spatial streams, MU-MIMO enables access points to split spatial streams between client devices, to maximize throughput. |
| Multi Gb Ethernet Support | Providing multiple gigabit uplink speeds of 2.5 Gbps and 5 Gbps in addition to 100-Mbps and 1-Gbps speeds. All speeds are supported on Category 5e cabling and 10GBASE-T for an industry first. |
| Dual 5-GHz Radio Support | Enables both radios to operate in 5-GHz client serving mode. Allowing an industry leading 5.2 Gbps (2 x 2.6) over the air speed while increasing client capacity. |
| Smart Antenna Connector | An intelligent second physical antenna connector is included on 3800 Series models with an external antenna. This connector provides advanced network design flexibility for high-density and large open-area environments such as auditoriums, convention centers, libraries, cafeteria, and arenas/stadiums, allowing two sets of antennas to be connected and active on a single access point. |
| Cisco CleanAir 160 MHz | Cisco CleanAir technology, enhanced with 160-MHz channel support, provides proactive, high-speed spectrum intelligence across 20-, 40-, 80-, and 160-MHz-wide channels to combat performance problems due to wireless interference. |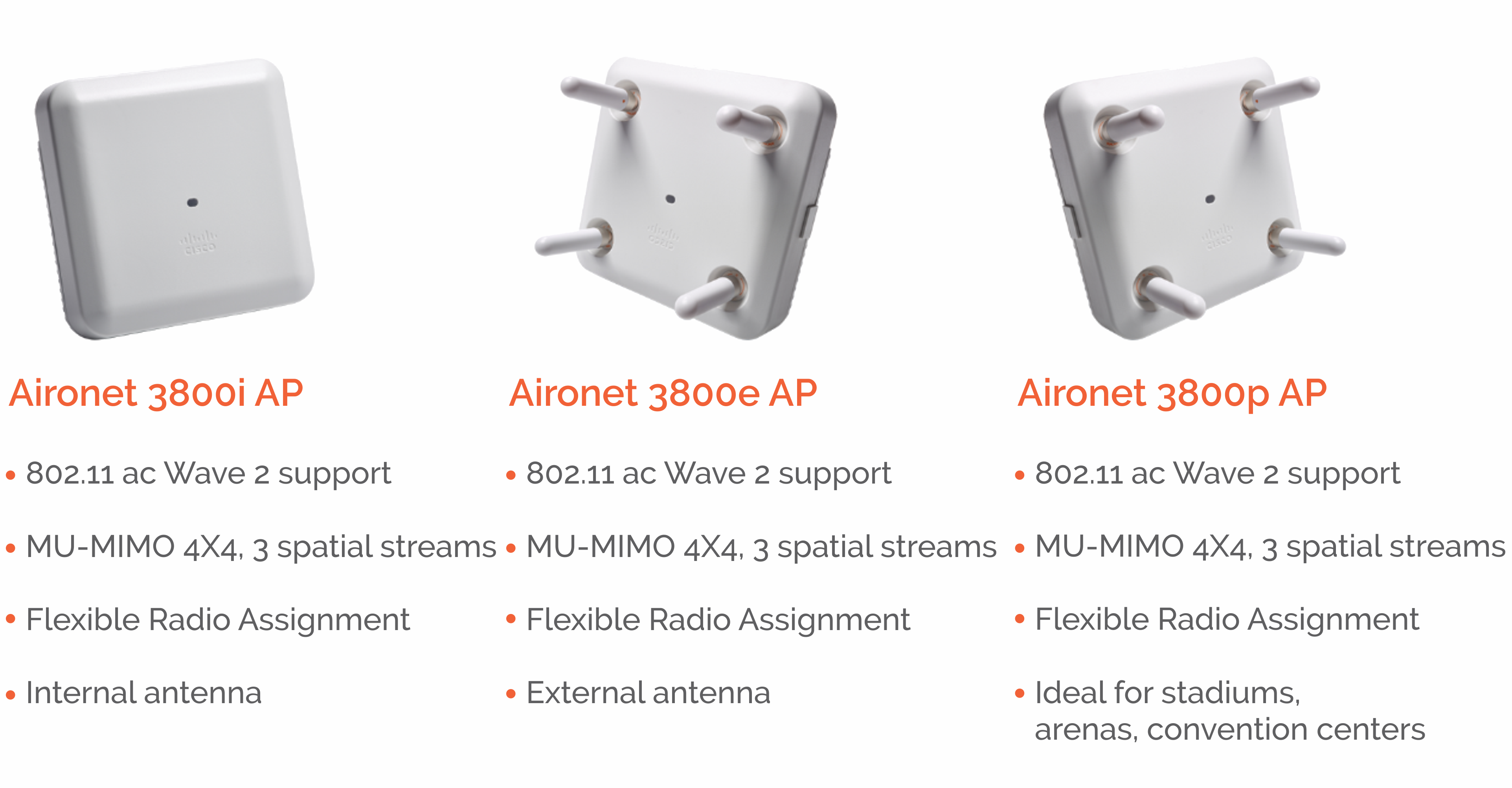 802.11ac Wave 2 and Beyond
Cisco introduced a new feature in the Aironet 3800 series that extends 802.11ac speed and features to smartphones, tablets, and laptops. This will provide stronger qualities of services to the user; whether the project involves wholesale changes to your current wireless network, or upgrading your legacy Wi-Fi deployments.
The Aironet 3800 Series supports 802.11ac Wave 2 while providing a connection rate up to 5.3 Gbps. That is almost four times faster than the rate offered by the 802.11 access points. This boost helps you stay ahead of the performance and bandwidth expectations of today's mobile worker who uses multiple Wi-Fi devices a day. Because of this, users are adding proportionally larger traffic loads to the wireless LAN, which has outpaced ethernet as the default enterprise access network.
High-Density Experience
Cisco 3800 series access points have improved mobile user experience in high-density environments. Cisco 3800 offers new Flexible Radio Assignment to keep up with the demand of increasing bandwidth for more devices around the world. Cisco provides the industry standard with advanced innovation that optimizes your network in unpredicted times of high-density traffic. All while offering consistent reliability, a new feature called, "Cisco Flexible Radio Assignment." A manual approach to recalibrating your wireless network because of over-usage just isn't practical. Flexible Radio Assignment automatically adapts to the temporary high-density environment changes.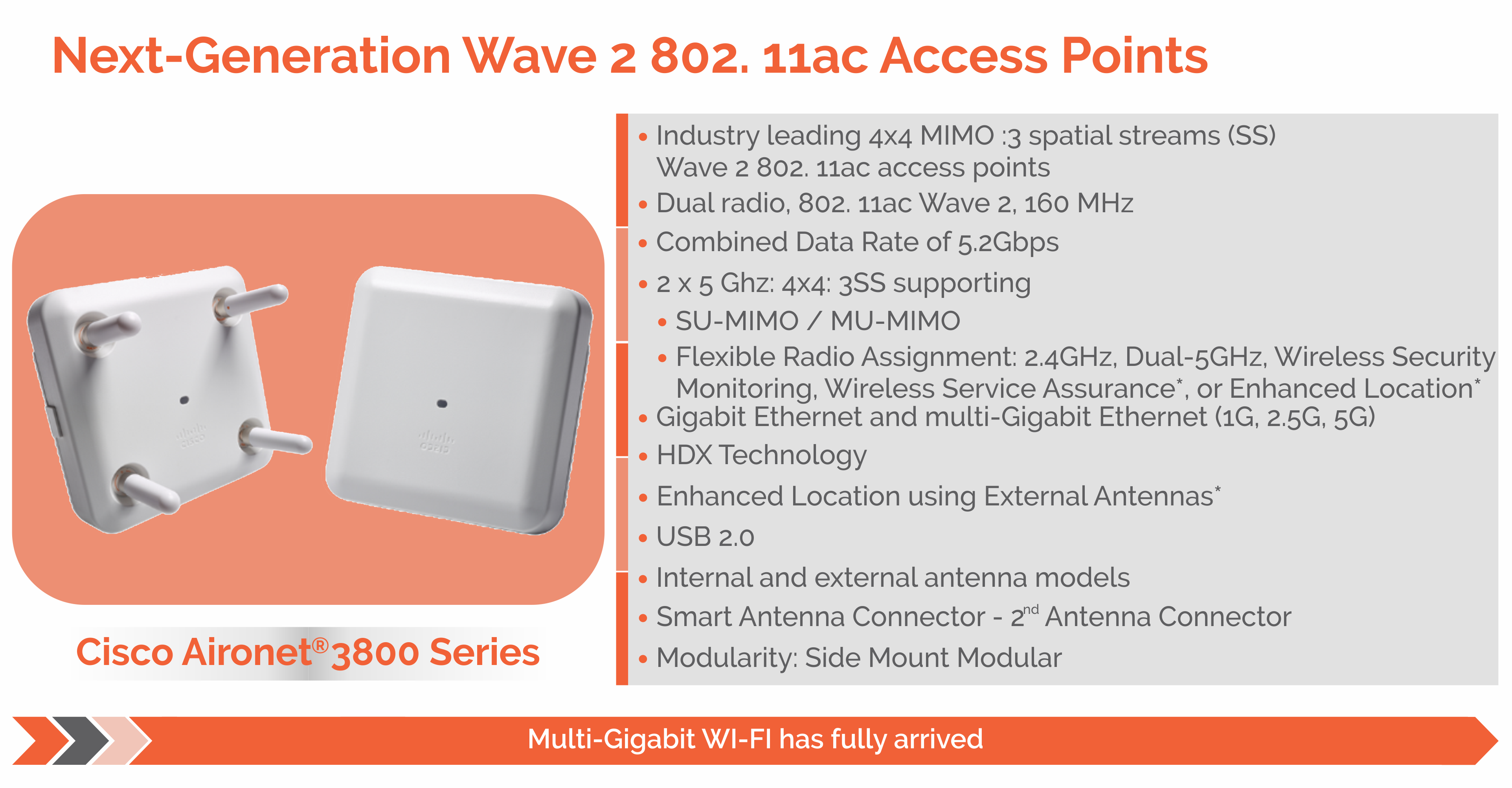 The 3800 Series automatically changes the radio settings based on the wireless environment in your area. The Cisco 3800 access points have a Monitoring Mode which allows you to detect wireless security threats and interference in your area so that you can easily identify network performance issues (if any).
Flexible Radio Assignment: allows you to convert a radio into Wireless Service Assurance mode which will provide proactive health monitoring of your network.
Optimized access point roaming: Ensures that client devices associated with the access points, can achieve high data rates.
Cisco ClientLink 4.0: Improves downlink performance and battery life to all mobile devices.
Cisco CleanAir: Technology that is enhanced with 160-MHz channel Support. It delivers proactive, high-speed spectrum intelligence across 20, 40, 80, and 160-MHz-wide channels; to combat against wireless interference.
MIMO Equalization Capabilities: Optimizes uplink performance and reliability by reducing the impact of the signal fade.
Other Cisco Access Points & Technical Resources*
1. Benefits of Upgrading to Cisco Wireless Access Points
2. Cisco Enterprise Wireless: Built for a Digital World
3. Putting the 'Flexible' in Flexible Radio Assignment
4. Cisco 802.11ac Wave 2 Access Points
5. Cisco Meraki Full Stack Advanced Services
Brochures
6. The Cisco DNA-Ready Infrastructure
EBook
Third Party Reports
8. Magic Quadrant for the Wired and Wireless LAN Access Infrastructure
9. IDC MarketScape: Worldwide Enterprise WLAN 2018 Vendor Assessment
10. Miercom Performance Report
*The above links, and the information within, are the property of their respective owner(s).