Cisco ISR 4000 Configuration Guide
by PivIT Global, on May 20, 2019 4:24:33 PM
Introduction
The 4000 Series ISRs are Cisco's versatile modular routers with LAN and WAN connections that can be configured by means of interface modules, including Cisco Enhanced Service Modules (SM-Xs), and Network Interface Modules (NIMs). NIM slots also support removable storage for hosted applications.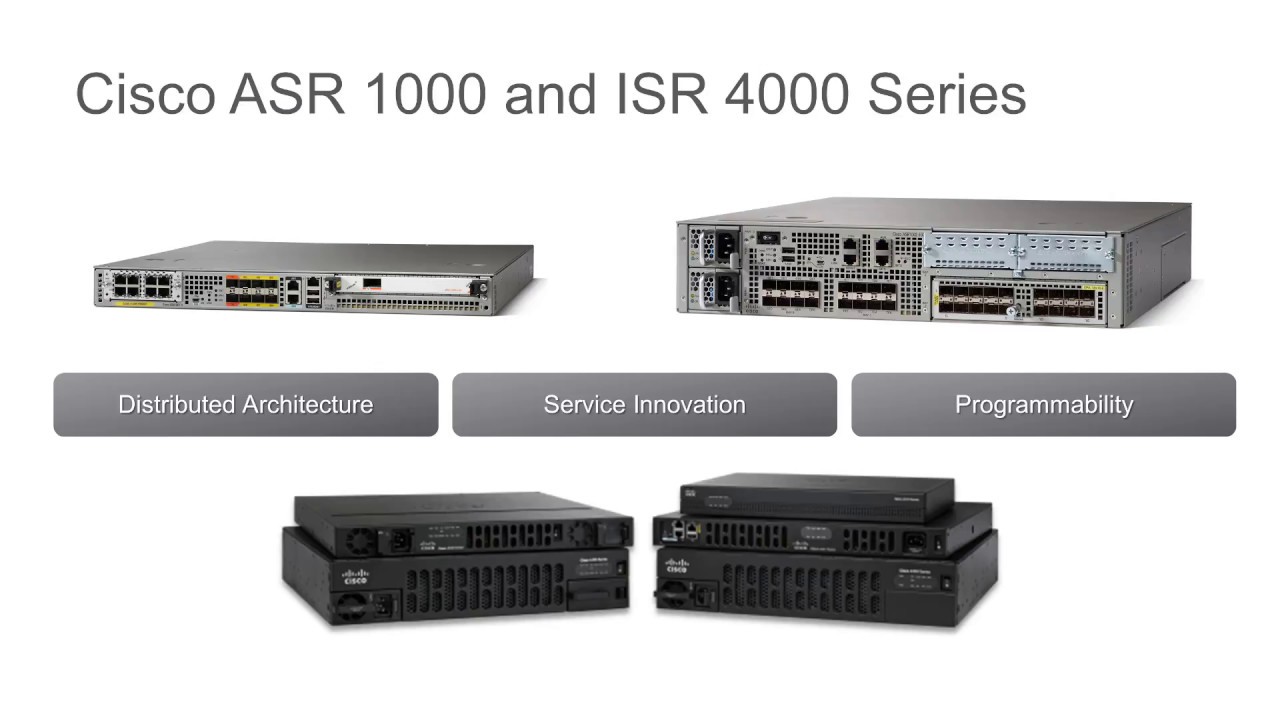 The following features are provided for enterprise and service provider applications:
Enterprise Applications

High-end branch gateway
Regional site aggregation
Key server or PfR master controller
Device consolidation or "Rack in a Box"

Service Provider Applications

High-end managed services in Customer-Premises Equipment (CPE)
Services consolidation platform
Route reflector or shadow router
Flexible customer edge router
The router runs Cisco IOS XE software and uses software components in many separate processes. This modular architecture increases network resiliency, compared to standard Cisco IOS software.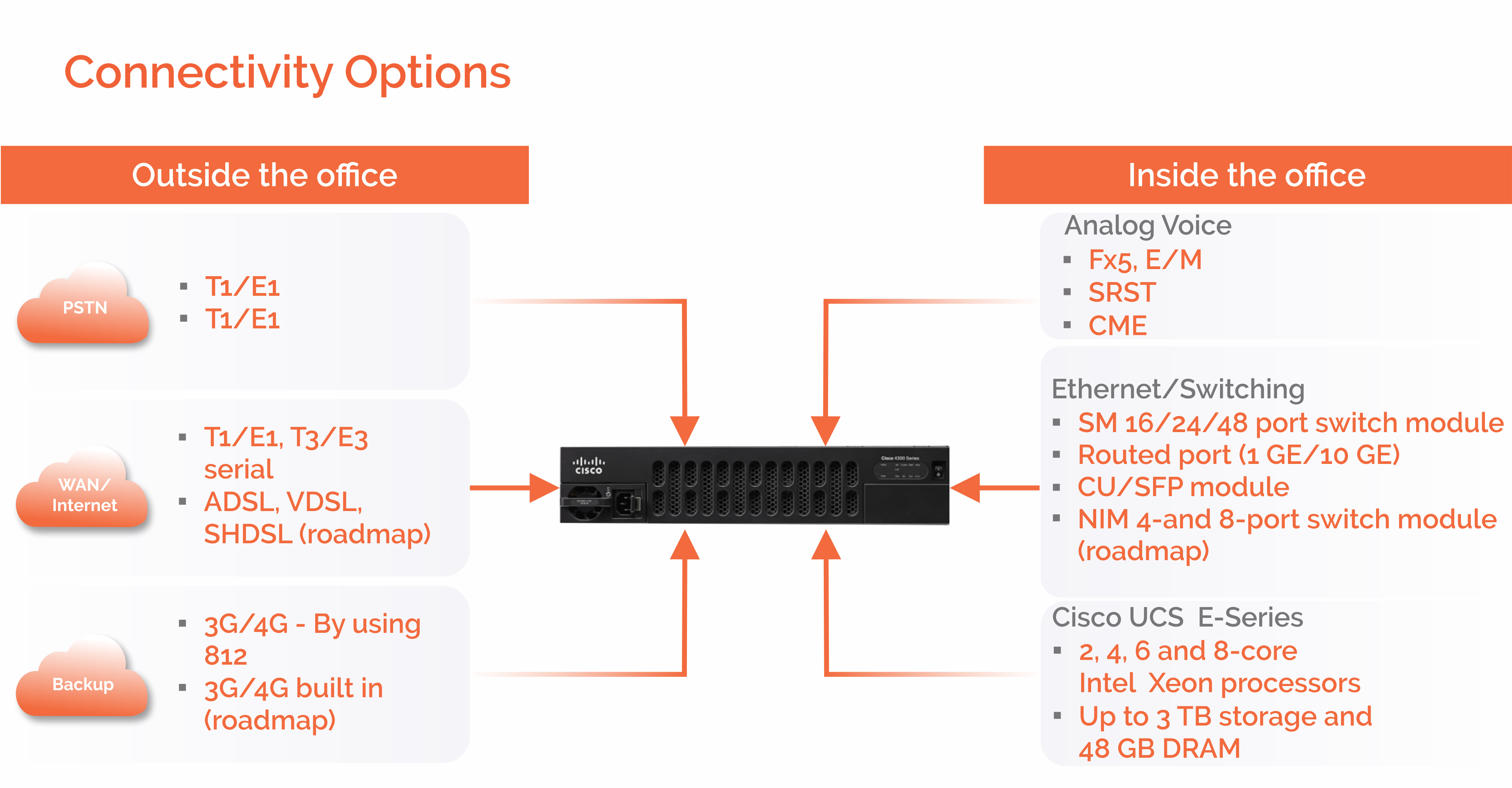 Cisco 4000 Series Router Models
Cisco 4400 Series ISRs
Cisco 4300 Series ISR s
Cisco 4200 Series ISRs
Cisco 4431 ISR
Cisco 451 ISR
Cisco 4321 ISR
Cisco 4331 ISR
Cisco 4351 ISR
Cisco 4221 ISR

| | |
| --- | --- |
| Section | Description |
| Overview | Provides a high-level description of the router and describes the main internal processes of the router. |
| Using Cisco IOS XE Software | Describes the basics of using Cisco IOS XE software with the router. |
| Using the Management Interfaces | Describes the uses of a Gigabit Ethernet management interface and a web user interface. |
| Console Port, Telnet, and SSH Handling | Describes software features that are common across Cisco IOS XE platforms. |
| Installing the Software | Contains important information about filesystems, packages, licensing, and installing software. |
| Basic Router Configuration | Describes the basic tasks required to configure a router. |
| Slot and Sub slot Configuration | Provides information about the chassis slot numbers and subslots where the service modules are installed. |
| Process Health Monitoring | Provides information about managing and monitoring the health of various components of the router. |
| System Messages | Provides information about syslog messages. |
| Trace Management | Describes the tracing function where logs of internal events on a router are recorded. |
| Environmental Monitoring and PoE Management | Describes the environmental monitoring features on a router. |
| Environmental Monitoring and PoE Management | Provides information about high availability features on a router to ensure network-wide protection. |
| Configuration Examples | Lists examples that include software installation and packaging. |
| Managing Cisco Enhanced Services and Network Interface Modules | Includes information about modules that can be attached to the router and provides related links to further documentation. For further details on configuring the modules (NIMs and SMs) |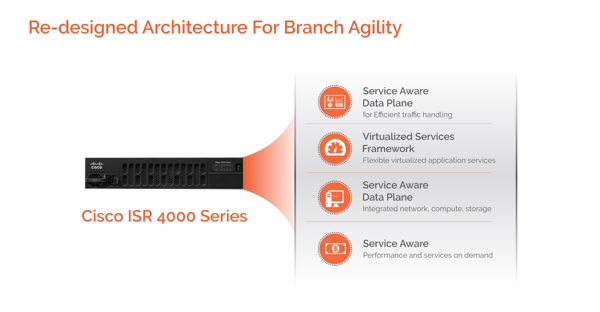 Cisco Smart Licensing - An Overview
Based on a single technology, Smart Licensing has been designed to provide enterprise-level agreements for all Cisco products. Smart Licensing provides a software inventory management system that provides customers, Cisco, and selected partners with information about software ownership and software utilization.
Smart Licensing is a software based end-to-end license platform that comprises several tools and processes that authorizes customers to use and to report Cisco products. Smart licensing has the capability to capture a customer's order and to communicate with Cisco Cloud License Service through the Smart Call Home Transport Gateway. Additionally, the Smart Call Home Transport Gateway helps to complete product registration and authorization based on the desired performance and technology levels of Cisco products.
Smart Licensing State Descriptions
| | | |
| --- | --- | --- |
| State Name | Description | Licensing State |
| Un-Configured | Smart Licensing agent is not enabled. | Not enabled |
| Un-Registered | Agent is enabled, but the product is not registered. | Success unless license evaluation has expired |
| Registered | Product is registered, but not authorized. | Success |
| Authorized | License is a used license, but not authorized. | Success |
| Out of Compliance | Never entered state | Out of compliance |
| Expired | Fully authorized for all requests | Success if there is 90 days grace period |