Advance Top-of-Rack Deployment with Cisco Nexus 3000 Series Switches
by PivIT Global on Jan 31, 2020 8:44:00 AM
Get the latest in next-generation switching innovation with Cisco Nexus switches. These state-of-the-art switches enable efficient virtualization, high-performance computing, and a unified fabric. By integrating the Cisco Nexus switches into your network infrastructure, Cisco Nexus Services can help you create a highly efficient, virtualized data center.
The Cisco Nexus family of switches are designed for highly scalable, end-to-end, 10 Gigabit Ethernet networks comprised of: Cisco Nexus 7000, Nexus 5000, and Nexus 4000 Series data center switches and Nexus 2000 Series Fabric Extenders (FEX). These data-center-class switches feature continuous system operations and transport flexibility, and deliver innovative networking capabilities such as: a unified fabric, I/O consolidation, and high-performance, low-latency, 10 Gigabit Fiber Channel over Ethernet switching.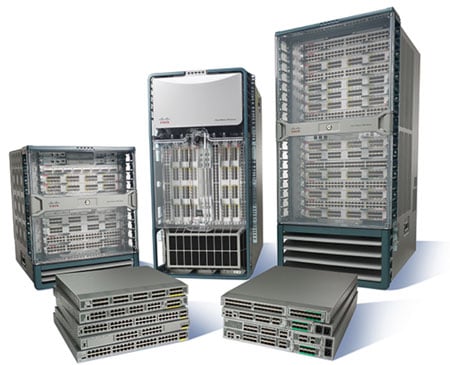 Cisco Nexus 3000 Series
Today's data centers require high performance, advanced programmability, low power, continual system availability and expect rapid and fluid response to their ever-changing business needs. To meet these challenges, take advantage of the Nexus 3000 series switches that provide the following advantages:
Single architecture across data centers for speed: 100M, 1G, 10G, 25G, 40G, 50G, and 100G

Support for underlay and overlay technologies such as VXLAN

Provides low latency platform for HPC, HFT environments

Provides a platform for object model programming and capability to support known Linux/server tools and isn't limited to tshark, Guest Shell, Chef and Puppet

Cisco Nexus 3600 Series
Large 8-GB buffers and large tables

Native 25 GE support for access connectivity

Highly programmable with NX-API

1, 10, 25, 40, 100 Gbps connectivity
Cisco Nexus 3500 Series
Lowest latency in the industry

Comprehensive features, including

AlgoBoost

Suited for HFT and HPC deployments

1RU, L2/L3 ToR switch supports 1, 10, 40 G with latency from 50ns to 290ns
Cisco Nexus 3400 Series
Programmable pipeline

In-band network telemetry (INT)

Suited for web-scale, service provider, and financial data centers

Supports 1, 10, 25, 40, 100, 400G
Cisco Nexus 3200 Series
High density and 42-MB buffer

MACsec

capable and telemetry for top notch security

Highly programmable with comprehensive features

10, 25, 40, 50 ,100-Gbps connectivity

Ideal for HPC/HFT environments
Cisco Nexus 3100-Z Series
Compact: 100G 1RU

Flexible connectivity: 128 ports x 1, 10, 25, 40, 50, 100G

Highly versatile leaf/spine platform

Wire-speed Layer 2 and 3 switching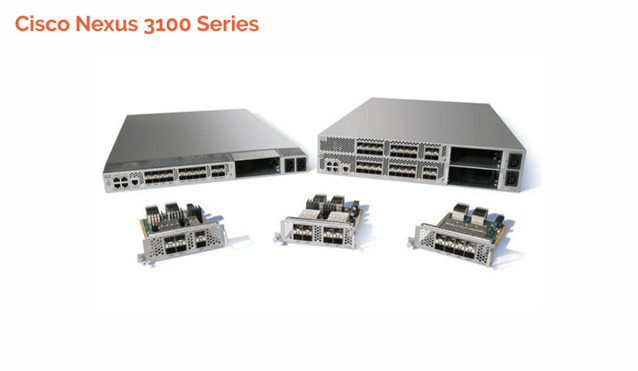 3100V, 3100, 3000 Series
Suited for big data, cloud, and virtualization

Optimized for 10G access and 10/100/1000 Mbps management

Compact power optimized platforms

VXLAN routing

(3100) 1/2RU; L2/L3 L3 ToR general purpose switch supports speed 1, 10, 40, 50 and 100G; Port Count: 32 x10G to 32x40G

(3100-V) 1RU; L2/L3 L3 ToR switch supports speed 1, 10, 40, and 100G

(3048) 1RU; L2/L3 ToR general purpose switch supports 48x100M/1G and 4x10G
At the End of the Day
The goal is to understand what best fits your needs, not to beat the other out of a spot on your rack. Our team will not only help identify your needs, but they will help get you set up with the proper gear to suite your company's needs best. Whether that's buying 3200 series for high density purposes or the 3600 series for 25GE support, we will help you meet your needs and accomplish your goals.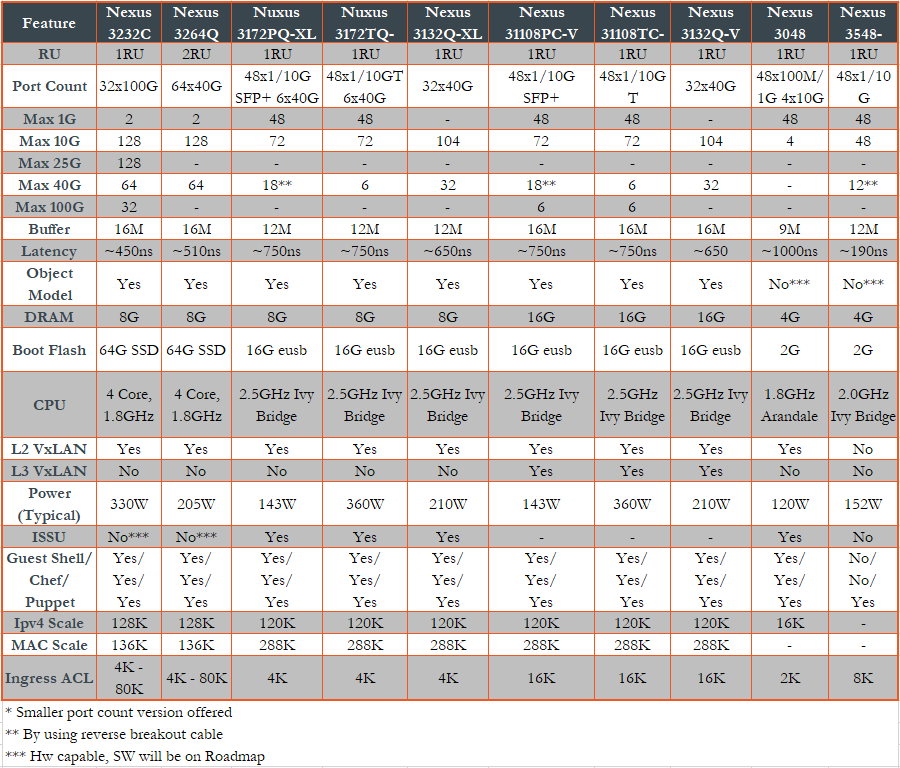 Need to Support one of these devices?
Learn how our Third-Party Maintenance offering, OneCall, makes your maintenance even easier! OneCall is built to help you manage your maintenance contracts, provide support engineers, and offer our own SLA's based on your business needs. Reach out today to learn more about how we can help!
No Comments Yet
Let us know what you think