How to Gain Flexibility & Performance Using the Cisco UCS C220 M5
by Darin Knobbe on Jul 2, 2020 1:45:00 PM
Today, we'll dive into the C series and take a close look at the UCS C220 M5 rack server. The operational intelligence, integration capabilities, and management are designed to provide industry-leading performance, scalability, and deployment. The C series servers put focus toward computing innovations to a rack-mount form factor, though they can be used standalone as well. When it comes to management, the servers are simple. Each is equipped with a base set of management interfaces that provide visibility and optimal control over your infrastructure. For more management capabilities have a look at this white paper.
The Key to UCS
The Unified Computing System from Cisco helps develop the way organizations do business. As the industry develops, data center environments are moving towards a more flexible and less rigid platform. This change calls for more integrated and virtualized environments. With Cisco's UCS being a next-generation platform, you can focus on gaining the flexibility your system needs to unify compute, network, storage, and virtualization. As the system comes together under the UCS platform, there is a lower total cost of ownership that increases business capacity. Below are 3 key designs that Cisco's UCS delivers:
Increased IT staff productivity and business agility for both virtualized and non-virtualized environments
A cohesive system integration that is managed, serviced and tested as a whole
Scalability through design for hundreds of discrete servers and thousands of virtual machines, and the capability to scale I/O bandwidth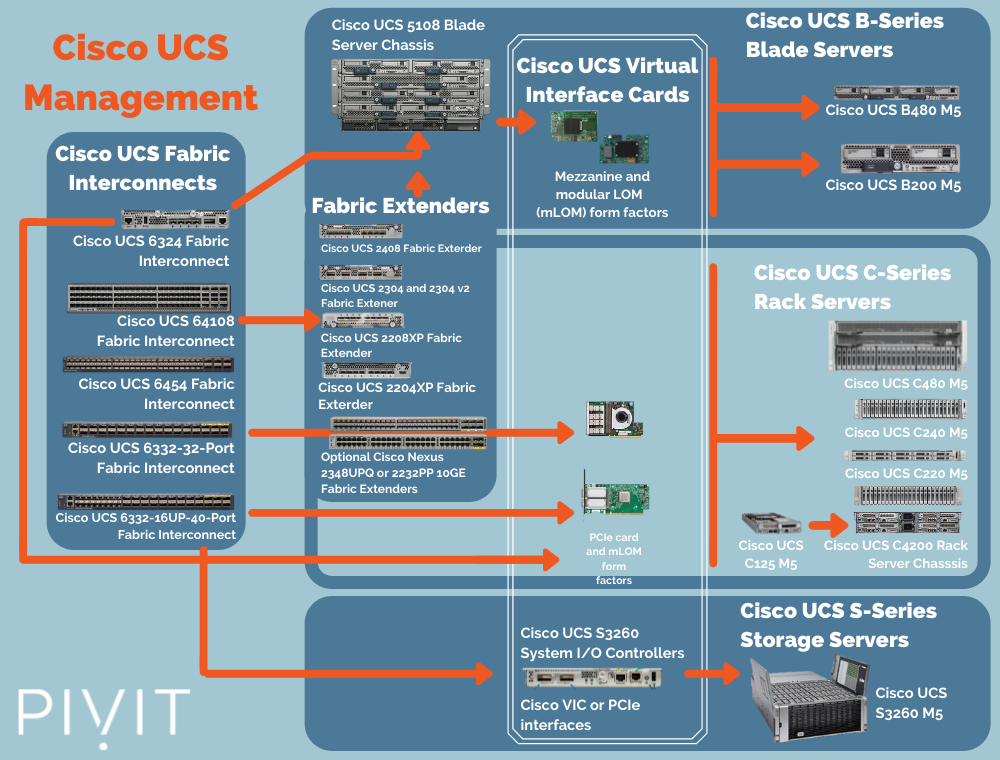 Cisco UCS C220 M5 Rack Server
This server is among the most flexible and broadly useful application servers in the market. This model is a high-thickness, 2-attachment rack server that conveys industry-leading execution and effectiveness for a wide scope of technology requirements. These requirements include virtualization, coordinated effort, and exposed metal applications.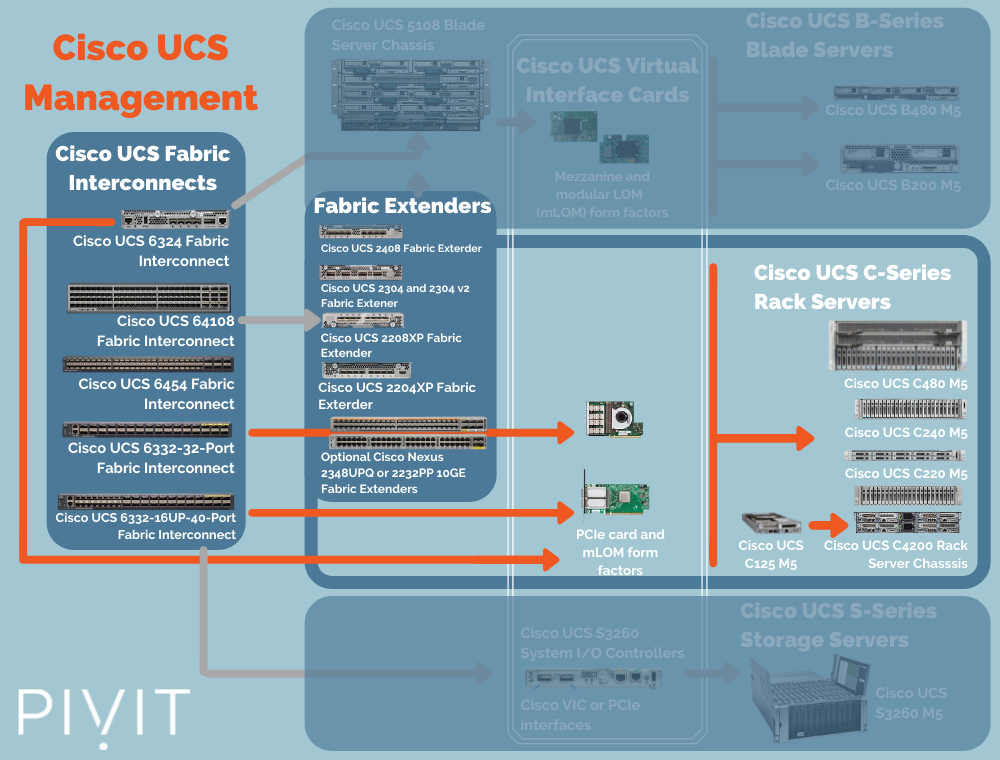 The Cisco UCS C220 M5 rack server incorporates the 2nd gen Intel Xeon Scalable processors. Through its delivery of expandability and performance, the M5 upholds application performance and efficiency gains. Additional features include:
Deploying the most advanced Intel Xeon Scalable CPUs with up to 28 cores per socket
Provides up to 24 DDR4 DIMMs for improved performance
Supports the Intel Optane DC Persistent Memory (128G, 256G, 512G)
Provides up to 10 Small-Form-Factor 2.5-inch drives or 4 Large-Form-Factor 3.5-inch drives (77TB storage capacity with all NVMe PCIe SSDs)
Supports12 Gbps SAS modular RAID controllers in a dedicated slot, leaving the remaining PCIe Generation 3.0 slots available for other expansion cards
Provides Modular LAN-On-Motherboard slots that can be used to install Cisco UCS Virtual Interface Cards (VICs) without consuming a PCIe slot
Deploys dual-embedded Intel x550 10GBASE-T LAN-On-Motherboard (LOM) ports

Powering Applications
The Cisco UCS C220 M5 Rack Server is well-suited for a wide range of workloads including:
IT and web infrastructure
High-performance virtual desktops
Medium-sized and distributed databases
Middleware
Collaboration
Public cloud
C220 M5 servers can be deployed as standalone servers or in a Cisco UCS-managed environment. When used in combination with Cisco UCS Manager, the C220 M5 brings the power and automation of unified computing to enterprise applications, including Cisco SingleConnect technology. This technology drastically reduces switching and cabling requirements.
Hardware Options For You
Here at PivIT, we know the importance of bringing options to the table. Whether it's an option within the UCS platform or a Cisco server versus a Dell EMC server. We strive to bring you the best option for your network.
UCS C220 M5 Specifications
Item

Specification

Form Factor
1RU Rack Server
Processors
Intel Xeon Scalable processors (1 or 2) or second-generation Intel Xeon Scalable processors
Memory

24 DDR4 DIMM slots: 8, 16, 32, 64, and 128 GB up to 2666 MHz

Support for the Intel Optane DC Persistent Memory (128G, 256G, 512G)

PCIe Expansion

2 PCIe 3.0 slots plus 1 dedicated 12-Gbps RAID controller slot and 1 dedicated mLOM slot

RAID Controllers

 Internal controllers: Cisco 12-Gbps Modular RAID Controller (PCIe 3.0) with 1- or 2-GB Flash-Backed Write Cache (FBWC), providing enterprise-class data protection for up to 10 SAS and SATA Hard-Disk Drives (HDDs), SSDs, or NVMe PCIe SSDs; or Cisco 12-Gbps Modular SAS Host Bus Adapter (HBA)

External controller: Cisco 12-Gbps 9400-8e SAS HBA

Internal Storage

Backplane options:

Up to 10 x 2.5-inch SAS and SATA HDDs and SSDs and up to 2 NVMePCIe drives
Up to 10 x 2.5-inch NVMe PCIe drives
Up to 4 x 3.5-inch SAS and SATA HDDs and SSDs and up to 2 NVMePCIe drives

Embedded Network Interface Cards
Dual 10GBASE-T Intel x550 Ethernet ports
mLOM
Dedicated mLOM slot that can flexibly accommodate 1, 10, 25, 40, and 100Gbps adapters
Power Supplies
Hot-pluggable, redundant 770W AC, 1050W AC, 1050W DC, and 1600W AC
Other Storage

Dual internal Cisco FlexFlash Secure

Digital (SD) cards (32, 64, and 128 GB) for installing an operating system or hypervisor

Support for RAID 0 mirroring between SD cards

Dedicated Baseboard Management Controller (BMC) MicroSD card (32 GB) for server utilities

Dual M.2 SATA SSD or NVMe
Management

 Cisco Intersight™
 Cisco IMC
  Cisco IMC Supervisor
  Cisco UCS Manager
  Cisco UCS Central Software
  Cisco UCS Director
Cisco UCS Performance Manager

Rack Options
Cisco ball-bearing rail kit or friction rail kit with optional reversible cable management arm
C220 in Your Network
As your network becomes more virtualized, look to the C220 M5 server to fit a spot on your rack. If your applications lean towards collaboration or bare-metal, the C220 M5 has the performance and efficiency for your workloads. The improved application performance comes from greater storage density, doubled memory capacity, and 20% more cores per socket. When you need the flexibility on your rack, consider deploying the C220 M5 server.
If the C220 M5 doesn't quite suit your needs, check out this comparison between the Cisco UCS B200 M4 and UCS B200 M5.
About PivIT Global
Here at PivIT Global we want to help you find the right infrastructure to best set your business up for success. We have a team ready to answer any questions or chat more on Cisco's C220 M5 server. Need to get in touch quick than a phone call? No worries, leave a comment below!
No Comments Yet
Let us know what you think