Dell EMC MX740C vs. Cisco UCS B200 – High-End Blade Servers
by Darin Knobbe on Sep 30, 2021 1:30:00 PM
Organizations increasingly depend on applications to deliver an outstanding digital experience for their customers, employees, and partners. As this requires IT operations to monitor, manage, and automate various complex workloads across the core, edge, and multi-cloud environments, enterprises need a modern, simple, flexible, and scalable IT infrastructure.
High-end blade servers are the solution to meet today's demands and accommodate future technologies, with a more powerful processor and enhanced throughput. In this article, we compare two of the leading blade servers on market – the Dell EMC MX740C and the Cisco UCS B200.
Dell MX740C Blade Server Overview
Dell PowerEdge MX740C is a fully managed, high-performance system that will save valuable IT resources and personnel so you can concentrate on innovation. Designed for PowerEdge MX kinetic infrastructure ecosystem, the PowerEdge MX740C compute sled, with a huge memory capacity, and a rich set of storage subsystem options gives the flexibility and agility needed in today's software-defined data centers.
This full-featured, storage-rich, flexible 2-socket compute sled is ideal for many workloads, including virtualization, collaborative, and software-defined workloads. The 2nd Generation Intel(R) Xeon(R) Scalable processors can run any application in your organization smoothly and efficiently.
____________

Are you looking to fill an open spot on your server rack? Click below to start a quote!

____________
Dell MX740C Internal System View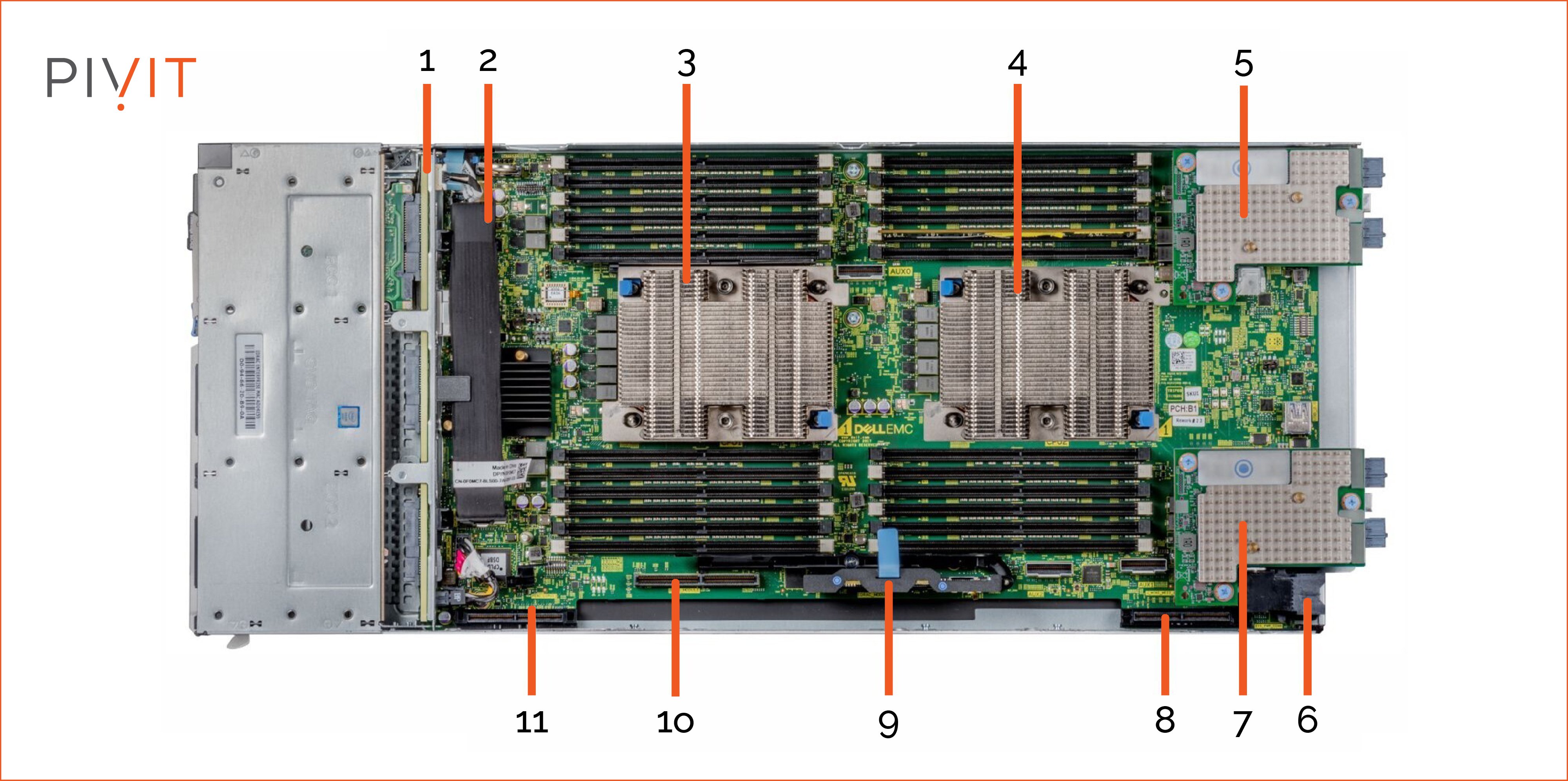 Drive backplane
Backplane to PERC cable
Processor 1 (heat sink)
Processor 2 (heat sink)
Mezzanine card A1 (Fabric A)
Power connector
Mezzanine card B1 (Fabric B)
Mini Mezzanine connector
iDRAC module
BOSS or IDSDM module connector
PERC connector
Dell EMC PowerEdge MX740C Server Advantage
Dell PowerEdge MX740C is the efficient, feature-rich modular server for software-defined workloads. The PowerEdge MX740C, designed for the PowerEdge MX kinetic infrastructure ecosystem, provides flexible and dense two-socket compute power for the modern data center.
A fully configurable single-width compute sled powered by up to two-28-core 2nd Generation Intel Xeon Scalable processors. Each server supports 24 DDR4 DIMM slots. The PowerEdge MX7000 chassis supports a maximum of eight MX740C servers along with the below features:
Supports of up to 3TB (LRDIMM) or 1.5TB (RDIMM); support up to 192GB NVDIMM for large applications.
Supports up to 12 slots for Intel OptaneTM DC persistent memory DCPMM (6.1TB) with the highest total capacity of 7.68TB per server.
Provides robust system management performance with an enhanced iDRAC9 processor, up to four times better performance over the earlier generation.
System erase with proper authentication, securely and quickly erase data from local storage.
If you want to learn more about the Dell PowerEdge MX740C's advantage, click below to get in touch with PivIT's Server specialist.
Cisco's Next-Generation B200 M6 Server
The Cisco UCS B200 M6 Blade Server is the latest offering from Cisco's UCS B-Series Blade Servers in response to the demand for IT infrastructure modernization. Cisco UCS B-Series Blade Servers help streamline data center resources, scale service delivery, and significantly decrease the number of devices requiring setup, management, power, and cooling.
The Cisco UCS B200 M6 Blade Server provides market-leading performance, versatility, and density without compromise for workloads changing from web infrastructure to distributed databases in data centers, the cloud, and remote sites. It offers the highest density of servers per rack unit of blade chassis, with up to eight servers residing in the 6RU Cisco UCS 5108 Blade Server Chassis. The Cisco UCS B200 M6 harnesses the latest 3rd Gen Intel Xeon Scalable Processors (Ice Lake).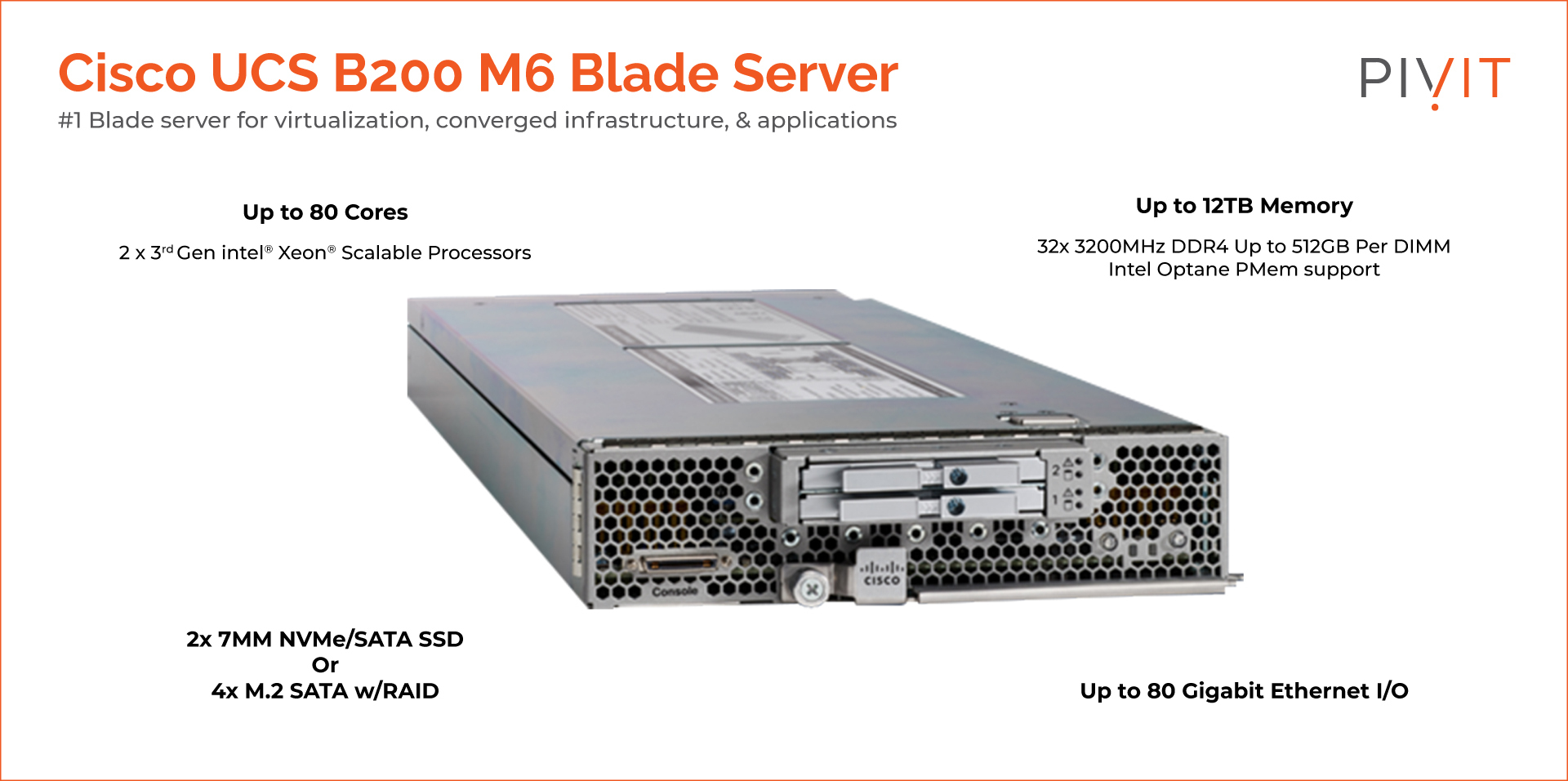 The Cisco UCS B200 M6 Blade Server Advantage
The Cisco UCS B200 M6 Blade Server offers high server performance and the capacity to adapt to increasing application demands across hybrid computing environments.
The Cisco UCS B200 M6 Blade Server offers exceptional levels of performance, flexibility, and I/O throughput to run your applications.
The latest, 3rd Gen Intel Xeon Scalable Processors (Ice Lake) in UCS B200 M6 can offer up to 40 percent more performance, with 43 percent more cores than the M5 generation and 33 percent more memory than the M5 generation. Cisco UCS provides a single point of connectivity and hardware management that integrates HyperFlex HX-Series nodes and Cisco UCS B-Series Blade Servers into a single unified cluster.
The Cisco UCS B200 M6 brings more advancement to the Cisco HyperFlex solutions, providing flexible performance for various workloads, including virtual desktop infrastructure, databases, AI, and machine learning, using a wide range of core frequencies and features, and power consumption levels.
Cisco UCS B200 M6 also intelligently scales energy use based on utilization which helps reduce energy costs. It has a modular configuration with fast, easy, and effective scaling-out software, CPU, storage, and I/O. It supports virtualized compute, I/O, and storage resources that can be scaled independently. Cisco UCS B200 M6 works with virtualized and non-virtualized applications to:
Increase capacity for virtualization and data-set workloads.
Improve virtualization performance and help enable more virtual machines per server.
Increase performance on memory-intensive workloads.
Features Comparison Between Dell EMC MX740C and Cisco UCS B200 Server
Feature

Dell PowerEdge MX740C

Cisco UCS B200 M6 Blade Server

Processor

One or two Intel Xeon(R) Scalable Processors
One or two 2nd Generation Intel(R) Xeon Scalable processors
Up to 28 cores per socket

3rd Gen Intel Xeon Scalable and processors with up to 40 cores per socket
Up to 2 3rd Gen Intel Xeon Scalable processors (1 or 2)

Chipset

Intel C628
Optional Intel QuickAssist Technology (QAT)

Intel C621 series chipset (Lewisburg)

Memory

24 DIMM slots
12 slots enabled for NVDIMM-N or DCPMM
Maximum capacity (RDIMM): 1.5TB
Maximum Capacity (LRDIMM): 3TB
Maximum capacity (NVDIMM-N): 192GB
Maximum capacity (DCPMM): 6144GB

32 total DIMM slots
Support for Advanced ECC
Support for registered ECC DIMMs (RDIMMs)
Support for load-reduced DIMMs (LR DIMMs)
Support for PMEMs
Up to 8 TB GB DDR4 DIMM memory capacity (32 x 256 GB DIMMs)
Up to 12 TB memory with a mix of DIMMs and PMEMs

Storage Controllers

H730P MX Performance RAID, 2GB NV cache
H745P MX Performance RAID, internal and external drive connect, 8GB NV cache
HBA330 MX mini-mezz, HBA, external drive connect, no-cache

Cisco FlexStorage 12G RAID controller module with drive bays
Cisco FlexStorage NVMe pass-through module with drive bays

Drive Support

2.5-inch 12Gb SAS
2.5-inch 6Gb SATA
2.5-inch NVMe

Up to two 2.5" SFF SSDs up to 7.6 TB capacity each
Up to two 2.5" PCIe NVMe drives up to 6.4 TB capacity each

Video

Integrated VGA controller in iDRAC, VGA over LAN
4 Gb DDR4 shared with iDRAC application memory

Integrated 2D graphics core with hardware acceleration
DDR4 memory interface supports up to 512 MB of addressable memory (8 MB is allocated by default to video memory)
Supports display resolutions up to 1920 x 1200 32 bpp@ 60Hz

Management

Cisco Intersight software
Cisco UCS Manager Release 4.2(1)
Cisco UCS Central Software
Cisco UCS Director
Cisco UCS Performance Manager
Protect Your Server Hardware With OneCall and EXTEND
With an extensive list of models and several providers, PivIT has a comprehensive portfolio of server hardware solutions—for an average of 65% savings to create CapEx by reducing OpEx.
PivIT also offers OneCall, which gives you top-to-bottom, all-inclusive support of new and legacy server infrastructure. And with PivIT's EXTEND, you have certified pros at your disposal for everything from installation to troubleshooting and beyond. With an extensive network of OEMs, PivIT has many hardware solutions—both new and legacy—for virtually any situation.
No Comments Yet
Let us know what you think