Simplify Your Network with Dell EMC's PowerEdge R740xd Server
by Darin Knobbe, on Oct 29, 2020 2:45:00 PM
Complexity is the name of the game. Wrong! Countless options often bring complexity to buying decisions and leave you feeling more uncertain about the direction you want to take your network and to what is truly best for you. How do you best set yourself and your network up for success in the long run? Your best solution could be legacy equipment or moving to a third party maintenance provider. So, if you are looking for a solution to bring simplicity, look no further.
Simplicity is the name of the game. Today, we focus on dismantling the complexity of your network from the edge to the core. We'll dive into Dell EMC's PowerEdge Server Series that brings speed and simplicity of the public cloud — with the security and control you need in a private cloud — to your network through a unique all-around solution. We highlight the R740xd and how it can work seamlessly in your network.
PowerEdge Technology from Dell EMC
Servers are the foundation of today's data centers. The PowerEdge Server platform can be tailored to a customer's unique needs so that future business needs can be met with scalable, flexible platforms. The PowerEdge architecture provides the technology to maximize application performance through the ability to tier with various drives. Their design is built for a widespread of workloads, whether your business is seeking to scale and grow, or recover from a pandemic. These power rack servers provide speed deployment and improve application performance for the database, high-performance computing, and virtualization environments.
PowerEdge R740xd Server
At the core, the R740xd is the same as the R740 rack server. The differing feature is the R740xd has been optimized for storage with the ability to manage a wide range of application demand. This 2U, 2-socket server presents flexible and scalable storage options to tackle your most demanding data-driven workloads — an ideal solution for software-defined storage and big data operations. The architecture behind this rack server creates this ideal balance between scalability and performance with 24 NVMe drives.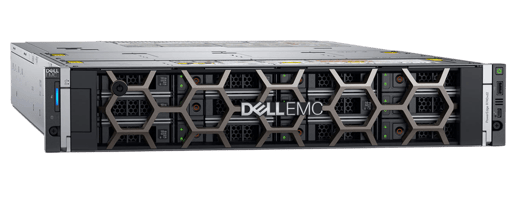 Where the R740 class (both R740 & R740xd) of enterprise servers shed some light is their support of GPUs. Specifically, with the R740xd, you have the capability to support a mixture of drives. The available space allows versatile configurations of NVMe drives (24), SSD, and HDD to optimize performance and capacity. The various mixtures of drives for the available space make an ideal situation for VDI with both NVMe and GPUs. Other ideal solutions the R740xd fits well into are:
Database Management
Decision Support
OLTP
Virtualization
Nutanix Ready
Hyper-converged infrastructure (HCI) is a unique solution that brings simplicity to your network. It includes enterprise-class storage, virtualization applications, and highly scalable. A few specialized features of HCI are:
Ease of Deployment & Management
Scalability
Lifecycle Management
Serviceability
Performance & Reliability
TCO & Flexibility
Density and Power Cooling Efficiency
Dell EMC and Nutanix have created a fully integrated, hardware/software system designed for scalability, performance, and flexibility. Amidst the Dell EMC XC Family, the PowerEdge Server technology can operate with Nutanix software. They are equipped with high-performance Intel Xeon Scalable processors, high-performance flash, and high-speed Ethernet. Software-defined infrastructure is changing the way data services are delivered which creates more efficient and agile companies.
The Nutanix software can be factory-installed before shipping, saving you and your team the upfront cost and time to get it ready for deployment. The partnership between Dell EMC's expertise in software-defined hardware and Nutanix's ability to deliver the software ecosystem has all developed in bringing an efficient, reliable, performance-driven solution to your high demands. For example, when selecting SSDs, HCI brings consistent performance across the board. When workloads are spread across various drives and nodes, the performance is only as good as the weakest link. HCI brings that consistency where all drives and nodes perform consistently. To learn more about the Nutanix ready R740xd PowerEdge Server and how you can find the HCI solution in your network, click here to chat with our Dell EMC and Nutanix expert.
Performance Statistics
Your business-critical workloads require top performance. We have seen clients try to match their needs with a network expansion on the horizon. If you find yourself in this situation, the R740xd allows you to meet current capacity requirements along with expansions down the road. You can either have 32– 2.5-inch Drives, 18– 3.5-inch Drives, or a mixture of the two, and 24 NVMe Drives to meet your unique needs.
| | |
| --- | --- |
| Technical Specification | Unit |
| CPU | Dual Intel Xeon Gold 6132 - 2.6GHz - 14 Core CPU |
| Memory | 512GB DDR4 2666MT/s - 16x 32GB DIMMs |
| RAID Controller (external) | PERC H730P RAID Controller - 2GB NV Cache |
| Storage | 21.6TB RAW Storage - 12x 1.8TB 10K SAS HDD 12Gbps - 2.5" |
A Competitive Outlook
Since we are on the topic of complexity, what brings more complexity to your world than multiple options when making a decision? To help iron out any more bumps in the road we've brought a top competitor to the R740xd PowerEdge Server. We often hear about HPE's equivalent, the ProLiant DL380 Gen10. Here we put them in a quick side-by-side comparison to help make your decision – simple.
Specs

PowerEdge R740xd

ProLiant DL380

Processor
2nd Generation Intel Xeon Scalable Processor
2nd Generation Intel Xeon Scalable Processor
Cores per Processor
Up to 28
Up to 28
Memory DIMM Slots

24 DDR4 DIMM slots
Supports RDIMM/LRDIMM mixture
2933MT/s

RDIMM: 1.53TB
LRDIMM: 3TB
NVDIMM: 192GB
DCPMM: 6.14TB (7.68 with LRDIMM)

6-Channel DDR4
Mixing RDIMM and LRDIMM is not supported
2933MT/s

6TB max RAM (larger than 2TB memory per socket on select SKUs

Power Supply

Titanium 750W
Platinum 495W
Platinum 240VDC
Platinum 1100W 380VDC
2000W and 2400W
and More

500W Hot Plug Low Halogen
800W Hot Plug Low Halogen
1600W Hot Plug Low Halogen

Systems Management
At-Server Management with OpenManage Enterprise (OME) managing up to 8000 devices
No At-Server Management with HPE OneView managing up to 1024 nodes.
Security
Broad, feature-rich security portfolio, including instant secure erase with rapid OS recovery and dynamically enabled USB ports
Fewer security feature where the only management is USB port protected
Energy Efficiency
Multi-vector zoned cooling enables more granular power control through OpenManage Power Center integrated with OME
No granular cooling of PCIe expansion boards and requires iLO Advanced and HPE smart PDUs for group-level power management
To dive into the comparison more, chat with one of our server specialist! Click here to get in touch!
Bringing the Server to Your Network
PivIT Global is excited to offer our clients Dell Certified Refurbished options. Dell Certified Refurbished data center hardware allows you to transform your data center with the latest technology while stretching your budget with huge savings off new list pricing. All hardware carries the same reliability, performance and Dell support as new equipment. Refurbished options have helped several clients reduce their OpEx to access more CapEx. To learn more about Dell Certified Refurbished options, click the button below!
Technical Specs
Hardware Specification

Unit

Network Options

4 x 1GbE; 2 x 10GbE + 2 x 1GbE; 4 x 10GbE; 2 x 25GbE

BOSS Card

2x 240GB SATA M.2 Sticks

Systems Management

iDRAC9 Enterprise License

Network Daughter Card

Intel X550 2 x 10Gb + i350 2 x 1Gb Daughter Card

Power Supply

Dual, Hot Plug, Redundant Power Supply (1+1) 1100W PSU

Accessories

Read Rails Sliding Rail Kit, 14th Gen Bezel

Support

3 Year Dell Basic HW Warranty Repair, 5x10xNBD Onsite

Internal Controllers

PERC H330, H730P, H740P, HBA330

Accelerator Options

Up to three 300W or six 150W GPUs, or up to three double-width or four single-width FPGAs.

GPU and FPGA options are available only on 24 x 2.5" drive chassis

Full Power Supply

495W Platinum

750W Platinum

750W Titanium

750W 240VDC

1100W Platinum

1100W 380VDC

1600W Platinum

2000W Platinum

2400W Platinum

1100W -48VDC Gold
Bring simplicity to your network with the Dell EMC PowerEdge R740xd Server with Nutanix software. PivIT offers a fresh approach to sourcing, maintaining, and servicing your data center infrastructure. We've reimagined the status-quo and offer our customers strategies not found in the traditional IT channels. Our focus is to examine your CAPEX/OPEX limitations and present you with options to free up your budget, achieve your goals and Do IT Better.
Leave a comment below or click here to get in touch with your PivIT representative to ask a questions, get pricing, or learn more about Dell Certified Refurbished options!