What You Need to Know When Comparing the UCS B480 M5 & PowerEdge MX840c
by Darin Knobbe on Jan 14, 2021 1:45:00 PM
Two market-leading servers focused on bringing scalability and high-performance to your network are put head-to-head to help clear the waters and determine which will work best for you and your network needs. Today, we'll walk through key benefits Cisco's UCS system brings to your network as well as areas Dell EMC's PowerEdge outmatches Cisco for a spot on your rack. The rack environment demands versatility, density without compromising performance, memory-intensive units, and virtualization capabilities. Where both Dell EMC and Cisco have their strategies to take on the demands of today's environments, we will put two industry-leader servers side-by-side to help you compare and decide which server will fit your needs best.
Wearing Blue: Dell EMC's PowerEdge
The PowerEdge platform from Dell EMC has made its way to lead the industry in data center infrastructure. Built from the ground up with a no-compromise approach to deliver an end-to-end, innovative solution that you can rely on for network success. As we get detailed with the PowerEdge MX840c, we'll see the next-generation Intel Xeon processor at work with computing, network, and storage capabilities.
Choice management types, open networking, and comprehensive integrations into VMware and MS consoles bring the Total Cost of Ownership (TCO) into sight when comparing PowerEdge servers to UCS servers. We'll take a look at the specific below, but PowerEdge proves its leadership in the storage and performance areas with its 20+ server portfolio. Open infrastructures are becoming more attractive to today's environment to keep strategy in mind for future fabrics. Dell EMC's PowerEdge server portfolio packs a solid 1-2 punch when put in the ring with Cisco's UCS platform. Let's see how Cisco counters, and if you want to know more about how the PowerEdge platform could benefit you, click here to chat with our PowerEdge specialist!
Wearing a Lighter Shade of Blue: Cisco
Simplicity is the name of the game at Cisco as they seek to provide both horizontal and vertically integrated solutions to your network. Cisco's UCS system focuses on automation, accelerated deployment, virtualization, cloud computing, and more to look at your network as a whole, from the core to remote locations. A unique avenue Cisco brings to light within UCS is intent-based infrastructure, meaning administrators have the ability to automate configurations based on specific requirements given by business objectives and application performance. Recognizing your network as an important business unit rather than a vehicle to conduct business speaks directly to achieving maximum efficiency across the board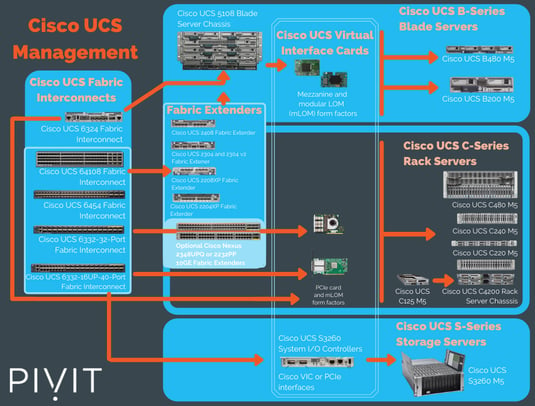 .
As we look more closely at the UCS system, specifically the B-Series Blade Servers (B480 M5), we again see Intel Xeon processors at work. This time two or four 2nd Generation processors. A goal of the UCS platform is to reduce network layers, which in turn reduces TCO and increases virtualization. The increased virtualization brings management ease overall, and the Cisco UCS management gives you access to SaaS, Global Dashboards, and TAC all confined within the realm of Cisco. Looking to branch away from Cisco? Check out OneCall from PivIT Global and access a dashboard of your own, 24/7 TAC support, and custom SLAs for your devices!
Server Comparison
PowerEdge MX 840c
When high performance is mentioned with the MX 840c, we are talking up to 8 NVMe drives of local storage, OpenManage Enterprise through VMware, MSFT, and others, as well as SmartFabric Services. The MX 840c has the ability to effectively integrate new fabric technologies without a major overhaul or downtime problems. In relation to downtime problems, security is at the forefront of the MX series, something Dell EMC takes pride in all product lines. The MX 840c offers System Lockdown technology to help users protect, detect, and recover their entire IT environment.
Cisco UCS B480 M5
The UCS B480 M5 Blade Server delivers versatility and density without compromise for mission-critical environments. This server can quickly deploy stateless physical and virtual workloads. It's internal hardware, as we will see just below, is what sets this blade server apart from the industry standard.

Want to see how these compare at price here at PivIT? Check out our Products Tool and start building your quote today! We average 65% savings on servers like the UCS B480 M5 and PowerEdge MX840c. Get in touch today!
Side-by-Side Hardware Comparison
| | | |
| --- | --- | --- |
| Specifications | MX 840c | B480 M5 |
| Processors | 2-4 2nd Generation Intel Xeon Scalable Processors | 2-4 2nd Generation Intel Xeon Scalable Processors |
| Memory* | 48 DIMM slots; DDR4 RDIMMs (3TB), LRDIMMs(6TB); up to 2933 MT/s | 48 DDR4 DIMM slots: 16, 32, 64, 128, and 256 GB up to 2933 DDR4 DIMMs |
| Controllers | S140 Software RAID, HBA330 Internal SAS HBA, PERC H730P Adapter, PERC H745P Adapter, HBA330 mini-mezzanine SAS HBA | Diskless system (no drive bays or RAID controller), or ** |
| Drive Bays | Front: Up to 8 x 2.5" SAS/SATA (HDD/SDD) or NVMe PCIe SSD | Up to 4 optional, front-accessible, hot-swappable 2.5-inch Small Form Factor (SFF) SAS or SATA HDDs, SSDs, and PCIe NVMe drives |
*Persistent Memory in the MX 840c: 12 DIMM slots support NVDIMM-N; up to 2933 MT/s, 192GB maximum. Supports up to 24 slots for Intel® OptaneTM DC persistent memory DCPMM (12.2TB) with a maximum total capacity of 15.36TB per server.
**Cisco FlexStorage ™ 12-Gbps SAS RAID controller with Hard-Disk-Drive (HDD) cage, providing up to 12-Gbps SAS connectivity. Cisco FlexStorage 12-Gbps SAS RAID controller with 2-GB cache, Flash-Backed Write Cache (FBWC), and HDD cage, providing up to 12-Gbps SAS connectivity. Cisco FlexStorage PCI Express (PCIe) Solid-State Disk (SSD) and pass through module with HDD cage.
Drop a comment below on how one server or the other fits into your network! If you're looking to add one to your rack, get in touch to start building your quote!
No Comments Yet
Let us know what you think