Aruba AP 550 vs. Cisco Catalyst 9130AX AP - Future-Proof Your Network
by Hunter Gorman on Jun 17, 2021 12:00:00 PM
In this rapidly changing world, your network needs to keep up with the demands - the need for fast advancing security threats, cloud, evolving IoT, and mobility integration. Immersive activities on mobile are becoming the new normal. Doctors can practice surgeries with virtual reality technology. Students use augmented reality to experience new ways of learning history and science, while engineers can troubleshoot problems remotely from the manufacturing ground. With the explosion of IoT, everything is attached wirelessly, including heating, badging, lighting, and security cameras.
This article will compare two great wireless access points, HP Aruba AP 550 and Cisco Catalyst 9130AX AP. Moreover, we will discuss third-party maintenance solutions and wireless site survey options to ensure the longevity of your wireless network without the exorbitant costs of upgrading every few years.
AI-Powered Aruba 550 Series Access Point for IoT Deployments
The Aruba 550 Series Access Point (AP) can provide up to 5.37 Gbps maximum wireless speed with dual radios and an optional tri-radio mode for large indoor, extremely high-density spaces. In addition, the Aruba 550 AP offers a green AP mode with AI-powered energy savings of up to 70%. It also provides three times faster speed, extreme density in large indoor spaces.
An ultra-high-performing Wi-Fi 6 AP is designed for large public venue locations, warehouse facilities, and high-density locations. They are designed to deliver ultra-performance connectivity for extreme-density deployments of mobile and IoT. Click below if you'd like to speak with an expert about deploying Aruba to your network.
Aruba 550 Series Access Point Key Benefits
The Aruba AP 550 offers high-performance, secure enterprise wireless LAN with greater mobility and IoT features. The following benefits are the key highlight of Aruba AP 550.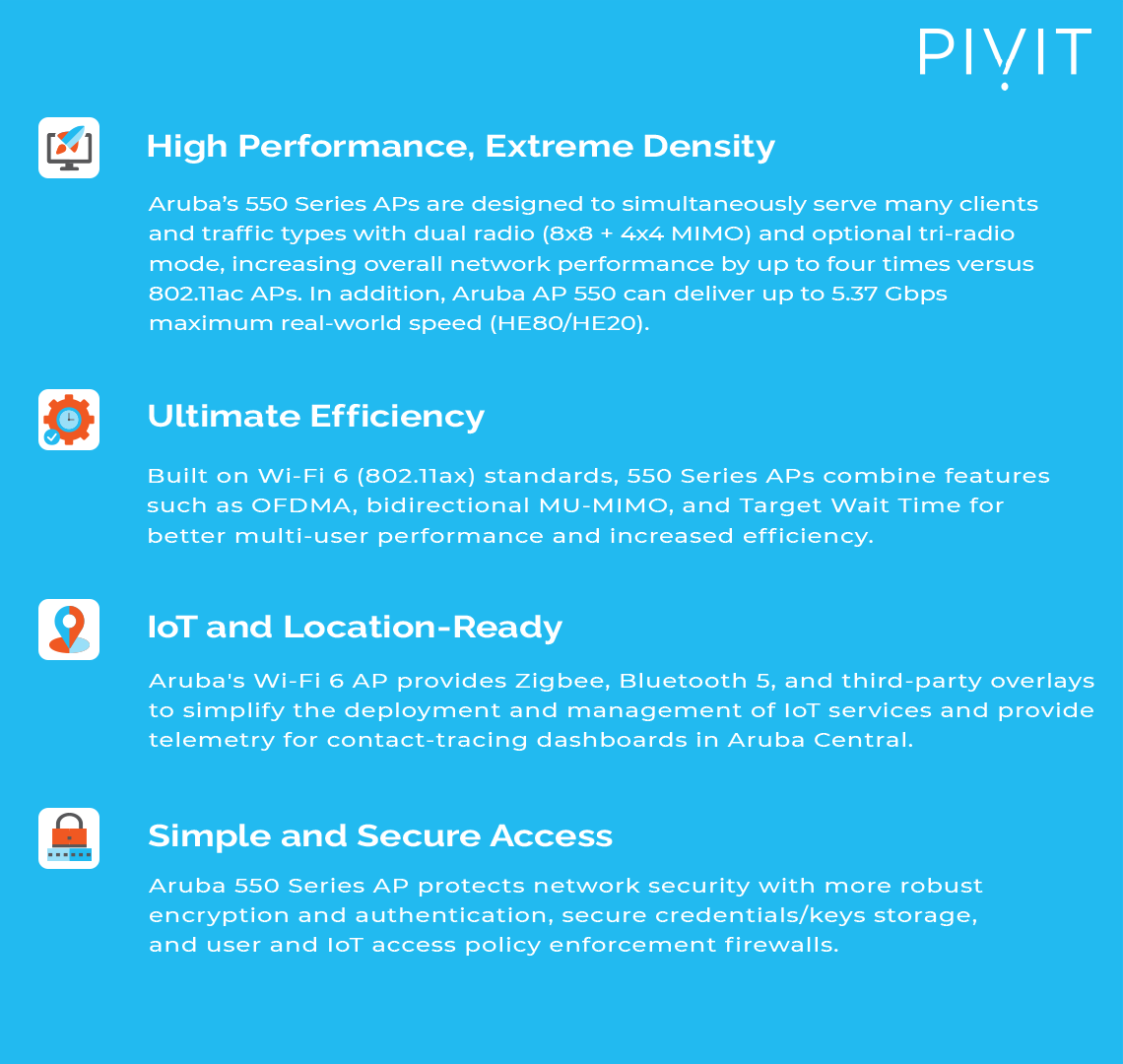 Cisco Catalyst 9130AX Solution for a New Future of Wireless
The Cisco Catalyst 9130 is an enterprise-grade access point for high-end deployment. In addition, the Cisco Catalyst 9130 provides a seamless experience. Going past the Wi-Fi 6 (802.11ax) standard, the Cisco Catalyst 9130 gives resiliency, integrated security, and operational flexibility, as well as improved network intelligence.
Extending Cisco's intent-based network, and perfect for networks of all sizes, the Catalyst 9130 scales to the increasing needs of IoT while fully supporting the most advanced innovations and new technologies. Not only that, the Catalyst 9130 access points are the leaders in performance, security, and analytics.
Cisco Catalyst 9130AX Access Point Key Benefits
With robust, customizable solutions for companies of significant size implementation, the Cisco catalyst 9130AX AP helps you maintain the growing number of connected wireless devices. The Cisco wireless network gives an always-on, always-available solution with the following benefits.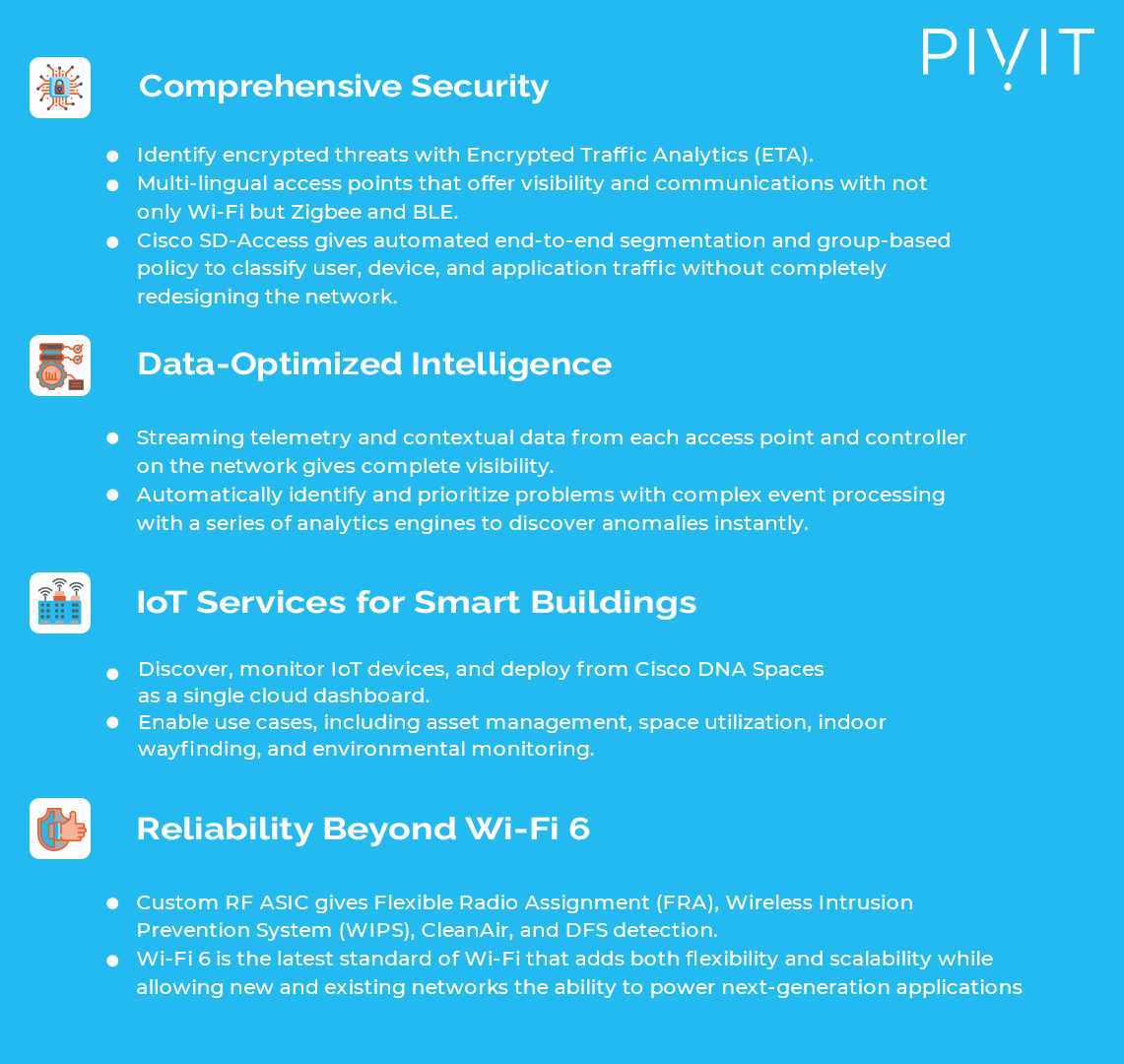 Aruba AP 550 and Cisco Catalyst 9130AX Head-to-Head
| | | |
| --- | --- | --- |
| Features | Aruba 550 AP | Cisco Catalyst 9130AX |
| Wi-Fi 6 Standard | Yes | Yes |
| Radio | Tri-radio (5GHz, 5GHz, 2.4GHz), 5GHz 8x8; 2.4GHz 4x4 | FRA with Tri-radio mode (5GHz, 5GHz, 2.4GHz), 5GHz 8x8; 2.4GHz 4x4 |
| Hardware Features | OFDMA, MU-MIMO, Ethernet port, Bluetooth and Zigbee radio, USB port | Cisco RF ASIC, OFDMA, MU-MIMO, Ethernet port, Bluetooth, Zigbee, USB port |
| Multigigabit Ethernet | 2 x 100/1000/2500BASE-T- Uplink Interface | 1 x 100/1000/2500/5000 Uplink |
| Uplink | 5G, 5G | 5G |
| PoE | 802.3bt or dual 802.3at | 802.3at, 802.3bt |
| HW Warranty | LLW | LLW |
| Cloud-Based Management | Yes (Central Cloud) | Yes (with Cisco Catalyst 9800-CL) |
| WPA3 | Yes | Yes |
| IoT | Bluetooth 5, NFC, and Zigbee support | Bluetooth 5, Zigbee support |
| *PivIT OneCall Compatible | Yes | Yes |
*Contact a pre-sales engineer at PivIT to find out more about fitting these access points into your wireless network strategy.
Aruba 550 Management Options
Aruba 550 AP can manage via Aruba Central (cloud-managed) or Aruba AirWave – a multi-vendor on-premises management solution.
For large installations across multiple locations, APs can be factory-shipped, and they can be activated with Zero Touch Provisioning by Aruba Central or AirWave. Zero-touch provision reduces deployment time, centralizes configuration, and helps to manage inventory.
A unique feature of Aruba APs is that they can operate in either controller-less (Instant) or controller-based mode.
Controller-less (Instant) Mode:

In controller-less mode, one AP works as a virtual controller for the entire network. Aruba Instant Mode gives full feature access without any additional licensing. It also offers free access to new software releases for the lifecycle of the hardware.
Mobility Controller Mode: For optimized network performance, roaming, and security, APs tunnel all traffic to a mobility controller for centrally managed traffic forwarding and segmentation, data encryption, and policy enforcement.
Cisco Catalyst 9130AX Management Options
Cisco Catalyst 9130AX AP can manage via its embedded controller or external controller.
Embedded Wireless Controller on Catalyst 9100 Access Points: You can run C9800 IOS-XE Wireless LAN Controller on C9130AX AP-no physical or virtual controller appliance is needed.
Catalyst 9800 Series Controller: Cisco access points can manage with the Catalyst 9800 Series wireless controller to support Cisco DNA Assurance.
Virtual Wireless LAN Controllers: You can choose where you want your Cisco controller to be deployed in the private or public cloud.
OneCall Third-Party Network Management Solution
Both APs offer multigigabit throughput with the new 802.11ax (Wi-Fi 6) and IoT features. Aruba AP 550 offers 5.37GB bandwidth with more IoT features and central cloud management for zero-touch provision. Cisco 9130AX AP with Cisco DNA enables you to truly understand your network with real-time analytics, quickly detect and contain security threats, and easily provide networkwide consistency through automation and virtualization.
Since both access points are relatively new to the market, if you are looking to upgrade, these wireless access points are your best bet to keep up with the latest technological trends of the 21st century. However, your network strategy could benefit from rolling the Cisco 9130AX and Aruba 550 into PivIT's OneCall maintenance protection.
OneCall is our third-party maintenance service allowing for a holistic solution for your IT asset maintenance needs that can deliver every time on both a local and a global scale. So when it comes to protecting your mission-critical assets and even your legacy systems, OneCall has you covered.
Although both access points discussed in this article are nowhere near reaching an end-of-sale or end-of-life date, there is no reason why you cannot cover it with OneCall, which may save you a few extra bucks in OEM charges. With both standard and custom SLAs available to adequately cover your networks, OneCall is flexible and can craft unique solutions to meet the individual needs of your networks. Ensure your legacy wireless network or your updated Aruba/Cisco wireless network is future-proofed with a maintenance strategy that you can fully trust.
EXTEND Wireless Site Service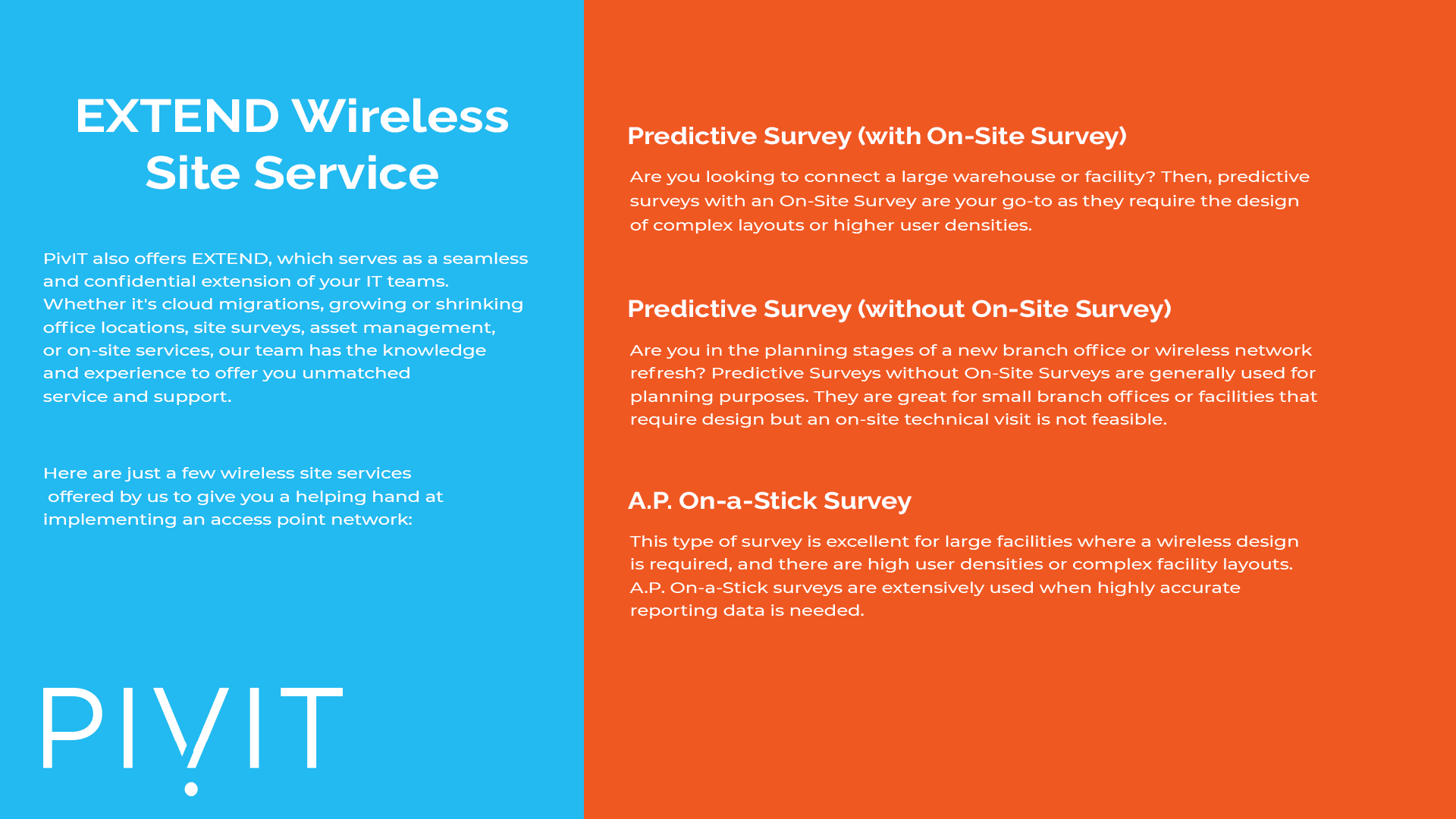 Please find out more about our other EXTEND offerings here.
No Comments Yet
Let us know what you think