HPE-Aruba vs Juniper in Wired and Wireless LAN Access Infrastructure
by Hunter Gorman, on Nov 19, 2020 2:45:31 PM
"We won a game yesterday. If we win today, it's called "two in a row". If we win again tomorrow, it's called a "winning streak." Today we aren't talking about Major League or games for that matter, we are talking about years of being leaders in the Wired and Wireless LAN Access space by Gartner. Fourteen years, to be exact, HPE-Aruba has taken the edge and this year the streak continues in Completeness of Vision. Juniper, the underdog, has clawed its way to the leaderboard through spectacular innovations that give them a competitive advantage in the Wired and Wireless LAN space.
Today, we'll dive into what brought these two OEMs to the top of Gartner's Magic Quadrant and look at a side-by-side comparison of some key features that set them apart from others.
Don't want to read the full comparison? Chat with our Wired and Wireless LAN expert now or scroll to the bottom and leave a comment!
A Quick View of HPE/Aruba
The expansion of campus and branch office access networking has suited HPE-Aruba's strengths. Their strong security presence in the campus space is built with a comprehensive and unifying portfolio. The veteran HPE-Aruba has been at the top of Gartner's Magic Quadrant for Wired and Wireless Access Infrastructure for 14-years. Their strong customer base would say the same as HPE-Aruba delivers some of these most impressive capabilities to market:
Security and Compliance
Automation
Artificial Intelligence
These capabilities are what push HPE-Aruba to lead in Completeness of Vision striving after innovation as the market demands develop and change over time.
A Look into Juniper
Juniper took the upper hand to HPE-Aruba in their Ability to Execute as Leaders in the Magic Quadrant. Much of this was influenced by the launch of Mist Systems AI-driven wireless platform roughly 4 years ago, but now coming to fruition. The use of AI for Networking dynamically adjusts bandwidth, predicts user experiences, and has the ability to self-correct for maximum uptime. Other key features of AIOps are:

Service Level Monitoring
Virtual Assistant to Accelerate Help Desk
Root Cause Identification
Dynamic Packet Capture
Baselining and Anomaly
Network Analytics
Applying artificial intelligence and data science tools to deliver optimized experiences and simplified network operation is what sets Juniper apart from traditional wired and wireless LAN solutions. When looking to scale to meet business needs, it is essential to remain agile. Juniper's EX Series Switches and Access Points driven by Mist AI are your answer to achieve business success, while remaining innovative.
HPE-Aruba vs. Juniper
Where we won't be diving much into whose AI operation is better, we will put User Experience, Security, and Application head-to-head.
User Experience
There is no doubt campus and branch office access networking has expanded, supporting user experience. Especially with our new normal of working from home! Here is how the two OEMs compare in User Experience.

Security
As people shift their work to remote locations, companies continue to migrate to the cloud, and networks are focused towards wireless, security can make or break company success. Juniper and HPE-Aruba are compared in the security outlook of Wired and Wireless LAN Access infrastructure below.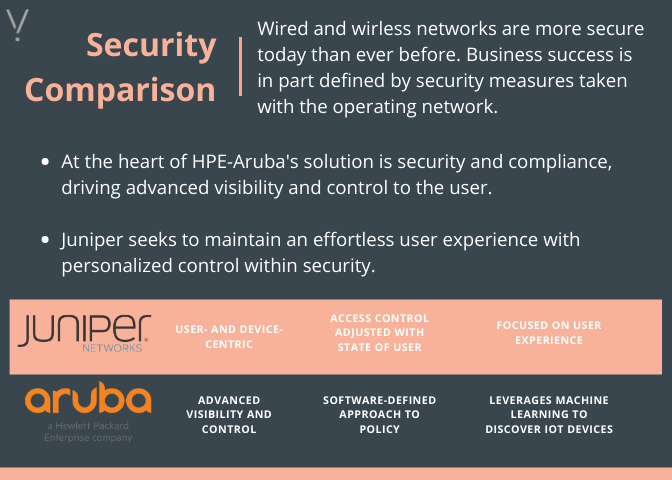 Application
The question that has yet to be answered is, "Can they perform?" Better yet, can they perform to you specific needs and requirements. If you know the specifications you need, we have a tool where you can search for the exact fit for your network and begin building a quote.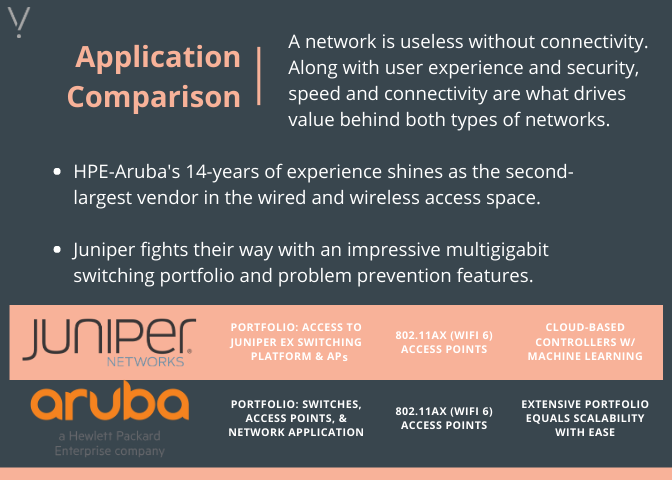 Are you still deciding which fits your needs best? Get in touch with our Wired and Wireless LAN Access expert to chat through what you're looking to accomplish with your next.
PivIT Partnerships
HPE-Aruba
PivIT Global teams with Aruba, a Hewlett Packard Enterprise company, to provide an extensive array of solutions from this leader in enterprise networking. Aruba specializes in high-performance networking solutions – from switching and secure access point solutions to security -- that simplify operations and maximize scalability.
As related by Joe Zender, Founding Partner and VP of Strategic Accounts,
"PivIT Global views this partnership as one of strong benefit to the clients of both firms. Aruba's cutting-edge technologies are redefining the landscape of enterprise-class switch and access point solutions. Our firm is now deeply vested in bringing these solutions to the market in ways that leverage our clients' equipment investments and increase their technical advantages."
Juniper
Here at PivIT, we also support Juniper Networks and the work they've done to get to the top of Gartner's Magic Quadrant for Wired and Wireless LAN Access Infrastructure. They've proved themselves as a strong competitor, and make innovative moves to bring a valuable user experience with their AI-driven products. No doubt their lined up of wired and wireless infrastructure is purpose-built for the end user. We support that here at PivIT Global. We seek to bring the end user the best fit product for their network.
Let's us know your comparison thoughts between Juniper and HPE-Aruba by leaving a comment below. Here at PivIT, we offer a fresh approach to sourcing, maintaining, and servicing your data center infrastructure. We've reimagined the status-quo and offer our customers strategies not found in the traditional IT channels. Our focus is to examine your CAPEX/OPEX limitations and present you with options to free up your budget, achieve your goals and Do IT Better.