Comparing the 2960-XR & 3850 Switches to Step Up Your Network Capacity
by Darin Knobbe on May 14, 2020 1:45:00 PM
We often have clients come to us looking for a Cisco Catalyst 2960XR switch, fully knowing it fits their network requirements. They've done their research, they've come to a solid understanding of how to fit their needs, and the end product is even in their budget! We love it when the client does some of the leg work for us, but often a few opportunities are missed. If taken advantage of, the opportunities can lead to a better network in the short- and long-term, for the same cost!
How do you know you are not missing opportunities to improve your network capacity? Which switch fits your needs the best for a similar price?
Today, we put side-by-side two switches to show the step up in bandwidth and capacity for a similar advantageous cost. You'll see the match-up in network management, efficiency, capacity, bandwidth, and many other technical features, but one will prove its worth far more than the other.

Switch Similarities
High-Availability Redundancy and Resiliency
Cross-Stack EtherChannel abilities
IEEE 802.1s Multiple Spanning Tree Protocol convergences and offers Layer 2 load balancing and distributed processing
Per-VLAN Rapid Spanning Tree reconvergence provides a simpler configuration than MSTP through both modes (MSTP & PVRST+) stacked units that behave as single spanning-tree nodes.
Switch-port auto-recovery automatically attempts to reactivate a link that is disabled
Operational Efficiency
Cisco AutoConfig
Cisco Smart Install
Cisco Auto SmartPorts
Cisco Auto-QoS
Cisco Smart Troubleshooting
High-Performance IP Routing
IP unicast routing protocols are supported for small-network applications with equal-cost routing facilitating Layer 3 load balancing (RIPv1, EIGRP, RIPv2, etc.)
Advanced IP unicast routing protocols (OSFP, EIGRP, BGPv4, etc) are supported for load balancing and constructing scalable LANs.
Policy-Based Routing (PBR) allows superior control by facilitating flow redirection regardless of the protocol configured.
Protocol-Independent Multicast (PIM) for IP multicast routing is supported
High availability redundancy and resiliency, operation efficiency, and high-performance IP routing are available to you and your network through both the 2960-XR and 3850 switches. Networks don't operate on these needs alone. Continue reading to see how the 3850 truly stands out. This switch blows the 2960-XR out of the water when it comes to switching capacities, stack power, and more all for a similar cost!
Hardware Options For You
Comparing the 2960-XR and the 3850 is like comparing two similar year Ferrari and a Mercedes Benz models. This is what we do here at PivIT – provide you with options.
Our options don't stop on the hardware front. We extend our options to maintenance, support, and financing. Click below to learn more about the options we bring our clients.
Where the 3850 Steps Up Its Game
The Cisco Catalyst 3850 Series provides capabilities that are ideally suited to support the convergence of wired and wireless access. The new Cisco Unified Access Data™ Plane (UADP) Application-Specific Integrated Circuit (ASIC) powers the switch and enables uniform wired-wireless policy enforcement, application visibility, flexibility, and application optimization. This convergence is built on the resilience of the new and improved Cisco Stack Wise-480 technology.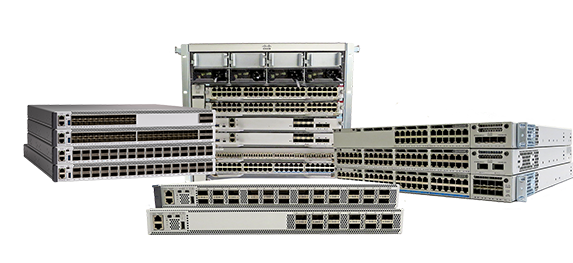 Here is where the Cisco Catalyst 3850 Switch steps up its game, in-network capacities, convergence, and network management. At PivIT Global, we offer the 3850 at a similar cost as the 2960-XR. Take your capacity up to the next level at the same advantageous cost to your budget. Contact a PivIT Representative today to get your quote.
3850 Switch Capacities
This is where the 3850 has the leg up on the 2960-XR. The stacking and switch capacities are not comparable:
Up to 40G of wireless capacity per switch (48-port RJ45 models)
Cisco StackWise-480Gbps stack throughput technology provides scalability and resiliency
Cisco StackPower® provides power stacking for power redundancy
24 and 48 10/100/1000Mbps data PoE+ and Cisco UPOE models with Energy-Efficient Ethernet (EEE)
24 and 48 100Mbps/1/2.5/5/10 Gbps Cisco UPOE models with Energy-Efficient Ethernet (EEE)
Switching Capacity: 92-1280Gbps

Cisco Catalyst 3850 Series Switches with 12 and 24 1 Gigabit Ethernet SFP ports
Converged Wired Plus Wireless Access
The Cisco Catalyst 3850 is the first stackable access switching platform that enables wired plus wireless services on a single Cisco IOS XE Software-based platform. Also, the wired plus wireless features are bundled into a single Cisco IOS Software image, which reduces the number of software images that users have to qualify/certify before enabling them in their network. Converged wired plus wireless not only improves wireless bandwidth across the network but also the scale of wireless deployment.
The Cisco Catalyst 3850 Series Switches support full IEEE 802.3at Power over Ethernet Plus (PoE+), Cisco Universal Power Over Ethernet (Cisco UPOE®), modular and field-replaceable network modules, RJ-45 and fiber-based downlink interfaces, and redundant fans and power supplies.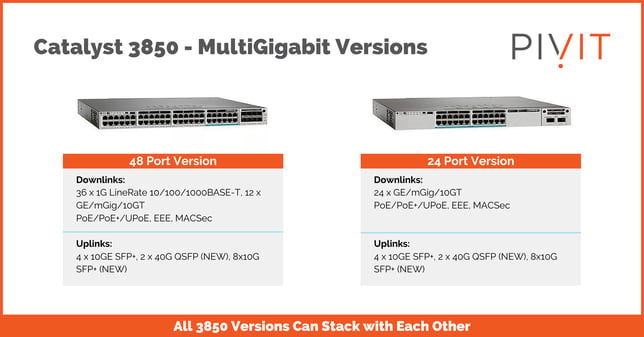 Cisco Catalyst 3850 Series Switches with 12 and 24 1/10 Gigabit Ethernet SFP+ ports
Network Management
The 3850 switch offers superior CLI and Cisco Prime infrastructure for unified wired plus wireless management. Advanced security features include but aren't limited to:
Protection against attackers:

DHCP snooping prevents malicious users from spoofing a DHCP server
Port security manages the access to an access or trunk port based on MAC address

User Authentication:

Private VLAN edge restricts traffic between hosts in a switch by segregating traffic at Layer 2
Multidomain authentication

ACLs:

Cisco security VLAN ACLs on all VLANs prevent unauthorized data flows
Port-based ACLs for Layer 2 interfaces allow security policies to be applied on individual switch ports

Device Access:

Secure Shell (SSH) Protocol, Kerberos, and Simple Network Management Protocol Version 3 through encrypting administrator traffic during Telnet and SNMP sessions

Much other protection against attackers, user authentication, ACLs, and device access security features.
Which has the Better Fit?
When we line both switches up side-by-side, we see the 3850 switch has the better stacking capabilities, converged wired plus wireless abilities, and higher performance with solid network management across the board. The 3850 switches won't only fit your network better, but it will fit your budget. To get your quote, contact our sales team or your PivIT representative.
No Comments Yet
Let us know what you think