Network Outages: Do They Cost More Than You Think?
by Darin Knobbe on Jul 7, 2020 3:30:00 PM
IT systems are a lifeline for modern businesses, and when they go down, consequences can be massive, often causing a harmful domino effect that touches nearly every facet of your business operations. When it happens to your company, you quickly discover the damage an IT outage can render.
On average, a company experiences five network outages each year, with the sources ranging from an operator error, surge or usage spike, hardware infrastructure failure, or loss of electrical power. Dunn & Bradstreet reports that some 59 percent of Fortune 500 companies experience at least 1.6 hours of downtime every week.
| | | | | |
| --- | --- | --- | --- | --- |
| ©LogicMonitor 2019 | Global (n=300) | US + Canada (n=100) | UK (n=100) | Australia + NZ (n=100) |
| #1 Cause | Network Failure | Human Error | Network Failure | Network Failure |
| #2 Cause | Usage Spikes/Surges | Usage Spikes/Surges | Software Malfunction | Usage Spikes/Surges |
| #3 Cause | Human Error | Infrastructure Hardware Failure | Usage Spikes/Surges | Human Error |
| #4 Cause | Software Malfunction | Loss of Electrical Power | Third-Party Provider Outages | Software Malfunction |
| #5 Cause | Infrastructure Hardware Failure | Network Failure | Human Error | Storage Failure |
| #6 Cause | Third-Party Provider Outages | Software Malfunction | Configuration Error | Unknown Cause |
According to Gartner, the average cost of network downtime is around $5,600 per minute. That calculates to roughly $300,000 per hour! No matter the size of your business, a loss of $300,000 per hour is detrimental. In addition to the monetary injury, IT downtime wears heavily on your productivity levels and ongoing business operations. A few minutes of downtime, spreading across multiple employees, can add up quickly — and this number only increases as minutes turn into hours, days… or even weeks.
The true cost to your bottom line varies depending on the size of your organization, the nature of your organization's business operations, and how much the operations rely on IT systems. Calculating the cost of downtime from a network outage is imperative. Where much of the cost is lost internally, the outage reflects your maintenance provider to get you back up and running quickly. Whether you have a third-party maintenance or OEM maintenance provider, you want to be certain they'll cover you when an outage occurs. Going back to the overall cost, over 80% of business owners are unable to calculate their true downtime costs correctly. Pull up a chair as we show you the formula to calculate your downtime losses.
IT Downtime Formula
The formula itself is pretty straightforward, but finding the numbers can be a little daunting.
Cost of Downtime (per hour) =
Lost Revenue + Lost Productivity + Recovery Costs + Intangible Costs
So let's break it down.
Lost Revenue
To determine your lost revenue, you'll need to calculate the amount of revenue generated per hour by your business. This would be the revenue week/40 hours. An important component to figure into your lost revenue count is how much your business depends on what is called uptime. Uptime is the time or percentage your site is up and operational online. For example, if you are an e-commerce store and sell exclusively online, you are 100% dependent on the internet for your business's revenue. You will need to estimate the percentage amount of your revenue that is dependent on uptime.
Lost Revenue
Revenue per hour x downtime(hrs) x uptime(%) = lost revenue
Example Lost Revenue: If revenue is $4,000/hr and the network was down for 3 hours and the uptime percentage is 40%, then lost revenue would equal: $4,800/hr.
Lost Productivity
To state the obvious, when your servers are down, your employees are unable to perform their jobs. But their salaries are a fixed cost and do not change. To determine lost productivity, start first with calculating each employee's salary per hour. Then, estimate the percentage of productivity that is dependent on uptime. (Reminder: Uptime is the time or percentage your site is up and operational.) This percentage is known as the Utilization Percentage.
Lost Productivity = Employee Salary/hr X Utilization % X Number of employees (with same Utilization %)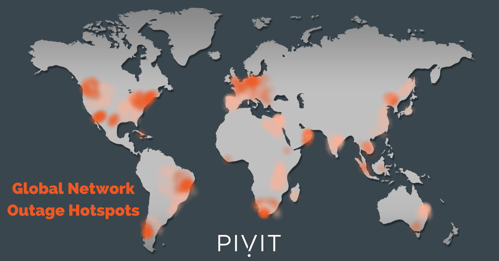 Recovery Costs
These are the costs you will accrue to fix/repair the issue(s). They include, but are not limited to:
Repair services
Replacement parts
Lost data recovery
Miscellaneous costs due to loss of data
These may not be as tangible as revenue and productivity costs, but they are equally as important when calculating your real downtime costs.
Intangible Costs
These are the costs that may often not be known immediately and could have long-term damage. These occur when downtime hurts your reputation or your brand. For example, the Virgin Blue outage prevented passengers from boarding flights for 11 days, resulting in negative press, millions of dollars lost – and a scorned reputation. Downtime can cost a company of any size both customer loyalty and its reputation as a solid product and service provider.
Intangible costs strongly affect businesses that rely heavily on uptime. Incorporating intangible costs into your Total Down Cost Formula will help you understand the long-term damages that result from downtime.
Final Cost & Prevention
You're almost there. Now that you have calculated each separate cost, you can input them into the main formula to reach your total downtime amount. You'll see that downtime carries a hefty price tag. And now that you have that information at your fingertips, your company can begin to focus on prevention.
It's estimated that approximately 75% of downtime is caused not so much by a failure of technology, but rather by how that technology is configured, administered and utilized. The good news is that generally downtime failures are traced back to ineffective training and/or planning. Why is this good news? Because it tells us that the negative effects of an IT outage are preventable — and that an IT outage itself can be minimized or averted.
By investing in prevention-based services and establishing a well-rehearsed recovery plan, you're on the path to saving your business a lot of pain later. Adopting best practice operational activities and processes can significantly reduce your chances of experiencing a costly and perhaps disastrous systems failure.
PivIT Prevention Tactics
Protecting against the inevitable IT outage can feel like an uphill battle. But it doesn't have to. OneCall, our third party maintenance service, protects your most critical IT hardware. Enterprise network professionals trust OneCall to protect their networks all over the world. Depend on OneCall for your global IT infrastructure maintenance and preventative needs.
EXTEND is our professional services arm providing site services, ITAD, asset management, asset recovery and more. Our team of engineers and site specialists can tackle just about anything. Reach out for custom solutions.
As we wrap up downtime cost calculation for today, we wanted to share with you something you can take with you. Click here to learn more about Network Management and Automation Tools. Also, check out our Tech Corner to gather more information about product comparisons, data sheets, and configuration guides!
No Comments Yet
Let us know what you think