How to Find a Balanced IT Maintenance Strategy
by Adam Carpenter on Jan 24, 2023 7:02:00 AM
Implementing an IT maintenance strategy is hard when there are no good options. Maintenance direct from the OEM is costly and leads users to believe it is the only option as upgrades continue to attract your attention.
Third-party maintenance has proven to be unreliable, with expected delays in their SLAs. Still, you know you are saving money with them, so you keep them around. Today, we debunk both of these ideas and issues.
There is a better option to manage your IT maintenance. That is OneCall. Within the OneCall framework, we believe there is a perfect balance to achieve between OEM maintenance and third-party maintenance. How do we achieve that balance? Continue reading to find out!
OneCall works in two simple steps requiring very little intervention, thereby decreasing the time and stress you take to fix a critical network problem. These two steps are as follows:
You reach out to your PivIT teammate who orders a new part.
You get a replacement.
After that, sit back, open a beer, sip some coffee, or peek at your socials. Whatever it is, you can relax and have confidence that we will follow through to ensure the maintenance of your network is under control.
With OneCall, you never have to worry whether your maintenance plan will deliver on its promises when you need it the most.
What You Get With OneCall
Clarity
There's never any doubt about what you get with OneCall. When we spare your gear, you get a dedicated team, the serial number of your gear, and a spare ready for immediate deployment. So, here is what that looks like:
A dedicated TAC (technical assistance center) team, made up of technology professionals who are as passionate about your success and satisfaction as they are about networking infrastructure.


The serial number of the gear—before you ever need it. Yes, that means you can request the serial number of the actual unit you will be getting—if you ever need it. Your gear belongs to you. With OneCall, you are not getting a random unit ordered from another company; we have your replacement set aside especially for you.


Confidence your spare is ready to be dispatched when you need it.
The simplicity and clarity that come with these three key benefits allow maintenance strategies to work for the client, giving them the confidence they will be taken care of when replacements are needed.
Cost Savings
The subscription costs can add up quickly with a run-of-the-mill OEM maintenance package. Often, an objective cost-benefit analysis reveals that you're paying for more than you're getting.
With OneCall, on the other hand, you get up-front and long-term cost savings. The money your organization saves can be reinvested in business-critical objectives.
Coverage
OneCall gives you comprehensive coverage, including for legacy brands. Some companies feel pressured to invest in new equipment because they fear their equipment is headed for imminent failure.
However, the truth is that the time to failure is often many years, if not several decades. For example, the meantime to failure on a typical edge switch is 42.5 years. That means you can depend on many switches for over four decades.
Because OneCall provides complete coverage for legacy equipment, you can get the most out of your components, enjoying them for decades. This is because, with OneCall, you get the confidence that you have a spare ready to go if something happens.
How Can OneCall Give You the Spares You Need So Quickly?
Call Centers All Over the World
With OneCall, you have 24x7 maintenance support because our call centers are thoughtfully placed worldwide. No matter what day or time you call, someone answers the phone.
1,000+ Field Stocking Locations
With over 1,000 field stocking locations, your spare is never too far away. The spares for your service level agreement are strategically positioned to minimize the time it takes them to get to your door or data center.
160 Countries and Counting
OneCall's depots are spread across 160 countries. Therefore, no matter where you do business, your spare is right around the corner.
With upwards of $100 million of replacement units in over 160 countries and 1,000 field stocking locations through OneCall, PivIT provides coverage for your unique business needs.
This includes standard and custom Service Level Agreements to adequately cover your networks around the globe, such as:
4-Hour
Next Business Day
Onsite
Custom
Use OneCall as Part of a Hybrid Coverage Solution
With some equipment, third-party maintenance isn't necessarily better than the OEM offers. For this reason, many companies opt for a hybrid or blended approach to their maintenance solution.
With a hybrid approach, you cover select components with the OEM's maintenance package, and you cover the rest with OneCall. This way, you save money on your coverage and ensure legacy components have coverage as good as your brand new equipment.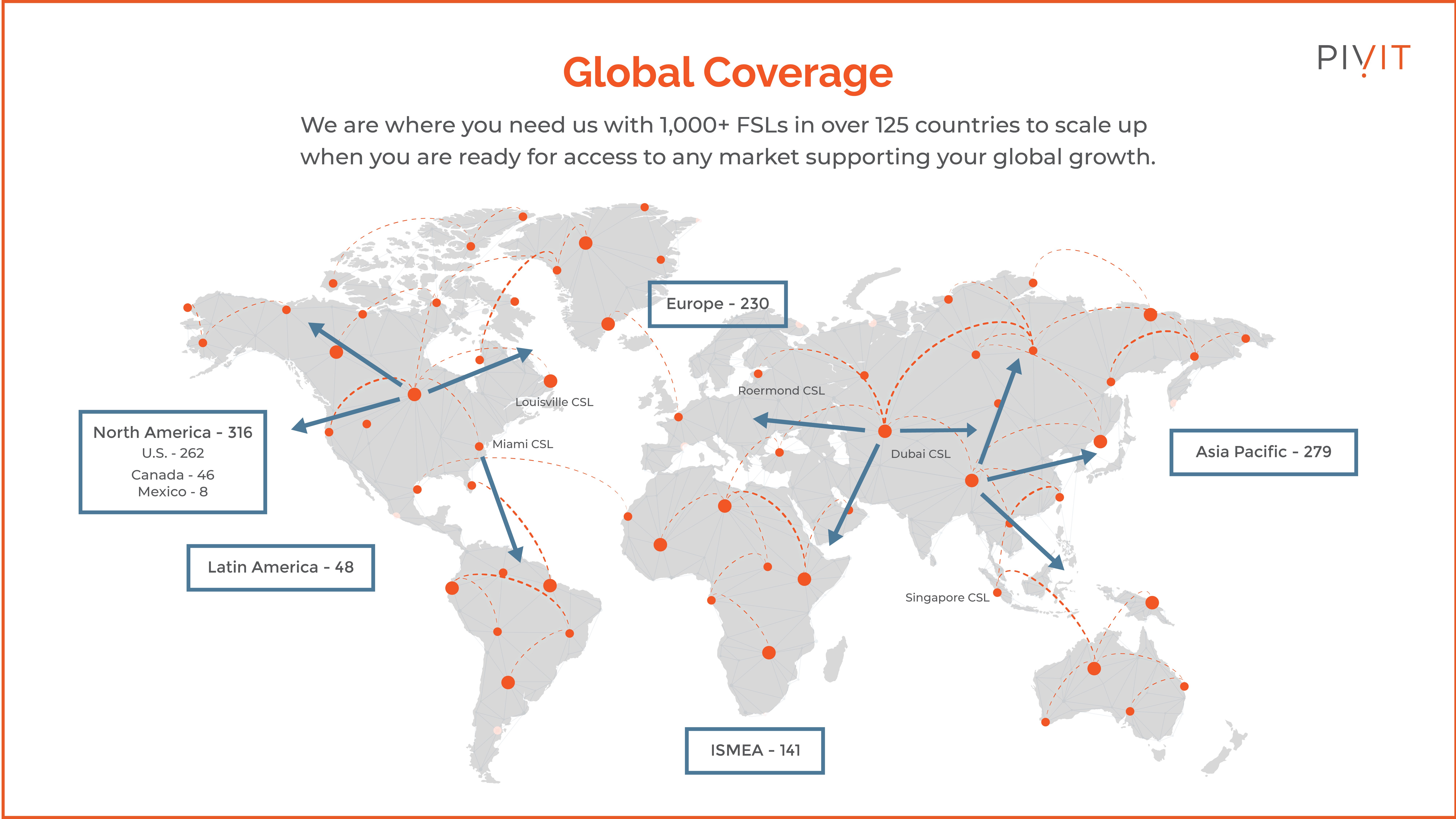 Solving Most Other Third-Party Maintenance Problems
Problem
You have a next-day Service Level Agreement (SLA) with another third-party maintenance provider. Unfortunately, that does not mean your third-party maintenance solution has a replacement unit in one of their warehouses.
Often, they call another company to get "your" unit. When they finally get it, they repackage it and send it to you.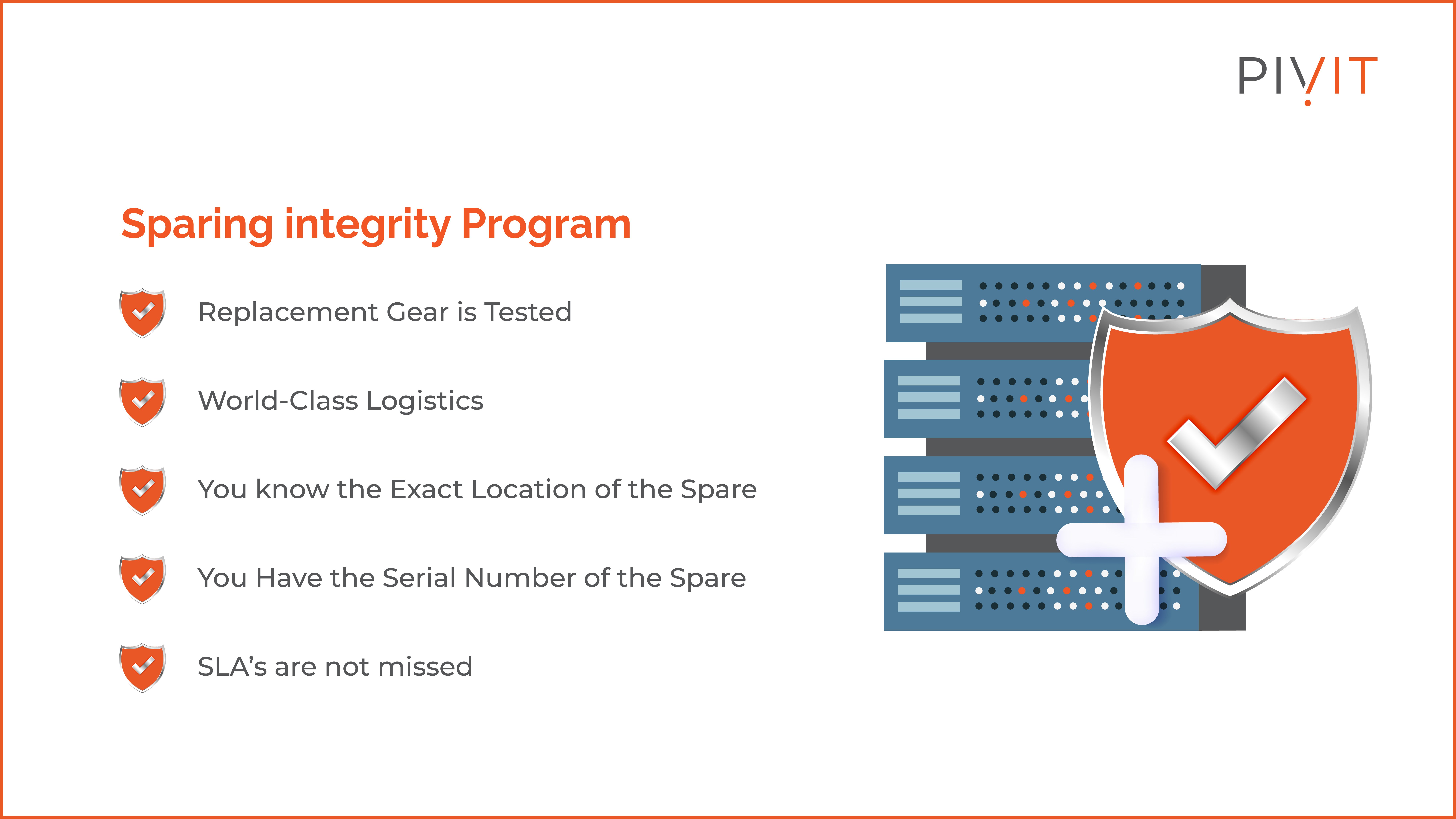 Unfortunately, this switcheroo takes time, so if you have a next-day SLA, you're looking at an extra day or two (or three or four) at least of expensive downtime.
To disguise their scheme, the provider may make you jump through many hoops, fill things out, answer questions, and check X, Y, and Z—all while they wait for your unit to arrive.
Solution
With OneCall, the serial number of your actual spare is available. You could walk into where your spare is stored and physically touch it. There is no need to jump through any hoops or bite your nails to the bone from stressing about when your unit will arrive. You gain confidence through OneCall's Sparing Integrity Program.
How Does PivIT Ensure Your Spare Fits Your Needs?
PivIT runs a series of commands in a testing environment on more complex components like servers and storage arrays to ensure it's up to spec and ready to go. These tests are done using the performance specs of the unit it will be replacing. That way, your OneCall spare is sure to get the job done.
Protect Your Critical IT Assets With Third-Party Maintenance You Can Count On
IT is complicated enough, so PivIT makes maintenance simple with OneCall. With over 1,000 sparing depots in more than 160 countries, you have your actual spare sitting in a warehouse, ready to ship at a moment's notice.
Not only is it ready to go, but you can have the serial number to verify, and OneCall has tested it to ensure it will get the job done if and when you need it. To learn more about how OneCall has you covered, reach out to PivIT today.
No Comments Yet
Let us know what you think