All You Need To Know - Cisco ASR 5500 Multimedia Core Platform Review
by PivIT Global on Jun 9, 2022 7:14:00 AM
The internet has changed the way organizations operate by making it possible for businesses to reach global markets and communicate easily with their customers in different locations. However, due to these technical advancements, communication traffic has become complex and has increased the demand on networks.
As a result, organizations are always on the lookout for network devices that provide better security, simplicity, optimization, and scalability while ensuring cost efficiency. One such product that checks all these boxes is the Cisco ASR 5500. In this blog, we will provide the benefits, specifications, and performance features of the Cisco ASR 5500 as a solution for the demands of a high-performance network.
Ready to browse all our routers?
Overview of the Cisco ASR 5500
The Cisco ASR 5500 provides mobile operators the opportunity to improve user experience by enhancing factors like the flexibility, resistance, and intellect of the operating system (StarOS). Mobile operators have access to a network structure that is elastic, with mobile functions that are based on software and do not need to be connected to the hardware.
The Cisco ASR 5500 provides a new experience to mobile operators who have high subscriber counts (or high transaction rates of 3G and 4G services) as it can handle any alterations in demand and deal with unstable traffic patterns.
____________
The Perfect Pair
As you find the right gear for your network, get it covered with OneCall! We help our clients save on average 65% of their annual maintenance bill. Reach out today.
____________
The Cisco ASR 5500 is a high-capacity platform that aims to enhance performance, provide a considerable increase in sales, and take full advantage of capital efficiency by gathering system resources and implementing them throughout the entire platform.
Mobile operators can exploit this process by organizing mobile networks that can accommodate more simultaneous calls and improve how resources are used.
Cisco ASR 5500 Features and Capabilities
Below, we will cover the core features and capabilities of the Cisco ASR 5500, including flexibility, intelligence, performance and scale, resiliency and redundancy, and enhanced operating system and management.
Flexibility for Enhanced In-Network Design Modifications
A network is deemed "flexible" once it can handle alterations in business models while modifying in-network designs without huge capital expenditure.
Since the Cisco ASR 5500 is an extension of the 5000 model, it provides the same benefits of flexibility as its predecessor along with added extras. See the image below for a comparison of a traditional multi-chassis solution and the Cisco ASR 5000 solution.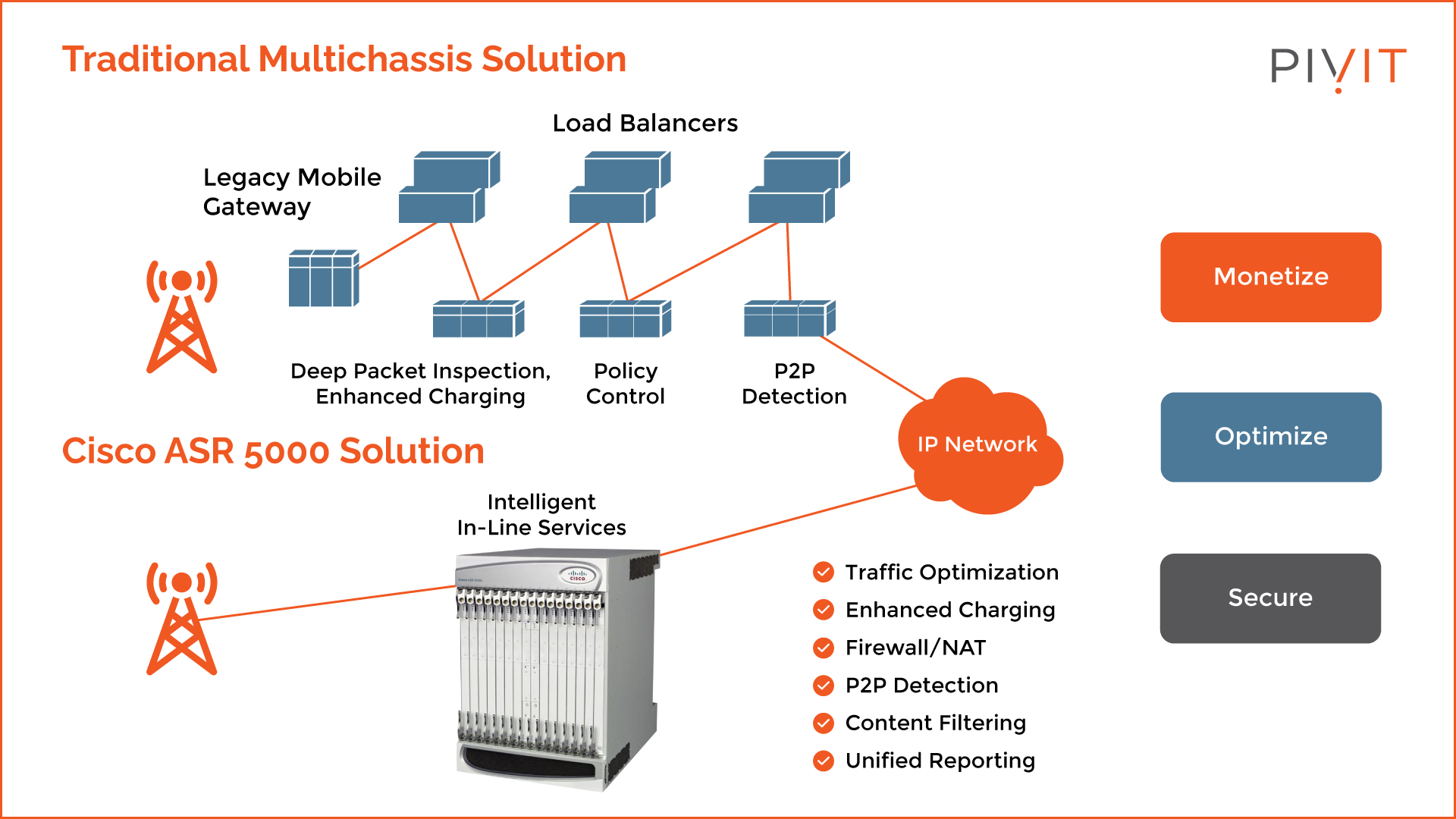 Mobile operators can work around old platform limitations, as the Cisco ASR 5500 can accommodate individual deployment requirements while providing flexibility on mobile functions even when the demands on the network are high.
There are a handful of mobile functions for the Cisco ASR 5500, these include:
LTE/EPC – Serving Gateway
LTE/EPC – PDN Gateway
UMTS/HSPA – Gateway GPRS Support Node
CDMA/HRPD/eHRPD – Home Agent (HA)
All these network functions can be utilized in one Cisco ASR 5500 platform, which means operators can have access to these technologies without combining other platforms. The benefits to this are huge operational savings and reduced user experience complexity on the network.
Since the mobile operators do not have to worry about integrating other platforms onto the Cisco ASR 5500 to have access to a vast array of mobile functions, it becomes easier to focus on other activities like LTE migration, while being confident that the 3G services will still be on deck and available to consumers.
Still not sure whether to purchase a Cisco ASR? See our article comparing the Cisco ASR and ISR series.
Intelligent Features with High-Security Protocols
Mobile operators can exploit the session-state intelligence of Cisco ASR 5500 that can be deployed virtually to all services. This ensures that the speed is increased across all services so that consumers have a better quality experience and the network cost is augmented.
The Cisco ASR 5500 can utilize its session-state intelligence design to interact with subscriber services by integrating major elements that make up the multimedia connection devices, applications, subscribers, and networks.
The Cisco ASR 5500 can also handle the interactions between applications and transport mechanisms by transmitting mobility management information to applications that have no mobility awareness.
The platform manages security and ensures compliance by enabling a deep packet inspection for all traffic from Layer 1 to Layer 7 and ensuring there is an implementation and update of features on policy and quality-of-service (QoS).
The unique inline services of the Cisco ASR 5500 means that mobile operators do not need to move to other platforms to look for certain services. Operators can utilize services like improved content charging, content filtering, video pacing, optimization of network traffic, optimization and detection of application, firewall protection, and header enrichment.
Inline services also provide less complexity for mobile operations, which means that it becomes easier to scale the network up or down via a distributed service deployment.
The other benefits to inline services include decreasing the total cost of ownership via integration and protecting the sessions of the subscribers using highly efficient security features and techniques.
These security features protect the data of the subscriber and subscriber sessions by using up-to-date encryption. The IP security encryption and termination feature allow subscribers to communicate securely and privately during sessions and different authentication protocols used by the platform allow secure network access to authenticated subscribers.
High-Performance Capabilities
The inclusion of more technologies and services has resulted in a significant increase in internet traffic, thereby, affecting signaling, latency, mobility, and throughput. The Cisco ASR 5000 Series improved cost by reducing the cost per byte for bearer traffic and per attacked user for signaling traffic.
The Cisco ASR 5500 works similarly except it aims to address the needs of the mobile multimedia market by providing a more enhanced performance on all metrics that are important to the smooth running of the network.
The Cisco ASR 5500 can provide superior performance to these metrics (i.e., subscribers, bearers, transactions, and sessions) as it has been developed for true terabit performance.
The Cisco ASR 5500 can provide well-rounded performance abilities that extend further than throughput. It improves on its predecessors by gaining a 10-fold architectural increase in control plane processing which ultimately improves transaction processing and the number of sessions.
Are these product highlights helpful? Be sure to subscribe to the Tech Corner on the right side of the screen so you get an email every time our expert technical writers have a product highlight article.
Is there a product you'd like us to write about? Drop your suggestions in the comments below!
Reduced Downtime Through Hardware/Software Redundancy
The Cisco ASR 5500 design utilizes full hardware and software redundancy and high-availability software methods. This means that the network can pre-determine any possible faults while seeking to resolve these problems without disrupting any ongoing process.
Other possible resolution features include task checkpoint and migration, redundancy for hardware elements, state replication, dynamic hardware additions and eliminations, session recovery, and/or geographic retrieval or session retrieval between numerous platforms.
These features make it possible for user sessions to continue without downtime, which provides a satisfying experience for the consumers. The Cisco ASR 5500 can maximize network uptime and retain billing information in addition to providing a quality experience.
If the 5000 series is not for you, PivIT also offers the Cisco ASR 9000 series. See our article on the 9000 series for more information.
Enhanced Operating System and Management
The StarOS operating system is a version of the Linux OS, which is tailored to fit the needs of the Cisco ASR 5500. StarOS is designed to ensure features are accessible when needed, provide a holistic development environment, a flexible platform for distributed processing, and apply hosting capabilities.
The operating system also delivers context support functions, which allows many logical systems to exist on one system. The system has a virtual design, allowing mobile operators to access it remotely by logging in over a console port via a command-line interface that supports telnet and a secure shell.
They can also gain access locally or remotely via a simple network management protocol (SNMP) or through web management via a program that uses COBRA (common object request broker architecture).
Are lead times slowing you down and preventing you from getting the hardware or services you require for your data center? Send PivIT a request or connect with our Team in real-time using our chat feature. Know what you want? Explore our hardware options.
Looking To Purchase the Cisco ASR 5500?
The Cisco ASR 5500 is taking network optimization a step further by allowing mobile operators to improve the sales and performance of their network. If you are looking to buy a device that minimizes expenses and improves output, then the Cisco ASR 5500 is perfect for the job.
This device provides support for distributed and centralized structures, a mobile platform for high-capacity performance, more performance abilities than its predecessors, and in-line services that implement intelligence on all major service elements.
No Comments Yet
Let us know what you think