Comparing the Cisco Catalyst 9120AX and HPE Aruba 535 Access Points
by Darin Knobbe, on Apr 22, 2021 1:00:00 PM
Two leaders in the Gartner Magic Quadrant for Wired and Wireless LAN Access Infrastructure prove their spots in your wireless network. One must have a better fit than the other, right? Today, we put them head-to-head, comparing one leading product from each manufacturer to help you decide which wireless access infrastructure leader deserves a spot in your network.
A Network Giant
Cisco Catalyst 9100 Series Access Points are the next-generation access points with Wi-Fi 6 standards. Cisco Catalyst 9120AX is a high-end access point that is more efficient for Mobile and IoT Devices.
These access points have higher capacity, improved latency, and better power efficiency, but they go much further. They are resilient and intelligent, and they provide integrated security for mobile and IoT devices with rapid threat containment. Additionally, they are ideal for work-from-home users who need the enterprise network extended to them.
An Industry Favorite
The Aruba 535 series high-end access point offers a high-performance, secure enterprise wireless LAN with support for Wi-Fi 6. Also, it is ideal for high-density mobile and IoT deployments such as larger office spaces, training and meeting facilities, and hospitals.
HPE Aruba stands out at the top of Garner's leader board with Juniper, leaving Cisco closer to the "Visionaries" category.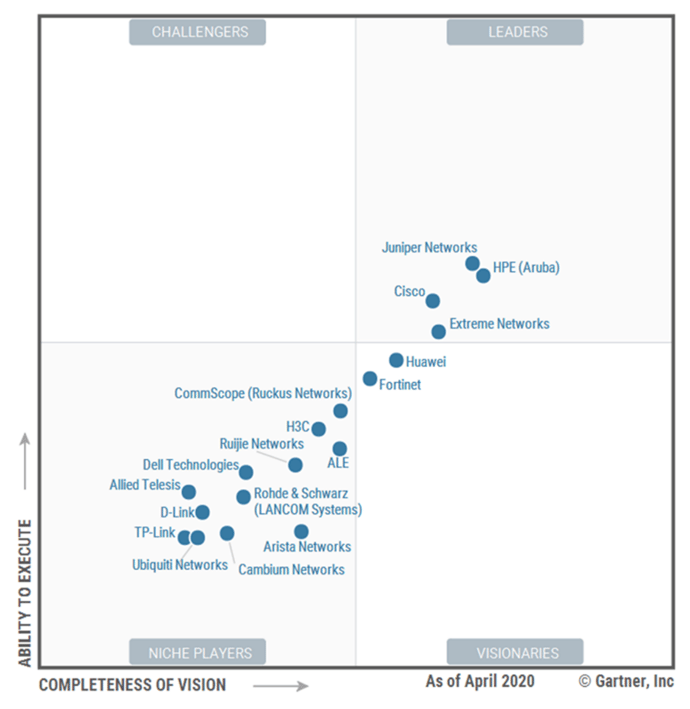 Access Point Management Options
The 9120AX Series access points are available with a built-in controller. This Embedded Wireless Controller on Catalyst 9100 Access Points provides an easy-to-deploy and manage option that does not require a physical controller appliance. Cisco Catalyst 9120AX series AP supports Catalyst 9800 Series, Cisco 3500, 5520, and 8540 Series Wireless Controllers and Cisco Virtual Wireless Controller. But Cisco Catalyst series APs do not have any central cloud controller, which is a major drawback.
Aruba supports central cloud management or Aruba AirWave - a multi-vendor on-premises controller/management solution. For large installations across multiple sites, APs can be factory-shipped and can be activated with Zero Touch Provisioning through Aruba Central or AirWave. This reduces deployment time, centralizes configuration, and helps manage inventory.
9120AX and Aruba 535 Feature Comparison
The below table is a summary of the Cisco and Aruba AP features and benefits.
| | | |
| --- | --- | --- |
| Features | Cisco Catalyst 9120AX | ARUBA 535 |
| Wi-Fi 6 (802.11ax) | Fully support for both the 2.4-GHz and 5-GHz bands | Fully support for both the 2.4-GHz and 5-GHz bands |
| MU‑MIMO Technology | Supporting four spatial streams | Support up to 4 spatial streams (4SS) and 160MHz channel bandwidth (VHT160) |
| IoT Support | Support Bluetooth Low Energy 5 radio | Support Bluetooth 5 and Zigbee |
| Multigigabit Ethernet support | 2.5 Gbps | 2.97 Gbps |
| Power Options | Only PoE | PoE and 48Vdc power interface |
| PoE Requirements | 802.3at (PoE+), 802.3bt and maximum power 25.5W | 802.3at (PoE+), 802.3bt and maximum power 26.4W |
| Apple Partnership | Cisco and Apple have partnered to create an optimal mobile experience for iOS devices. | Do not have that level of partnership with Apple, but support almost all features. |
Choosing Your Access Point
Both Cisco and Aruba match up depending on your specific needs. You may find one fits your style of the network over the other, but one feature has been left out. That is the hot item from Cisco – Cisco DNA. From an outsider's perspective, it looks like a fantastic choice of network transformation, real-time analytics, and even network automation. What is seen from the inside, though, is:
Limited usage looking to automate as users often don't use it to its fullest capabilities.
Commitment completely to Cisco. Some aren't wanting a Cisco-only line-up in their data centers.
Cost plays a massive factor. The last thing we want for our customers is to be blindsided by a hefty price tag when upgrading their network.
All-in-all it may be the deciding factor to place the Aruba 535 AP in your network today. Head over to our products tool to start building your quote to get your wireless system where you need it to be.
Future Scalability
For scale-up or scale-down networks, Aruba AP is an excellent option for its cloud manageability feature. Any AP can work on any site or network without any need for a controller. Can shift any AP to any location at any time.
Before sizing the Cisco AP and controller, you need to think about future requirements or changes. Before adding any new AP to the network, need license and AP to controller connectivity. Also, need to keep in consideration for controller high availability.