A Closer Look at the Cisco Catalyst 9120AX Series Access Points
by Ryan Stevens, on Apr 15, 2021 1:00:00 PM
Since the release of the Cisco Aironet 3800 Series Access Points (AP), Cisco has continued to improve and become more dependent on wireless networks with a higher level of integration and security features. Proof of this dependency is in the release of the Cisco Catalyst 9120AX Series, providing integrated security, resiliency, operational flexibility, and increased network intelligence.
The 9120AX Series Access Point Powerhouse
The Cisco Catalyst 9120AX Series is the perfect device for all network sizes providing a scalable solution to the growing demands of advanced networks. Internet of Things (IoT) deployments are simpler with the 9120AX by eliminating the need to install and manage overlay networks – a true all-in-one package.
For large enterprise organizations that rely on Wi-Fi to engage with customers, the 9120AX Series includes the latest emerging Wi-Fi 6 (802.11ax) standard, providing end-device activity and using automation to ensure your Wi-Fi network is performing to its utmost potential. Moreover, advanced applications, such as 4K or 8K video, run with more predictable performance.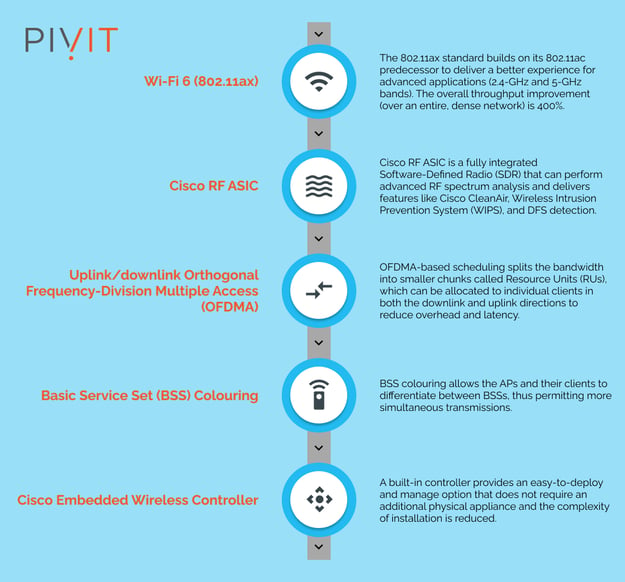 9120AX Series Compared To the 3800 Series
If you are thinking of upgrading from the 3800 Series to the 9120AX series, but you're not sure of the main differences between the two, we've got you covered in the table below. Both APs are amazing pieces of technology, but the 9120AX puts its best foot forward in many ways.
| | |
| --- | --- |
| Feature | Difference |
| Wi-Fi Capabilities | The 9120AX Series has Wi-Fi 6 (802.11ax), whereas the 3800 Series has an older 802.11ac Wave 2 support. The main difference is that 802.11ac operates in the 5Ghz range only, while 802.11ax operates in both the 2.4Ghz and 5Ghz ranges, thus creating more available channels. |
| Multiuser Multiple Input, Multiple Output (MU‑MIMO) Technology | The 9120AX Series supports up to four spatial streams with MU-MIMO enabling APs to split spatial streams between client devices, thereby improving overall throughput. The 3800 Series only supports up to three spatial streams. |
| Radio Frequency Capabilities | The 3800 Series contains an RF architecture that provides high-performance coverage for a high density of client devices. However, the 9120AX has a new, built-in RF ASIC, capable of analyzing a range of frequencies and performing high-resolution scans and deep RF analysis. |
| Bluetooth Radio | The 3800 Series does not contain any Bluetooth radio capabilities. The 9120AX has integrated Bluetooth Low Energy (BLE) 5 radio to enable IoT use cases such as location tracking and wayfinding. |
Enabling a Secure Infrastructure
Wireless networks are constantly at risk from attacks, whether it is a rogue wireless device, peer-to-peer attack, eavesdropping, encryption cracking, MAC spoofing, denial of service, and a host of others. That is why Cisco's Trustworthy systems built with Trust Anchor Technologies provide a highly secure foundation, preventing common attacks that could sink your business.
Trust Anchor capabilities include:
Image signing.
Secure Boot.
Cisco Trust Anchor module.
All the above safe-guard capabilities are available with the 9120AX Series, enabling hardware and software authenticity assurance and providing peace of mind knowing that your network is protected.
Network Automation Options
There are two options when it comes to automating your network, namely, sticking with the Cisco eco-system of products by using DNA Center, or doing things yourself with open-source software such as Ansible, Netmiko, or NAPALM. Both options have their pros and cons, which you will have to decide if it suits your budget. Here's a quick breakdown.
Cisco DNA Center
Pros of DNA Center
Fast deployment time.
Detailed network analytics with integrated artificial intelligence skills.
Integrated threat detection and response for security operations.
Intuitive and simple dashboard providing an overview of network health.
Cons of DNA Center
Limited usage (not all features are used by organizations).
Very expensive (each network device requires payment for DNA software integration).
Big commitment for a Cisco-only line-up.
Support for third-party (non-Cisco) devices is limited.
Open-Source Tools
Pros of Open-Source
Zero software costs (it is all free).
A big learning curve (although this would be considered a con, the benefits of having staff trained in a network automation tool may benefit future endeavors).
Customizable capabilities tailored to specific environments.
Multi-platform integration.
Cons of Open-Source
Increased deployment time (usually not user-friendly).
Lacks solid support teams.
Command-line interfaces require extensive input of commands.
Lacks reporting capabilities.
Integrated Security With Smart Network Capabilities
At PivIT, we want to ensure you get the best value for money and the information you need to make the right decision. Cisco Catalyst 9120AX Series Access Points provide state-of-the-art technology all rolled into a single device, thereby saving you time on installation. Furthermore, the security benefits of upgrading to the 9120AX Series far outweigh the potential loss of sensitive information due to having legacy network systems running. Contact PivIT for further advice on Access Point options. Our focus is to examine your CAPEX/OPEX limitations and present you with options to free up your budget, achieve your goals and Do IT Better.