Comparing Market Leaders: Cisco and Arista Switches
by Darin Knobbe on Jul 15, 2021 1:33:09 PM
In this rapidly-changing world, the demands of universal mobility, evolving IoT, cloud adoption, and rapidly advancing security threats force IT managers to rethink how their networks are designed and implemented. Enterprises worldwide are replacing their legacy systems with new and evolving digital technologies to create a competitive advantage, higher productivity, and lower operating costs.
As more businesses embrace this change, networks have to adapt. Companies cannot build networks the same way they have for the past 30 years. Organizations need to create a robust LAN network that can constantly access the application from a data center or the cloud. This blog will compare Cisco and Arista, who are the market leaders in the switching industry.
Cisco Campus Network Catalyst 9K Series Switch
The Cisco Catalyst 9000 switches are the next generation in the legendary Cisco Catalyst portfolio of enterprise Core, distribution, and LAN access switches. Catalyst 9000 switches increased their ability through innovations in mobility, security, IoT, and cloud. They are designed from the ground up for higher performance, greater flexibility, security, and resiliency.
Check out our comparison post of the Cisco 3560, 3850, and 9300 switches here.
The Catalyst 9000 switching family addresses the difficulties of today's always-on network by leveraging the programmability of the Cisco UADP ASIC and Cisco IOS XE as well as the policy-based automation and assurance of Cisco Software-Defined Access. This helps you to focus on the needs of the business, not on the network – now and in the future.

Arista Wired Cognitive Campus Switches
Arista Cognitive Campus switches are designed for the requirements of the interconnected IoT-enabled campus. The wired cognitive campus portfolio gives intelligent connectivity for all campus user workloads under the management and monitoring of Arista cognitive campus services.
The suite of platforms contains spline, leaf, and wireless infrastructure platforms, telemetry and analytics, and a single image EOS for user desktops, appliances, and IoT devices.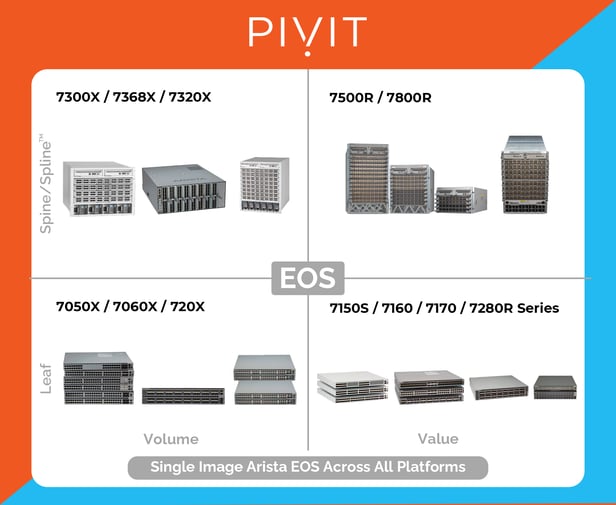 Cisco Catalyst 9300 – A Scalable Business Solution
All Cisco Catalyst 9000 switches give the foundation for the latest intent-based network: simple to operate, unmatched reliability, and the power to meet the next networking challenges. However, the Cisco Catalyst 9300 Series fixed uplink C9300L models are purpose-built to solve the needs of midsize businesses.
Cisco C9300 Series switches are the market-leading stackable enterprise fixed access/edge switching platform. The industry's highest-density stacking bandwidth solution is 480 Gbps of stacking bandwidth and up to eight devices in a stack. As the most cost-efficient Catalyst 9300 option, the fixed uplink C9300L models provide double the density compared to the Catalyst 9200 Series for organizations that need more scale and an extra degree of security, resiliency, and programmability.
Cisco Catalyst 9300 Series Switches Benefits
Fixed-configuration switches for a simplified branch.
Up to 480 Gbps stacking capacity.
24, 48 ports Multi-Gigabit Ethernet Data or PoE+.
4x1G SFP, 4x10G SFP+ fixed or modular uplinks options.
Full perpetual PoE+ and UPOE.
Cisco DNA Center and SD-Access, WebUI.
Enhanced Limited Lifetime Hardware Warranty (E-LLW).
Platform Overview of the Cisco Catalyst 9300 Series Switch
All models of Catalyst 9300 Series are 1RU high and have dual power supplies and redundant fans. Different models offer a variety of connectivity and scale. These models can be organized into four configurations, each with 24 port and 48 port copper options:
Data-only models - Optimized for desktops and printers that need data connectivity from 10 Mbps to 1 Gbps.
PoE/PoE+ models - Offers the same capacity as the data-only models with additional support for 30W of power over Ethernet (PoE+). All the ports support PoE / PoE+, and all ports can be active simultaneously with PoE+.
Universal PoE (UPOE) models - Give the same capability as the PoE+ models with the added support of 60W of PoE. Any ports can be configured with UPOE, but the maximum available, total PoE power per switch is 1800W.
Multigigabit (mGig) models - Provide connectivity at multiple speeds up to 10 Gbps on mGig ports. Wireless access points supporting Wi-Fi 6 (802.11ax) and 802.11ac Wave 2 are the most common devices requiring mGig connectivity. There are three mGig variants:

24 port mGig - All 24 ports support 100 Mbps, 1 Gbps, 2.5 Gbps, 5 Gbps, and 10 Gbps.
48 port mixed-mGig - The first 36 ports support 100 Mbps, 1 Gbps, and 2.5 Gbps. The last 12 ports support full mGig speeds.
48 port 5G mGig- All 48 ports support 100 Mbps, 1 Gbps, 2.5 Gbps, and 5 Gbps.
Arista 720X Series Cognitive Campus Access Switches
Arista 720X Series switches are designed for the campus edge switch. The 720XP series delivers wire-speed connectivity for all campus user workloads under the management and monitoring of Arista cognitive campus services. The suite of platforms offers various connection options for user desktops, POE appliances, and IoT devices.
Arista's cornerstone EOS combines cognitive campus network features and state-of-the-art merchant silicon to deliver critical services that automate deployment, configuration, visibility troubleshooting, and security.
Arista 720X Series Switch Benefits

Provides speed options from 10Mbps to 5Gbps over PoE copper with 25G SFP28 and 100G QSFP uplinks.
Line-rate performance with PoE connectivity for all campus user workspaces.
3at, af, and bt power options deliver up to 60W to RJ45.
Industry-standard 802.1Q, VRFs, and VXLAN/EVPN segmentation.
Cognitive real-time flow trackers for CloudVision, IPFIX, and sFlow.
Cognitive, cloud grade reliability, in-service maintenance, and upgrades.
EOS programmability and cognitive management plane monitoring AP.
Platform Overview of Arista 720X Series Switches
720XP-48ZC2

720XP-24ZY4

720XP-48Y6

720XP-24Y6

720XP-96ZC2

Ports

40 x 2.5G
MGig RJ45
8 x 5G
MGig RJ45
4 x 25G SFP
2 x 100G QSFP

16 x 2.5G
MGig RJ45
8 x 5G
MGig RJ45
4 x 25G SFP

48 10/100/
1000
BASE-T
6 25G SFP

24 10/100/
1000
BASE-T
6 25G SFP

80 x 2.5G
MGig RJ45
16 x 5G
MGig RJ45
4 x 25G SFP
2 x 100G QSFP

Rack Units

1

2

Max 1000Base-T

48

24

48

24

96

Max 2.5G/5G

48/8

24/8

-

-

96/16

Max 10G

4

4

6

6

12

Max 25G

4

4

-

-

12

Max 100G

2

-

-

-

2

Latency

1.2µs

Buffer

6MB

12MB
Cisco Catalyst and Arista Competitive Model Mapping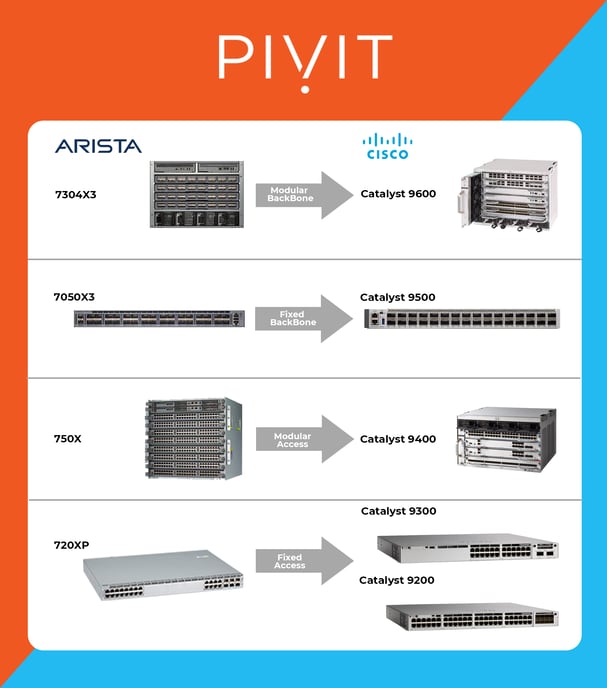 PivIT OneCall Options To Secure the Future of Your APs
If you are thinking of replacing your legacy systems to keep up with fast-paced technological innovations, consider protecting your network with our OneCall product. You have two options, namely, protect your legacy system or protect your new system – both offering huge future cost savings.
OneCall is our third-party maintenance service allowing for a holistic solution for your IT asset maintenance needs that can deliver every time on both a local and a global scale. So when it comes to protecting your mission-critical assets, such as your legacy or brand new access points, OneCall has you covered.
Visit our main OneCall page to find out more.
No Comments Yet
Let us know what you think