Juniper Mist AI and Cisco Battle for a Spot in Your Wireless Network
by Hunter Gorman on May 20, 2021 2:00:00 PM
Wireless networking has improved with many features in recent years. The Wi-Fi 6 supported next-generation wireless system can deliver a higher grade of service to older applications. The top two wireless equipment manufacturers, Juniper and Cisco, are leading the market. In this head-to-head comparison, we will investigate the pros and cons of both solutions, which will help you to choose the right product for your application.
Juniper Mist AI Access Point Overview
Juniper is leading the convergence of Wi-Fi, Bluetooth LE, and IoT with its enterprise-grade Access Points. The Juniper Access Points work in conjunction with the Juniper Mist Cloud Architecture and Mist AI to collect and analyze metadata in near real-time from all wireless clients. This enables rapid problem detection and root cause identification with predictive recommendations and proactive correction realizing the self-driving network.
Mist is using AI to revolutionize enterprise networking. By delivering unprecedented automation and insights, the Mist AI Platform saves time and money, maximizes IT productivity, and gives the best networking experience to any digital user. Juniper Mist and PivIT share a core belief in software-defined networking, with a focus on bringing AI to IT to simplify operations and improve customer experience. Learn more about PivIT's partnership with Juniper Mist and how you can access the benefits of the Mist AI Platform.
Cisco Wireless Access Point Overview
Cisco wireless solutions are resilient, have the integrated security you need, and employ adaptive and insightful intelligence providing helpful insight into your network. With intent-based networking built on Cisco Digital Network Architecture, Cisco wireless solutions go beyond the latest Wi-Fi 6 (802.11ax) standard. They are ready for the growing user expectations, IoT devices, and next-gen cloud-driven applications. With the ability to handle the increased mobile traffic and support IoT at Scale, Cisco's first Wi-Fi 6 access points with superior RF innovations will expand wireless access with intelligence and provide a secure, reliable, high-quality wireless experience for all networks.
Juniper Mist Access Point Features and Benefits
Best Wi-Fi and Bluetooth LE performance
In addition to delivering the best 802.11ax (Wi-Fi 6) and 802.11ac Wi-Fi range and performance, Mist APs incorporate a patented dynamic vBLE 16 element antenna array to provide the industry's most accurate and scalable location services.
Data collection, analysis, and enforcement
Mist APs collect data and enforce policies in conjunction with the Mist Cloud, which is critical when doing analytics, machine learning, location services, and event correlation. Several models incorporate IoT sensors and a third radio for business process automation, constant monitoring, and intelligent packet capture to speed up troubleshooting for enhanced visibility.
A single, enterprise-grade platform for Wi-Fi, Bluetooth LE, and IoT
For network convergence, Mist APs incorporates a port for direct and programmable integration to the analog and digital interfaces of Internet of Things (IoT) devices.
Hardware Options For You
Want to test a product without fully committing? We have demo units available for you to try and test out Juniper Mist in your network.
Cisco Wireless Access Point Features and Benefits
Comprehensive Security
Detect encrypted threats with Encrypted Traffic Analytics (ETA).
Multi-lingual access points that provide visibility and communications with not only Wi-Fi but Zigbee and BLE.
Cisco SD-Access provides automated end-to-end segmentation and group-based policy that is used to separate user, device, and application traffic without completely redesigning the network.
Data-Optimized Intelligence
Streaming telemetry and contextual data from every access point and controller on the network provides complete visibility.
Automatically detect and prioritize issues with complex event processing with a series of analytics engines to find anomalies instantly.
Reliability Beyond Wi-Fi 6
Custom RF ASIC provides Flexible Radio Assignment (FRA), CleanAir, Wireless Intrusion Prevention System (WIPS), and DFS detection.
Reliability beyond Wi-Fi 6. Support for the latest mobile standard and new technologies allow for better experiences and fewer interruptions.
Cisco Access Point Models
The Cisco Catalyst 9100 series access points are the new models which provide that seamless experience with the Wi-Fi 6 (802.11ax) standard and AI/ML and advanced analytics baselining the network performance.
The below outlines show Cisco access points that are not at their end of life yet, and suggested upgrade paths for each series: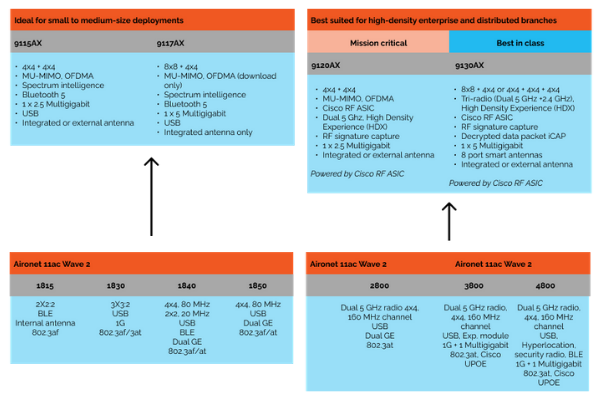 Juniper Mist AI Access Point Models
The below outlines show the Juniper Mist AI-driven Next-generation Cloud AP details:
Feature
Best In Class
Mission Critical
SMB Deployment
AP43
AP33
AP32
AP12
AP41
AP21
Wi-Fi Standard
802.11ax
(Wi-Fi 6)
4×4: 4SS
802.11ax
(Wi-Fi 6)
5GHz: 4×4:4SS
2.4GHz: 2×2:2SS
802.11ax
(Wi-Fi 6)
5GHz: 4×4:4SS
2.4GHz: 2×2:2SS
802.11ax
(Wi-Fi 6)
2×2: 2SS
802.11ac
Wave 2
4×4: 4SS
802.11ac
Wave 2
Wi-Fi Tri-Radio
Yes
Yes
Yes
Yes
Yes
-
Antenna Options
Internal/
External
Internal
Internal/
External
Internal
Internal/
External
Internal/
External
Virtual Bluetooth LE
Yes
Yes
-
-
Yes
Yes
IoT Interface
Yes
-
-
-
Yes
-
IoT Sensors
Humidity, Temperature, and Pressure
A Model Comparison Based on the Type of Access Point
The below table is a model comparison between Cisco Access point and Juniper Mist AP:
Types of AP
Cisco AP
Juniper Mist AP
Wi-Fi 6 mission-critical, intelligent
Catalyst 9130AX
AP43
Wi-Fi 6 mission-critical
Catalyst 9120AX
Wi-Fi 6 business essential
Catalyst 9115AX
AP33/AP32
802.11ac Wave 2 mission-critical
Aironet 2800
AP41
802.11ac Wave 2 business essential
Aironet 1850
-
Aironet 1830
AP21
Aironet 1815i
Extensive Feature Comparison of Juniper and Cisco Access Points
The below table is a feature comparison between Juniper Mist AP and Cisco Access Points:
Features
Juniper Mist AP
Cisco AP
Essential Wireless Features
Personal Wlan (Private User Groups)

Self-serve Personal WLAN for segmentation.
Unique PSK.

Suppor but requires Cisco ISE for user/role segmentation.
Shared PSK.

Real-Time Rf View

Real-time RF Glasses show actual Wi-Fi and BLE coverage from both AP and client.

Wi-Fi only; predicted, not actual RF coverage; not real-time.
Requires Cisco Prime appliance.

Automation & Optimization

AI for AX to automate and optimize Wi-Fi 6 network settings.

Manual, static configuration of features.

Architecture
Core Design

Controller-free modern microservices architecture.
Near real-time bug fixing without network disruption.

Controller-based architecture.
On Box Management for Catalyst 9100 series.
Mobility Express deployment method for SMB (Specific Models).

Scalability

Elastic vertical and horizontal scale.
No expensive hardware required.

Non-elastic with more controllers required.

Programmability

100% accessible through APIs.
Supports Ansible for complete IT automation.

Resiliency

Microservice containerization.
The failure of one service doesn't impact others.

Complex with more hardware required.
Each piece of hardware needs proper software versions.

Artificial Intelligence
Virtual Assistant

Continuous learning of the NLP engine through supervised machine learning.
Performs root cause analysis for most detected network issues.

Dashboard.
Chatbot rumored but not productized or available to customers in beta.

Anomaly Detection

Proactively identifies anomalies and uses data science tools
3rd generation algorithm with ARIMA boosts efficacy.
Anomaly detection performed across Wi-Fi, LAN, WAN, Security domains.

1st generation anomaly detection algorithm
Limited anomalies detected (DHCP, AAA, Association, Throughput).
Requires Cisco DNA appliances.

AI-Driven RF Optimization
Based on reinforcement learning:


Optimizes channel/power with AI-based reinforcement learning.
AI continuously maximizes User experience (SLE) and minimizes interference in real-time.

Based on how APs hear each other.
Optimizes channel/power based solely on AP interference graph.
RRM is performed on a static and periodic basis

AI-Driven Support

Mist Support utilizes Marvis Virtual Assistant to troubleshoot issues.
When Marvis AI detects a hardware failure in an AP, it can perform an automatic RMA.

Dashboards.
No use of AI to automate support or support operations.

AI OPS
Service Level Monitoring

User/Site/Device level monitoring.
100+ states monitored.

Dashboards - Basic non-Realtime event log monitoring.
Requires DNA appliances.

Root Cause Identification

Automated event correlation using machine learning across wireless/wired/device domains.

Baselining And Anomaly Detection

Proactive device/OS baselining and anomaly detection by AI system.

Limited anomaly detection.

Location Engagement and Insight
Location Algorithm

Unsupervised machine learning.
Triangulates and adapts to varying BLE. clients and changing RF.

Requires 3rd party BLE integration.
Triangulation is dependent on accurate map placement.
Errors introduced by variance in BLE clients.

Location Analytics

BLE & Wi-Fi.
Freemium and subscription services are available.
API-first for ease of data sharing.

Wi-Fi only.
Requires additional appliance (CMX).
Requires Cisco DNA Spaces.

Open Standards Economics

Interoperability.
Vendor-neutral.

Multiple solution offerings.
Management Options
You've chosen your access points, but you might have questions about how you will manage those APs.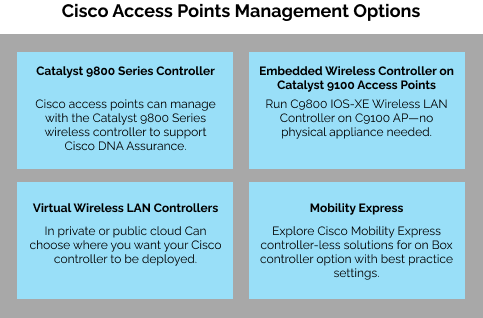 The Juniper Mist cloud APs have only a central cloud management option. All operations are managed via Mist's open and programmable microservices cloud architecture. This delivers maximum scalability and performance while also bringing DevOps agility to wireless networking and location services. It provides unprecedented insights into network performance, behaviors, traffic patterns, and potential trouble spots by using data science to analyze large amounts of rich metadata collected by Juniper Access Points.
Conclusion
From our above discussion, we can see that both OEMs can offer the new 802.11ax (Wi-Fi 6), IoT capabilities, and wireless security. Juniper Mist is a good choice for AI-driven technology and IoT features when Cisco focuses more on wireless performance. Cisco provides options to integrate with its other solutions to make your AP more intelligent. Juniper Mist has its controller-free modern microservices architecture for management, monitoring, analytics, and troubleshooting.
No Comments Yet
Let us know what you think