Mid-Year Review: What Can IT Enterprises Expect for the Rest of 2023?
by PivIT Global on Aug 22, 2023 7:00:00 AM
The year 2023 has been quite a paradox for the tech industry. While we've witnessed some truly fascinating advances and innovations, the evolving socioeconomic conditions are taking a toll on the once-booming industry.
The year wasn't off to a great start, with the supply chain crisis-induced delays continuing into early 2023. Although the worst of that calamity is way behind us, new challenges exist. For the most part, the tech industry and perhaps the world have been able to avoid the worst of the outcome. But not everyone is optimistic for the remaining half of the year.
This article reviews the past six months of 2023, summarizing the most important events and trends. More importantly, we will discuss what IT enterprises and their leaders can expect in the coming months.
Overview of the Tech Industry in the First Half of 2023
As we had predicted at the beginning of 2023, the economic uncertainty, fear of recession, and slow improvement in manufacturing and supply issues impacted many tech companies. That's not to say that everything was gloom and doom. The year has been extraordinary regarding technical innovation, with artificial intelligence (AI) making inroads into every sector.
A Tough Period
Tech companies, in general, and Big Tech, had massive layoffs in the first half of 2023. Almost every big name in the industry, including Meta, Twitter, Amazon, and Zoom, announced that they were laying off employees. An estimated 168,243 workers lost their tech jobs in the first few months of 2023.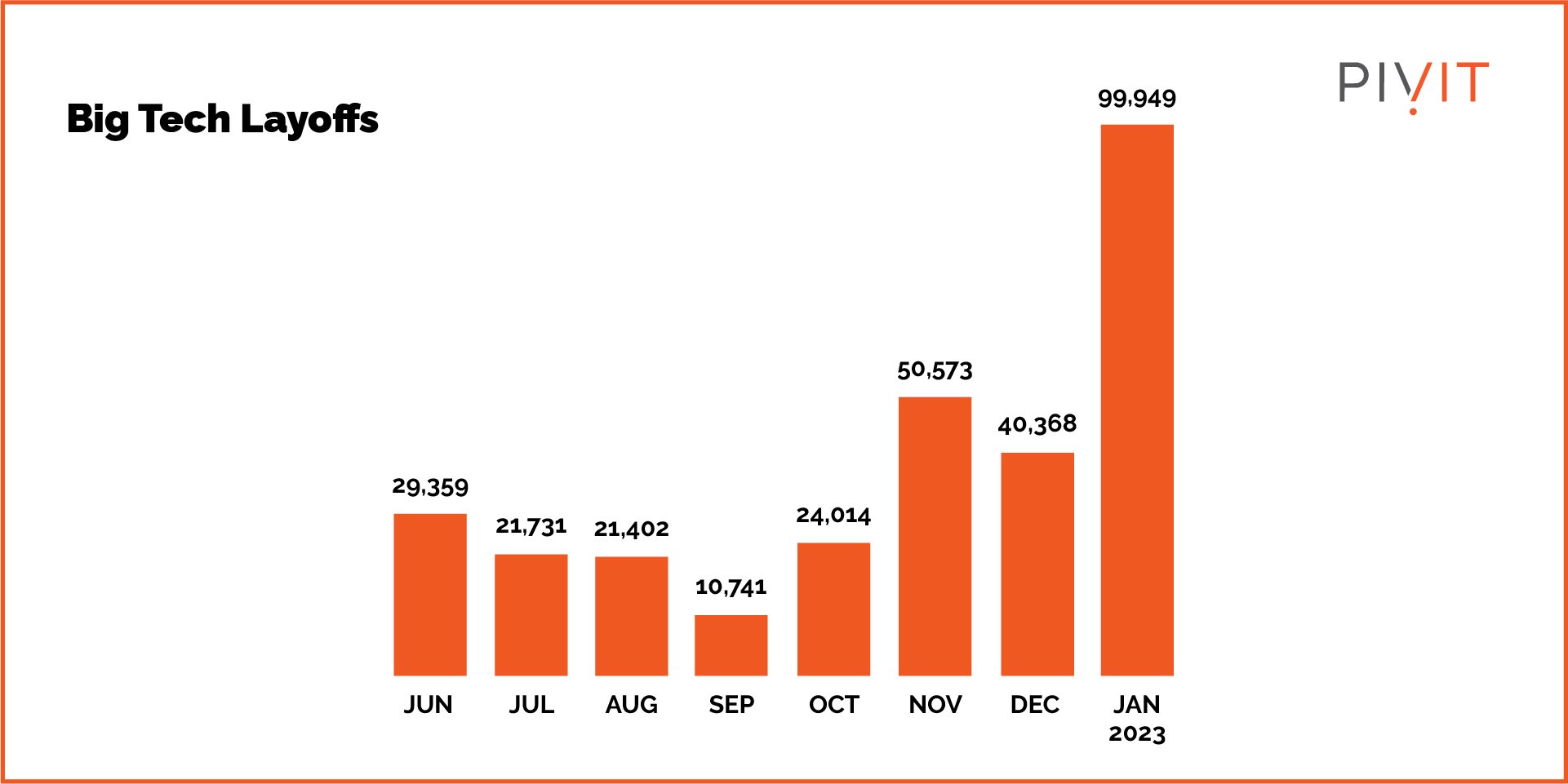 (Source: data)
Most tech companies that resorted to layoffs did so to cut costs. However, for some, it was more of a restructuring strategy. It all began towards the end of 2022 when the noise about a possible recession became too loud. On top of that, inflation showed little signs of slowing down at the time, pushing big players to re-evaluate their spending goals for 2023.
As a result, companies made the decision to let go of people to cut spending and hedge the rising cost of operations and lower revenues.
Changing Priorities Due to Spending Cuts
While for many companies, spending has been cut, others ended up spending more than what they did last year. However, the spending strategy changed drastically for tech companies as they eyed technologies that resulted in more efficiency and productivity.
IT spending was projected to rise by 5.5% in 2023, according to Gartner. The company projected increased spending on software, which has materialized in the first half of 2023. For instance, SD-WAN adoption increased exponentially as the technology is on track to amass a market share worth over $13 billion by 2027.
Companies are also trying to cut costs to leverage what they have to fund new revenue-generating initiatives. In other words, enterprises withheld big, costly infrastructure improvements.
AI on the Rise
AI was the technology on everyone's mind throughout the first six months of 2023. Companies are betting on it, with the so-called 'AI Race' already on. OpenAI brought its AI chatbot ChatGPT to the masses with GPT3.5 and later GPT4, the company's most advanced generative AI model. To compete with ChatGPT, Microsoft introduced Bing as an all-new AI-powered browser and assistant, and Google launched Bard.
While chatbots largely cater to mass consumers, B2B tech companies have also adopted AI. From Cisco to Nvidia, major tech vendors adopted AI technology in their product lines to provide cutting-edge features. For instance, Nvidia announced its most advanced AI supercomputer, powered by the Grace Hopper superchip that combines CPUs and GPUs for producing AI models.
Despite cost cuts in other areas, companies were keen to spend on AI projects, offering new products and services that leverage the power of machine learning.
Outlook for the Second Half of 2023
The first half of 2023 has been tumultuous for the IT sector. Here's what we expect from the second half based on industry trends and executive interviews.
Cost-Cutting to Continue
Although inflation has shown some slowdown, the economic uncertainty will continue into the remaining year. With major markets in North America and Europe seeing minimal growth, companies may need to continue to tighten their belt and balance underperforming revenue with cost cuts.
One metric will reign supreme when it comes to cost-cutting: revenue per employee. With budget squeezed, companies are looking to drive efficiency for their employees and only continue with workers contributing to the revenue.
Therefore, we may see more restructuring and layoffs, especially if things don't improve regarding sales and revenue.
New Initiatives for Security and Performance
Enterprises are aiming to delay any equipment refresh by maintaining existing infrastructure. Rather than spending on new equipment, many enterprises are trying to reduce the cost of running and maintaining assets.
While they plan to control spending, they also want to invest in important initiatives for improving performance and security. The latter has been a big concern for executives who have repeatedly voiced their goals to bolster security for their infrastructure.
Whether it's the manufacturers, service providers, or businesses that rely on technology, security will remain an important theme for the remaining year.
Part of the reason why companies are willing to spend more on security despite smaller budgets is that they're under pressure to make improvements. It is necessary from a compliance perspective and beneficial for business as security-focused products and services are in more demand.
Simply put, tech companies will extend the life of their assets and delay expensive refresh cycles for at least a year. At the same time, they are willing to spend on security measures.
Reducing Complexity
Another notable theme in the tech industry poised to become more widespread is the move towards 'lesser integration.' Companies have worked with multiple vendors for years to take advantage of the best products and services. However, the increased complexity that comes with such choices can increase costs.
Even though there are many advocates of the multi-vendor environment, some companies are aiming to simplify operations by sticking with fewer partners.
On the other end of the spectrum, vendors are trying to make integration and interoperability more seamless. Manufacturers will make hardware more friendly for multi-vendor environments by removing proprietary protocols and compatibility issues.
For instance, Cisco plans to offer more interoperability within its various platforms, reducing complexity and barriers for its existing and potential clients.
The Takeaway
The fears and uncertainty seen in the first half of 2023 aren't going away so quickly. However, there is some cautious optimism. While tech companies may continue to curtail spending, they are willing to spend on innovative technologies that improve performance, security, and reliability.
Although AI has yet to make lasting changes in the networking sector, there are positive signs that the latter half of the year will see more AI-focused network offerings. It will remain a dominant theme both on the production and client side. Manufacturers will continue to tap into AI for innovative products, and customers want that as they try to incorporate the technology into their business models.
As an effective cost-cutting measure, maintaining existing equipment is the best action. Reliable third-party maintenance through OneCall can guarantee the efficient running of legacy equipment, so refresh cycles can be delayed.
To learn more about saving on operational expenses (OpEx), check out how OneCall can help maintain your IT infrastructure.
No Comments Yet
Let us know what you think