How Dell EMC's Data Domain DD860 Protects the Integrity of Your Data
by Darin Knobbe on Sep 3, 2020 1:45:00 PM
To get the edge on the competition or find their niche, companies claim the 'industry-leading' tag, but what means qualifies an 'industry-leader'? It varies throughout each sector of the network hardware industry and your business network. Industry leaders in the Security space are put up against different qualifications than those of Servers.
Today, we are highlighting how we've seen Dell EMC's Data Domain lead the industry in Storage Protection. Specifically looking at the Data Domain DD860, we'll dive into how it can play a role in delivering data protection, disaster recovery, scalability, cloud-enablement, and more to your network storage protection strategy. Let's take a look at Dell EMC's Data Domain DD860.
Data Domain Overview
Dell EMC Data Domain's Stream-Informed Segment Layout (SISL) and Boost technologies result in backup speeds up to 68 TB/hr. With backups and archives as your last resort for storage, inline data verification, continuous fault detection, and self-healing, create the architectural design to prove its deserving place at the top of the industry. When defending against data integrity issues, Data Domain variable-length segmentation provides the highest deduplication rates possible.
Here at PivIT, we know the goal is to become more efficient in the network and business, and higher deduplication rates result in less storage required, decreasing your data protection footprint. The footprint is decreased through less infrastructure to manage and WAN bandwidth used for replication. Not only are CapEx and OpEx reduced, but the complexity in your environment decreases while seeing higher effective scalability. Get in touch with a storage protection specialist here at PivIT to chat about decreasing your protection footprint and create a strategy to lower your CapEx on your data storage security.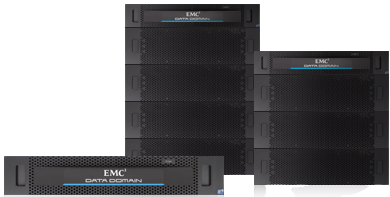 Scalability matters most when you want easier management and data center floor space decreased. Data Domain systems scale up to manage 3 PB of usable capacity with a single system. To achieve higher scalability and performance, Data Domain system technology allows you to upgrade the controller as needed, therefore not only do you protect your data but also your investment. Data Domain's design integrates through connecting via Fibre Channel or Ethernet. Below, we'll look more into how you can see the Data Domain DD860 fit into your storage security.
Your Network with the DD800 Series
DellEMC Data Domain deduplication storage system has disk backup, disaster recovery, and remote office data protection with high-speed, inline deduplication. Backup data can be reduced in size by an average of 10-30 X, so disk backup storage is cost-effective for onsite retention and highly efficient for network-based replication to disaster recovery sites. The reduction in size is due to the deduplication system's key feature of eliminating excessive copies of data. The Data Domain DD800 series is qualified with all leading enterprise backup software and archiving applications, which easily integrates into your existing storage infrastructure without change for either data center or distributed office data protection.
The Data Domain DD860 Deduplication Storage System has fast, inline deduplication up to 5.1 TB/hr of throughput. This throughput provides up to 7.1PB of deduplication storage. The Dell EMC Data Domain's data architecture provides continuous recovery verification and detection. The DD860 protects against data integrity issues during the initial backup and throughout of the data lifecycle. Unlike any other enterprise array or file system, the DD860 system ensures recoverability is verified and then continuously re-verified.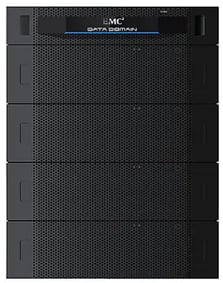 The Dell EMC Data Domain system, overall, is simple to install and manage. Connect an appliance to your backup server as either a file server via Ethernet or as a virtual tape library (VTL) via Fiber Channel. As mentioned above, the Dell EMC Data Domain Boost (for use with Symantec OpenStorage) is also supported.
Hardware Options For You
Are you convinced the Data Domain DD860 is the right storage protection for your network? No? Great! Let's explore some options for you, your budget, and your server needs.
Hardware Components
System Features
Feature
DD860
Rack Height
2U. Supported only in four-post racks
NVRAM
DD860 may contain either one
1 GB remote-battery or one 1 GB integrated-battery NVRAM type of card
Power
Dual redundant, hot swappable power supply units
Fan
Two fan assemblies (two axial fans and 3 dual axial fan assemblies) with eight fans total
Motherboard IO
Two 10/100/1000 Copper Ethernet
PCI Slots in the Riser Card Cage
Six PCIe x8 slots. One slot has an x16 connector
Memory
36 GB (9 x 4 GB) or 72 GB (18 x 4 GB)
(DD860 Archiver option, 72 GB (18 x 4
GB) only)
Slide Rails
X-2UA-URAIL Spare, Slide Rail Kit, DD640, DD670, DD860, DD890, 24.0 – 36.0 in
Processors
Two quad-core processors
Storage Capacity
System
Internal Disks
Raw Storage (Base 10)
Data Storage Space (Base 2; Base 10)
External Storage
DD860
Four x 1 TB
SATA HDD
No User Data
4 TB (reserved
for system use)
Up to 192 TB
(external)

130 TiB; 142.8TB (both external)

Any combination of
16 TB or 32 TB (ES20 shelves) or 15 TB or 30 TB (ES30 shelves) up to a maximum of 16 shelves or 142.8 TB
usable capacity
DD860 Archiver Option
Four x 1 TB
SATA HDD
No User Data
4 TB internal
(reserved for
system use)
Up to 768 TB
(external)

520 TiB; 571.2TB

Any combination of
16 TB or 32 TB (ES20 shelves) or 15 TB or 30 TB (ES30 shelves) up to a maximum of 24 shelves or 571.2 TB
usable capacity
Power Supply Units
The DD860 has two power supply units: the upper unit (number 1) and the lower unit (number 2). Each power unit has an LED that glows green when the unit is functioning correctly. If the unit loses AC power then the LED glows amber and blinks amber if failing. Although, if the LED is dark then the unit has no power, but when the system is turned off and still plugged into a power unit the LED flashes green.
Hardware Interfaces
As mentioned, the DD860 connects an appliance to your backup server as either a file server via Ethernet or as a virtual tape library (VTL) via Fiber Channel. The hardware interfaces enable you to connect through a serial console, monitor, and keyboard, or through the Ethernet connection port. The pair of Ethernet interfaces (both 1000 Base-T Gigabit) is for data transfer to the Data Domain system or administrative access. There is a single 10/100 Base-T Ethernet port to the right of the pair that is used for system maintenance only. The four USB ports, keyboard port, mouse port, VGA port, and serial port are not used during normal operation, though may be used during system servicing.
Each Ethernet connection has two LEDs, one on each side of the connector. The left LED is the Link/Activity LED. When it is dark, the port has no live connection. It glows green when a link is established and flashes green with transmit/receive traffic. The right LED is the Speed LED. It indicates 1 Gbps when amber, 100 Mbps when green, and 10 Mbps when off.
PCI Cards and Slot Assignments
All DD640, DD670, and DD860 systems have one NVRAM card. The DD860 and DD890 systems have two fixed SAS cards. The DD860 Archiver system has 3 fixed SAS cards. Each SAS HBA port accepts a mini SAS connector.
VTL and Ethernet Card Options
DD860 systems have three slots available for optional Ethernet NIC and VTL HBA cards. The DD860 Archiver option has two slots available for optional Ethernet NIC. The optional VTL feature requires at least one VTL HBA card. Depending on your needs, you can leave these slots empty or install up to three Ethernet cards, up to two VTL cards, or any combination of Ethernet cards and up to two VTL cards. The following are the available Ethernet NIC cards mentioned above:
Dual-port copper 1Gb (1000 Base) Ethernet PCIe NIC with RJ-45 connectors (DD670 system only)

Quad-port copper 1Gb (1000 Base) Ethernet PCIe NIC with RJ-45 connectors

Dual-port optical 1Gb (1000 Base-SX) multi-mode fiber Ethernet PCIe NIC with LC connectors

Dual-port copper 10 Gb Ethernet PCIe NIC with SFP+ connectors

Dual-port optical 10 Gb Ethernet PCIe NIC with LC connectors
Technical Specs
Storage & Storage Controller Specs
| | |
| --- | --- |
| Network Storage Type | NAS Server |
| Rack-Mountable | Yes |
| Total Storage Capacity | 64 TB |
| Controller Type & Level | RAID; RAID 6 |
Hard Drive
| | |
| --- | --- |
| Type | HDD |
| Hot-Swappable | Yes |
| Installed Quantity | 32 |
| Capacity | 2 TB |
Networking
| | |
| --- | --- |
| Data Link Protocol | Ethernet, Gigabit Ethernet, Fast Ethernet |
| Host Connectivity (for SD) | Gigabit Ethernet |
| Network / Transport Protocol | FTP |
| Remote Management Protocol | Telnet, SNMP, SSH, NDMP |
| Network Services Compatibility | Network File System (NFS), FTP, Microsoft CIFS |
| Feature | Link Aggregation Control Protocol (LACP), Email alert |
Other Specifications
| | |
| --- | --- |
| Expansion Bays | X Hot-Swappable |
| Interfaces | 2 x Ethernet 10Base-T/100Base-TX/1000Base-T, 1x serial |
| Storage Operation System | EMC Data Domain OS 5.1 |
| Software Type | EMC Data Domain Enterprise Manager |
Whichever industry you are in—health care, financial technology, energy, education, transportation, manufacturing, etc—data is becoming bigger and more imperative to safeguard. Finding the right solution to protect your storage data is critical in today's environment. Dell EMC's Data Domain platform is one of the industry's leading ways to remain secure. Contact PivIT today to learn more about the Data Domain DD860 and how it can play its secure role in your data storage network.
No Comments Yet
Let us know what you think