Three Must-Have Services When Configuring Your Network Gear
by Darin Knobbe on Oct 8, 2020 1:45:00 PM
An Aruba AP, Cisco Switch, and Palo Alto Firewall walk into a bar. The Dell Storage and Security look over and can't believe what they see. This is what randomly popped into my head when I stepped into our Global Operations Center in Portland, Oregon recently, and saw our client's Milan network sitting on our racks, powered up with patch cables between access points, switches, and firewalls.
Turns out, our client's lead engineer (sitting in Southern California) had a remote VPN connection to our lab and was pre-configuring the entire network. Three unlikely network components working together – it was an engineer's dream come true.
We've heard time and time again from engineers who want to be engineers – not logistics coordinators, entry-level installation hires, or inventory management gurus. They want to be designing, configuring, managing, analyzing – bettering their network.
If this connects with you, today we outline three services you must have to get you back in the driver's seat of designing and managing your network beginning with logistics coordination and remote configuration.
Logistics Coordinator or Network Engineer
Often we see our clients and prospects in a position that isn't in their job description. They feel limited, have low creative bandwidth, and are out of options to make their network function better. Engineers are not logistics coordinators.
Whether you are shipping new gear to refresh your European data center location or configuring hundreds of APs for your new office, as an engineer you shouldn't be focused on shipping labels and handling logistics from your VARs to the site.
We've developed a solution under our professional services arm, EXTEND, that allows clients to send hardware—regardless of whether it was purchased from PivIT or another vendor — to our distribution center in Portland, OR.
We understand if you purchase from multiple vendors that lead times are different, and shipping and arrival dates are strung out. Freeing up that simple logistics piece makes room for you to put energy and thought into your configuration and network setup.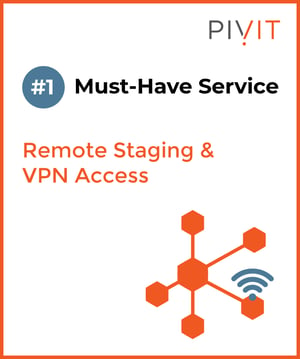 Our warehouse is not just four walls with thousands of pieces of gear. We have the ability to stage your equipment, send a secure VPN to your lead engineer, and set your devices up for configuration.
Our Milan client was able to configure the entire network in a single afternoon! The shipment went out that same day and arrived on-site ready to be installed. Having this VPN connection kept equipment out of their living room and into their data center.
As time and energy are freed up, it not only helps you to focus on network setup but on what you are trained to do. An uncomfortable position to be in is not having enough bandwidth to properly vet manufacturers for what you need.
It takes a lot of time and energy to research how a manufacturer's products bring value. When you're worried about logistics with boxes stacked in your living room, it's easy to fall prey to manufacturer schemes, even when they may not suit your needs.
Our team's combined 100 years of experience takes the legwork out of remote hardware deployments so you can move your projects forward and find solutions—at a fraction of the cost. Our clients save upwards of 65% on the infrastructure they purchase from us, and that doesn't include the downtime incurred for waiting on lead times from other VARs.
Working Together
As you can see, there were three different manufacturers, and it was possible for them to work together. Solutions from a variety of manufacturers seem complex, but at the end of the day, you get the network you designed that meets the needs of your business.
These options introduce flexibility into your network and give you control as you build your unique IT landscape. As the engineer, you know your network best. At PivIT, we bolster what you're already great at – creating, innovating, and building the future of IT.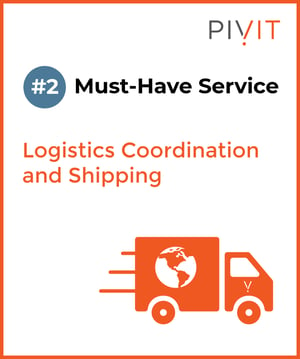 Once those needs are met from an infrastructure standpoint and you've taken advantage of the remote staging and configuration, our logistics team will handle all the packing, shipping, and tracking for that hardware heading wherever you need it sent. We both know it isn't that simple, especially in the world we live in today.
You may be experiencing a decrease in your IT staff, so consequently, there's no one on-site to receive it. No worries, EXTEND can have Smart Hands ready to meet the equipment on-site for the rack, stack, and remote installation support. Think of it as "Rent-an-Engineer". You no longer have to search for the right part-time hire or full-time addition just for installation.
We've heard time and time again from engineers who want to be engineers -- not logistics coordinators, entry-level installation hires, or inventory management gurus. You want to be designing, configuring, managing, analyzing, and bettering your network.
Don't get stuck with forced upgrades and limitations of maintenance on your equipment. Our Lifetime Warranty is sold with the equipment you purchase to make your life easier, allowing you new-found time (and budget) to get back to innovating! You can now:
Breakaway from constrained options
Have more bandwidth to be creative
Dive into producing the network design you want
Who's Behind the Remote Staging
Our warehouse team isn't just a crew of box packers and unpackers. They are part of a team of engineers and SmartHands, giving you access to a three-tier classification.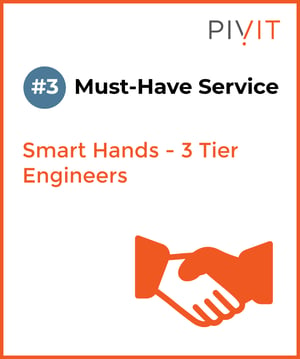 Level One:
If you have your configurations in hand, we have someone ready to chat about what switch or server needs to be connected to the configuration lab. They'll do all the plug and playing while you place the configurations on the equipment. That's our Level 1 engineer.
Level Two:
We've seen clients need an extra set of hands. To hire personnel year-round is too expensive, especially since there isn't a full workload. The Level 2 Engineer — generally certified in these areas — matches your needs perfectly with a fundamental understanding of networks, and will apply basic configurations.
Level Three:
Let's say you're a bit unfamiliar with a certain configuration or you need guidance to connect equipment. Our Level 3 engineers can walk you through step-by-step configurations, assume an advisory role where they'll share what they've seen working in other networks, and take a more high-level approach to help you meet your needs.
Whether you need our engineers remote, on-site, or in your office, they're ready to assist and guide you every step of the way. Our SmartHands offering is the foundation of our remote staging environment as well as our Services Division, EXTEND.
When you're looking to replace, upgrade, or refresh equipment you'll often have equipment remaining. No worries. One popular feature of SmartHands: we'll take the replaced device off-premises to dispose of through our ITAD services, making it eligible for our buyback program. In the client's scenario here, the buyback program nearly paid for the refresh itself!
A Fitting Combination
So, whatever happened to that unlikely trio at the bar? As we've seen, a team of PivIT bartenders (so to speak) served them up just right. As you know, this industry is filled with ever-changing needs, and uniqueness is an understatement.
There is no one-size-fits-all model, as our client gladly learned with these three "unlikely" components. So stop stacking boxes up to the ceiling in your living room to get your network configured.
Ship to PivIT, connect through VPN, and let PivIT take care of the logistics while you focus on managing your IT ecosystem. Let us come alongside your team to show you how.
So what's the punch line to the joke? An Aruba AP, Cisco Switch, and a Palo Alto Firewall walk into a bar. Dell freaks out wondering what they are doing in 'their' bar.
At this point, the team of PivIT bartenders tells Dell to cool their Servers before the whole data center goes down. "Things have changed boys, we can all work together, you're just a bunch of boxes that talk to each other anyway."
Comment below your best punch line.
About PivIT Global
PivIT's Professional Services arm, EXTEND, is built to support your company's pre-staging and configuration. If you are planning, curious, or in a bind, EXTEND can help you with SmartHands, ITAD, Asset Management, Network Engineering, Site Services, SmartHand, and much more. Reach out today to learn more about how we can EXTEND your business needs.
No Comments Yet
Let us know what you think