All You Need to Know About the Cisco UCS 6332 Fabric Interconnect
by Darin Knobbe, on Aug 20, 2020 1:45:00 PM
The Unified Computing System (UCS) Fabric Interconnect (FI) is a core part of the design to improve scalability and reduce the total cost of ownership of data centers. Through integrating all components into a single platform, the system acts as a single unit which simplifies management. Cisco UCS Architecture provides a range of products including a UCS VIC (virtual interface card), UCS Blade Server Chassis, UCS FEX (Fabric Extenders), Blade Chassis FEX, Rack Mount FEX, B-Series Blade Servers, C-Series Rack Servers, and more. The fundamental difference Cisco UCS is the servers are connected to the Fabric Interconnects, then the FI is connected to the network switches. The devices are usually installed as head units at the top of server racks, in which all the server components are attached to the fabric interconnect. Today we'll dive into the UCS FI 6332 and how it can find its way to the top of rack in your data centers.
A Quick Look into the Fabric Interconnect
Each Fabric Interconnect is typically configured as a highly available clustered pair in production environments and provide active-active data traffic. By deploying in pairs, each server or blade chassis is connected to both Fabric Interconnects to protect against FI failure. Fabric Interconnects provide two capabilities:
Network Connectivity to both LAN and SAN
UCS infrastructure management through embedded management software UCSM for both hardware and software management
Cisco has introduced a new series of Fabric Interconnects, the 6300 series with Gen 3 UCS hardware. The framework incorporates a low-inertness, lossless a 10 and 40 Gigabit Ethernet bound together system texture with big business class, x86-engineering workers. The framework is an incorporated, versatile, multi skeleton stage in which all assets take an interest in a brought together administration space. The core functionality is the same in all generations, with a difference in number of physical ports, and can be upgraded to the latest UCSM software. Of these physical ports, the Fabric Interconnects are converged meaning the physical SFP and FI software configuration determines whether each port can be configured as an Ethernet port, an FCoE, or an FC port.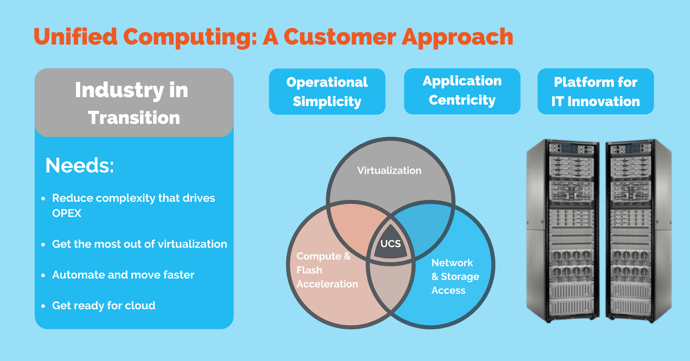 The UCS 6332 32-Port Fabric Interconnect
The Cisco UCS 6332 32-Port Fabric Interconnect is a 1RU Gigabit Ethernet, and FCoE switch providing up to 2.56 Tbps throughput and up to 32 ports. The switch has 32 fixed 40-Gbps Ethernet and FCoE ports.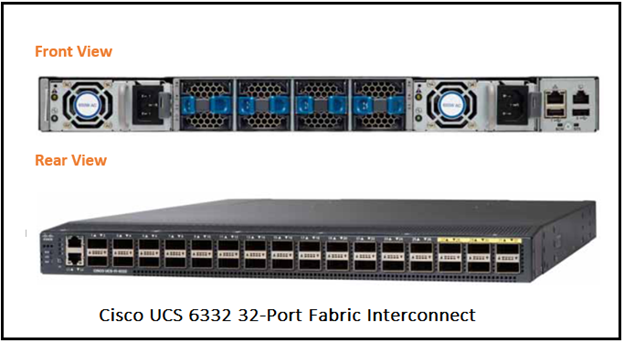 Ports 1—4 can operate as 40-Gbps QSFP+ ports, or as 4 x 10 Gbps SFP+ breakout ports, or can be optionally outfitted with Quad to SFP (QSA) adapters to provide 10 Gbps operation
Ports 5—12 and 15—26 can operate as 40-Gbps QSFP+ ports, or as 4 x 10 Gbps SFP+ breakout ports, or can be optionally outfitted with Quad to SFP (QSA) adapters to provide 10 Gbps operation
Ports 13 and 14 can operate as 40-Gbps QSFP+ ports. They cannot operate as 4 x 10 Gbps SFP+ breakout ports
Ports 27—32 are dedicated 40 Gbps QSFP+ operation
Boost your network connectivity and management of your connected blades, chassis, and rack servers. To read the full datasheet, click here.
Cisco UCS 6332-16UP 40-Port Fabric Interconnect
The Cisco UCS 6332-16UP 40-Port Fabric Interconnect is a 1RU 10-GbE, 40-GbE, and native Fibre Channel switch providing up to 2.43-Tbps full-duplex throughput.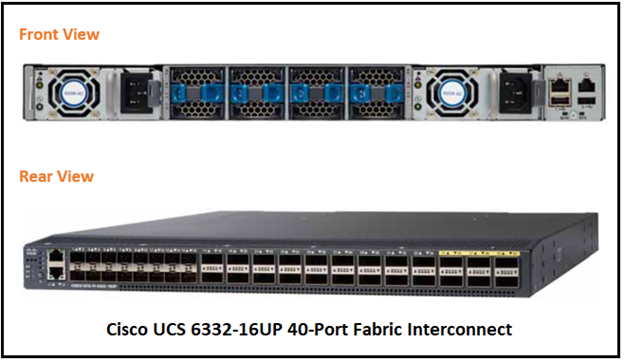 Ports 1—16 operate as SFP+ Universal Ports capable of operating at 1/10-Gbps fixed Ethernet or 4/8/16 Gbps Fibre Channel ports
Ports 17—34 operate as 40 Gbps QSFP+ ports or as 18 4 x 10 Gbps SFP+ breakout ports or can be optionally outfitted with QSA adapters to provide 10 Gbps operation
Ports 35—40 operate as fixed 40 Gbps QSFP+ ports
You can find the full datasheet for the 6332-16UP 40-Port here.
UCS 6332 Capabilities
The 6332-16UP Fabric Interconnect is the management and communication backbone for Cisco UCS B-Series Blade Servers, C-Series Rack Servers, and 5100 Series Blade Server Chassis.
24 40-Gigabit Ethernet and Fiber Channel over Ethernet
16 1- and 10-Gbps and FCoE or 4-,8-, and 16-Gbps Fiber Channel unified ports
Increased bandwidth up to 2.43 Tbps
Centralized unified management.
Efficient cooling and serviceability both side of switches, redundant fans and power supplies, and rear cabling.
Performance
Cisco UCS 6332:- Layer 2 hardware forwarding at 2.56 Tbps or 720 million packets per second
Cisco UCS 6332-16UP:- Layer 2 hardware forwarding at 2.43 Tbps or 683 million packets per second
MAC address table entries: 32,000
Low-latency cut-through design
QoS
Layer 2 IEEE 802.1p

Eight hardware queues per port

Per-port QoS configuration

CoS trust

Per-port virtual output queuing

Egress strict-priority queuing and port-based scheduling
Why You Should Have the 6332 at the Top of Your Rack
The Cisco UCS Fabric Interconnect can boil down to one job, connecting your UCS Servers to your network. With each unique IP address, each Fabric Interconnect logs into the Cisco UCS Manager. When configuring, you can add variety to the ports, for example:
Universal Ports - Operate as Ethernet or Fibre Channel ports

Ethernet Ports - For Ethernet or FCoE connectivity

Uplink Ports - for uplink to the Cisco Nexus Infrastructure
Cisco's UCS Manager allows all elements connected to the interconnects to participate in a single, highly available management domain. Through the unified fabric a lower total cost of ownership can be achieved by reducing the number of NICs, HBAs, switches, and cables required to operate the interconnect. Transparently, the unified fabric encapsulates Fiber Channel packets into Ethernet. The Fabric Extender architecture scales to 20 blade chassis without adding complexity by eliminating the need for dedicated chassis management and blade switch. By ultimately reducing the number of cables needed, management simplifies and the architecture provides deterministic latency for optimized application performance. Take a look at Cisco UCS Architecture here.
UCS 6332 Provides

What You Get at the Top of Your Rack

Lossless Fabric

Provides a reliable, robust foundation for unifying LAN and SAN traffic on a single transport

Priority Flow Control

Simplifies management of multiple traffic flows over a single network link
Supports different classes of service, helping enable both lossless and classic Ethernet on the same fabric

System-wide Bandwidth Management

Enable consistent and coherent Quality of Service (QoS) throughout the system

Cisco Data Center VM-FEX technology

Enable a consistent operational model between virtual and physical environments
Provides the same level of network visibility for virtualized and non-virtualized environments
Improves diagnostic and troubleshooting capabilities in a virtual environment
Simplifies network and security policy enforcement when migrating virtual machines from one host to another

Redundant Hot-Swappable Fans & Power Supplies

Enable high availability in multiple configurations
Increases serviceability
Provides uninterrupted service during maintenance

Front-to-Back Cooling

Supports efficient data center hot- and cold-aisle designs

SFP+ Ports

Increases flexibility with a range of interconnect solutions, including copper Twinax cable for short runs and fiber for long runs

Consumes less power per port than traditional solutions
Helps enable cost-effective connections on fabric extenders with Cisco Fabric Extender Transceiver (FET) optics

SFP Compatible Ports

Allows fixed ports to be configured to operate in 40/10 Gigabit Ethernet mode with the transceiver options specified for use with SFP-compatible ports
About PivIT Global
Here at PivIT Global we want to help you find the right infrastructure to best set your business up for success. We have a team ready to answer any questions or to chat more on the 6332 Fabric Interconnect to suit your needs! Need to get in touch quicker than a phone call? No worries, leave a quick comment below.