Arista 7800R3 Series Battle It Out With Juniper QFX Series Switches
by PivIT Global on Sep 8, 2022 7:05:00 AM
Data centers play a crucial role as the foundation of modern software technology. The evolution of data centers has led to the change from a three-tier architecture to a two-tier Clos network-based spine-and-leaf architecture.
The new data center architecture was developed to handle the increased traffic caused by virtualization and low latency. As a result, the architecture reduces bandwidth bottlenecks significantly.
The spine-and-leaf architecture is gaining popularity due to its high bandwidth, low latency, and server-to-server connectivity. However, since the spine layer is the network's backbone, choosing the right spine switch is critical to match your business needs. That's where we swoop in to save the day and narrow your choice down to two OEMs – Arista and Juniper Networks.
Both OEMs have longstanding reputations as manufacturers of high-density high-performance switches for the data center spine and other applications.
This article provides a comprehensive comparison of the Arista 7800R3 Series and the Juniper QFX Series switches to help you select the right spine switch to meet your business needs.
View some of our other switch comparison articles:
Besides offering exceptional services, what else does PivIT bring to the table? Find out in the video below:
Arista Networks Platforms Overview
Arista Networks is a global leader in cloud-managed and low latency networking. Their switches have a comprehensive list of significant features, including Ethernet VPN (EVPN) and Virtual Extensible LAN (VXLAN).
The switches also support network-wide automation, telemetry, and visibility, powered by the CloudVision feature. The cherry on top – they are easy to configure and manage.
Arista products offer the following cloud network design options:
Spline
Layer 2 or Multi-chassis Link Aggregation Group (MLAG)
Layer 3 or Equal Cost Multiple Routing (ECMP)
The following are products offered by Arista to support cloud-managed networking:
Arista Extensible Operating System (EOS)/cEOS/vEOS router: Arista's advanced network operating system
CloudVision: Supports automation and network-wide telemetry
Cognitive Wi-Fi
Arista switches (Arista 7800R3, 7500, 7300X, 7280R, and 7170, among others)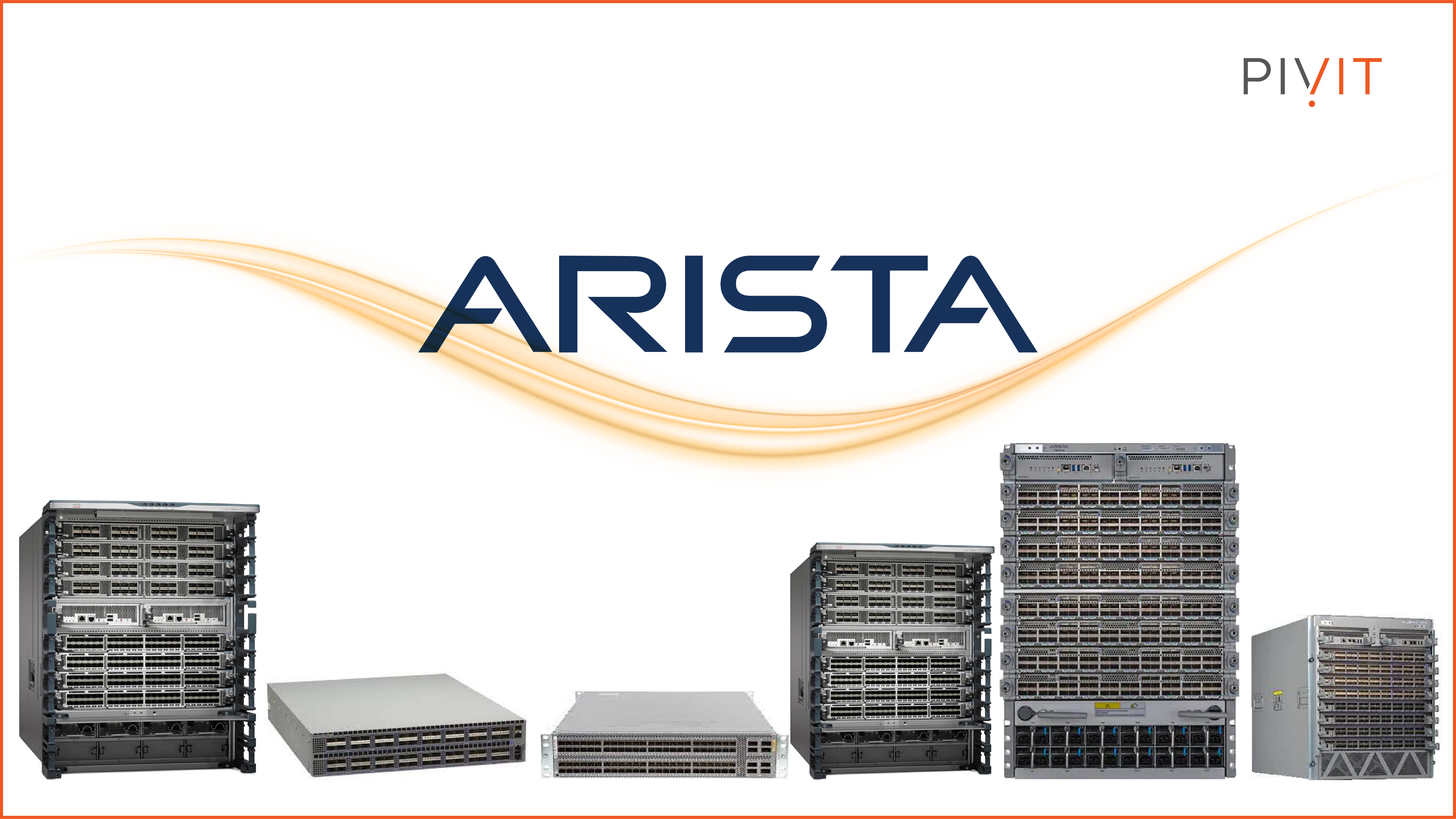 The High-Density Arista 7800R3 Series Switches
The Arista 7800R3 series is the third generation of Arista's R-series universal spine switches. With a switching capacity of up to 460Tbps, these network platforms were designed to support next-generation cloud and virtualized networks. Their increased capacity combines an extensive collection of Layer 2 and 3 features and internet scale table sizes.
The switches are supported by Arista-developed technologies to offer comprehensive functionalities, including network telemetry, routing, and security. In addition, they support the development of highly scalable networks with Segment Routing, MLAG, ECMP, EVPN, and VXLAN technologies.
The Arista 7800R3 series of switches are equipped with advanced EOS features, such as CloudVision, which enable precision timing, network virtualization, and network monitoring.
In addition, this series of network platforms integrate switching and routing capabilities in one architecture powered by Arista EOS, eliminating the complexity that arises when using multiple architectures and operating systems.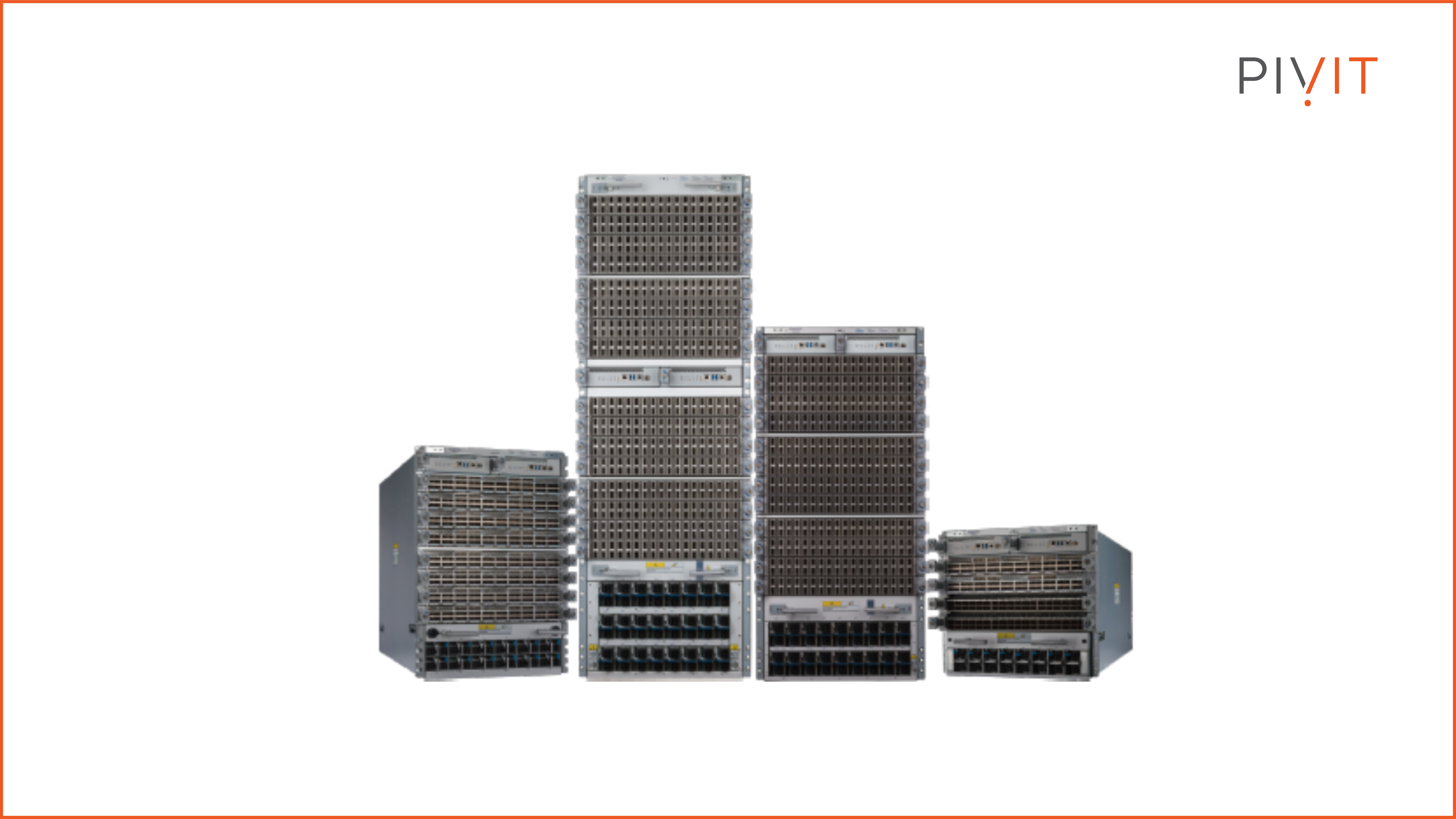 Arista 7800R3 Features and Benefits
Cloud Grade Routing: These Arista platforms provide comprehensive routing, transport signaling, tunneling, and enhanced network security.
High-Performance Universal Spine: The Arista 7800R3 switches support a high-performance universal spine with up to 460Tbps of system capacity, 400G high-density ethernet, 10G-400G Wirespeed MACsec, and IPSec encryption, and an industry-leading latency of 3.5 microseconds.
Arista EOS: The Arista EOS is a modular network operating system that offers a scalable control plane to support internet peering and rich streaming telemetry solutions.
Scalable Cloud and Service Provider Designs: These high-performance Arista platforms offer extensive switching capabilities with rapid convergence. They also provide segment routing and EVPN services, support for IPv4 and IPv6 Overlay and Underlay, internet-scale IPv4 and IPv6 forwarding tables, and automation.
Resiliency: Arista 7800R3 platforms offer route load balancing using Equal-Cost Multiple Path (ECMP) and Unequal-Cost Multiple Path (UCMP).
Using the Traffic Engineering Fast Reroute (TE FRR) technique, Arista 7800R3 switches also minimize traffic loss by switching to a backup path if a link or node on the network fails.
In addition to TE FRR, Arista 7800R3 platforms use the Topology-Independent Loop-Free Alternate (TI-LFA) technique. TI-LFA is also a fast reroute technique that reduces packet loss due to link failure.
Arista 7800R3 Models and Specifications
The Arista 7800R3 series consists of 7816R3, 7812R3, 7808R3, and 7804R3. The table below shows a comparison of the models and their specifications.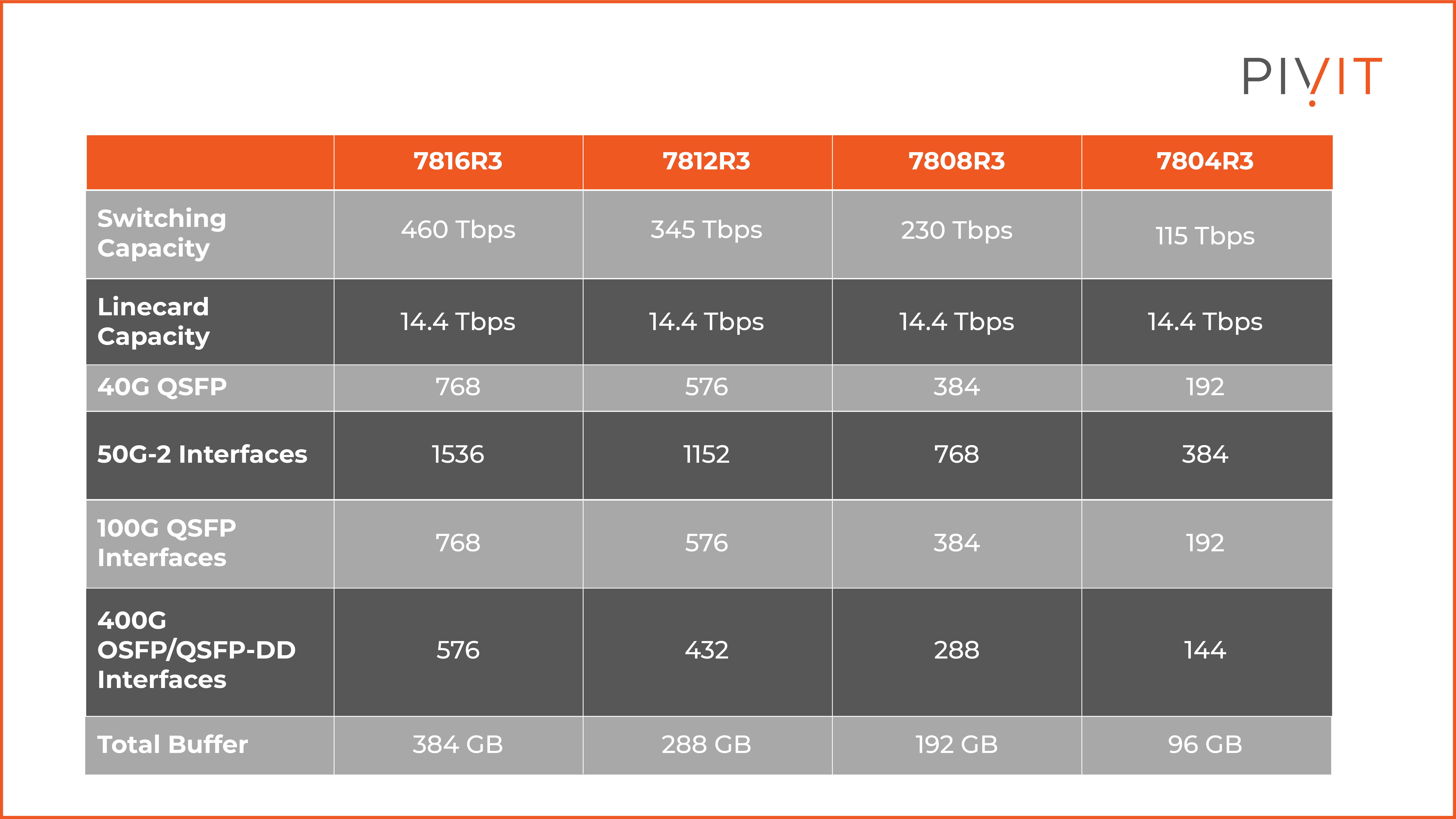 Juniper Networks Platform Overview
Juniper Networks offers highly scalable switches of different specifications that support the networks of ISPs, some of the world's largest data centers, and campus networks.
Juniper switches are known for their low latency feature, Software-Defined Wide Area Network (SD-WAN) support, and Layer 2 and 3 routing capabilities.
These switches are powered by Juniper Mist AI, a combination of Artificial Intelligence, Machine Learning, and Data Science techniques that automate network-wide operations.
They are also powered by Junos OS, which provides EVPN-VXLAN, BGP Additional Paths (BGP-AP), and Multiprotocol Label Switching (MPLS) functionalities, among others.
There are two categories of Juniper switches: EX Series switches and QFX Series switches. EX Series switches are high-performance access and aggregation/core layer switches. In contrast, QFX Series switches are mainly campus and data center spine and leaf switches.
The High-Performance Juniper QFX Series Switches
Juniper QFX Series switches are highly scalable, high-performance switches designed to offer premium data center spine-and-leaf, campus distribution and core, and data center gateway and interconnect switching solutions.
QFX Series switches deliver a highly-scalable routing stack, support high availability and automation, and offer a comprehensive set of EVPN-VXLAN and IP fabric functionalities.
The QFX Series environment consists of the Juniper Apstra software that optimizes operations and network fabric management. The software supports network lifecycle automation, which simplifies design and deployment.
The QFX Series, with support from Apstra, has been proven to increase time to deployment by 90 percent, increase time to resolution by 70 percent, and reduce OpEx by 83 percent.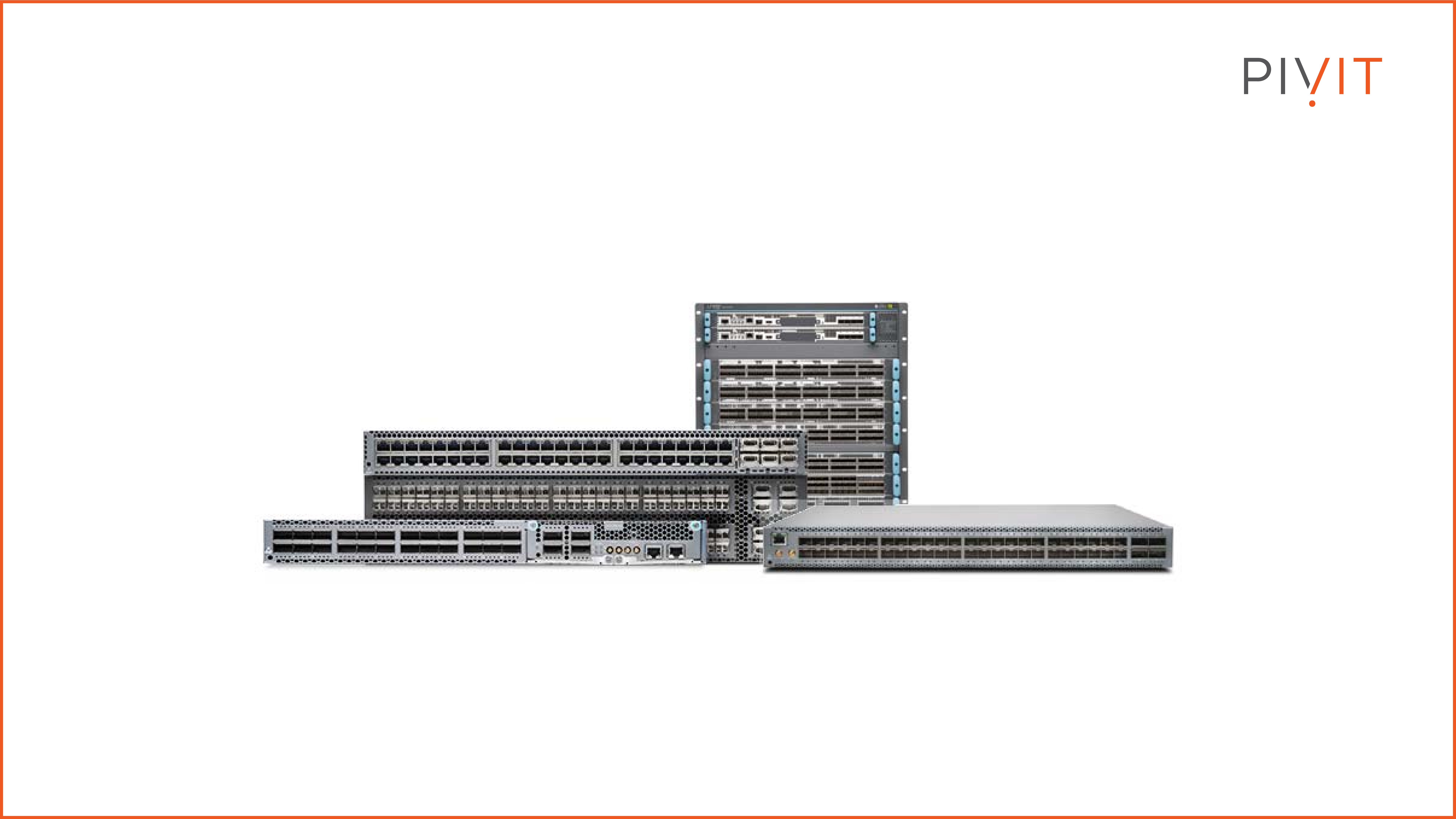 Juniper QFX Series Features and Benefits
Scalability: One of the most significant features of Juniper switches is their ability to scale and support switching operations in even the largest of networks, including Internet Service Provider (ISP) networks.
Low Latency: With very high switching capacities and latency as low as 550 nanoseconds, Juniper QFX switches enable low latency network traffic transmission.
Automation: Juniper switches and routers, including the QFX series, are supported by Mist AI. Mist AI automates operations network-wide using a blend of Artificial Intelligence (AI), Machine Learning, and Data Science techniques.
Multiple Management Techniques: You can manage your QFX switches in many ways, including:
Juniper Mist Cloud for central management, high visibility, and automation
Juniper Apstra intent-based networking software
Python
Puppet
Ansible
Zero-touch provisioning (ZTP)
Junos OS: The Juniper QFX series of switches is equipped with the powerful Junos OS that offers advanced networking features, including:
EVPN-VXLAN, which creates scalable, agile, and secure data center and campus networks
BGP Additional Paths (BGP-AP)
Multiprotocol Label Switching (MPLS)
Layer 3 VPN
IPv6 Provider Edge (6PE)
Cloud optimization
High Availability: Large enterprises and data centers require highly available networks for critical operations and services. Their network fabrics usually consist of multiple connected switches. In such cases, the network is resilient to the loss of any individual switch.
Such applications also usually leverage link aggregation to connect several physical connections to form a single logical connection that is highly available.
For high-availability connections, Juniper recommends deploying switches in an EVPN-VXLAN fabric using Ethernet Switch Identifier-Link Aggregation Groups (ESI-LAGs).
Do you have older switches that are coming up on their end-of-sale date? Roll those right onto your OneCall maintenance strategy where you get dedicated spares so you can protect your critical infrastructure.
Juniper QFX Models and Specifications
The models available in the Juniper QFX series of switches include:
QFX10016
QFX10008
QFX10002
QFX5700
QFX5220
QFX5210
QFX5200
QFX5130
QFX5120
QFX5110
QFX5100
The table below compares the major features of QFX5120, QFX5130, QFX5220, QFX5700, and QFX10002. These five selected switches can support diverse use cases, including the Data Center Fabric Spine applications.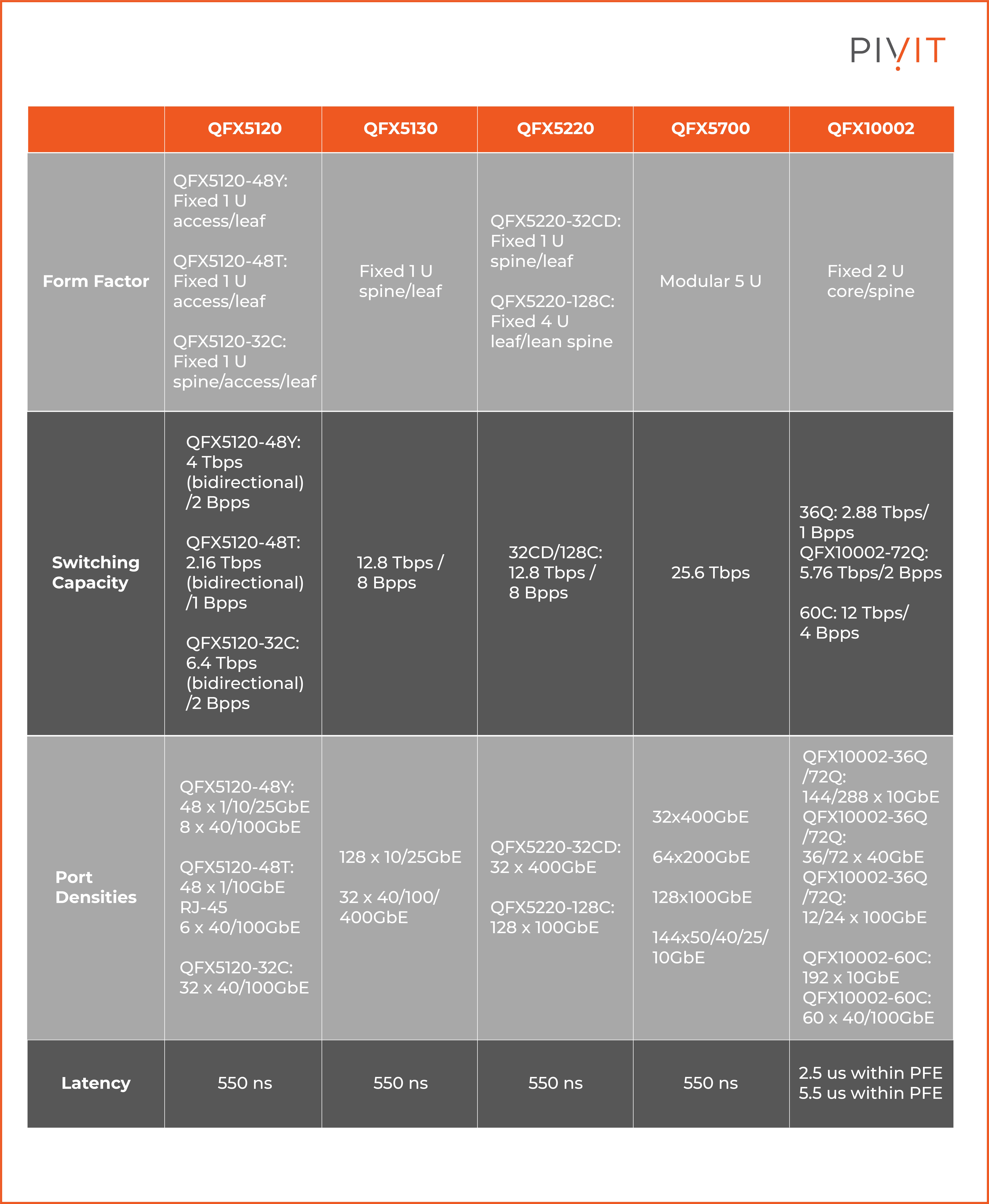 The Decision...
In summary, the Arista 7800R3 series and Juniper QFX series of switches are high-performance network platforms offering an extensive collection of significant features and benefits.
Features and benefits of the Arista 7800R3 include:
Cloud-grade routing
High performance
Arista EOS
Scalable cloud and service provider designs
Resiliency
On the other hand, the features and benefits of the Juniper QFX Series switches include:
Scalability
Low latency
Automation
Multiple management techniques
Junos OS
High availability
Whichever option you decide on, you need the team resources to configure the switches? We know teams can sometimes be stretched thin and don't always have the resources or headcount to configure your gear at the speed you'd like.
PivIT's EXTEND offering can step in to augment your team and remote in to configure your gear with expert-level engineers (check out EXTEND's Smart Hands). If you need someone on-site, we have field services ready at a moment's notice.
No Comments Yet
Let us know what you think