Auto Risk Mitigation With Arista 720XP Switch Series
by PivIT Global on Dec 27, 2022 7:11:00 AM
The Internet of Things (IoT) has dramatically shifted how society connects to the world. Globally, there has been tremendous growth in the number of (and need for) connected devices.
The global IoT market size was at $ 330.6 billion in 2020 and is expected to reach $ 875.0 billion by 2025, at a compound annual growth rate (CAGR) of 26.9%.
Now, more than ever, there is a market for devices that can achieve low latency, high network availability, and easy programmability. Unfortunately, the larger the number of interconnected devices, the higher the security risk.
That's where the Arista 720XP series of switches come into play. Designed to meet the evolving needs of users and business-critical applications in IoT-enabled campuses, this network infrastructure ensures that your connectivity, in all its forms, stays up to date.
The Arista 720XP series features real-time telemetry, comprehensive analytics, enhanced security, scalability, dynamic traffic load balancing, campus segmentation, and a host of other features.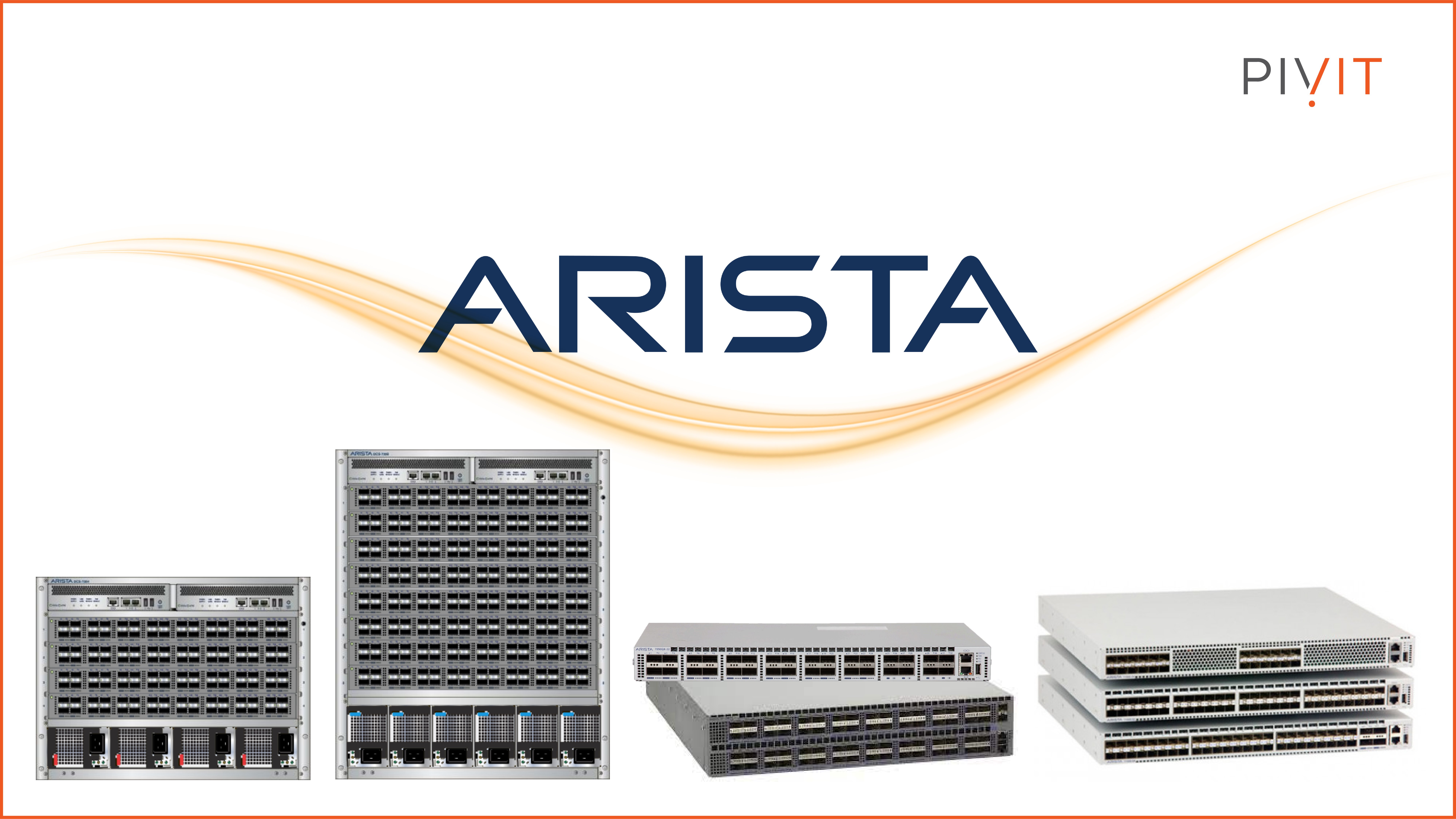 Continue reading to learn more about the Arista 720XP series of switches, their benefits, and an outline of the available product offerings.
View some of our other articles:
The High-Performance Arista 720XP Series of Switches
The Arista 720XP series of switches provides users with advanced visibility and risk mitigation for the most sensitive data and applications. This ensures that critical systems remain online, even in the face of the most severe cyber attacks. Built from the ground up for easy deployment, this infrastructure features intuitive management and automation tools.
These switches are powered by the single binary Arista Extensible Operating System (EOS), which not only supports its routing and switching, but also presents the user with a set of modern features, such as Ethernet Virtual Private Networks (EVPN) virtualization and Quality of Service (QoS) services.
In addition, the operating system offers features that enhance network security, such as Link Layer Discovery Protocol (LLDP) device authentication and 802.1X access control. With these crucial services, the user can enjoy the benefits of automatic application, appliance admission, and segmentation on the campus.
With Arista's CloudVision, there's the advantage of managing these platforms centrally through the availability of the Cognitive Management Plan. There are immense benefits of utilizing CloudVision, including automated analytics and insights on the network's health, real-time telemetry, and a database archival option.
This broad network-wide visibility offered by the EOS allows the user to monitor and manage other users, applications, and infrastructure on the network.
This series of switches are available in five models, each with unique features and functionalities to help you achieve your goals and protect your most sensitive data and applications.
_________________
Get help choosing the best switch for your network by speaking with our specialists.
_________________
Features and Benefits Gained by Using Arista 720XP Switches
Advanced Monitoring: A key functionality on which Arista focused during the development of the 720XP is network-wide visibility and advanced network monitoring. Other key functionalities related to this feature include:
Latency Analyzer and Microburst Detection (LANZ):

LANZ is a set of features made available by EOS that provides network-wide visibility into areas where packets experience delays. Network administrators can then take advantage of this information to decrease latency and speed service delivery.



Zero Touch Provisioning (ZTP):

This is a process where a switch on the network is configurable or updated without human intervention.



Integrated packet capture and analysis with TCPDump:

The 720XP integrates with TCPDump, which is used to capture and examine data packets.



Advanced Mirroring-Port Mirroring (16 sessions):

Port mirroring is a process where one switch sends a copy of the data packets on its port to the port of a monitoring switch on the network. It is divided into:

Enhanced Remote Port Mirroring
Port Mirroring (4 active sessions)
L2/3/4 Filtering on Mirror Sessions



Software Defined Networking (SDN):

This is a network architecture technique that involves the central control of the network using software applications. The following controllers can be used for the Arista 720XP switch:

Openflow 1.0
Openflow 1.3
Arista DirectFlow
eAPI
OpenStack Neutron Support



Advanced Event Management Suite (AEM):

CLI Scheduler
Event Manager
Event Monitor
Linux tools
Other equally important monitoring and control features available with the 720XP include:
Configurable Congestion Notification (CLI, Syslog)
Streaming of Events (GPB Encoded)
Capture/Mirror of congested traffic
FlowTracker features
RFC 3176 sFlow
IPFIX support
Restore and configure from USB
EEE 1588 PTP (Transparent Clock and Boundary Clock)
Real-Time Telemetry: 720XP's cognitive flow tracker feature works with EOS's Cognitive Management Plane function to ensure access to real-time telemetry of devices, users, and application workflows.
The flow tracker allows network operators to assess network health and performance by tracking key measurements without interrupting operations. In addition, the user won't be limited to only using Arista's network monitoring options - Flow Tracker has open APIs that support a host of third-party monitoring and security applications.
Advanced security: Another one of Arista's main points of focus, while designing the 720 XP, was to ensure that users benefited from best-in-class security features. This set of functionalities is comprised of:
Service Access Control List (ACL): ACLs regulate access to network resources. An ACL is a list of rules that determine whether an end user or system on the network permits or denies access to a service.


Packet Data Protocol (PDP).


Control Plane Protection (CPP) ensures the control plane is secure.


MAC ACLs filter traffic on specific MAC addresses. Filtering prevents access to malicious content while permitting access to pertinent information.


1X Enhancements, which can be further classified as:

Multi-Host 802.1X AUTH enables the authentication of multiple hosts that share a port.
MAC-Based AUTH (MAB): MAB is an access control strategy that uses a host's MAC address to support access control on different ports.
Dynamic VLAN assignment.
Named VLAN support.
Other equally important security features include:
ACL Deny Logging
ACL Counters
Atomic ACL Hitless restart
DHCP Relay
MAC access list security
Terminal Access Controller Access Control System Plus (TACACS+)
Remote Authentication Dial-In User Service (RADIUS)
ARP trapping and rate limiting.
This host of network access management features positions the 720XP as one of the market's most secure Wi-Fi and switching platforms.
Scalability: The uniquely designed 720XP series can work with many programs and applications.
Arista EOS: Arista's single binary EOS powers these platforms that transmit telemetry data to other Arista offerings, such as CloudVision, enabling users to visualize and analyze data in real time. With this powerful operating system, the 720XP series provides cloud-grade Layer 2 switching, Layer 3 routing, and virtualization services.
Additionally, EOS has open APIs that support automation of crucial network operations, such as configuration, software lifecycle management, and maintenance using either Arista's CloudVision or any other third-party solution.
Dynamic Traffic Load Balancing: With the 720XP series, users can implement either the L2 MLAG or L3 ECMP load-balancing schemes to ensure high availability load sharing and traffic prioritization. Arista's integrated Dynamic Load Balancing (DLB) feature is integral to other infrastructure on a campus network, which helps to improve overall performance.
CloudVision: Arista CloudVision is a central management platform that automates and simplifies network lifecycle operations throughout the campus, data center, Wi-Fi, and multi-cloud.
The management plane supports automated provisioning, continuous compliance, change control, predictive analytics, and real-time telemetry. In addition, CloudVision can be integrated with most third-party management platforms.
CloudVision is, in every sense, an affordable multi-domain solution that increases efficiency and speeds up the setup of a new branch on the network. Arista offers CloudVision either as-a-service or as a virtual/physical on-premises appliance.
Campus Segmentation: The 720XP series switches offer overlay segmentation services that allow users to separate the traffic of individual users into their own VLANs. The purpose of segmentation is to reinforce data and infrastructure security.
Automatic processes for allowed users are activated when they have predetermined 802.1Q or EVPN VXLAN segmented networks allocated to them.
They segment the most sophisticated cases on the campus, using wire-speed Layer 3 Virtual Routing and Forwarding (VRF) segmentation. Finally, these switches assist administrators in Wi-Fi segmentation by de-encapsulating tunneled Wi-Fi traffic.
Arista 720XP Series Models and Specifications
The Arista 720XP series of routers comprises the following models:
720XP-96ZC2
720XP-48ZC2
720XP-24ZY4
720XP-48Y6
720XP-24Y6
The table below is a comparison of the specifications of these models.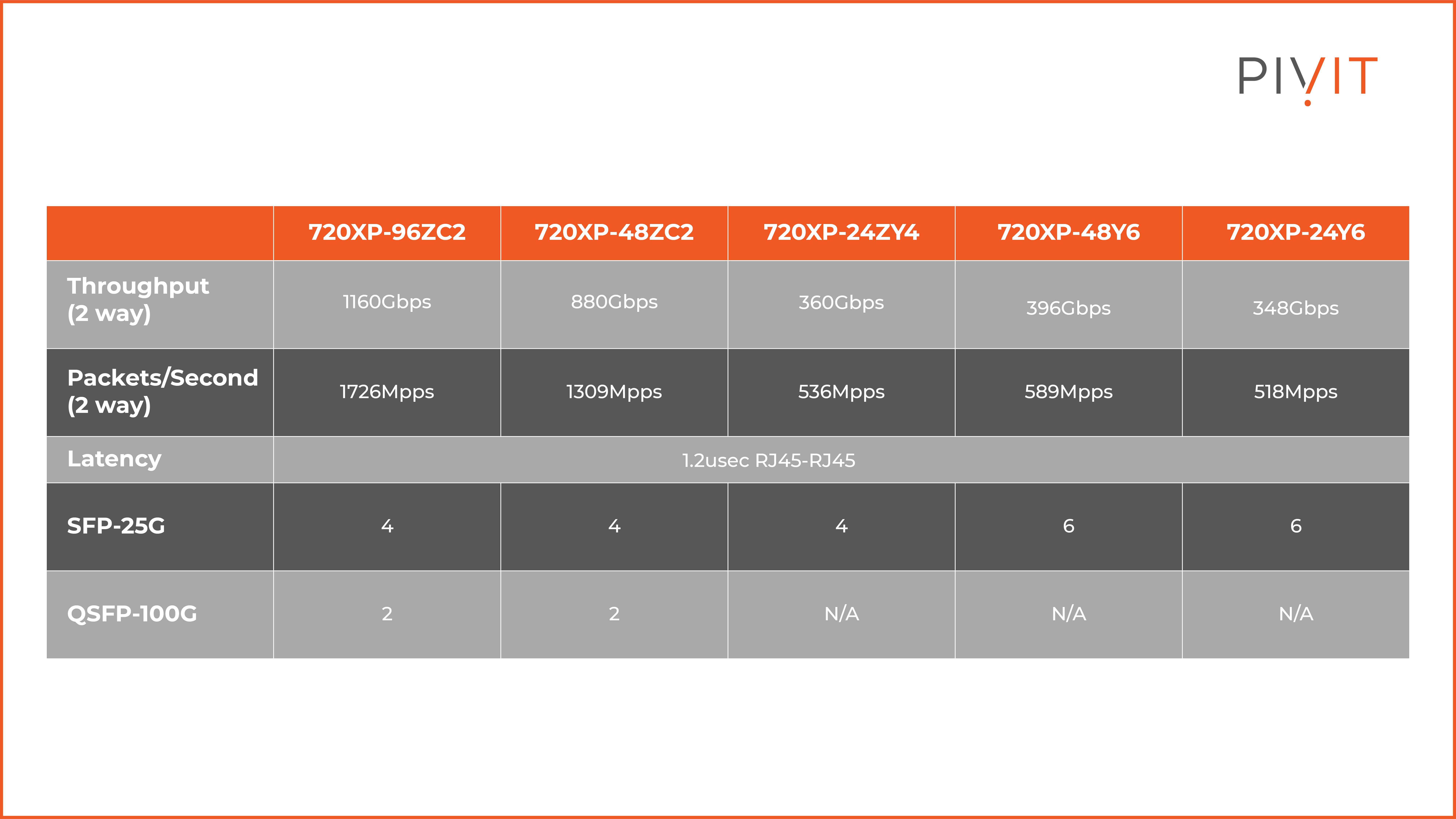 Don't let unreasonable lead times stop you from getting the switches you need. PivIT gives you the freedom to choose from an extensive network of OEM partnerships, maximize your budget, and create a strategy to keep your network scalable.
Flick on the Switch – Access to Your Personal Assistant in Switches Granted
Digitization and IoT have brought about the global interconnection of heterogeneous devices.
Multiple devices on the network make it more difficult to monitor and manage. This presents a new set of security challenges that legacy networking platforms cannot handle. The Arista 720XP is a series of intelligent, application-aware devices that enables you to detect and mitigate risks more efficiently than traditional switches.
Imagine an intuitive user experience, comprehensive analytics,
and the ability to scale without losing performance.
The advanced technology of the Arista 720XP empowers the user to increase overall business agility and deliver an exceptional experience to their customers.
There's a global expansion of interconnected devices. Expand your network with a product that delivers on low latency, reliability, and high network availability. Arista 720XP series of switches has your back in making programmability a breeze.
No Comments Yet
Let us know what you think