In-Depth Exploration of the Cloud-Native Design of Aruba CX Switches
by PivIT Global on Sep 29, 2022 7:01:00 AM
Today's enterprise networks have significantly evolved into complex systems with the need for requirements such as automation, scalability, high availability, and ultra-low latency. These requirements were not imperative for legacy networks.
Moreover, there is a growing use of Internet of Things (IoT) devices. Statistics predict the deployment of billions of IoT devices by 2023. However, the nature of IoT connections increases the vulnerability of networks.
The Aruba CX switch portfolio, powered by AOS-CX, is a next-generation switching solution with a cloud-native design that can meet the security, scalability, automation, performance, and reliability requirements of these modern networks.
In this article, we will provide:
the main features of Aruba CX switches with a focus on their cloud-native design,
and a specification comparison of the available models.
View some of our other switches articles:
Aruba CX Switches Overview
Due to digitization, business networks are quickly transforming from on-premises storage to cloud and from manual operations to automation. Conventional networks limit digital transformation due to disadvantages such as fragmented operations and restricted visibility and control.
This transformation makes it essential for modern networks to be highly scalable, offer high visibility into the entire network, and provide real-time automated insights to help monitor and manage the network.
The Aruba CX series of switches can meet all these requirements. Using these devices, you can leverage Aruba's integrated analytics and central management tools to configure, control, and continuously scale your network.
Also, they will allow network operators to spend less time diagnosing network issues and focus on critical tasks. They also provide automated network configurations and enhanced network security.
Finally, Aruba CX switches deliver exceptional efficiency and reliability that meet modern network IoT, mobile, and cloud demands.
_________________
Get help choosing the best switch for your network by speaking with our specialists.
_________________
Cloud-Native Design Principles
Cloud-native design is a technique that utilizes cloud services from major providers such as AWS to enable agile and modular application and services development for the cloud environment. Cloud-native technologies not only enhance productivity but also support the deployment of scalable applications.
Aruba's switches were built on Gartner's cloud-native principles, which include modularity, programmability, resiliency, and elasticity:
Modularity: Modularity is a modern software development technique that involves breaking down applications into microservices and other smaller processes that can be deployed, controlled, and updated easily. Modularity empowers faster innovation since each application developer can work on an independent process or feature set without affecting other processes.


Resiliency: While high reliability and network resiliency have been requirements for a long time, even in legacy networks, the age of digitization makes it more crucial. Aruba CX's powerful network operating system, AOS-CX, helps to ensure high availability by separating communication between different components. Hence, should a process crash, the others remain unaffected.


Programmability: The third principle is programmability, and Gartner describes it as enabling "provisioning and management via declarative APIs and policies." While other network equipment can limit programmability and make the process a struggle, AOS-CX and Aruba CX switches were designed to be as user-friendly as possible. RESTful APIs overlay the state database in AOS-CX, empowering the integration of third-party platforms with the network infrastructure and state information. This integration is essential because it helps streamline workflows performed by different team members.


Elasticity: Modern networks experience varying bandwidths. Therefore, it is critical for network resources to have the flexibility of scaling up and down automatically when needed and in a policy-driven manner to meet the varying bandwidth demands. Orchestrators such as Red Hat Ansible can perform resource scaling automatically. Aruba Networks supports using these orchestration frameworks to automate workflows by providing fully tested Ansible modules. In addition, AOS-CX can support any use case at the edge, the core, and the data center.
Other Features of Aruba CX Switches
Aruba CX switches have other significant functionalities that benefit modern organizations. Their features and benefits are as follows:
Analytics

Integrated into select Aruba CX switches is the Aruba Network Analytics Engine (NAE) that monitors the entire network and provides real-time actionable insights to detect, prioritize, and troubleshoot issues.

Aruba NAE's monitoring and real-time notifications enable network operators to make configuration changes that fasten the diagnosis of network issues and resolve them before they affect business operations.

Moreover, a Time Series Database (TSDB) is also incorporated into the Aruba Network architecture. The TSDB stores state data that network operators can retrieve to help them diagnose and resolve network issues quickly.
High Availability

High availability is imperative for modern networks. Aruba Virtual Switching Extension (VSX) technology was developed to meet the availability demands of a consistent carrier-grade network.

VSX, enabled by AOS-CX, is a robust network resiliency solution with redundant software and hardware architecture. VSX enables switch software live upgrades that ensure consistent network connections even during maintenance.
Aruba Secure Access and Dynamic Segmentation

Network segmentation helps to protect sensitive network traffic. The Aruba Dynamic Segmentation solution supports consistent network-wide policy enforcement and seamless mobility.

Dynamic Segmentation secures the network by restricting access to IT resources based on user roles and policies. It offers centralized policy definition and dedicated enforcement points that limit users and devices so that they only communicate with destinations that match their assigned roles.
Unified AI-Powered Management

You can centrally manage your Aruba CX switches using the cloud-based or on-premises Aruba Central solution. It is a cost-effective AI-powered network management solution that centralizes IT operations and enhances agility.

This solution possesses excellent switch-management abilities, including deployment, monitoring, and troubleshooting.

Aruba Central provides enhanced visibility into the entire network. It can access a unified view of all wireless and wired devices and users on the network. The network-wide visibility makes it easier for operators to control the network.

In addition, Aruba Central was designed to provide robust security and enterprise-grade resiliency.
Aruba CX Switch Models and Specifications
The following are the main series of Aruba CX switches:
Aruba CX 6400 Series
Aruba CX 6300 Series
Aruba CX 6200 Series
Aruba CX 6100 Series
Aruba CX 6000 Series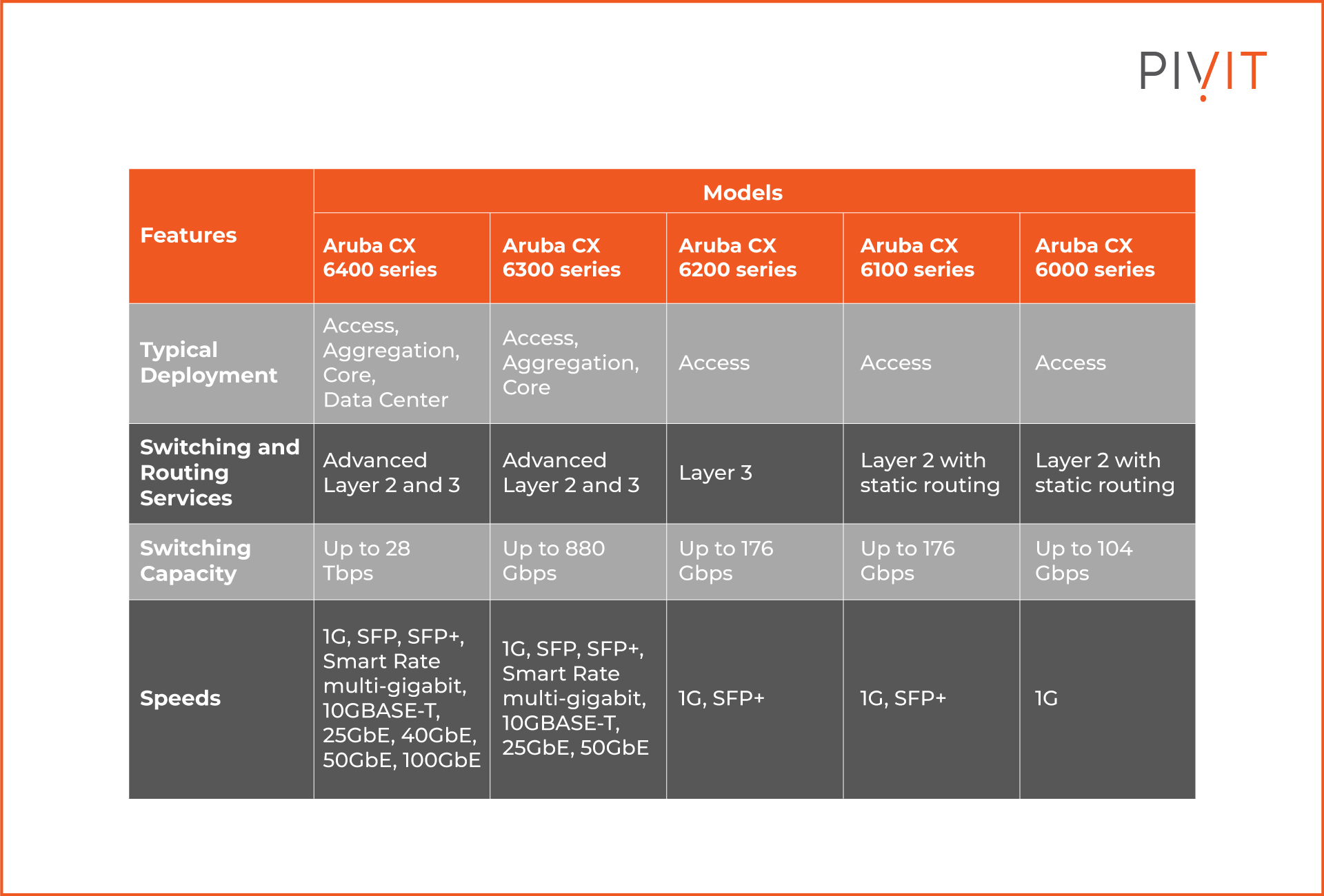 Don't let unreasonable lead times stop you from getting the switches you need. PivIT gives you the freedom to choose from an extensive network of OEM partnerships, maximize your budget, and create a strategy to keep your network scalable.
Retool Your Network With Aruba CX Switches
Network-wide visibility, unified operations, automation, high availability, and scalability are critical features that modern networks should possess as they undergo digital transformation. Legacy networks fall short of these features. You should, therefore, consider retooling your network to offer modern network services.
Aruba CX switches are high-performance next-generation switches with numerous functionalities that can meet the needs of modern networks. They were built on Gartner's cloud-native principles, including modularity, resiliency, programmability, and elasticity.
Other significant benefits you will reap from building your network using these switches include automated analytics, high availability, dynamic segmentation, and unified AI-powered management.
With these features, you can conduct all your network operations centrally, gain helpful network insights automatically, and have your network services running seamlessly 24/7.
If you need to stretch out your team resources to implement and configure these switches in your network, chances are you're going to need some help.
PivIT's EXTEND offering can step in to augment your team and remote in to configure your gear with expert-level engineers (check out EXTEND's Smart Hands). If you need someone on-site, we have field services ready at a moment's notice.
No Comments Yet
Let us know what you think