Comparison Between the Cisco Catalyst 9130AX and Juniper Mist AP43
by Darin Knobbe on Aug 13, 2021 11:00:00 AM
Wireless networks are a fast-growing segment of today's technology, and at this time in history, we are more connected than ever before. In recent years, the world's population has rapidly grown, and we have started to face an entirely new set of problems, which requires technology to solve. To help fix those problems, a new Wi-Fi 6 standard has been developed (also known as 802.11ax).
This blog will discuss the two best-in-class Wi-Fi 6 access points – Cisco Catalyst 9130AX and Juniper Mist AP43.
Wi-Fi 6 – The Next-Generation Standard
Wi-Fi 6 is the most advanced step in a journey of continuous innovation. The standard forms on the strengths of 802.11ac while adding efficiency, scalability, and flexibility that enables existing and new networks to enhance speed and capacity with next-generation applications.
The Institute of Electrical and Electronics Engineers (IEEE) offered the Wi-Fi 6 standard to double Gigabit Ethernet wireless's freedom and high speed with the reliability and predictability found in licensed radio.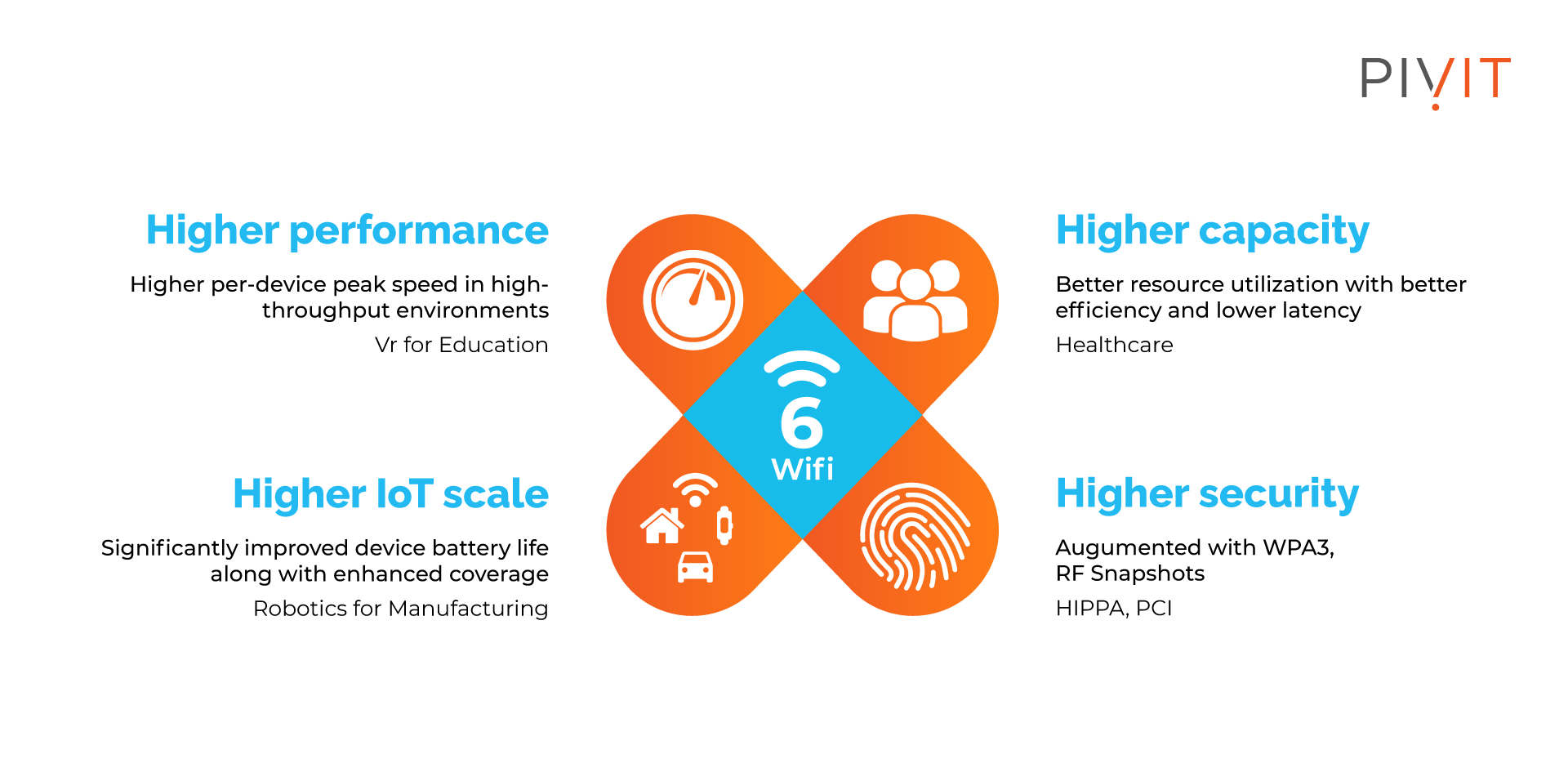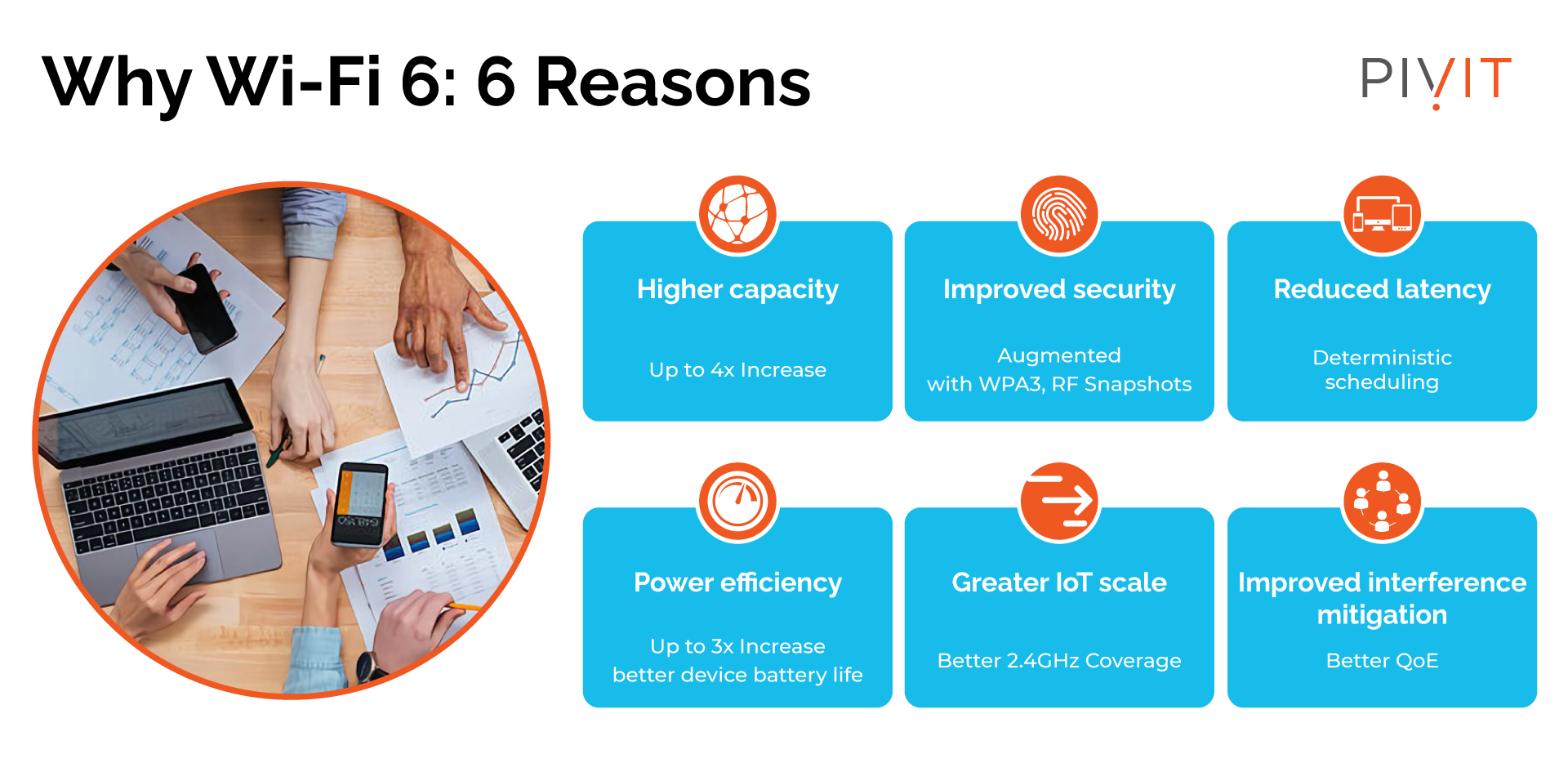 Cisco C9130AX AP Overview
Cisco's best-in-class Catalyst 9130AX series access points are the next generation of enterprise access points. The Catalyst 9130AX series access point is a dual-band, dual-concurrent, enterprise 802.11ax (Wi-Fi 6) AP. This AP series has integrated and external antennas, designed to use 2.4 GHz and 5 GHz bands.
This AP series supports a higher overall High-Density Experience (HDX), which gives the best performance for advanced applications such as high-density and high-definition collaboration applications, 4K or 8K videos, all-wireless offices, and Internet-of-Things (IoT).
The AP also supports full interoperability with leading 802.11ax and 802.11ac clients, along with a hybrid deployment with other APs and controllers. These APs give security, operational flexibility, resiliency, and improved network intelligence.
Cisco C9130AX Features and Benefits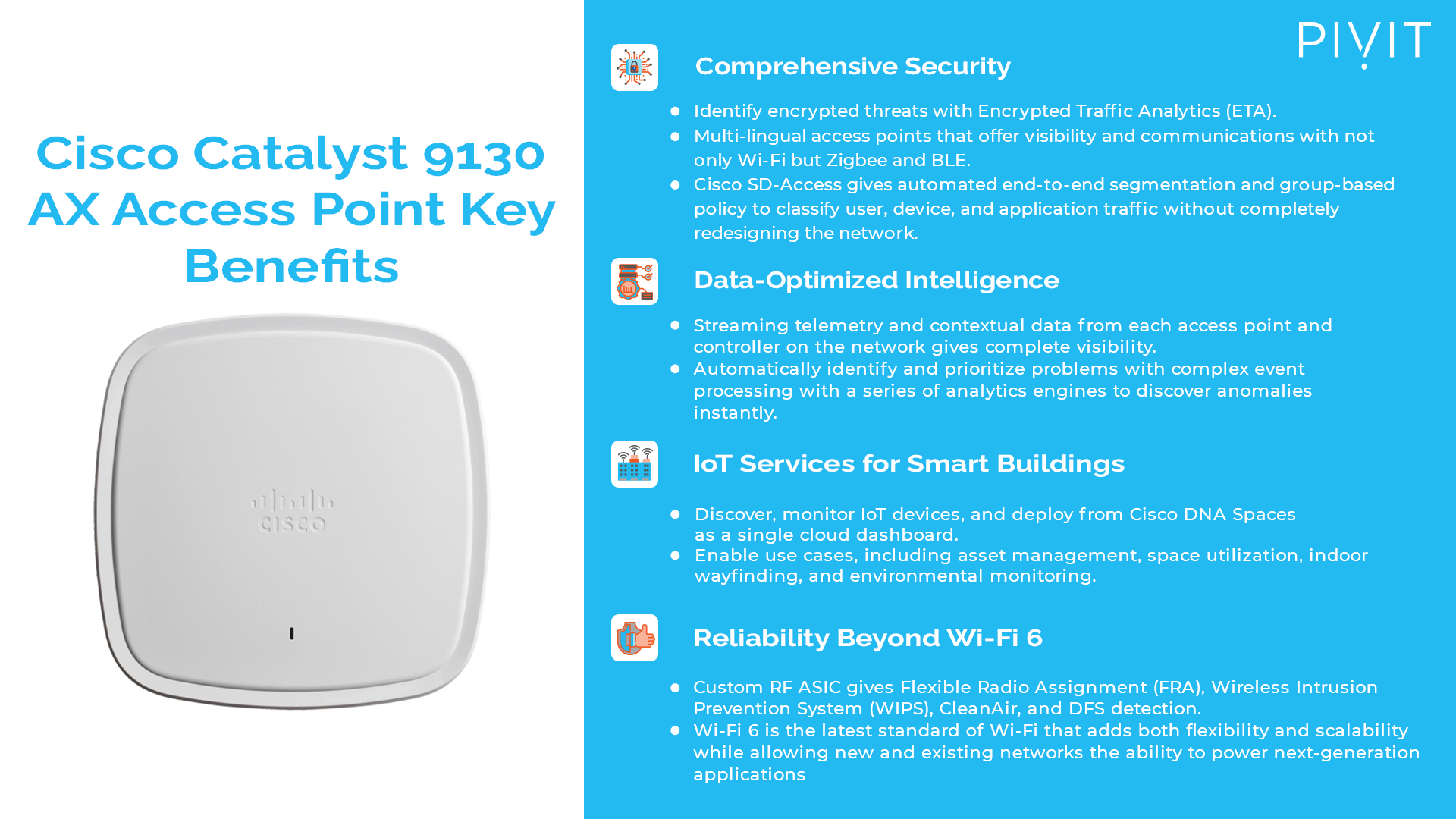 Juniper Mist AP43 Overview
The Juniper Mist AP43 access point integrates patented Internet of Things (IoT) and virtual Bluetooth LE (vBLE) capabilities to give unique user experiences.
The AP43 Series collaborates with the Juniper Mist Cloud Architecture driven by Mist AI to gather and analyze metadata from all wireless clients in near real-time. This enables fast problem detection and root cause identification with predictive suggestions and proactive troubleshooting.
The dynamic vBLE 16-element antenna array offers the industry's most reliable and scalable location services, including user engagement, asset visibility, and contact tracing applications. This is achieved without the requirement for battery-powered BLE beacons and manual calibration.
The AP43 can control analog/digital devices with integrated IoT sensors and an interface port. The AP43 Series also enables advanced location-based use cases, such as booking meetings, door locking, and camera control.
Mist AP43 Features and Benefits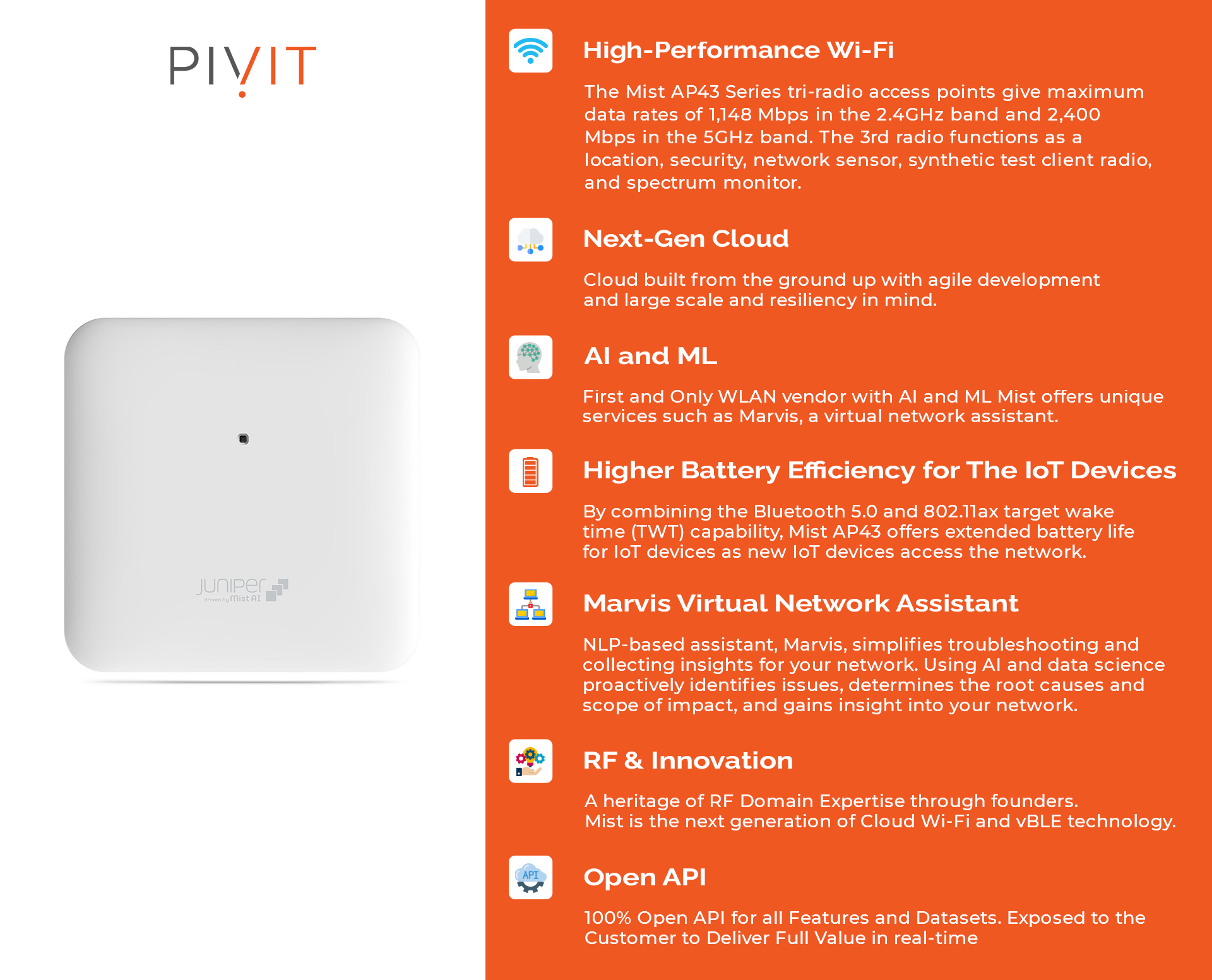 Management Options
Cisco and Mist APs now have multiple management options. Let's find out what they are.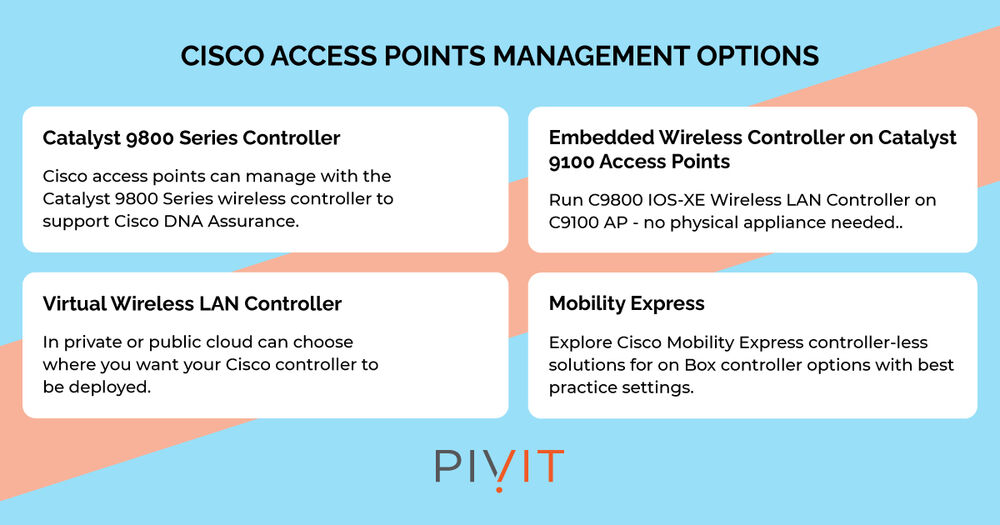 The Juniper Mist AP43 has Mist edge and Mist cloud management options. Mist edge is an on-prem wireless AP management controller. The Juniper Mist Edge uses the Juniper Mist Cloud and its distributed software architecture for management, operations, troubleshooting, and analytics.
All the operations are managed via Mist's open and programmable microservices cloud architecture for the Mist cloud management option. Mist cloud microservices deliver maximum scalability and performance while bringing DevOps agility to wireless networking and location services. It gives unique insights into network performance, behaviors, traffic patterns, and possible trouble points by using data science to analyze vast amounts of rich metadata collected by Juniper Access Points.
Features Comparison Between Cisco Catalyst 9130AX and Juniper Mist AP43
Features

Cisco Catalyst 9130AX

Juniper/ Mist AP43

Wi-Fi 6 standard

Yes

Yes

Radio

FRA with Tri-radio mode (5GHz,
5GHz, 2.4GHz), 5GHz 8x8;
2.4GHz 4x4

Tri-radio mode, 5GHz 4x4;
2.4GHz 4x4

HW features

Cisco RF ASIC, OFDMA, MU-MIMO,
Ethernet port, Bluetooth, Zigbee,
USB port

OFDMA, MU-MIMO, Ethernet port, Bluetooth, IoT Sensors, Third Radio, and USB port

IoT Ready

Yes

Yes

Uplink

5G

2.5G, 1G

PoE

802.3at, 802.3bt

802.3at, 802.3bt

HW warranty

LLW

LLW

Cloud-based mgmt.

Yes (with Cisco Catalyst 9800-CL), But don't have any central cloud

Yes
Secure Your Network With PivIT's OneCall Product
If you are thinking of replacing your legacy systems to keep up with fast-paced technological innovations, consider protecting your network with our OneCall product. You have two options, namely, protect your legacy system or protect your new system – both offering huge future cost savings.
OneCall is our third-party maintenance service allowing for a holistic solution for your IT asset maintenance needs that can deliver every time on both a local and a global scale. So when it comes to protecting your mission-critical assets, such as your legacy or brand new access points, OneCall has you covered.
Visit our main OneCall page to find out more.
No Comments Yet
Let us know what you think