NGFWs: Fortinet FortiGate vs. Juniper SRX Series Services Gateways
by PivIT Global on Sep 1, 2022 7:01:00 AM
Software-Defined Wide Area Networks (SD-WAN) have grown tremendously due to their quick and easy multi-cloud access, higher bandwidth capacity, and high-speed application performance. All these benefits are crucial for the success of any business. However, network security is a vital factor many companies overlook while setting up their SD-WAN.
SD-WAN's built-in security functionality only offers base protection. It is not enough to protect enterprise networks from modern evolved threats. Businesses need to invest in more advanced security deployments to identify and mitigate current advanced threats.
One of the greatest security measures that can be taken to protect the SD-WAN is using next-generation firewalls (NGFWs). Fortinet and Juniper Networks are currently some of the best NGFW manufacturers, having developed the Fortinet FortiGate and the Juniper SRX series services gateways, respectively.
This article will outline the major differences between the Fortinet FortiGate series of NGFWs and the Juniper SRX series services gateways in providing SD-WAN network security.
View some of our other NGFW articles:
____________
Are you looking to fill an open spot on your rack?
Get a quote today!
____________
Fortinet FortiGate Next-Generation Firewall Overview
Fortinet is committed to delivering the highest-quality and highest-performing secure SD-WAN deployments. Fortinet FortiGate NGFWs support organizations in building highly secure, scalable, and high-performance networks. They offer full visibility and threat protection to edges of any scale.
One of the key requirements of SD-WAN firewalls is the ability to carry out reliable high-speed inspections to avoid the passage of malware via encrypted traffic. Fortinet's FortiGate NGFWs also possess inspection capabilities.
In general, organizations can use FortiGate NGFWs to attain:
End-to-end security
Real-time threat protection with FortiGuard Services
Excellent user experience with security processing units
Increased operational efficiency and automation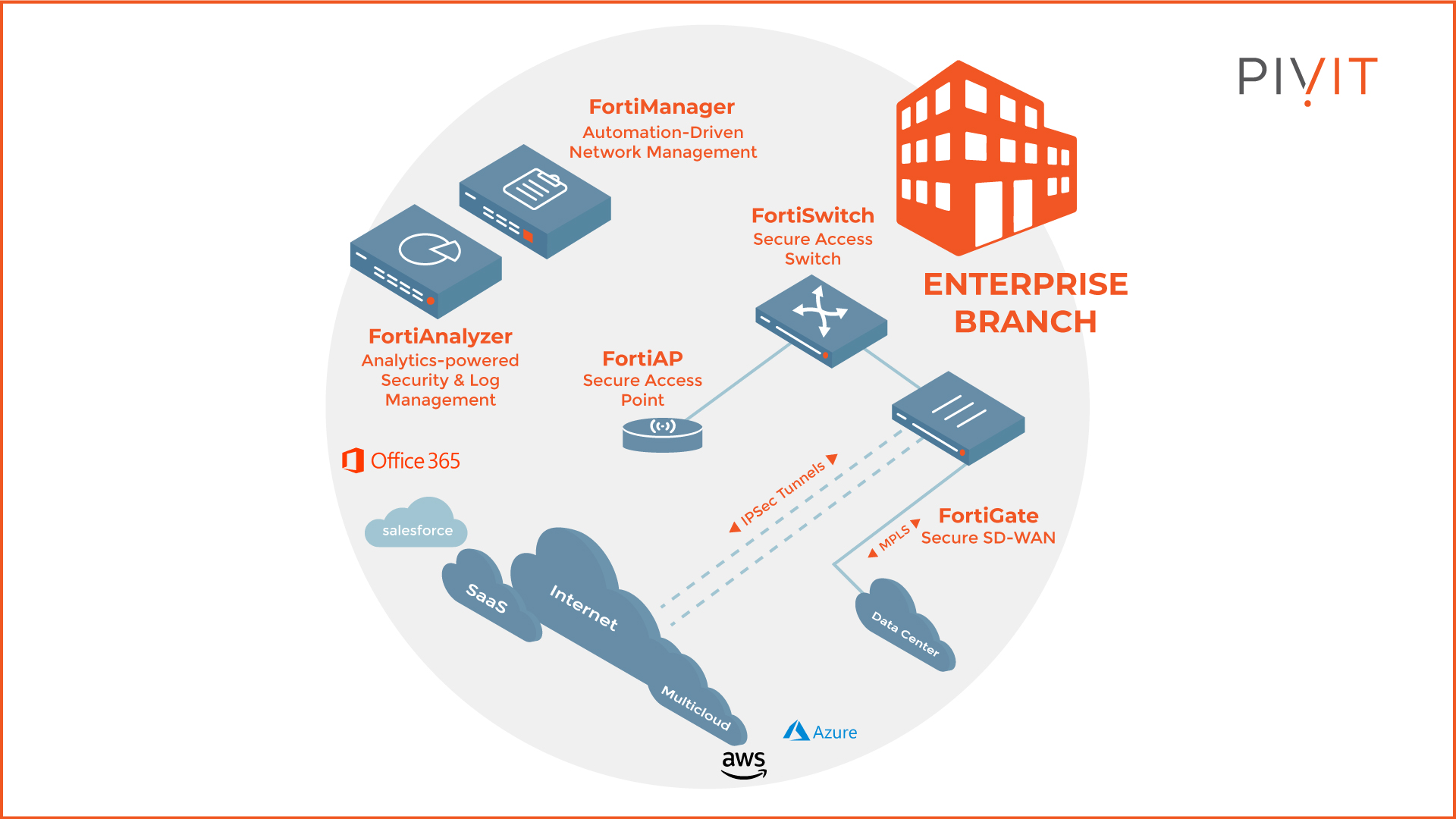 Fortinet FortiGate Features and Benefits
Next-Generation Firewall Functionality: Most SD-WAN solutions have built-in stateful firewalls that restrict access based on IP addresses and ports but fail to provide the end-to-end coverage that larger branched-out enterprises need. FortiGate NGFWs can solve this problem.
Fortinet's powerful NGFWs can work at high speeds to inspect encrypted traffic, identify, isolate, and disarm live threats, and protect the network from many threats.
Moreover, these firewalls possess advanced functionalities such as web filtering, sandboxing, anti-malware, and intrusion prevention system (IPS) verification capabilities.
Such advanced capabilities take a lot of manual security practices off the plates of network operators, who can then focus on more critical revenue-generating tasks such as analysis.
Verification, Evaluation, and Inspection: An estimated 85 percent of network traffic is encrypted. Viruses and other malicious content can slip into a network without proper security measures such as verification, evaluation, and inspection.
However, one of the biggest challenges is that most SD-WAN solutions and firewalls do not possess the processing power capable of inspecting such a large amount of traffic. FortiGate's NGFWs, powered by Fortinet's SD-WAN processors, can perform high-speed Secure Socket Layer or Transport Layer Security (SSL/TSL) inspections.
The high inspection speeds offer threat protection and increased network visibility without compromising network application performance. This vital feature protects the network from any malware hidden within VPN traffic.
Consistent Enforcement of Policies: Fortinet's secure SD-WAN solutions ensure consistent enforcement of policies across the network by providing central policy and device management coupled with zero-touch deployment.
These features make it easier to deploy and enforce policies across all interconnected ecosystems, including multi-cloud applications.
Reduced Total Cost of Ownership (TCO): FortiGate firewalls possess next-generation protection, SD-WAN, and secure advanced routing capabilities. Having these features on a single appliance significantly decreases the TCO for organizations.
Fortinet FortiGate Models and Specifications
There are numerous FortiGate NGFW models. However, we will focus on 40F, 60F, 80F, 100F, and 200F.
The table below shows a comparison of the FortiGate NGFW model specifications.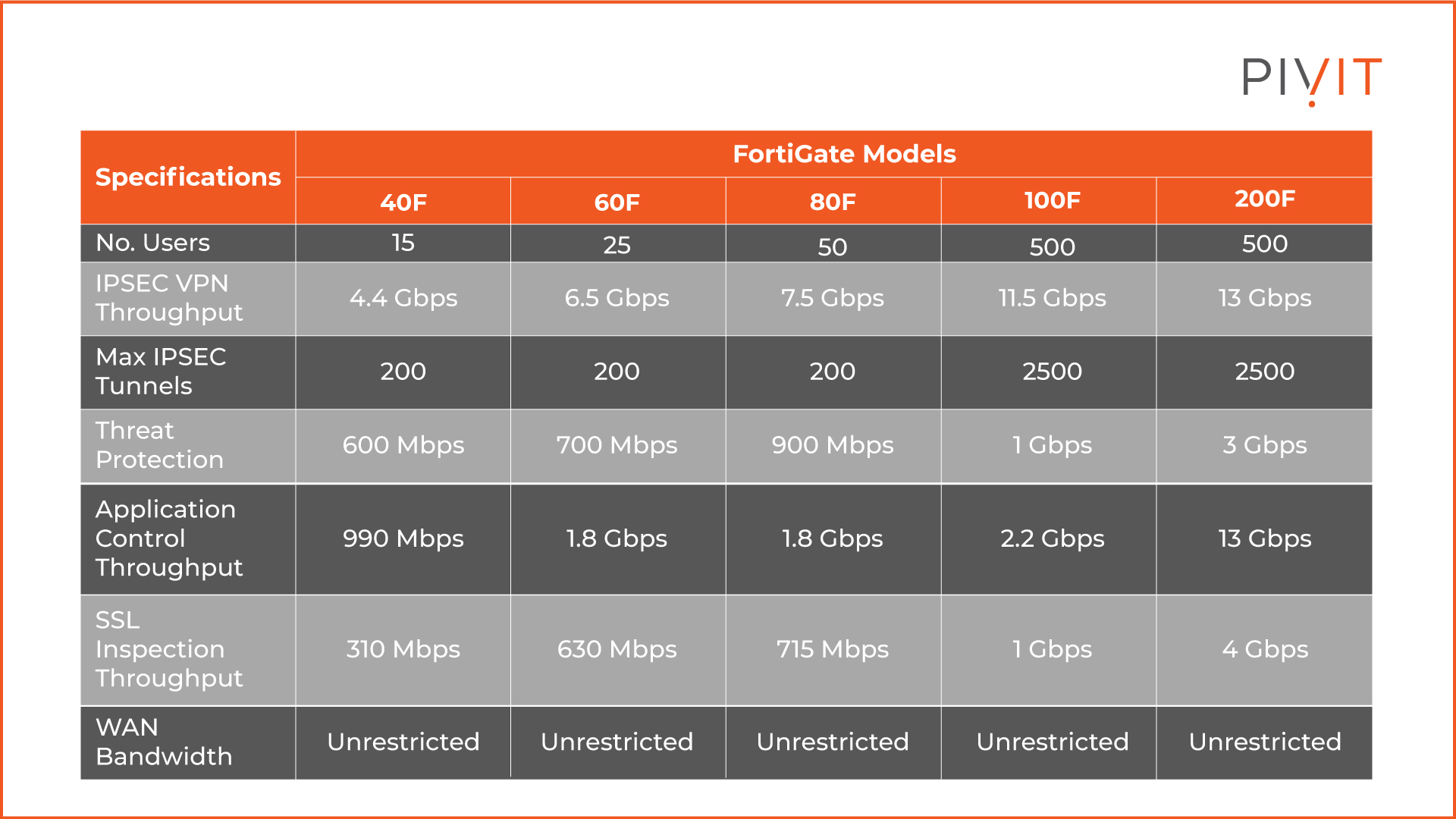 Are lead times slowing you down and preventing you from getting the hardware or services you require for your data center? Send us a request or connect with our Team in real-time using our chat feature. Know what you want? Explore our firewall hardware options to get protected today.
Juniper SRX Series Services Gateways Overview
Juniper Networks has rolled out several virtual, physical, and containerized firewalls to protect an organization's data center, network edge, and cloud applications.
The Juniper Networks SRX series gateways for the branch is a single appliance that contains a blend of NGFW functionality, unified threat management (UTM) capabilities, and secure routing and switching.
The firewall provides content security and network-wide application and threat visibility. Furthermore, it is integrated with Juniper Networks Spotlight Secure to deliver advanced adaptive threat intelligence.
Juniper SRX gateways are easy to configure since they include wizards for a firewall, IPsec VPN, and Network Address Translation (NAT) setup. Additionally, the gateway provides central management using Juniper Networks' Junos Space Security Director.
All these functionalities make it a suitable firewall option for providing SD-WAN security.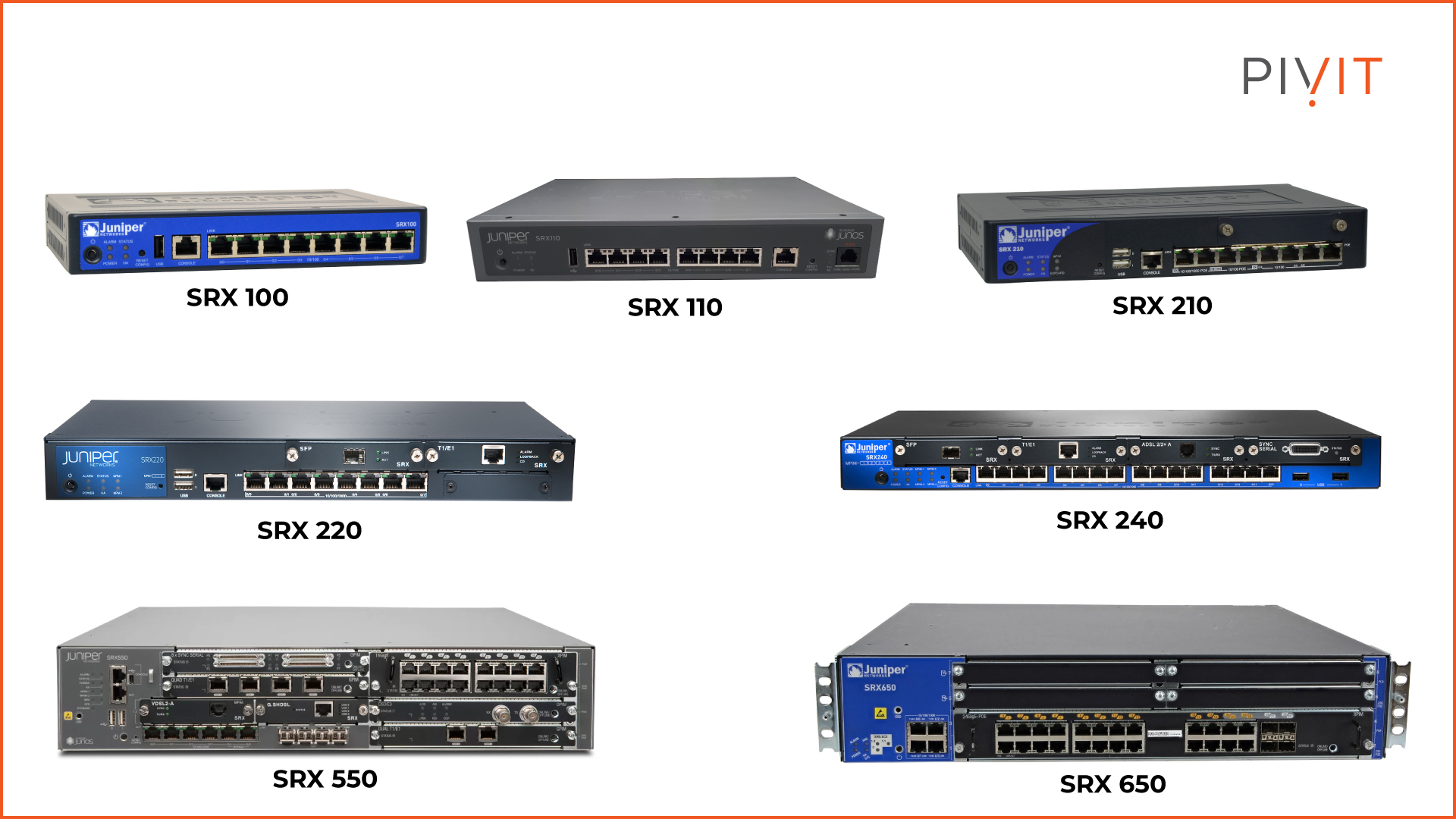 Juniper SRX Series Gateways Features and Benefits
Next-Generation Firewall Functionality: The Juniper SRX series gateway delivers NGFW capabilities such as full packet inspection, application awareness, and industry-leading unified threat management (UTM) capabilities.
The gateways can also use information from layer 7 of the OSI model to apply security policies. Additionally, Juniper branch SRX series gateways are easy and quick to deploy using zones and policies.
Intrusion Prevention: Security threats from applications are challenging to detect and mitigate. Juniper SRX's intrusion prevention system (IPS) is designed to solve this problem because it can understand application behaviors and weaknesses. No change in application behavior goes undetected.
Unified Threat Management (UTM): This feature boosts content security. It defends the network from viruses, phishing attacks, spam, malware, and intrusions.
The feature ensures the availability of crucial content security services such as anti-spam, content filtering, and web filtering, which you can easily add to your gateway.
Adaptive Threat Intelligence: The SRX series gateways offer adaptive threat intelligence powered by Spotlight Secure. Spotlight Secure gathers and consolidates threat feeds from various sources across the network and delivers actionable insights to all SRX gateways.
Network administrators can then analyze the actionable insights and define enforcement policies centrally using the Junos Space Security Director.
Secure Routing: The SRX series integrates the roles of a router and a firewall on one appliance. It also has switching capabilities. Organizations can use it to meet their network connection and security requirements.
SRX Series for the branch inspects network traffic and verifies that it is secure before forwarding it across the network.
High Availability: One of the key features of the Juniper SRX series for the branch is Junos Services Redundancy Protocol (JSRP) which enables the setup of two SRX series gateways as a high-availability pair.
The high availability architecture usually consists of redundant physical connections between the gateways and the switches, which creates a reliable failover system.
Juniper SRX Series Services Gateways Models and Specifications
Juniper SRX series gateways for the branch include SRX100, SRX110, SRX210, SRX220, SRX240, SRX550, and SRX650. The table below shows a comparison of the Juniper SRX model specifications.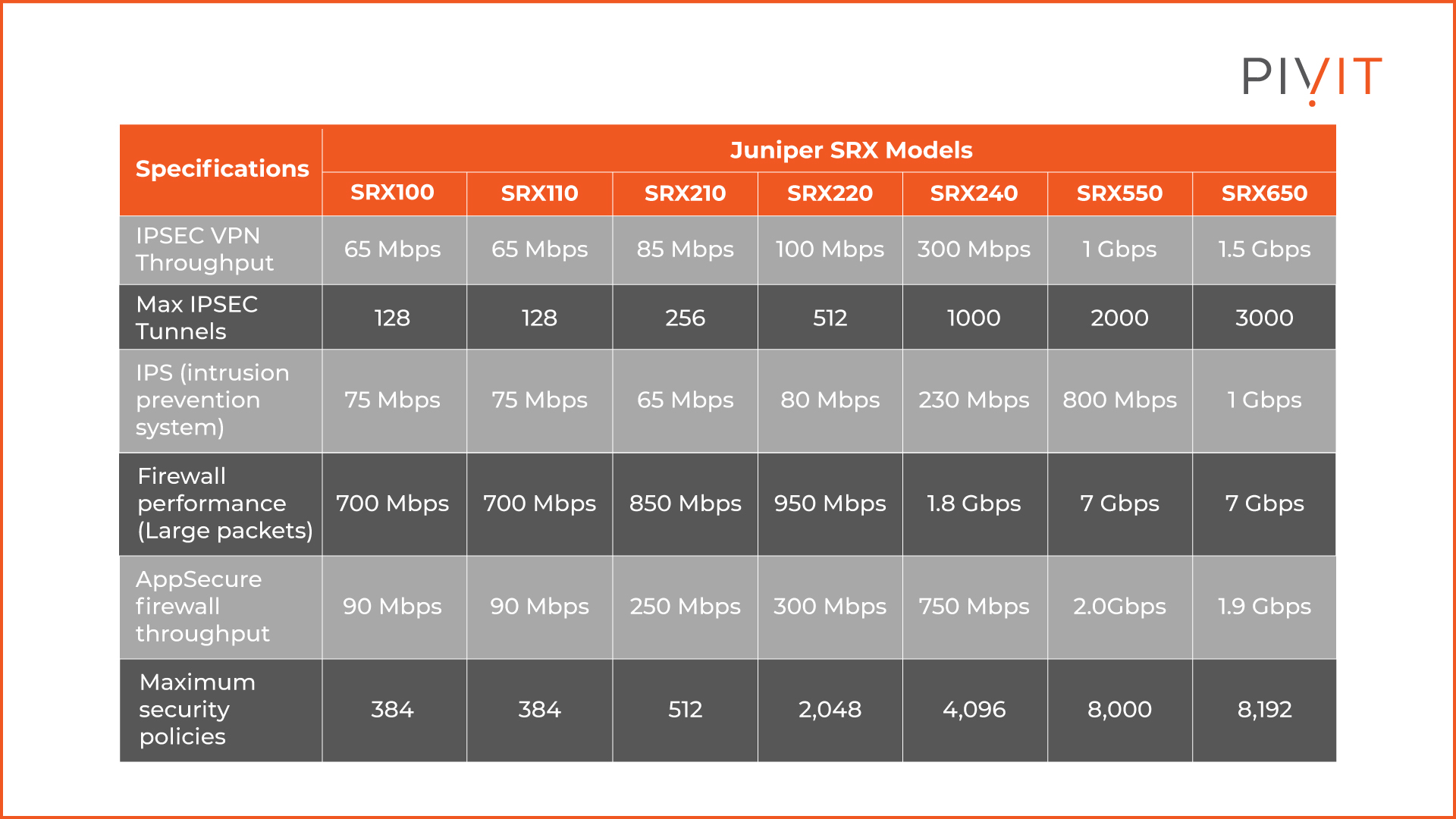 Fortinet FortiGate and Juniper SRX Series Comparison Summary
In summary, FortiGate SD-WAN firewalls and Juniper SRX gateways offer NGFW capabilities such as network traffic inspection and application awareness.
However, FortiGate devices can perform SSL/TSL inspections at high speeds. The high speed ensures that critical application functions are completed on time. Both devices offer secure routing where they inspect and verify that traffic is legitimate before forwarding it across the network.
Both security options ensure high availability and central configuration, deployment, and management. However, the FortiGate central management application is more user-friendly.
Juniper SRX series gateways offer adaptive threat intelligence to thwart advanced threats that are continuously evolving. Finally, Fortinet FortiGate NGFWs are cost-effective SD-WAN firewall options given the low TCO.
Whether trying to protect a small or large data center of varying complexity, a breach in your network can cause a catastrophe. At PivIT, our certified engineers are ready to perform a site survey and provide you with the best firewall for your network, using a mixture of new and legacy units. Let our professionals take care of your network security needs with our EXTEND service.
No Comments Yet
Let us know what you think