Your Ultimate Security Solution in 2023: Palo Alto's ML-Powered NGFWs
by PivIT Global on Oct 25, 2022 7:02:00 AM
According to recent statistics, cyberattacks occur every 39 seconds. Regardless of the size of your network, chances are your security team currently has to deal with more sophisticated cyberattacks occurring at faster rates than before.
Moreover, digital transformation has seen the widespread adoption of the Internet of Things (IoT), where numerous devices can access resources on the same network. It has also led to a major shift in software and platform access where more people are choosing those hosted on the cloud. In addition, private data, previously secured in data centers, is encrypted and sent to the cloud instead.
Embracing IoT and the cloud extends the network access surface, which people with malicious intentions can take advantage of to access private data. These technologies have also led to a surge in bandwidth demands.
Additionally, while encryption protects the data stored on the cloud from unauthorized access, attackers can also encrypt their harmful data to get past traditional firewall filtering.
The soaring bandwidth demand and the growing rate and sophistication of cyberattacks call for more advanced firewalls. Modern firewalls need to be faster and smarter than conventional ones to counter these attacks.
Palo Alto, a global cybersecurity leader, recently introduced their new Next-Generation Firewalls (NGFWs) powered by Machine Learning (ML). These firewalls act fast to detect and block known as well as new suspicious activities.
In this article, we will cover the following:
An overview of Palo Alto's ML-powered NGFWs
the features and benefits of these NGFWs
an introduction to PA-3400 and its specifications, and
an introduction to PA-5400 and its specifications
View some of our other popular articles on firewalls:
____________
Are you looking to fill an open spot on your rack?
Get a quote today!
____________
An Overview of Palo Alto's ML-Powered NGFWs
Palo Alto's NGFWs are faster and more intelligent than your average firewalls. They were designed to meet large bandwidth demands and consistently keep attackers with sophisticated tactics out of your network.
Powered by machine learning capabilities, these firewalls can solve up to 95% of previously unknown (zero-day) attacks in a matter of seconds, a process that would have taken much more time for cybersecurity teams applying manual effort.
The machine learning model woven into the firewall's fabric is trained with a dataset containing data from past malicious activities. Therefore, the model can quickly detect suspicious data from numerous connected devices and block them from accessing the network.
Examples of attacks these high-performance firewalls can prevent include DNS-based threats, phishing, and ransomware. In addition, they also offer zero-delay signature updates and provide unparalleled network-wide visibility.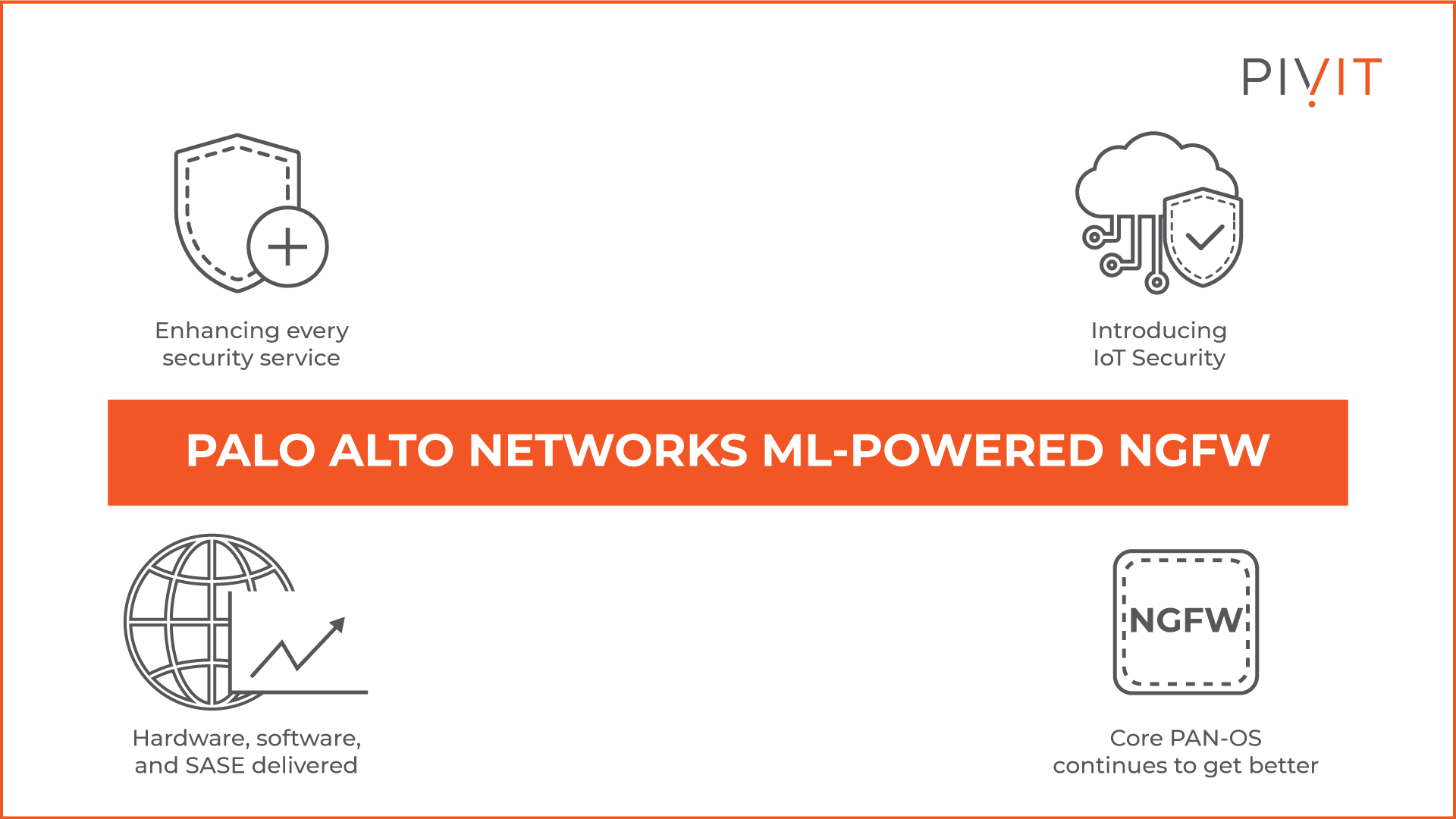 Why Should You Choose These ML-Powered NGFWs?
Palo Alto's ML-powered NGFWs offer three times better security performance than conventional firewalls. They are incredibly fast in error detection and prevention and can stop both known and new attacks in near real-time without giving alerts, quarantining, or requiring extra work from your team. Therefore, they free your employees to work on other revenue-generating tasks.
While these firewalls can analyze regular network traffic at high speeds, they can also decrypt encrypted traffic before performing analysis to detect and prevent hidden anomalies.
However, some threats cannot be blocked in-line. In such cases, these firewalls conduct an ML-based analysis and push malware signatures in seconds to update other NGFWs on the network. The zero-delay updates reduce the number of systems infected by up to 99.5% since the other NGFWs on the network will not be encountering the same malware for the first time.
One of the most significant advantages of these NGFWs is their automatic policy recommendations. Like most enterprises, you may struggle with keeping up with the highly-evolving nature of networks, applications, and devices. This struggle may make you set up firewall policies that are too permissive so that you can keep applications running. However, permissive policies expose your network to attacks.
Setting firewall policies can also be a long and mundane task that requires administrators to look through IP addresses of different connected devices and sites and then come up with a list of those that are allowed. Besides being time-consuming, manual policy setting also leads to human error.
Palo Alto's ML-powered NGFWs address these challenges. They look into the IP addresses and telemetry data from all connected IoT devices. They use the analysis results to give context-based recommendations of devices and applications that should be granted access to the network.
The automatic recommendations save a lot of time and effort that would have been required by your team and eliminates the possibility of human error that could have exposed the network to unprecedented attacks.
With numerous users and devices accessing many applications connected to your network, it may be difficult to view and protect your entire network. Palo Alto's NGFWs give you network-wide visibility and application control. Using the firewalls' user interfaces, you can see every device on your network.
Finally, these compact and energy-efficient firewalls do not need additional network infrastructure to function.
____________
Ready to deploy Palo Alto's ML-powered NGFWs? Explore EXTEND, a reliable service that connects you with IT professionals who can help you configure your firewall.
____________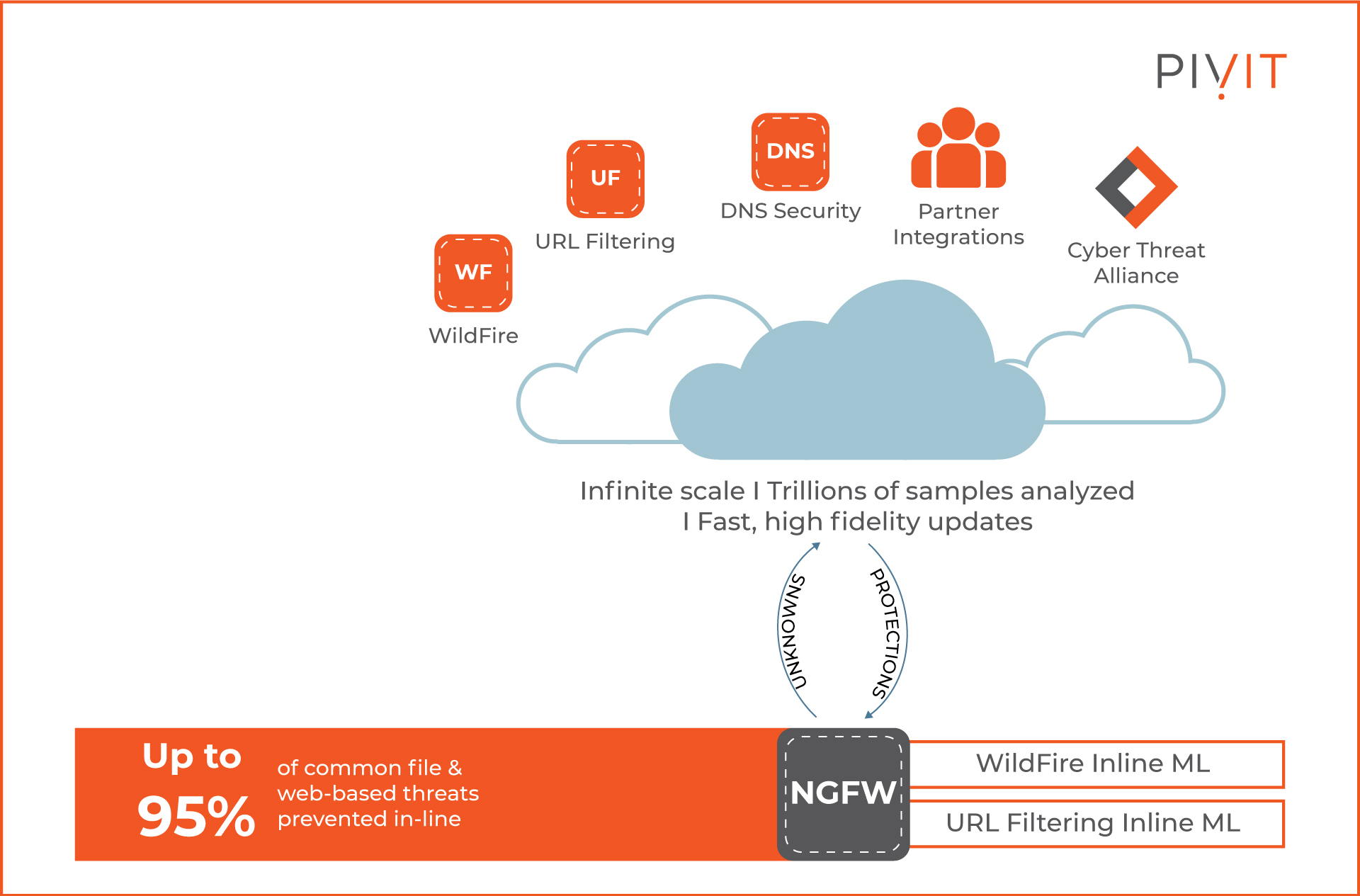 Secure Small Networks With the Palo Alto PA-3400 NGFW
Palo Alto's PA-3400 is a one-rack device ideal for small to medium networks such as office networks, the internet edge, and campus networks.
It has numerous advantages over other firewall alternatives, such as simplified Zero Touch Provisioning (ZTP). ZTP enables your network team to configure and deploy many devices quickly and easily. In addition, all PA-3400 NGFWs present on the network can be managed centrally.
Another benefit these firewalls offer modern networks is their support for SD-WAN, which can be enabled when needed.
Palo Alto PA-3400 NGFW Specifications
The PA-3400 series consists of the PA-3440, PA-3430, PA-3420, and PA-3410. The table below highlights the most significant specifications of these models.
| | | | | |
| --- | --- | --- | --- | --- |
| Specifications | PA-3440 | PA-3430 | PA-3420 | PA-3410 |
| Firewall throughput | 30.2/24 Gbps | 25.5/20.5 Gbps | 20.8/16.9 Gbps | 14.5/11.6 Gbps |
| Threat Prevention throughput | 11.0/12.8 Gbps | 9.2/10.5 Gbps | 7.6/8.7 Gbps | 5.2/5.9 Gbps |
| IPsec VPN throughput | 14.5 Gbps | 12.2 Gbps | 9.9 Gbps | 6.8 Gbps |
Secure Large Networks With the Palo Alto PA-5400 NGFW
The PA-5400 is a 2-rack device ideal for large networks like high-speed data centers, service provider deployments, and large campuses.
They can analyze and filter through regular traffic and encrypted traffic. These NGFWs also offer enhanced visibility of the entire network.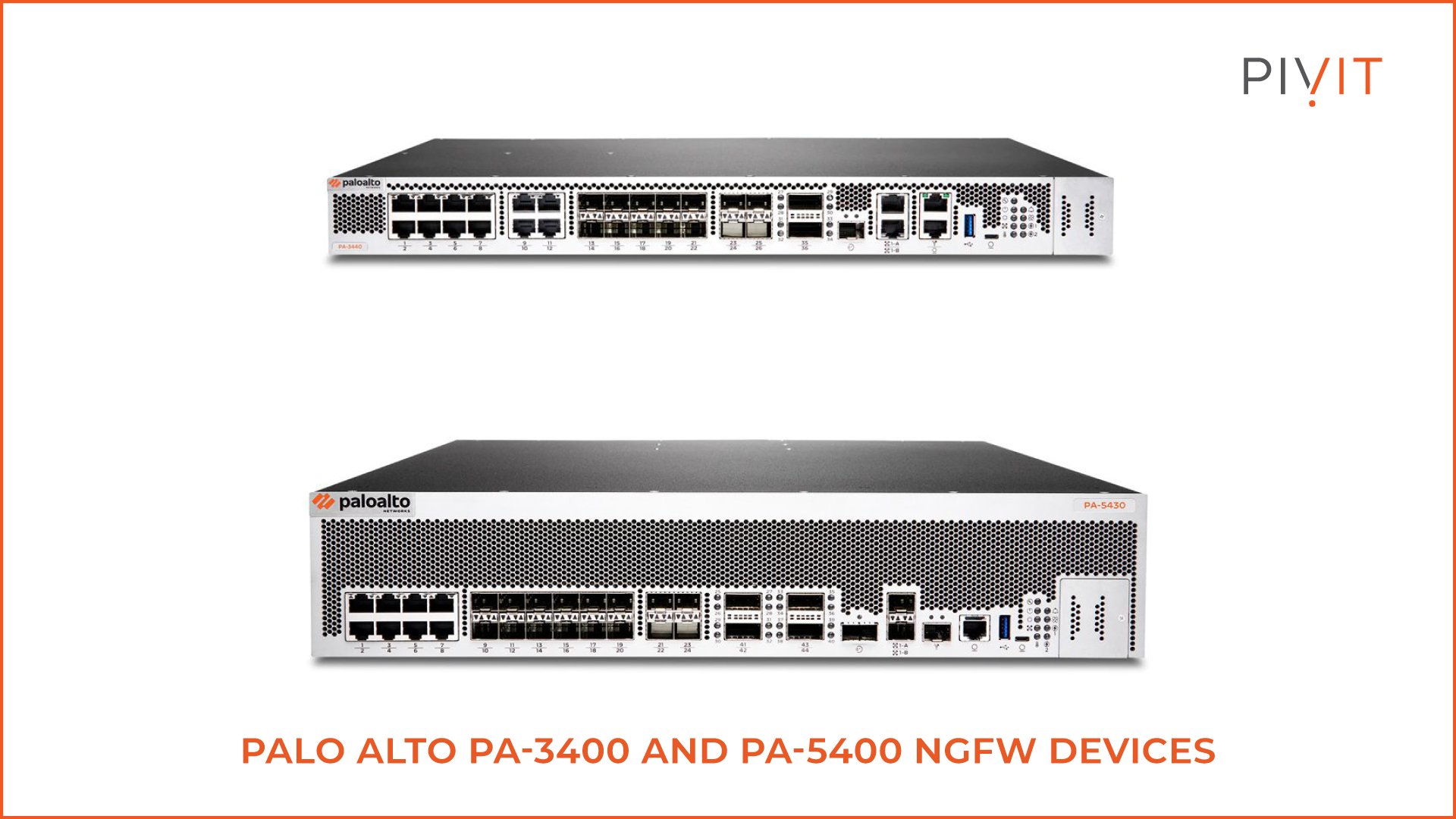 Palo Alto PA-5400 NGFW Specifications
The PA-5400 series consists of the PA-5430, PA-5420, and PA-5410. The table below highlights the most significant specifications of these models.
| | | | |
| --- | --- | --- | --- |
| Specifications | PA-5430 | PA-5420 | PA-5410 |
| Firewall throughput | 74.0/60.5 Gbps | 59.5/51.1 Gbps | 46.2/39.0 Gbps |
| Threat Prevention throughput | 42.0/44.5 Gbps | 29.5/32.0 Gbps | 22.5/24.8 Gbps |
| IPsec VPN throughput | 42 Gbps | 28.7 Gbps | 21 Gbps |
Embrace Advanced Security With Palo Alto's ML-Powered NGFWs
Like many enterprises, you may be experiencing numerous unprecedented threats against your network that your reactive security team is struggling to predict and handle. Adopting IoT trends and cloud usage may have also increased traffic on your network in addition to exposing it to even more threats.
Palo Alto's ML-powered Next-Generation Firewalls (NGFWs) are designed to meet soaring bandwidth demands and protect your network from previously known as well as new attacks of the most sophisticated nature. These NGFWs offer three times better security performance than conventional firewalls with the ability to protect even from harmful encrypted data.
Ready to embrace advanced security with Palo Alto's ML-Powered NGFWs? Build A Quote with PivIT.
Still not sure these ML-powered NGFWs are the right fit for your network? Connect with our Team in real-time using our chat feature to discover more options.
No Comments Yet
Let us know what you think