An Enterprise-Grade Server For Your Environment: The Cisco UCS B480 M5
by John Himes on Jan 28, 2021 1:45:00 PM
In our previous post we matched two leading servers and put them in a side-by-side comparison. This week we are highlighting and taking a deep dive into Cisco's UCS B480 M5 Blade Servers. They offer high density compute for the most demanding IT workloads, including mission-critical applications, heavy virtualization, and more. The B480 M5 enables both vertical and horizontal scalability; the motherboard is equipped with many slots that support the latest hardware to allow easy upgrades, while the blade form factor lets us fit four of these machines into a single Cisco UCS 5108 Blade Server Chassis.
This is an enterprise-grade server that's tailor-made for the demands of a modern data center. While its high performance stems from the hardware specifications, knowing how this computer fits into your company network and what software to deploy will allow you to optimize your investment.
In this article, we'll start by diving into the technical details. This will give us the foundation for use cases and recommended software.
A Look Inside the UCS B480 M5 Blade Server Specs
The B480 M5 comes with four CPU sockets that are compatible with both first and second generation Intel Xeon processors. This amounts to 28 cores per socket for a total of 112 cores.
With 24x256G DDR4 DIMM slots and 24x512G Intel Optane DC Persistent Memory Modules (BCPMM), the B480 M5 maxes out at 18TB of memory. Second generation Xeon CPUs enable a memory speed bump from 2666MHz to 2933Mhz.
Four open PCIe 3.0 mezzanine slots, two in front and two in back, allow for further customization. All four support NVIDIA GPUs, while the two front slots support local storage options such as Cisco FlexStorage 12-Gbps SAS RAID controllers.
Speaking of storage, the front also includes four optional, hot-swappable small form factor(SFF) SAS or SATA HDDs, SSDs, and PCIe NVMe drives. The motherboard also includes two integrated M.2 slots for even faster NVMe I/O throughput. Since this server is M.2 bootable, these drives are the ideal home for the operating system or other regularly accessed files. Note that this machine is also bootable via SAN.
The B480 M5 is equipped with 160 gigabit Ethernet with UCS Fabric Connect that offloads network management tasks like switching to the chassis itself, decreasing the total cost of ownership (TOC).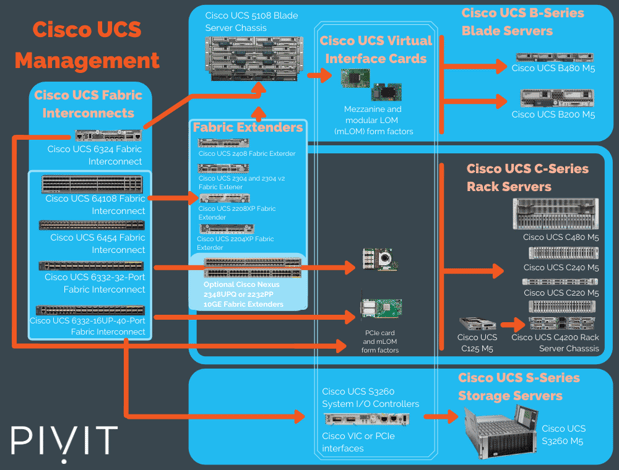 Lastly, and arguably one of the greatest advantages of this machine, is Cisco's Unified Computing System (UCS), a firmware and software suite that includes virtualization support, switching fabric, and other management tools.
Fitting the Server In Your Environment
While there are some obvious use cases for such a high performance server, such as hosting high volumes of web traffic, providing cloud services, or provisioning databases, there are other options that can also help you to get the most out of the B480 M5.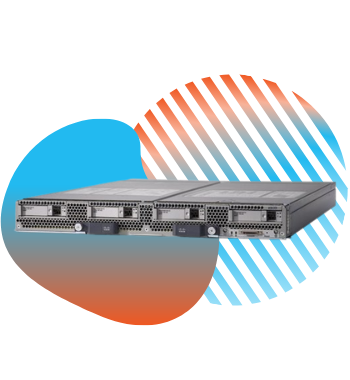 The first one we want to highlight has become increasingly important over the past year as organizations respond to COVID-19: enabling remote workforces. You know better than anyone that this has been a major challenge for IT departments. Employees need secure access to company assets, yet provisioning and managing their devices is both difficult and expensive. We don't expect these trends to show down anytime soon.
Virtualization is a solution. Cisco UCS support several hypervisors, including VMware ESXi, Microsoft Hyper-V, and Citrix Systems' Xen. Docker containerization is another option. IT departments can then spin up VMs or containers that run operating systems like Red Hat Enterprise Linux (RHEL), Fedora, Ubuntu, or Windows 10, automatically configure them with scripts, and give users access via remote desktop protocol (RDP).
This provides a few key benefits. First, instead of issuing more expensive home office computers, we can provide employees with thin clients, which are cheap, low-performance computers that are optimized for establishing remote connections. Since a single high-performance server with GPUs can simultaneously support many desktop sessions, this saves costs and increases the potential for automatic maintenance. Do you see a fit for the B480 M5 server in your network? Click below to get your custom quote started today!
Another enterprise use-case is hybrid cloud. With this architecture, we offload some of our infrastructure to third party cloud providers while maintaining on-prem infrastructure for mission-critical applications. High-density servers are ideal for this use case. Plus, the blade form factor enables hot-swapping and helps us achieve the five nines (99.999%) of uptime that most of today's enterprises expect.
Administrators can use tools like Terraform for UCS to seamlessly deploy and scale this infrastructure. By writing declarative infrastructure as code (IaC), Terraform enables admins to automate policies, profiles, and more.
Of course, since this machine offers industry-leading GPU density, the B480 M5 is also suitable for machine learning (ML) training and deployment. Since ML applications require powerful GPUs for tasks like deep learning, this server excels at running algorithms developed in popular ML frameworks like PyTorch and TensorFlow. The B480 M5 is the perfect tool to unlock the potential of your data science team.
Regardless of what applications you're running, some software will always be useful. At the operating system level, we recommend looking into enterprise-grade Linux distributions, like RHEL , Oracle, or Ubuntu LTS. It's also worth keeping an eye on Rocky Linux, which is poised to replace CentOS after Red Hat decided to kill the project. Of course, if your organization leverages the Microsoft ecosystem, Windows Server is always an option.
The Cisco UCS B480 M5 Blade Server provides everything you expect from the latest generation computers alongside some useful features that set it apart from other options. It's high-performance, high-density compute power makes it ideal for intensive use cases like ML workloads, hybrid cloud, and remote desktops, while the UCS suite simplifies and speeds up infrastructure management.
The challenge for many organizations will be finding creative and effective ways to integrate this system into existing infrastructure. That's why PivIT is here to help. Our team of experts will work closely with your IT department to find the right solution for you. Find out more by contacting us today.
Other Resources
The Cisco UCS framework includes various hardware. If you don't see a perfect fit with the B480 M5, check out other products and comparisons we've highlight from the UCS product line. We compare the Cisco UCS B200 M4 and M5 servers as well as fabric extenders and specifically the Cisco UCS 6332 fabric interconnects. Check them out at the Tech Corner home.
We offer a fresh approach to sourcing, maintaining, and servicing your data center infrastructure. We've reimagined the status-quo and offer our customers strategies not found in the traditional IT channels. Our focus is to examine your CAPEX/OPEX limitations and present you with options to free up your budget, achieve your goals and Do IT Better.
No Comments Yet
Let us know what you think