The High-Performance, Agile Aruba Silver Peak Unity EdgeConnect
by PivIT Global on Sep 6, 2022 7:11:00 AM
The widespread adoption of cloud-based applications has accelerated the demand for more flexible and cost-effective solutions that deliver "cloud speed." Legacy Wide-Area Network (WAN) connection solutions such as multi-protocol label switching (MPLS) have proven to be too rigid and expensive to meet modern requirements.
Enterprises migrating from corporate data centers to the cloud will reap more benefits by either augmenting their private-line connections with broadband services or fully adopting them.
Aruba Networks, one of the industry leaders in enterprise networking, offers a simple and cost-effective Software-Defined Wide Area Network (SD-WAN) solution that leverages broadband services. Their solution delivers benefits to businesses, including better application performance and improved customer responsiveness.
This article explains how Aruba's Unity EdgeConnect can meet your network's SD-WAN needs by highlighting the various platforms, features, and benefits.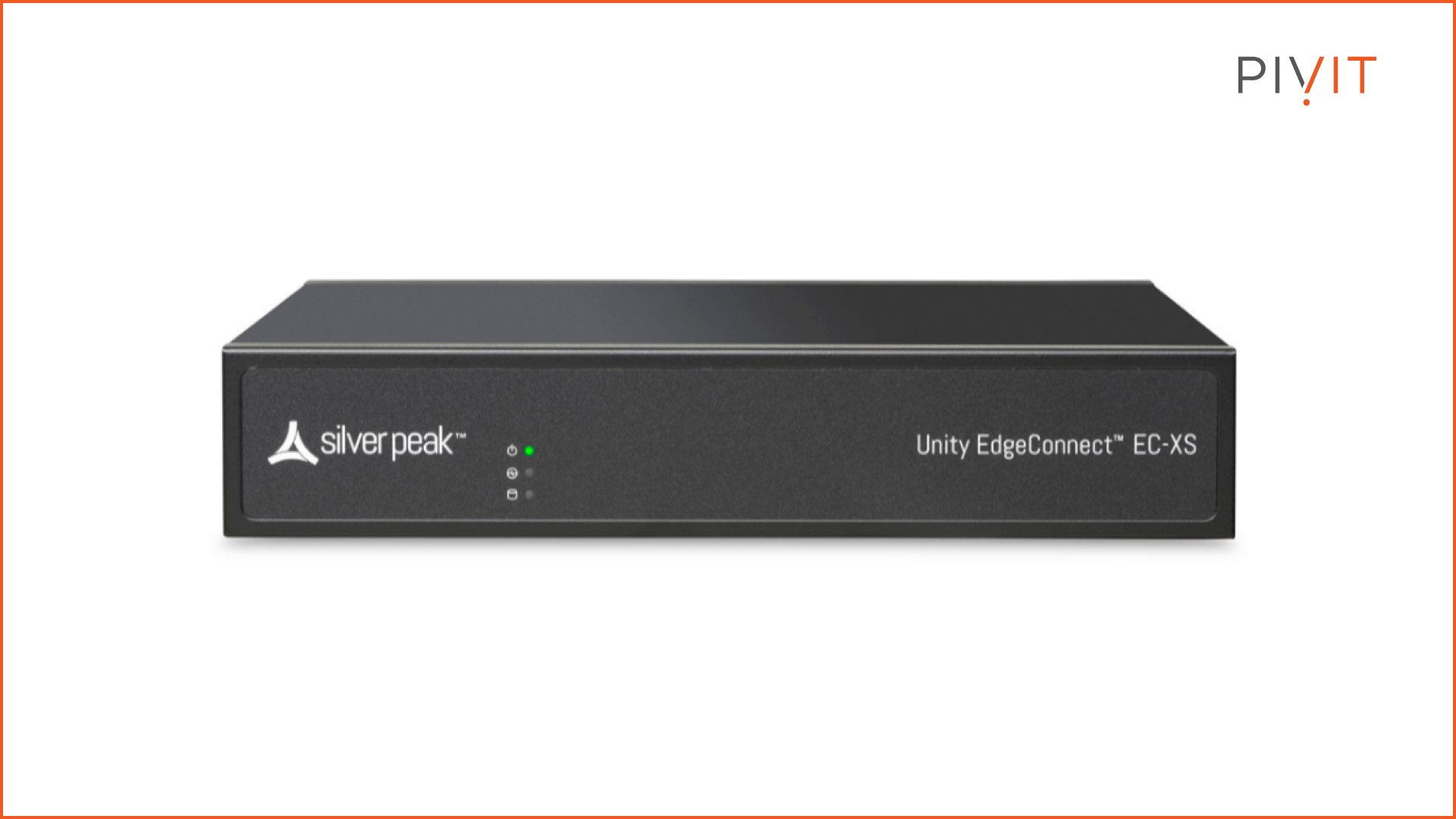 Got your eye on another Aruba Networks product? Be sure to check out our other Aruba articles:
Aruba SD-WAN Overview
Aruba Networks delivers resilient, reliable, low latency connections to the edge, cloud, and data center. There is an exponential demand for SD-WAN, and Aruba Networks provide flexible and reliable solutions to meet this demand. These solutions have all been possible thanks to Aruba's acquisition of Silver Peak systems.
Aruba's SD-WAN solutions are excellent options for distributed enterprises. The central manager, Aruba Central, simplifies network lifecycle operations such as device deployment. It also enhances network-wide visibility, making monitoring and controlling the network easy.
The SD-WAN solutions offered by Aruba Networks include:
Aruba EdgeConnect: Aruba EdgeConnect is a series of advanced SD-WAN platforms that deliver better control, reliability, and performance to enterprises.
The solution leverages either pure broadband services or broadband services integrated with traditional links to connect users to cloud applications. Using broadband reduces the cost and complexity of developing a reliable WAN.
Aruba Central: Network operators can use Aruba Central to manage their SD-WAN devices and connections centrally. The application offers policy development, deployment, and management capabilities as well as zero-touch provisioning and customizable templates to enable quick device deployments.
Aruba Central also supports path steering by providing useful WAN health insights that help network operators find the best links to access cloud applications or send traffic to data centers.
Branch Gateway: Aruba Networks offers the 7000 series of gateways equipped with advanced routing, firewall, security, URL filtering, and compression features. They can also function as SD-WAN gateways at the branch to manage and enhance LAN, WAN, and cloud security services.
These gateways complement the Aruba EdgeConnect solution that uses broadband connections. They support multiple WAN links and route traffic over the most efficient link. Hence, they allow organizations to reap the benefits of agile and cost-effective broadband connections.
_______________
Hardware Options For You
Much like this product highlight presents you with options, here at PivIT, your options go beyond just hardware. We present OEM options, inventory available today, or financing options. PivIT makes it easy for you to build your network on your terms.
_______________
The Agile Silver Peak Unity EdgeConnect
Hewlett Packard Enterprises (HPE), which owns Aruba Networks, acquired Silver Peak Systems in September 2020. They also acquired Silver Peak's WAN products, including their SD-WAN solution Unity EdgeConnect.
As mentioned previously, Unity EdgeConnect empowers customers to utilize broadband connections, allowing them to reduce the cost and complexity of developing their WAN. Their solution also enhances application performance, improves customer experience, and reduces operational expenses by up to 90 percent.
The SD-WAN solution consists of the following components:
Unity EdgeConnect: These are physical or virtual appliances used to build the SD-WAN virtual overlay in branches.
Unity Orchestrator: This component delivers enhanced network-wide visibility and the capabilities to deploy, enforce, and manage network policies centrally.
Unity Boost: This optional performance pack extends WAN optimization to the EdgeConnect SD-WAN fabric.
Silver Peak Unity EdgeConnect Features and Benefits
Below are some of the key features and benefits of the Aruba Silver Peak Unity EdgeConnect:
Zero-Touch Provisioning: Unity EdgeConnect has a plug-and-play model that simplifies and fastens its deployment. The platform can be deployed in seconds and automatically connects to Silver Peak devices in other branches, the data center, or the cloud.
Tunnel Bonding: The ability to form bonded tunnels is another important feature of Unity EdgeConnect. Bonded tunnels are configured as a combination of two or more physical WAN links to form an overlay connection. The overlay connection aggregates the performance of all the underlying links.
High Availability: This feature of the Unity EdgeConnect prevents total hardware, software, and transport failures by providing fault tolerance on both the equipment and WAN sides.
Industry-Leading Secure Access Service Edge (SASE): EdgeConnect automatically integrates with key security solutions from leading providers such as Palo Alto Networks, McAfee, and Netskope, among others, to form a coherent secure access service edge architecture.
SaaS Express: This feature gives real-time updates of WAN routes to ensure that network users can use the quickest paths to connect to Software-as-a-Service (SaaS) applications. In addition, this feature leverages synthetic polling to identify the best paths to reach a given application.
Unified Threat Management (UTM): Aruba Unified EdgeConnect is integrated with Aruba Threat Defense, which boasts advanced firewall and intrusion detection and prevention capabilities. This feature introduces advanced threat defense and policy enforcement to the SD-WAN fabric.
The above features and benefits may be the deciding factors to place an Aruba Networks product in your network today. Chat with one of our pre-sales engineers today. Walk them through what you're trying to accomplish in your network, and they will strategize with you on the best option for your location.
Unity EdgeConnect Hardware Platforms
The Silver Peak Unity EdgeConnect platforms you can choose from include EdgeConnect US, EdgeConnect XS, EdgeConnect S, EdgeConnect M, EdgeConnect L, and EdgeConnect XL. The table below compares the key features and specifications of these platforms.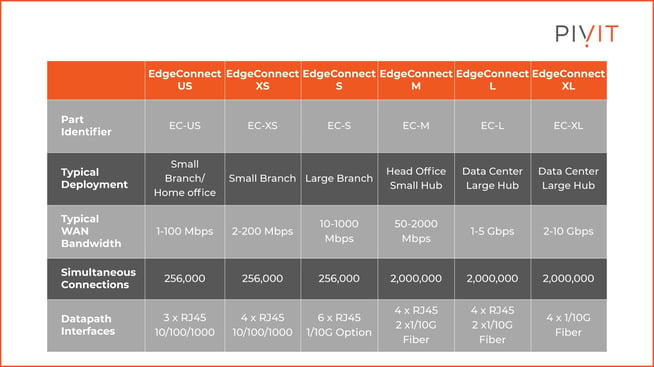 An SD-WAN Powerhouse Solution
In summary, Aruba's Silver Peak Unity EdgeConnect is a simple, cost-effective SD-WAN solution that leverages broadband links to benefit businesses significantly. Such benefits include better application performance and improved customer responsiveness, among others.
The solution consists of three main components: Unity EdgeConnect, Unity Orchestrator, and Unity Boost. Its features and benefits include:
Zero-touch provisioning
SaaS express
Tunnel bonding
Routing capabilities
High availability
Industry-leading Secure Access Service Edge (SASE)
Unified Threat Management (UTM)
If you are replacing your legacy systems to keep up with fast-paced technological innovations, consider protecting your network with PivIT's OneCall product. You have two options, namely, protect your legacy system or protect your new system – both offering huge future cost savings.
OneCall is our third-party maintenance service allowing for a holistic solution for your IT asset maintenance needs that can deliver every time on both a local and a global scale. So when protecting your mission-critical assets, OneCall has you covered.
Visit our main OneCall page to find out more.
No Comments Yet
Let us know what you think