Cisco 6900 Series Telephony Overview
by PivIT Global on Apr 8, 2019 10:18:49 AM
Overview
The Cisco Unified IP Phone 6900 Series is a new voice communication service offered to customers around the world. Options include full-duplex speakerphones for a more productive, more flexible, and easier-to-use endpoint experience. Some models introduce support for single-call per-line appearance, offering a traditional telephony-like interaction for customers who seek this type of call experience for their users. With features like fixed keys for hold, transfer, and conference- and tri-color LED line and feature keys- Cisco phones are streamlined for simpler and easier use.
6900 Series Models:
The Cisco Unified IP Phone 6901
Cisco Unified IP Phone 6911 (one-line)
Cisco Unified IP Phone 6921 (two-line)
Cisco Unified IP Phone 6941 (four-line)
Cisco Unified IP Phone 6945 (four -line)
Cisco Unified IP Phone 6961

The Cisco Unified IP Phone 6900 Series also offers greater personalization, with the choice of two colors and two handset style options. Right-to-left language presentation is also supported on the displays, addressing the language localization needs of global customers. The Cisco Unified IP Phone 6900 Series is also more energy-efficient and eco-friendly, in support of those customers with green initiatives. A Deep-Sleep option also provides energy savings. With this option, the Cisco Unified IP Phone 6900 Series consumes up to 50 percent less power in off-hours versus when the phone is idle during normal business hours. In addition, reground and recyclable plastics deliver a more earth-responsible solution.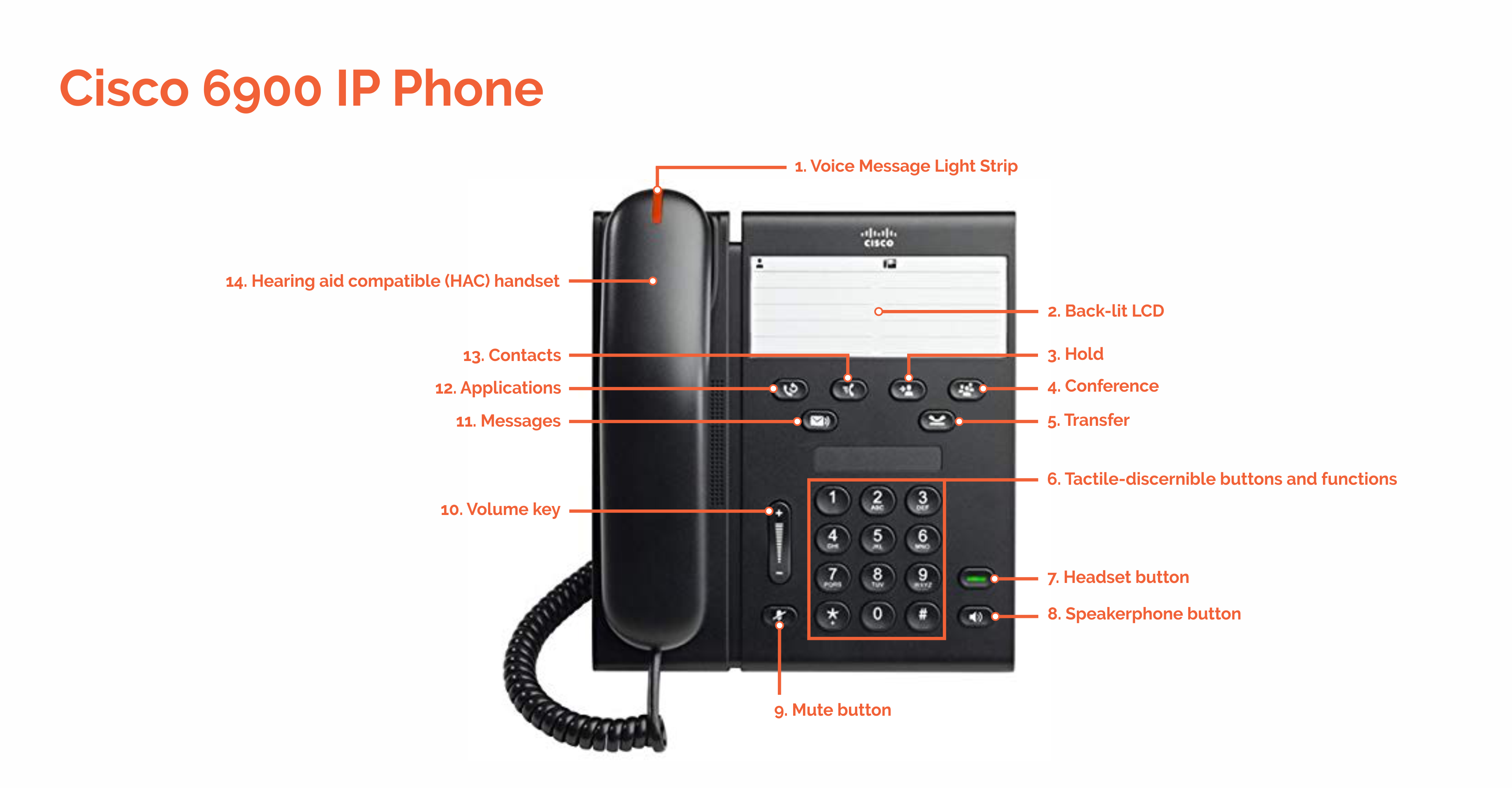 1
Handset with light strip
Lights up to indicate a ringing call (flashing red) or a new voice message (steady red).
2
Paper label
A paper strip used to enter name and contact numbers.
3
Transfer button
Transfers a call.
4
Conference button
Creates a conference call.
5
Hold button
Places an active call on hold.
6
Line button
Allows you to pick up a second incoming call and to resume a held call. The LED shows call status.
7
Speakerphone button
Selects the speakerphone as the default audio path and initiates a new call, picks up an incoming call, or ends a call. During a call, the button lights green. The speakerphone audio path does not change until you select a new audio path (for example, by picking up the handset).
8
Keypad
Allows you to dial phone numbers.
9
Mute button
Toggles the microphone on or off. When the microphone is muted, the button lights red.
10
Volume button
Controls the handset and speakerphone volume (off hook) and the ringer volume (on hook).
11

Messages button

Auto dials your voice messaging system.
12
Redial button
Dials the last dialed number.
13
Feature button

Depending on the phone setup, the feature button provides you with access to Speed Dial, Call Forward All, Pickup, Group Pickup and Meet Me features. You can configure up to nine items on the feature button. To access these features, press the feature button followed by the number associated with the feature. You must press the feature button and the number within five seconds of each other. The number can only be a single digit number from 1–9

You can access the following features either off hook or on hook:

Call Forward All—forward a call
Pickup—third party phone pick up
Group Pickup—group call pick up
Meet me—conference setup

14
Handset
Phone Handset
Table A: Features and Benefits
Feature

Benefit

Lighted Hold Key
The key lights when pressed to put a call on hold and stays lit until the held call has been resumed, or flashes if one call is held while another is engaged; the key is dark when no calls or is on hold.
Lighted Menu Key
The key lights when pressed to access voicemail messages, call logs, network settings, user preferences, corporate directories, and XML services; it stays lit while menu items are active.
Lighted Message Waiting indicator
The key lights when there is a new voicemail, and the light is visible on both the phone chassis and the handset; it stays lit until new voicemail is processed.
Deep-Sleep option
Power savings can be recognized by cycling power by time of day and day of week.
Co-branding
The Co-branding button allows customers to include their logo on the 6900 Series phones. Cisco has approved third-party vendors to produce the buttons.
Multiple-language support

The following languages are supported:

Arabic (Arabic area)
Bulgarian (Bulgaria)
Catalan (Spain)
Chinese (China)
Chinese (Hong Kong)
Chinese (Taiwan)
Croatian (Croatia)
Czech (Czech Republic)
Danish (Denmark)
Dutch (Netherlands)
English (United Kingdom) - Prompts only
Estonian (Estonia)
French (France)
Finnish (Finland)
German (Germany)
Greek (Greece)
Hebrew (Israel)
Hungarian (Hungary)
Italian (Italy)
Japanese (Japan)
Latvian (Latvia)
Lithuanian (Lithuania)
Korean (Korea Republic)
Norwegian (Norway)
Polish (Poland)
Portuguese (Portugal)
Portuguese (Brazil)
Romanian (Romania)
Russian (Russian Federation)
Spanish (Spain)
Slovak (Slovakia)
Swedish (Sweden)
Serbian (Republic of Serbia)
Serbian (Republic of Montenegro)
Slovenian (Slovenia)
Thai (Thailand)
Turkish (Turkey)

Speakerphone
Full-duplex speakerphone allows for flexibility in placing and receiving calls. (6911, 6921, 6941, 6945 and 6961).
Headset support
RJ9 interface to optional headset allows customers to enjoy additional options for placing and receiving calls. (6921, 6941, 6945 and 6961).
Graphical display
Pixel-based graphical, monochrome anti-glare displays with white backlighting provide scrollable access to calling features and text-based XML applications. (6921, 6941, 6945 and 6961).
Four softkey buttons and scroll toggle bar
Calling options are dynamically present; the scroll toggle bar allows easy movement through the displayed information. (6921, 6941, 6945 and 6961)
Network features
Network features include Cisco Discovery Protocol and IEEE 802.1 p/q tagging and switching.
Ethernet switch
The phone has a 10/100BASE-T Ethernet connection through two RJ-45 ports, one for the LAN connection and the other for connecting a downstream Ethernet device such as a PC.
The Cisco Unified IP Phone 6945 has a gigabit Ethernet connection.
Volume control
A volume-control toggle provides easy decibel-level adjustments of the handset, monitor speaker, and ringer.
Dual-position foot stand

The display is easy to view and the buttons and keys are easy to use; you can remove the foot stand for wall mounting, with mounting holes located on the base of the phone. (6911, 6921, 6941, 6945, 6961).

The Cisco Unified IP Phone 6901 has a one position footstand.
Multiple ring tones
The phone offers seven user-adjustable ring tones. (6921, 6941, 6945 and 6961).
American Disabilities Act (ADA) features
The hearing-aid-compatible (HAC) handset meets the requirements set by the ADA; it also meets ADA HAC requirements for a magnetic coupling to approved hearing aids. The phone dialing pad also complies with ADA standards.
Signaling protocol support
The phones are supported in Cisco Unified Communications Manager and Cisco Unified Communications Manager Business Edition Versions 7.1.2 and later using Skinny Client Control Protocol (SCCP) and SIP is supported with Cisco Unified Communications Manager and Cisco Unified Communications Manager Business Edition Versions 7.1.5 and later.
Codec support

G.711a, G.711, G.729a, G.729b, G.729ab and iLBC audio-compression codecs are supported.

Additional G.722 is supported by Cisco Unified IP Phone 6945.
Voice quality
Comfort-noise generation and voice-activity-detection (VAD) programming is provided on a system basis.
Table B. Software and Physical Specifications
Specification

Description

Firmware upgrades
Download firmware changes from Cisco.com
Software upgrades
Software upgrades are supported with a Trivial File Transfer Protocol (TFTP) server
Lighted Message Waiting indicator

Cisco Unified IP Phone 6901: 205 x 94 x 46 mm (8.1 x 3.7 x 1.8 in.)

Cisco Unified IP Phone 6911: 205 x 188 x 38.2 mm (8.1 x 7.4 x 1.5 in.)

Cisco Unified IP Phone 6921: 164 x 188 x 205 mm (6.4 x 7.4 x 8.1 in.)

Cisco Unified IP Phone 6941: 164 x 188 x 205 mm (6.4 x 7.4 x 8.1 in.)

Cisco Unified IP Phone 6945: 164 x 188 x 205 mm (6.4 x 7.4 8.1 in.)

Cisco Unified IP Phone 6961: 164 x 240 x 209 mm (6.44 x 9.5 x 8.2 in.)

Dimensions (H x W x D)
Power savings can be recognized by cycling power by time of day and day of week.
Weight

Cisco Unified IP Phone 6901: Standard: 655 g (23.5 oz); Slimline 621 g (21.9 oz)

Cisco Unified IP Phone 6911: Standard: 917 g (32.3 oz); Slimline 883 g (31.1 oz)

Cisco Unified IP Phone 6921: Standard: 1031g (36 oz); Slimline: 940g (33 oz)

Cisco Unified IP Phone 6941: Standard: 1039g (37 oz); Slimline: 1102g (39 oz)

Cisco Unified IP Phone 6945: Standard: 1039g (37 oz); Slimline: 1102g (39 oz)

Cisco Unified IP Phone 6961: Standard: 1227g (43 oz); Slimline 1206g (43 oz)
Phone Casing Composition

Polycarbonate acrylonitrile butadiene styerene (ABS) plastic
No Comments Yet
Let us know what you think