Cisco Firepower 9300 Versus FortiGate 7000 Series Firewall
by Darin Knobbe on Sep 16, 2021 11:00:00 AM
Organizations need security control and visibility to mitigate modern risks. A network breach can compromise sensitive data, erode confidence in a brand, create network downtime, and result in loss of productivity and a downturn in revenue and mission readiness.
Adequate security is essential to making your organization's digital transformation initiatives successful and agile. As network operations and threats evolve, your security strategy and portfolio should too. Next-generation firewalls (NGFWs) offer a best-of-breed solution to make your organization secure and threat-free.
This blog will discuss two hyper-scale-enabled high-performance firewalls, the Cisco Firepower 9300 and Fortinet FortiGate 7000 series.
Cisco Secure Firewall
The Secure Firewall offerings allow you to protect your network, data, users, and devices from a frequently complex set of threats while giving consistent security policies, visibility, and improved threat response.
From your data center, branch offices, cloud environments, and everywhere in between, you can leverage the power of Cisco to turn your existing network infrastructure into an extension of your firewall solution.
Some of the key capabilities include:
Multi-instance: Secure Firewall allows you to separate traffic from different departments within your organization without the need to manage multiple firewalls.
Integration: Secure Firewall works seamlessly with the rest of our integrated security portfolio. Various tools share threat information, policy information, and event data. With integrations like these, you can obtain visibility across different attack vectors, from edge to endpoint, so that when you notice a threat in one place, you can stop it everywhere.
Automation: Automated policy application and enforcement free up time like automatic IPS tuning that blocks more threats and reduces the volume of alerts.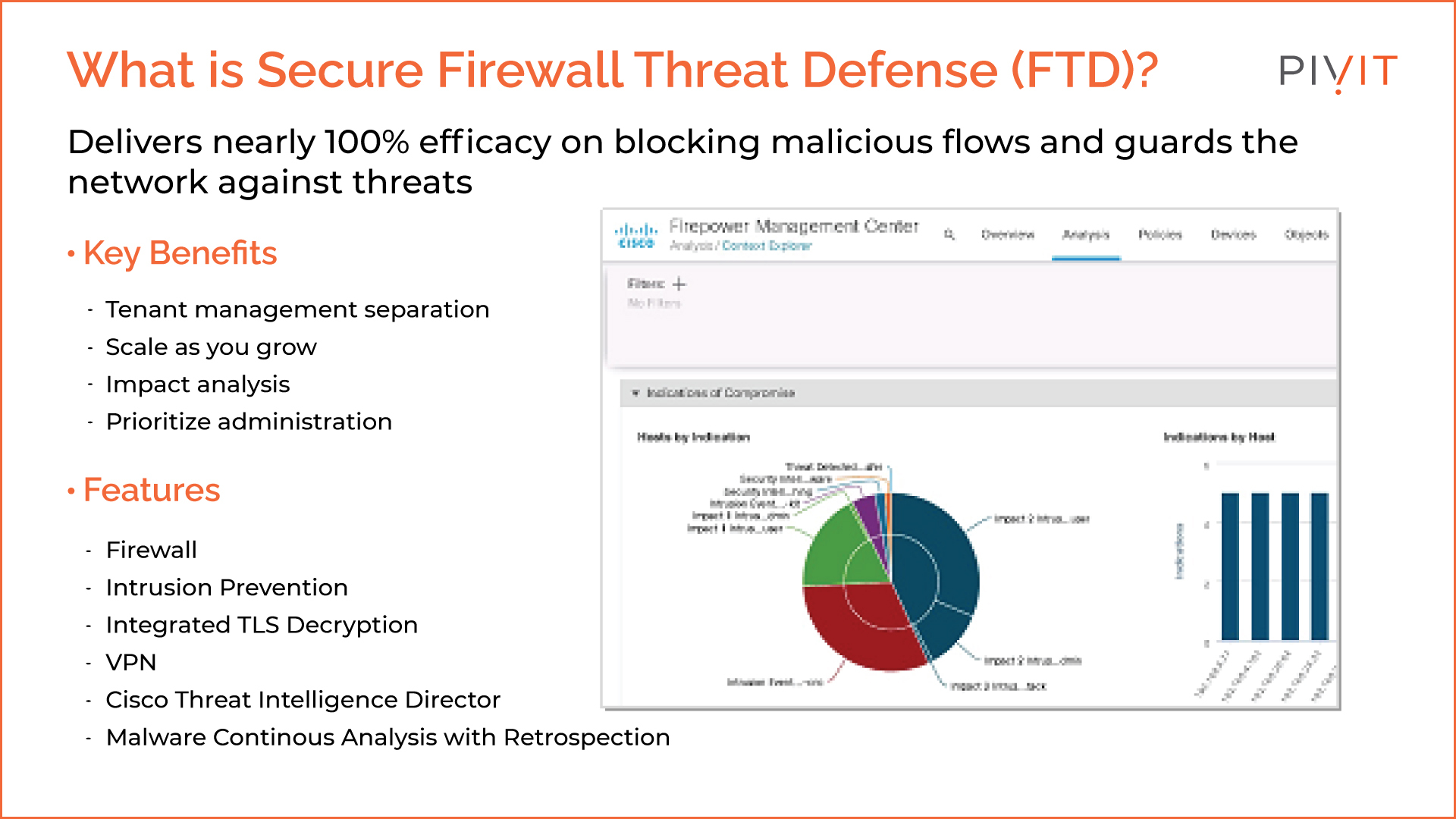 Cisco Firepower 9300 Overview
The Cisco Firepower 9300 Series modular appliance, with up to three security modules for computational and cryptographic acceleration, supplies next-generation security services to help you mitigate more known and unknown threats. Its carrier-grade capabilities are ideal for large data centers, campuses, and other high-performance environments that require low latency and high throughput.
Deliver scalable, consistent security to workloads and data flows across physical, virtual, and cloud environments, working with the complementary virtualized Cisco firewalls.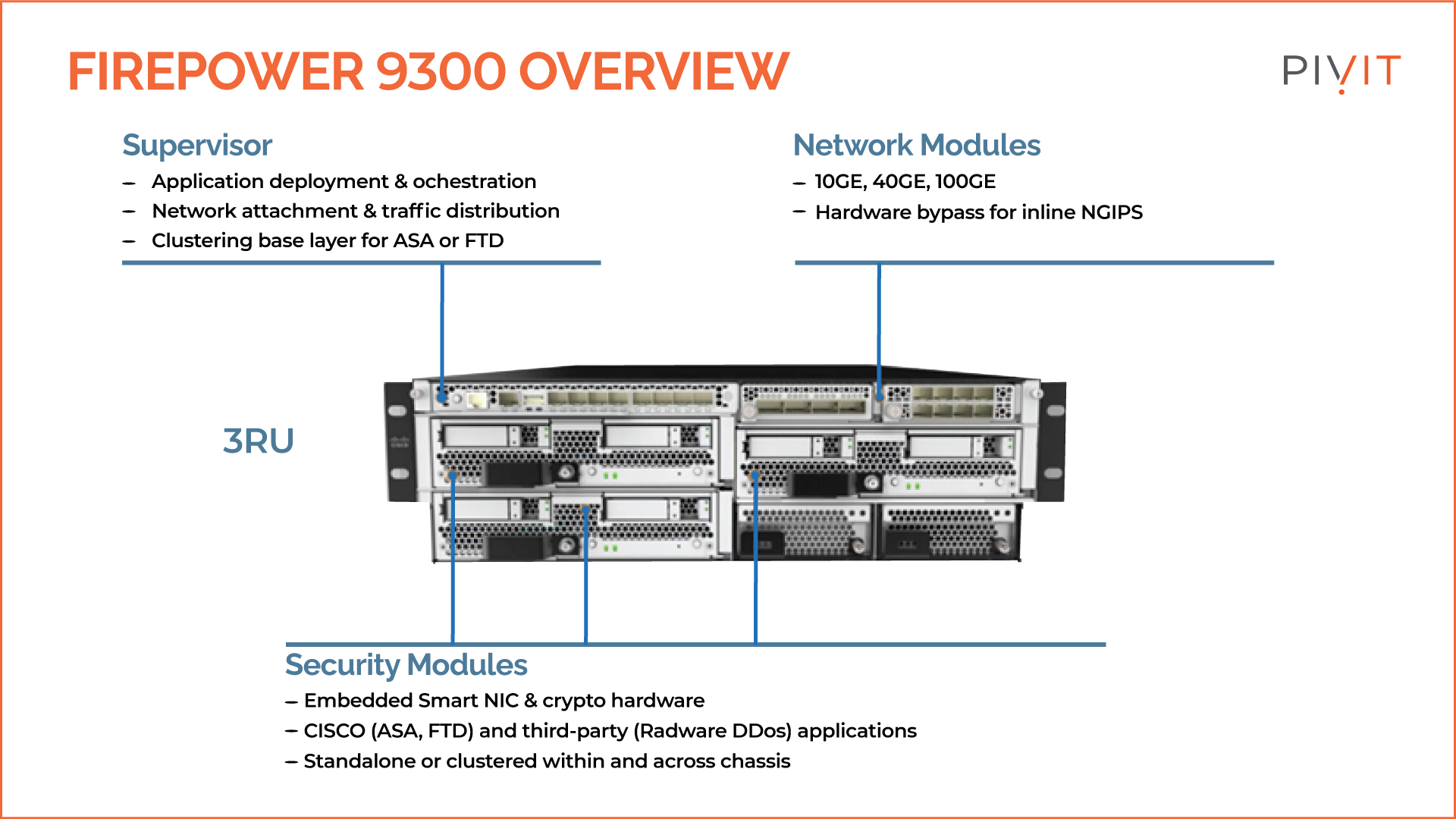 Module options: SM-24, SM-36, SM-40, SM-44, SM-48, SM-56
Firepower 9300 Security Modules
Built-in hardware Smart NIC and Crypto Accelerator.
Previous Generation SM-24, SM-36, and SM-44
Dual 800GB SSD in RAID1 by default.
SM-24 is NEBS Level 3 Certified.
New SM-40, SM-48, and SM-56
Dual 1.6TB SSD in RAID1 by default.
Higher performance on cryptographic operations.
Mixed standalone modules are supported in FXOS 2.6.1.
Mixed modules will be supported with FTD multi-instance clustering in FXOS 2.8.1.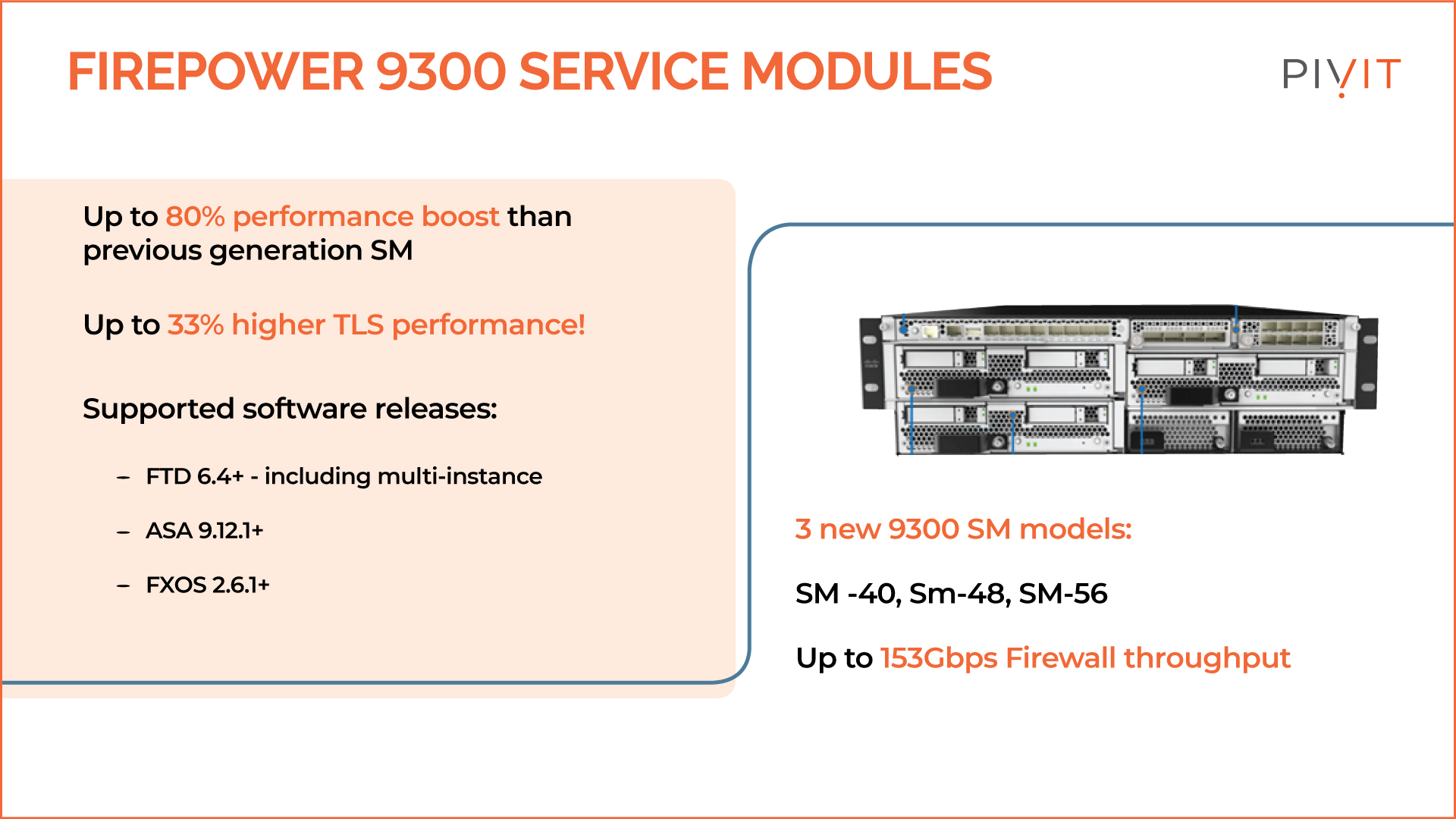 Powerful, Connected, and Automated Cisco Firepower 9300
Powered by the unparalleled insights of Cisco Talos threat intelligence that enables organizations to protect their critical infrastructure, people, and data. Secure Firewall:
Allows multi-instance protection, so you can separate multiple departments' management and traffic from one another, adding even more protection without additional complexity.
Offers firewall capabilities in physical and virtual form factors to protect traditional and software-defined networks (SDN)—at the internet edge, within the data center, at data center ingress and egress, and in hybrid cloud use cases.
Boosts operational efficiency with a single point of management via Cisco Secure Firewall Threat Defense Manager (formerly Firepower Management Center [FMC]) to simplify policies, views, dashboards, and reports.
Works with Cisco Defense Orchestrator (CDO), a cloud-based centralized manager that harmonizes security policy management across multiple Cisco (ASA), Cisco Secure Firewall Threat Defense (FTD), and Meraki MX firewalls.
Integrates with SecureX threat response to extend interrogative features by examining the contextual relationship of NGFW threats in conjunction with indicators of compromise (IoCs) from the endpoint, DNS, email, and sandboxing data.
Fortinet FortiGate Firewall Overview
FortiGate next-generation firewalls (NGFWs), based on the Fortinet seventh-generation network processor (NP7), allow advanced research institutions to apply access controls while maintaining high performance.
The FortiGate NGFWs protect against volumetric attacks with hardware-accelerated distributed denial-of-service (DDoS) protection. These NP7-based FortiGate NGFWs are also very efficient in power usage without decreasing performance, resulting in compact and cost-effective hyper-scale firewalls.
FortiGate NGFWs delivers industry-leading enterprise security for any edge at any scale with complete visibility and threat protection. Organizations can design deep security into the Hybrid IT architecture and develop Security-Driven Networks to:
Deliver ultra-fast security end-to-end.
Allow compatible real-time defense with AI/ML-powered FortiGuard Services.
Deliver seamless user experience with Security Processing Units.
Increase operational efficiency and automate workflows.
FortiGate 7000 Series
The FortiGate 7000 series is Fortinet's range of high-end next-generation chassis firewalls. The 7000 series includes the 7030E, 7040E, 7060E, and 7121F models. The series gives flexibility and simplicity of deployment, with ultra-high NGFW and threat protection performance, capacity, and manageable scale to secure large amounts of mobile and cloud traffic.
FortiGate 7000 series solutions are available in different configurations to scale with growing demands and capacities of up to 320 million concurrent sessions. The firewalls can deliver up to 100 Gbps of SSL/TLS inspection and up to 360 Gbps IPS throughput in a compact form factor.
The FortiGate 7000 series are flexible enough to be deployed as an L7 NGFW or an L4 data-center firewall for the internal or edge segments. They enable enterprises to move to IPv6 or run dual-stack IPv4/v6 with no performance penalty.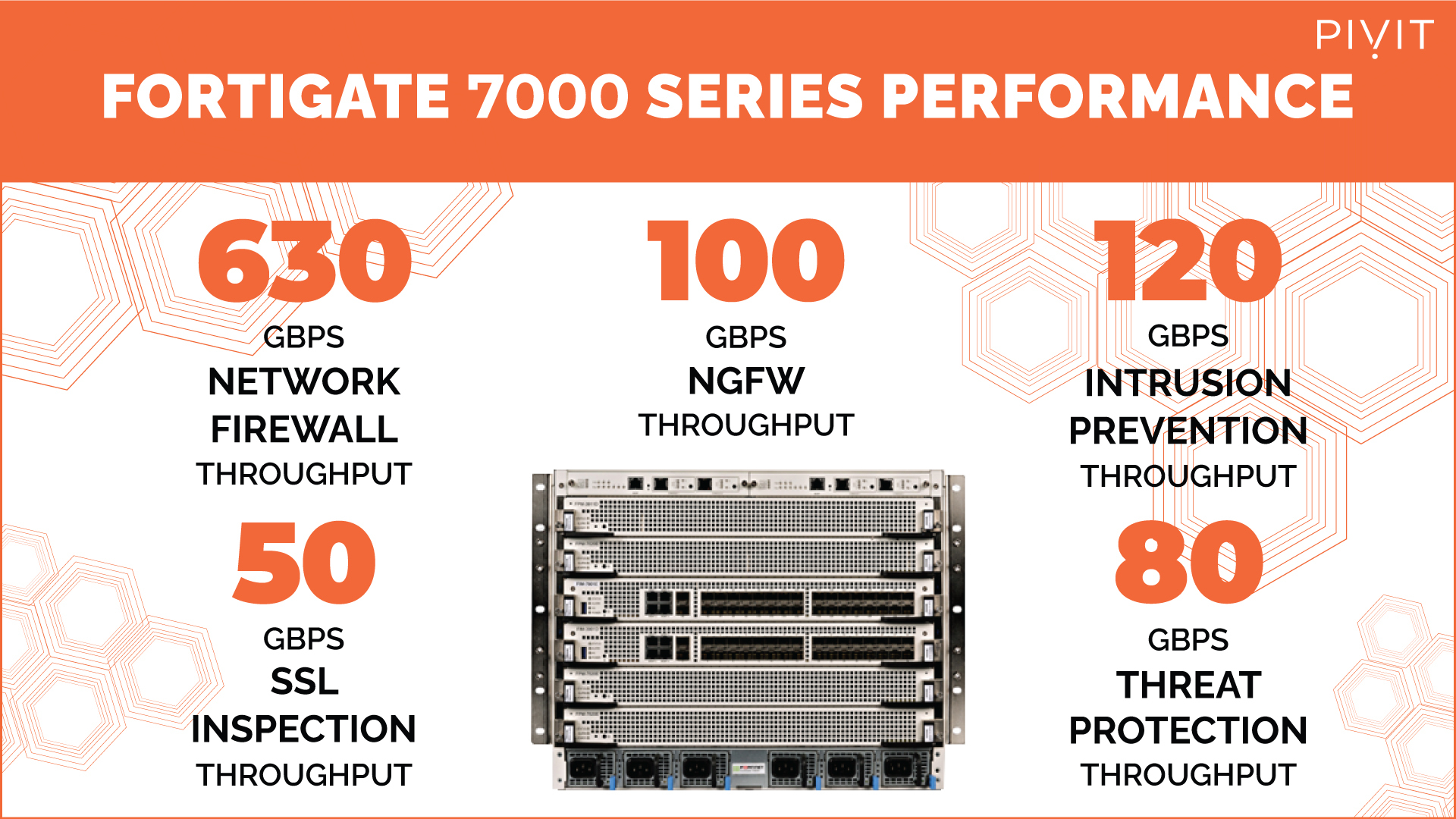 FortiGate 7000 Series Firewall Models
| | | | |
| --- | --- | --- | --- |
| Feature | FG-7060E-8/-9 | FG-7040E-8/-9 | FG-7030E |
| Firewall | 630 Gbps | 315 Gbps | 155 Gbps |
| IPS | 120 / 200 Gbps | 60 / 100 Gbps | 60 Gbps |
| NGFW | 100 / 120 Gbps | 50 / 60 Gbps | 50 Gbps |
| Threat Protection | 80 / 96 Gbps | 40 / 48 Gbps | 35 Gbps |
| Network Interfaces | Multiple 10 GE SFP+/SFP, 40 GE QSFP+, 100 GE CFP2/QSFP28 | Multiple 10 GE SFP+/SFP, 40 GE/ 100 GE QSFP28 | Multiple 10 GE SFP+/SFP, 40 GE/100 GE QSFP28 |
FortiGate 7000 Series Firewall Features and Benefits
Full Visibility and Protection
FortiGate 7000 series firewall Stop Ransomware, Command & Control with SSL inspection, and automated threat protection.
Hyperscale Security
The firewall is built ultra-scalable Security-Driven Networks to face escalating business demands.
Security Fabric Integration
It shares actionable threat intelligence across the entire attack surface to build a consistent end-to-end security posture.
Natively Integrated Proxy
The firewall can deliver seamless user experience and security to the hybrid workforce with Zero Trust Network Access (ZTNA).
Automation-Driven Network Management
With an easy-to-use centralized management console, it's simple to create large-scale and efficient operations.
AI/ML-Powered FortiGuard Services
Consolidate and concurrently run IPS, web, and video filtering, as well as DNS security services, which help to reduce costs and control risks.
Learn More from PivIT
Did this comparison help? Let us know your thoughts by dropping a comment below. Here at PivIT, we offer a fresh approach to sourcing, maintaining, and servicing your data center infrastructure. We've reimagined the status-quo and offer our customers strategies not found in the traditional IT channels. Our focus is to examine your CAPEX/OPEX limitations and present you with options to free up your budget, achieve your goals and Do IT Better.
No Comments Yet
Let us know what you think