Leverage Cloud-Scale Features Offered by Cisco ASR 9000 Series Routers
by PivIT Global on Aug 4, 2022 7:05:00 AM
Cloud-scale networking systems are designed to meet the requirements of service providers, enterprises, and governments that have emerged due to digitization. They are also meant to support emerging and imminent trends in networking services such as 4K video, IoT, and 5G.
The Cisco ASR 9000 series routers, which are equipped with the IOS XR operating system and 3rd generation line cards, offer cloud-scale networking features that you can take advantage of to meet the growing user demand for bandwidth.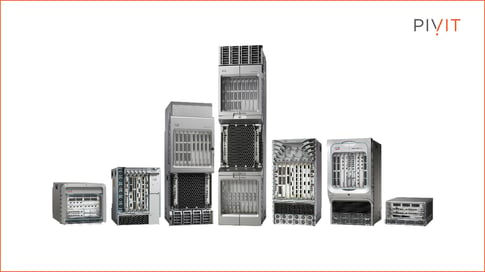 These routers also make your network scalable in real-time, giving you the ability to grow your business and offer other networking services on-demand.
Some cloud-scale features available with Cisco ASR 9000 series routers include:
Service chaining
Integrated DDoS
Low latency
Increased bandwidth and density
Application hosting
5G scalable architecture
Geo-redundancy
Real-time telemetry
Scalable routing table
It is possible to leverage some of these features immediately, such as low latency for critical traffic because segment routing with the 9000 series is easy and fast to deploy. Conversely, you may need to make plans to take advantage of other features such as the 5G scalable architecture because scaling your network to offer 5G services requires a comprehensive deployment plan.
In the rest of this article, you will find an explanation of the cloud-scale capabilities of Cisco ASR 9000 series routers when used to support internet peering and transit, mobile backhaul, and data centers, among other applications. We will also give you an in-depth explanation of how you can best leverage the cloud-scale capabilities and the benefits they can offer your network.
____________
At PivIT, we bring options to the table that your traditional VAR won't, whether it is OEM options, financing options, maintenance options, and more. Click below to browse for a router and get started bringing options to your network!
____________
The Real and Quantifiable Advantages of Migrating to Cloud-Scale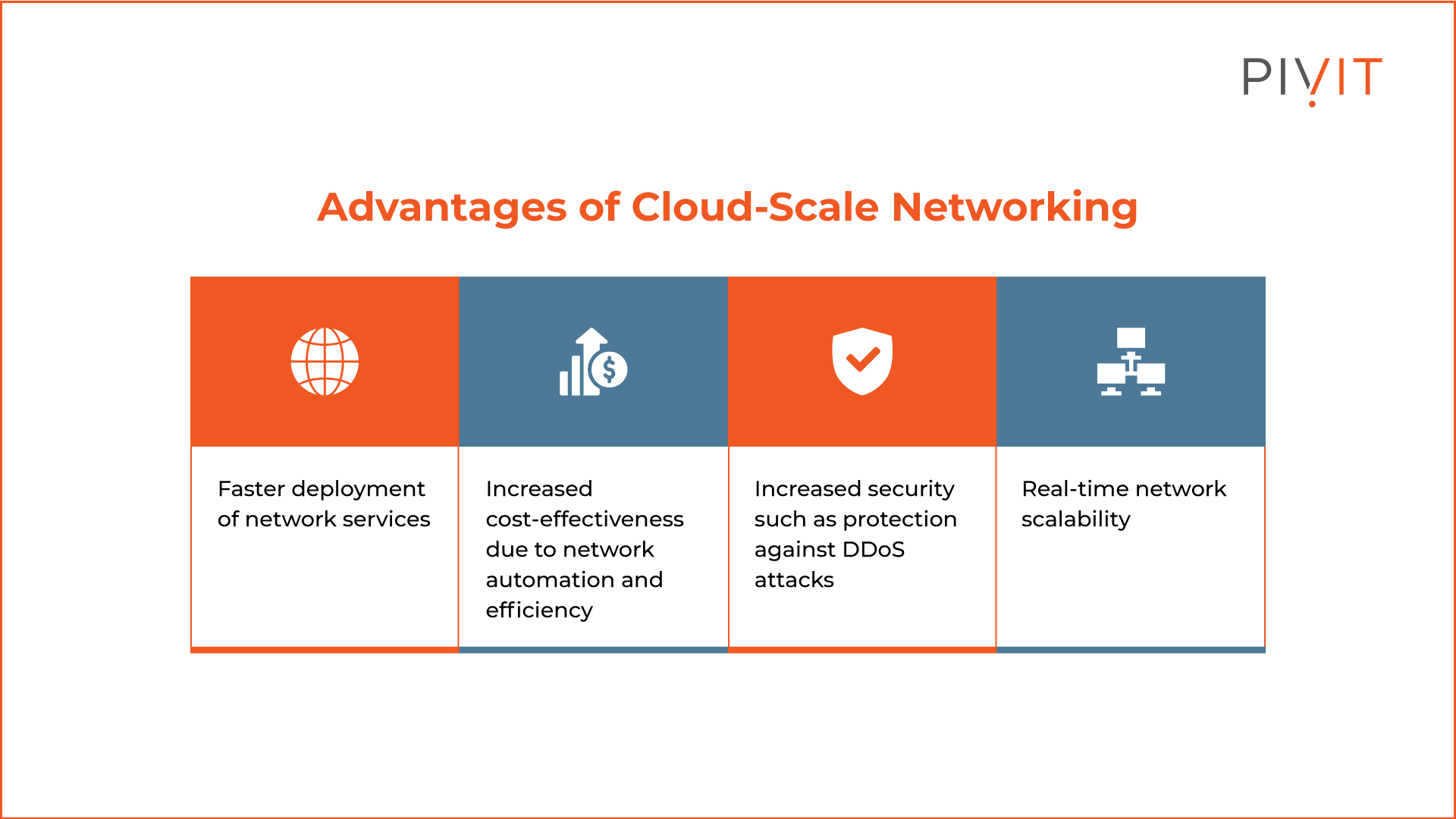 View our other Cisco ASR router articles:
Cisco ASR 9000 Series Cloud-Scale Features and How to Utilize Them
This section contains ways to leverage the cloud-scale features available with Cisco ASR 9000 series routers.
Improve Operational Efficiency With Service Chaining
Service chaining is a capability that uses Software Defined Networking (SDN) to connect a series of connected network services virtually. The services could include Network Address Translation, firewall, and intrusion protection.
With service chaining, network administrators can allocate different paths for different types of traffic depending on the requirements of the traffic. For instance, some traffic may require more stringent firewall policies or lower latency.
In general, this feature automates the flow of traffic and the setup of virtual network connections to handle the different traffic flows.
Service chaining is an important feature of the Cisco ASR service routers because it helps to increase the overall efficiency and enables service providers to provide services on-demand to users.
Use the Integrated Virtual DDoS Solution To Protect Your Network From DDoS Attacks
Cisco ASR 9000 series routers have a virtual DDoS feature deployed as a Virtual Network Function (VNF) that mitigates DDoS attacks without negatively affecting the network's actual traffic. Powered by Arbor Networks Technology, it detects and automatically blocks illegitimate DDoS traffic.
The virtual DDoS can also detect network misconfigurations and monitor any existing network hot spots for signs of attacks. Furthermore, the feature gives you root cause analysis tools that you can use to discover issues and resolve them.
With this integrated feature, you will not need to deploy another threat-protection software.
Use Segment Routing To Ensure Low Latency While Routing Critical Network Traffic
Digitization has led to the reliance on some networking services such that their unavailability may cripple critical organizational activities. These critical activities may also rely on data being transferred over the network. To enhance customer satisfaction, it is crucial to ensure that such critical network traffic runs seamlessly with few delays.
Your network can utilize Cisco ASR 9000's segment routing feature to route traffic with stricter service-level agreements (SLAs) over a path where low latency is assured. This way, agility is guaranteed for critical traffic.
Eliminate Bandwidth Bottlenecks With Increased Bandwidth and Density
One of the effects of digitization is bandwidth demands growing at an exponential rate. Your network needs to be scalable to meet these increased demands. Cisco ASR 9000 series routers, which are equipped with 12-port 100 Gigabit Ethernet 3rd generation line cards, provide the required scalable infrastructure to meet any network's shifting bandwidth demands.
While you can clear any existing bandwidth bottlenecks by investing in these routers, you can also use them to provide more services to users. For instance, you can scale your network to support internet video, 4K video, and point-to-point video since your network will be ready for any increased traffic in the future.
Is your gear near its end-of-life or end-of-sale? Are you in the middle of a network refresh?
Whatever the case may be, with six months or more lead times before your new hardware arrives – short-term maintenance can be your back-pocket ace. Get an average OpEx saving of 65% with OneCall.
Integrate Third-Party Applications on Your Network With the Application Hosting Feature
With the application hosting feature, you can use third-party applications developed using Linux toolchains to monitor your network's state consistently. Additionally, you can develop custom applications using Cisco's Software Development Kit and run them on Cisco ASR 9000 series routers.
Scale to 5G Using Cisco ASR 9000's 5G Scalable Architecture
The low latency and scalable bandwidth features of Cisco ASR 9000 series routers make them 5G ready, though they are also backward compatible with 2G to 4G architectures. You could use these edge routing devices to scale your network so that it can offer 5G network services to your customers.
Provide Seamless Failover With the Geo-Redundancy Cloud-Scale Feature
Geo-redundancy is one of the most important features offered by Cisco ASR 9000 series routers since it has a huge role to play in establishing high availability. The stateful redundancy feature ensures seamless failover for network infrastructure in different locations.
For instance, if one Broadband Network Gateway (BNG) in a location fails, its subscribers can be moved to a BNG in a different location where they can continue accessing the network's services.
Geo-redundancy also provides load balancing for traffic on the network. In geo-redundant network systems, servers are placed in different geographical locations. When traffic is saturated in one server, the georedundant system transfers some of that traffic to another server in a different location. Load balancing ensures that the network always performs optimally.
Gain Consistent Automated Network Visibility and Control
Cisco's model-driven real-time telemetry ensures that the network is consistently visible in real-time, therefore, ensuring it can be monitored and controlled by administrators. With real-time telemetry, data can be transferred between multiple sources continuously.
You can fully configure the model-driven telemetry using telemetry Yet Another Next Generation (YANG) models. YANG is a data modeling language commonly used in software-defined networks (SDN) to automate configuration tasks.
With YANG models, you can specify the data of interest, the transport and encoding methods to use, and where to stream the data without using the Command Line Interface (CLI).
Scale Your Routing Table To Hold More Routes for Network Peering/Transit Applications
One other remarkable advantage of Cisco ASR 9000 series routers is their ability to support network peering and transit applications. However, routing tables meant for these operations can grow so large with numerous routes. This makes a scalable routing table a necessity for such applications.
Cisco ASR 9000 series routers offer increased support for such networks because they can support 10 million IPv4 and 5 million IPv6 routes.
Cisco ASR 9000's Cloud-Scale Feature Summary
In summary, some of the main ways you can best utilize the cloud-scale features offered by Cisco ASR 9000 series routers include:
Offering services on-demand with the support of the service chaining cloud-scale feature.
Using the Cisco ASR 9000 integrated virtual DDoS solution to protect your network from DDoS attacks.
Using Cisco ASR 9000's segment routing feature to route your network's critical traffic.
Eliminating Bandwidth Bottlenecks caused by high traffic and scaling your network to offer more services to users with the support of Cisco ASR 9000's increased bandwidth and density.
Integrating third-party applications to your network with the support of Cisco ASR 9000 series routers' application hosting capabilities.
Scaling to 5G.
Providing seamless failover with the geo-redundancy cloud-scale feature.
Scaling your network's routing table to hold more routes for network peering/transit applications.
Do you have the time to handle configurations?
Do you have the bandwidth to configure your routers?
If you answered "No" to these questions, let PivIT handle the configuration on your network with EXTEND. Hire an engineer to take on these basic configurations and more. Click below to learn more about SmartHands.
No Comments Yet
Let us know what you think