Embrace 400G With the Cloud-Optimized Juniper PTX Series Routers
by PivIT Global on Sep 27, 2022 7:14:00 AM
Whether you're a telecommunication company, a data center, or a cloud provider, chances are your traffic is scaling up at an unprecedented rate. Global cloud traffic has been increasing year on year, crossing 12,500 exabytes in 2021.
That's bound to happen when rich applications with heavy data needs emerge right, left, and center. From 4K/8K video streaming to virtual reality (VR)-powered multiverses, cloud infrastructure today requires efficiency and scalability for data-hungry use cases.
The Juniper PTX Series routers are cloud-optimized, 400G-capable solutions, ideal for service providers looking to move up from the now ubiquitous 100G. 400G can help resolve existing cloud infrastructure bandwidth limitations. Of course, it's a major upgrade, but the benefits and returns far outweigh the costs.
__________________
Struggling to get your hands on the right hardware due to worldwide OEM shortages? Here's what one recent customer's had to say:
"We ask for gear, your team sources, and give us delivery dates you fulfill. We appreciate having a team that is responsive."
- James T. (IT Director)
Send PivIT a request or connect with our Team in real-time using our chat feature.
__________________
In this article, we will:
explore 400G,
why you should consider migrating to it,
how Juniper Networks PTX Series routers can help you do that, and
we will also compare models.
View some of our other product highlight articles:
What Is 400G?
400G in cloud infrastructure represents data transfer speed. It is four times faster than 100G and helps address the growing bandwidth demands for network/cloud providers.
Large data centers handle ever-increasing data transfers, thanks to rapidly growing applications, devices, and consumers. 400G offers more lanes, which can process data faster. 400G-capable switches and routers provide 400G data transfers on a single wavelength.
It's equivalent to and interchangeable with 400GbE, the capacity rate in Ethernet interfaces according to the IEEE 802.3bs standard. 400G represents 400Gb/s speed of data transfer. That's 400 billion bits transferring on a single optical wavelength in one second.
Why Should Service Providers Migrate to 400G?
Service providers and enterprises with large data centers and networks are facing increasing traffic demands that gradually show the limitations of 100G, let alone 10G. Simultaneously, high-density requirements of emerging technologies like 5G and applications like augmented reality necessitate moving up the ladder in terms of infrastructure.
Time is of the essence, as lagging behind in critical cloud infrastructure can prove detrimental. Enterprises like Amazon are already leveraging the power of 400G. Amazon Web Services (AWS) EC2 P4d instances, designed for machine learning (ML) training, rely on 400 Gb/s cloud networking.
But it's not just staying neck to neck with the competition that makes this migration necessary; there are many other benefits. Let's go through some of them.
High Speed, Reliable Performance
400G-enabled routers can provide the speed, efficiency, and density service providers need to enhance their data transfer capacity. With the IEEE 400GbE standard, providers can get a speed of 400 Gb/s with a single 400G port on the router.
Most importantly, this speed allows quick and easy scale-up. But that's not all, as 400G equipment is much more sophisticated with optical transceivers and compact connectors. As a result, the performance is more resilient and reliable.
Furthermore, with a faster speed and reliable infrastructure, enterprises can mitigate security events like network outages by reducing the blast radius of the cloud.
Support for High-Density Applications
Artificial intelligence (AI) and ML are penetrating many industries and using incredibly large data volumes. With the migration to 400G, service providers can support rich, high-density applications that often result in very high traffic. Similarly, VR and 8K video streaming require reliable throughput.
Any service provider with a data center handling the data transmission for such applications needs capable infrastructure. By upgrading to 400G routers, providers can easily support rich applications for their clients.
Low OpEx
The 400GbE standard requires advanced modulation formats that can handle more bits per second, or 400 billion bits per second, to be exact. With four times the capacity of 100G, 400G infrastructure can transport bits at an optimum cost, much lower than what it would cost to transport with four 100G routers.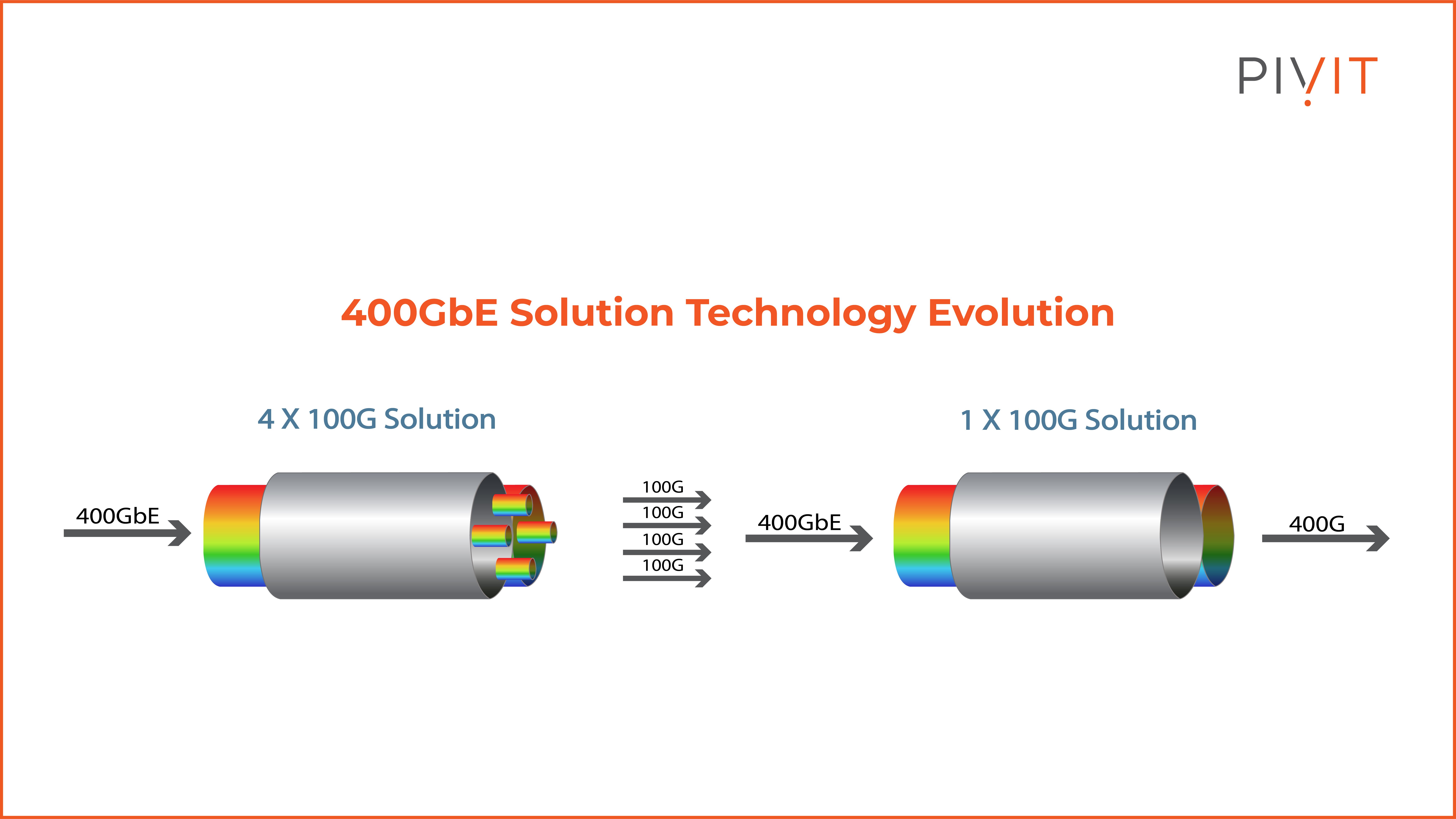 Thanks to a smaller form factor, lower power requirements, and less heating, the 400G infrastructure can keep the per-bit cost down, which results in lower operational expenses (OpEx).
Therefore, migrating to 400G, dubbed the next generation of cloud infrastructure, is also a financially viable decision.
Small Footprint
While cloud computing has made strides in the tech industry with its innovation, it has also emerged as a contributor to greenhouse-gas emissions and waste creation. According to research, the global emissions from Information Communication Technology (ICT) range from 2.1 to 3.9 percent.
With greater efficiency and low running costs, 400G-enabled devices have a relatively smaller footprint. One 400G port on a router will use less power than four individual ports of 100G to achieve the same data transfer rate.
Service providers can improve their data transfer capabilities without increasing their carbon footprint - that's a step in the right direction (pun intended).
__________________
Hardware Options
At PivIT, we bring options to the table that your traditional VAR won't, whether it is OEM options, financing options, maintenance options, and more. Click below to browse for a router and get started bringing options to your network!
__________________
Juniper PTX Series Routers: Best 400G Cloud-Optimized Routers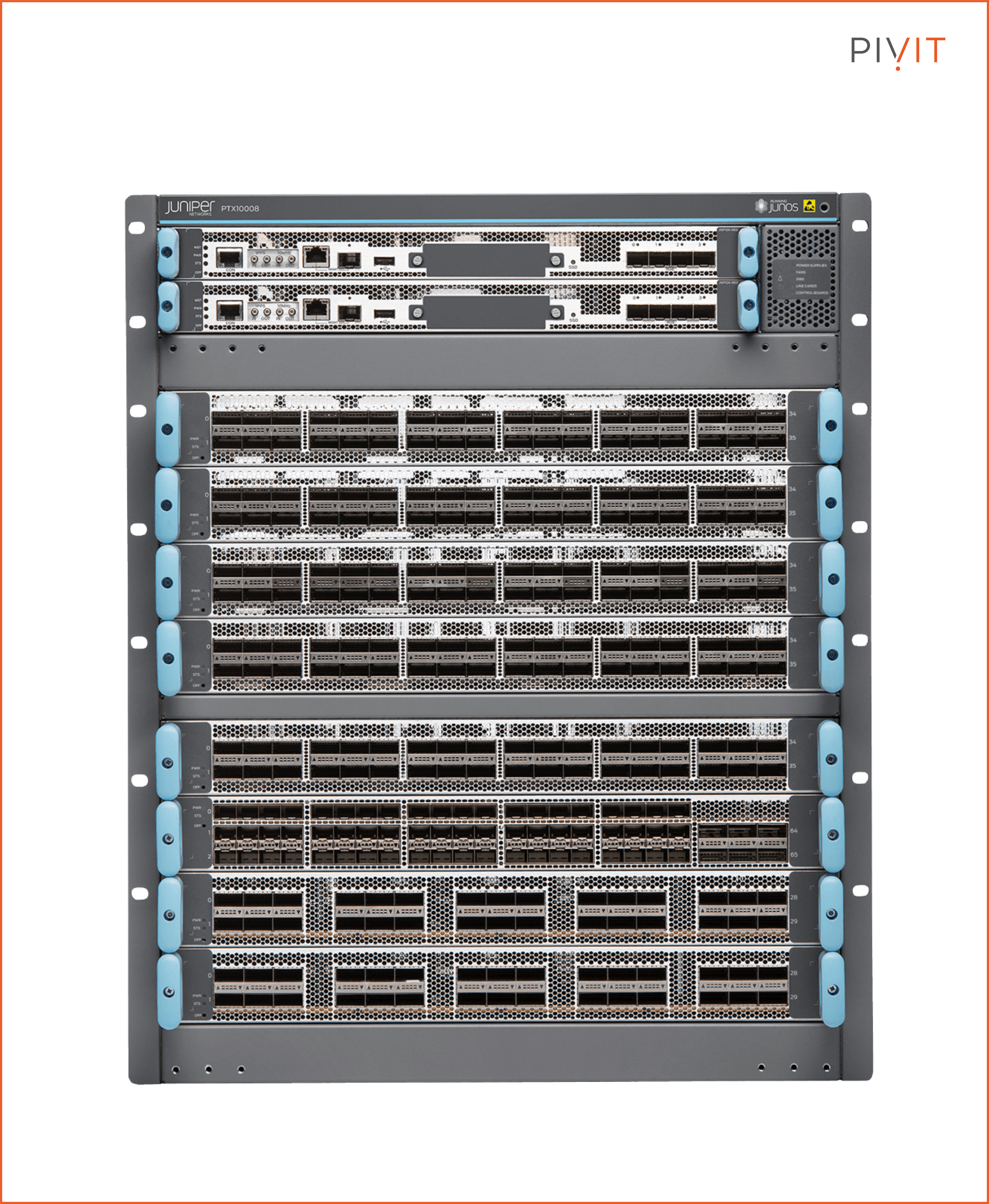 Juniper Networks is a leading name in cloud-ready network devices and offers a complete portfolio of 400G-enabled routers for data center networks and wide area networks (WANs). The Juniper PTX Series packet transport routers can help core and peering architectures move to the 400G data transfer capabilities.
With native 400G inline MACsec, these routers can help service providers achieve faster speeds and use a reliable network operating system.
The PTX Series comprises seven products:
PTX1000
PTX3000
PTX5000
PTX10004, PTX10008, PTX10016
PTX10001-36MR
PTX10002
PTX10003
While most routers in the PTX series offer up to 10GbE interfaces, three products (PTX10004, PTX10008, and PTX10016) have 400GbE interfaces.
These are even 800G capable, so when 800G finally rolls around, these routers will be able to adapt seamlessly. The PTX10000 line of routers is optimized for scale-up (up to 230.4Tbps) and scale-out architecture, with a power efficiency of 0.15 W per gigabit.
The PTX10003 router is a versatile piece of equipment ideal for distributed core networks. It can offer anywhere from 10GbE to 400GbE, ensuring on-demand scalability. It's available in two models: 8Tbps and 16Tbps. Compared with the PTX10004, PTX10008, and PTX100016, the PTX10003 has a space-saving form factor.
Lastly, the PTX10001-36MR is even more compact and based on the Juniper Triton ASIC form factor. This cloud-optimized router is capable of 9.6Tbps capacity. Thanks to a high forwarding information base (FIB), flexible filtering, and deep buffer, it's a cost-effective router for providers looking to scale up and scale out without increasing operating costs.
Juniper PTX Series Router Specifications
Here are some of the specifications of the Juniper PTX Series routers with 400G capabilities: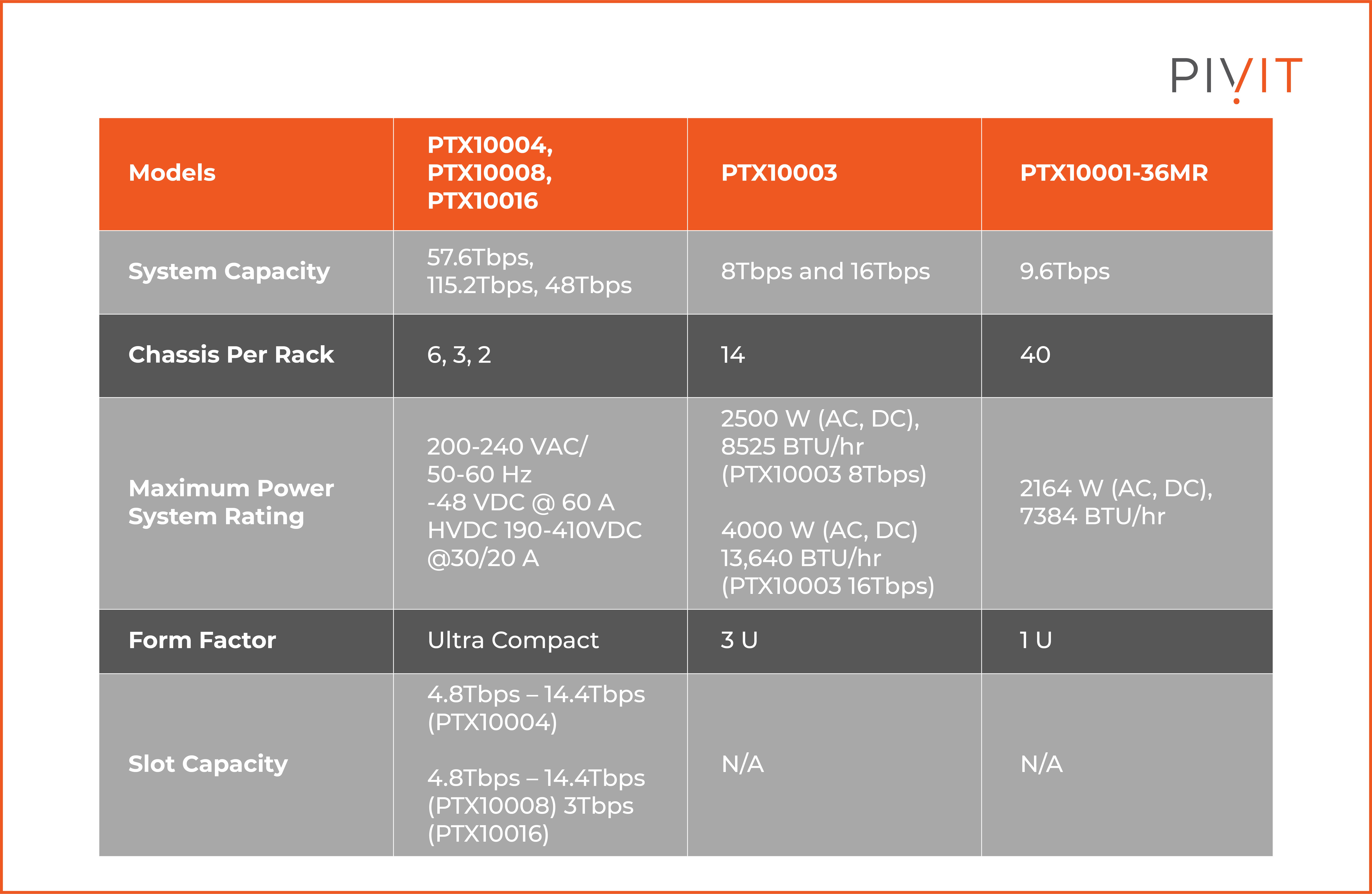 Grow With 400G Cloud-Optimized Routers
The Juniper PTX Series routers are the perfect solution for internet service providers, cloud providers, data centers, and telecommunication/cable/streaming companies needing to migrate to 400G.
400G is gradually becoming the norm, with forward-thinking enterprises investing heavily to upgrade their infrastructure. The PTX series offers a decent range of routers, including 400G capable models, with varying specifications. Once incorporated into the network, these routers can effortlessly handle traffic growth without increasing running costs dramatically.
Are you still wondering whether these routers would best suit your network? Speak to one of our sales engineers to clear things up.
Additionally, PivIT offers SmartHands as part of its EXTEND product. Gain access to engineers around the globe to help build your wired and wireless networks without ever leaving your desk when you are tackling staff shortages, complex environments, office relocations, or emergency situations.
No Comments Yet
Let us know what you think